Japan Wood Products Prices
Dollar Exchange Rates of 27th March 2017
Japan Yen 110.66
Reports From Japan
Weak consumer spending and stronger yen unsettles
Bank of Japan
Bank of Japan Governor, Haruhiko Kuroda, has indicated
that while business conditions and prices are improving in
Japan there are downside risks as overall economic
activity, especially consumer spending, is not yet firm
enough to lift inflation to the 2% target the Bank has set
itself. Because of this he said it is too early to be
considering easing monetary stimulus.

Retail sales were unchanged from a month earlier
according to the February survey which indicated
consumers cut back on durable goods purchases after
employers offered the lowest spring wage increases in four
years.

However, manufacturers appeared more confident in a
March poll but the recent strengthening of the yen will
surely hurt sentiment if it does not pull back from recent
highs against the US dollar.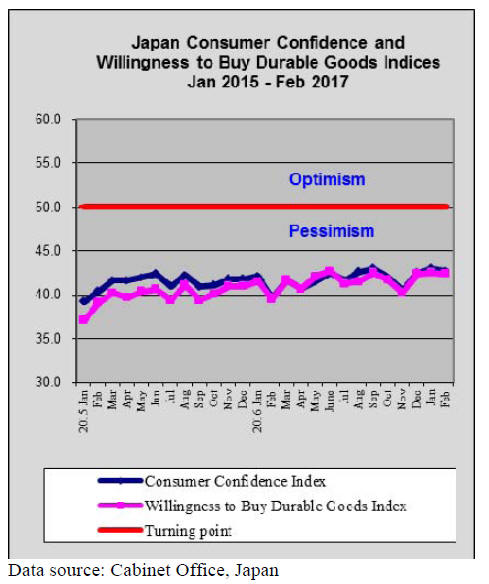 Another period of stronger yen forecast
The Japanese yen/dollar exchange rate has rolled back to
the same level as in March 2016, around 110 to the dollar.
In recent months the yen weakened considerably boosting
the stock market which is dominated by exporters and
providing some glimmer of hope to the Bank of Japan as it
seeks to deliver on its 2% annual inflation target.

The set-backs that the new US administration has faced in
delivering on campaign promises has undermined
confidence that the Republican led government US
monetary and fiscal policies would drive the dollar higher.

Another factor driving the yen stronger has been
comments from the US Federal Reserve that it is now
inclined to slow the pace of interest rate rises which favor
a weak yen.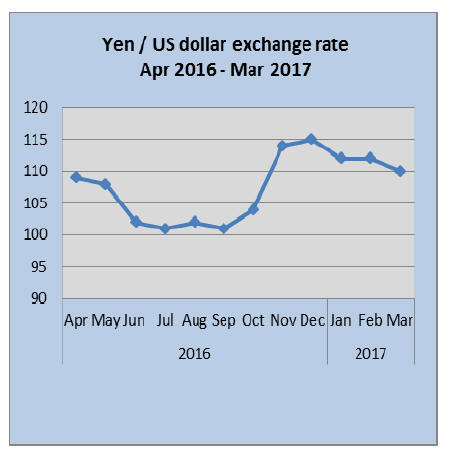 February housing starts mark forth monthly decline
The results of the Ministry of Land, Infrastructure,
Transport and Tourism assessment of February housing
show a decline in starts, marking the fourth straight
monthly decline.

February housing starts dropped just over 8% compared to
January and year on year February starts were down
almost 3%.

With the latest figures the annualised housing start
forecast dropped to 940,000 from the 1.0 million
determined in January. On the other hand, construction
companies report orders grew in February and were much
firmer than in February last year.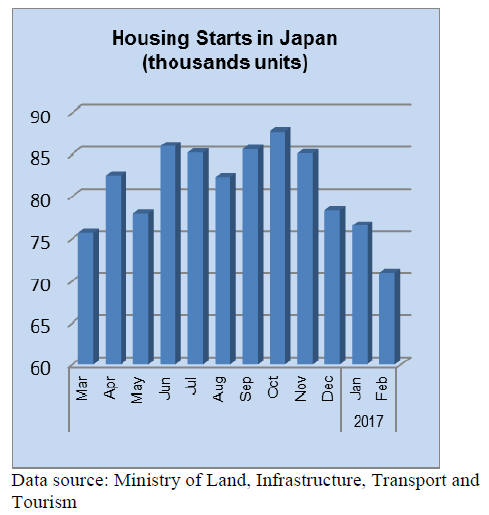 Japan¡¯s wooden furniture imports
2017 got off to a good start for exporters of wooden office
and bedroom furniture to Japan. The value of wooden
office furniture imports to Japan in January 2017 were up
34% year on year and up 27% month on month and the
value of wooden bedroom furniture imports jumped 18%
year on year. The value of imports in January 2016 was
lifted by the weaker yen (120/US$) compared to the
stronger yen in January this year.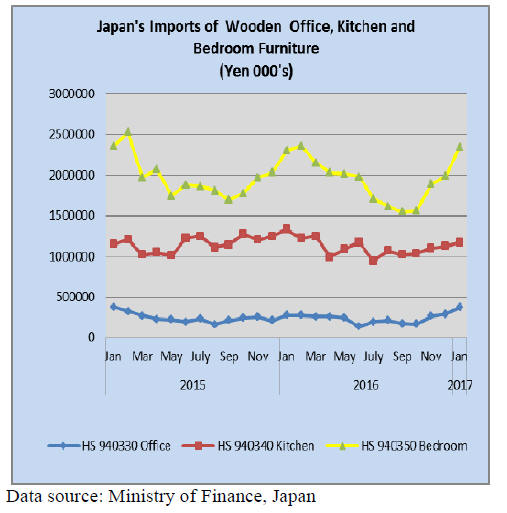 Office furniture imports (HS 940330)
The value of Japan¡¯s wooden office furniture imports has
been rising for three consecutive months from November
last year. January 2017 shipments from China grew
substantially lifting China¡¯s contribution to total wooden
office furniture imports to just over 70%. The other
suppliers were Italy (7%) Taiwan P.o.C (5%) and Poland
(5%).

In January this year most shippers saw increase in the
value of imports by Japan.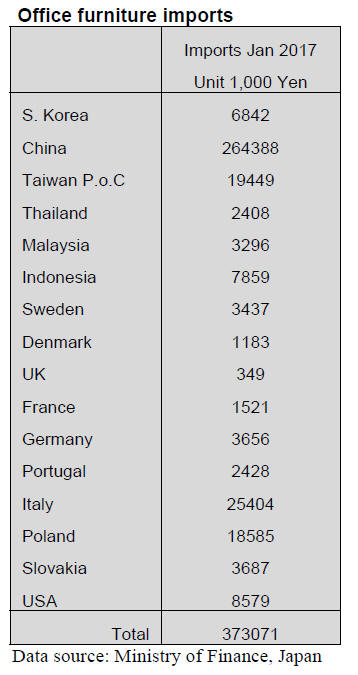 Kitchen furniture imports (HS 940340)
In contrast to the rise in imports of wooden office and
bedroom furniture, Japan¡¯s January imports of wooden
kitchen furniture dropped year on year (-11.5%) but
compared to a month earlier imports rose slightly.

Despite the year on year fall in the value of wooden
kitchen furniture there has been a steady increase in the
value of imports from September 2016.

In January 2017 the top suppliers were Vietnam (42%),
the Philippines (26%) and China (15%) and if shipments
from Indonesia are included then almost 70% of imports
for the month are accounted for.

The big winners in January 2017 were China and Vietnam
followed by Indonesia and the Philippines both of which
saw an increase in shipments of around 7%.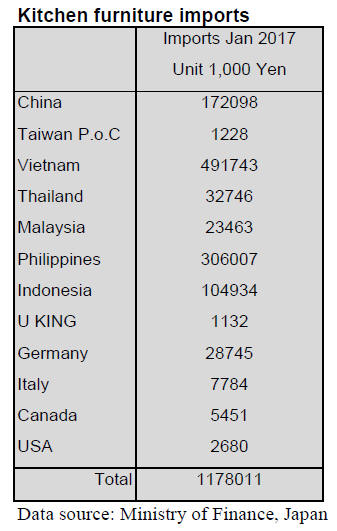 Bedroom furniture imports (HS 940350)
Japan¡¯s imports of wooden bedroom furniture exhibit a
distinctive cyclical pattern, In 2015 and 2016 imports
peaked in December/January only to begin to tail off midyear.
January 2017 imports of wooden bedroom furniture
appear to be following the same trend as there has been a
steady rise in imports since September 2016.

Year on year, the value of Japan¡¯s wooden bedroom
furniture imports remain flat but January 2017 imports are
well up from a month earlier. Japan¡¯s January 2017
imports of wooden bedroom furniture were dominated by
two suppliers China and Vietnam with China accounting
for 60% and Vietnam supplying another 30%.

With 90% of imports accounted for other suppliers had a
hard time in January with only Thailand, Malaysia,
Indonesia and Taiwan P.o.C making it into the top 20
suppliers.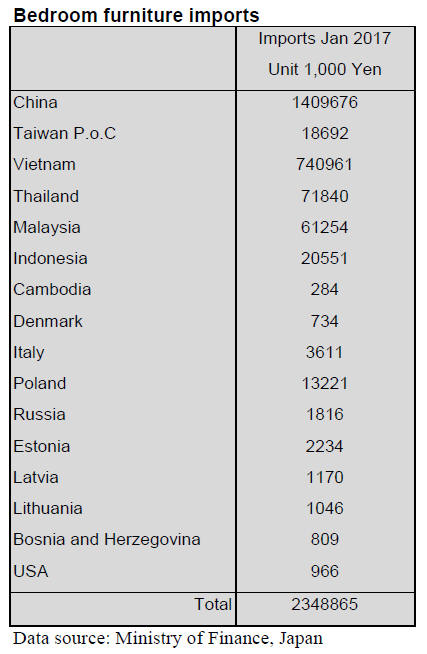 Trade news from the Japan Lumber Reports (JLR)
For the JLR report please see:
http://www.nmokuzai.
com/modules/general/index.php?id=7

South Sea (Tropical) log imports in 2016
South Sea log import in 2016 was 193,192 cbms, 20.6%
less than 2015.By source, 101,284 cbms from Sabah,
Malaysia 2.6% more than 2015. 53,780 cbms from
Sarawak,Malaysia, 40.1% less than 2015. 33,058 cbms
from PNG,8.2% less. 5,070 cbms from Solomon Islands,
73.1% less.

Weather in Sarawak, Malaysia was unstable all through
the year so log production was slow. Then the government
of Sarawak reduced quota of log export, which resulted in
considerable drop of export volume.

Log production was smooth in Sabah with favorable
weather so that both Japan and India increased purchase in
Sabah to make up for log shortage in Sarawak. Japan
failed to buy enough logs pushed by aggressive purchase
by India. Also log prices stayed up high, which
discouraged purchase by Japan.

There are only few plants consuming South Sea logs
steadily but the mills have been having hard time to pass
higher cost onto sales prices particularly when the yen got
weaker. Import of South Sea lumber in 2016 was 494,872
cbms, 2.6% less than 2015. In this, lumber was 225,864
cbms, 4.2% less and free board was 269,018 cbms, 1.3%
less.

Log export prices in February continue firm in Sabah and
Sarawak, Malaysia. Log harvest stopped temporarily
during Chinese New Year holidays in February.

Log importers are arranging ships for late February and
early March loading but it is hard to have enough quality
logs like regular meranti and to fill up ships, it is necessary
to load small and super small meranti logs.

Plywood mills in Japan want regular logs even with higher
prices as recovery is better. Log suppliers¡¯ offer prices
remain unchanged for March shipment.

Main buyer, India is quiet with reduced volume so the
suppliers cannot be bullish.Sarawak meranti regular prices
are US$275-280 per cbm FOB.

In Sarawak, since January this year, log harvest quota
changed from yearly to monthly so if log harvest volume
is more than regulated quota, logs are not allowed to haul
out and not allowed to carry over to next month so log
suppliers produce only 90% of quota. This reduces
available volume inevitably.

Revision of JAS
Revised draft of the Japan Agricultural Standard (JAS) is
submit to the Diet, which is now being held with the
purpose of promoting export of Japanese agricultural and
marine products. After discussion at the Upper House and
Lower House, it will enter into force within a year.

The main purpose is to use JAS for promotion of Japanese
agricultural and marine products at overseas market. Point
is to make changes of various standards much easier.

Present JAS rules only quality of the products. After the
revision, it sets partial standard on manufacturing,
management, method of measuring and analysis.

In manufacturing standard of wood, if new manufacturing
or technique in drying, fire proofing and anti-fungus are
established to make product as value added product,
standardization of such new technique appeal to
differentiate the product from other products.

In management standard, it appeals maintaining quality of
wood product if management standard is established to
handle product under cover to prevent rain in every step of
inventory or transportation.

Regarding standard on measuring and analysis, if
objective visual standard can be made to judge luster of
wood, number of dead knots and size of large knots, it
would be a method of appealing beauty of solid wood by
JAS.

In proposing a new standard by producer or producing
region, precise standard to apply without change needs to
be made but under revised rule, new standard can be
proposed in rather imperfect shape.

Also in JAS mark, additional writing such as guaranteed
quality or guaranteed of freshness can be printed.

In overseas market, it is common to call ¡®certification¡¯,
which proves fitting standard such as ISO and the Forest
Certification system by third party so revision includes
changing from JAS approved to JAS certified.

Production of composite flooring in 2016
Production of composite flooring in 2016 was 67,825,000
square metres, 4.4% more than 2015. Active housing starts
supported increased production. Market of composite
flooring has changed largely in 2016.

Floor base is shifting from South Sea hardwood plywood
to domestic cedar plywood. Sheet type with resin based
materials for surface decoration also largely increased.

In 2016 production, floor base with South Sea hardwood
plywood including composite with MDF was 44,573,000
square meter, 12.9% less than 2015. In total production
share of imported hardwood plywood is still high with
66% but compared to 2015¡¯s 78.7%, 12.7 points dropped
in 2016.

Meantime, domestic floor base (domestic plywood and
combination of plywood and MDF) was 11,781 M square
metres, 101.3%. Share of domestic base is 17.4% but from
2015¡¯s 9%, 8.4 points increased in 2016.

Domestic base with cedar, cypress and fir plywood
combined with thin MDF to make surface smooth has
been increasing largely in last one and two years because
imported plywood prices have been high and exchange
fluctuation influences yen cost but domestic products are
nothing to do with exchange rate then the government
encourages use of domestic wood with point system and
consumers¡¯ concern to environmental protection promote
use of domestic wood products.

About 80% of composite flooring is used for floor heating
floor: By technical improvement, domestic wood base can
be used for floor heating floor so share of domestic floor
base will continue increasing while South Sea hardwood
plywood cost seems to keep climbing due to tight log
supply.

Production of particleboard base type increased to
5,501,000 square metres in 2016, 164.5% more. It is
ecological product and cost performance is good. For
surface coating, use of sliced wood veneer decrease and
there are more use of resin based materials like olefinic
resin.