Report from North America

Balsa, sapelli and ipe imports up in January
US imports of all sawn hardwood increased by 21% from
December 2016 to January 2017. Some 70,569 cu.m. of
sawn hardwood worth US$41 million were imported in
January.

Tropical sawnwood imports grew 16% month-on-month in
January to 22,998 cu.m and tropical sawnwood imports
were almost 60% higher than in January 2016.

Demand for all major tropical species increased. Balsa
imports were 8,973 cu.m. in January, followed by sapelli
(2,802 cu.m.) and ipe (2,438 cu.m.). On the down side
imports of keruing, meranti, teak and mahogany
sawnwood declined in January.

Ecuador, Cameroon and Brazil gained from higher imports
of balsa, sapelli and ipe, respectively. Sawnwood imports
from Indonesia grew 17% in January despite the drop in
keruing and meranti imports.

The US imported more ¡®other tropical¡¯ hardwood
sawnwood from Indonesia in January, but meranti
remained the highest value sawnwood imported from
Indonesia at US$489,000.

US imports of sawn tropical hardwoods are climbing back
from the lows immediately after the 2008/9 recession.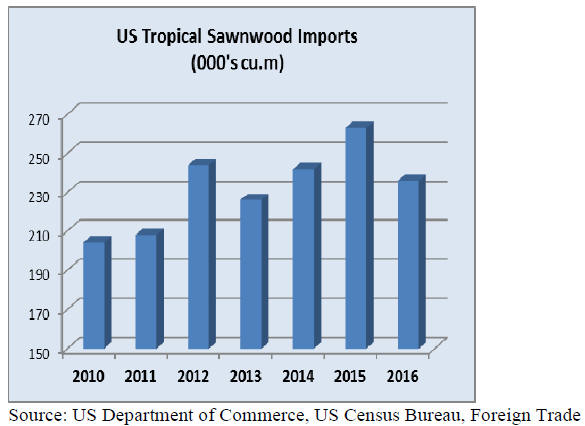 Sapelli and balsa lead Canadian tropical imports
Canadian imports of tropical sawnwood were worth
USUS$1.65 million in January, up 70% from December
but slightly lower than in January 2016.

Imports of virola, imbuia and balsa (combined) were
unchanged from the previous month and accounted for
almost one third of all sawn tropical hardwood imports.
Imports of both sapelli and mahogany more than doubled
in January to US$385,615 and US$289,916, respectively.

Ecuador was the largest source of tropical direct imports,
much comes from the US. Some US$281,000 worth of
balsa sawnwood was imported in January. Cameroon
shipped a similar value of mainly mainly sapelli to
Canada.

Brazilian hardwood shipments to Canada increased to
US$123,645 in January. The species are not specified in
the Canadian trade classification system, but ipe is
included in the group ¡®other tropical¡¯.

Fiji, Mexico and Myanmar were among the smaller
suppliers that increased tropical hardwood exports to the
Canadian market in recent months.

Rising softwood prices affect home buyers
The composite price of framing lumber used in house
construction increased by 14% in the first three weeks of
February according to Random Lengths a trade magazine.
Further price increases are expected as the US is
investigating whether Canada is unfairly subsidising its
industry. Canada¡¯s share in the US softwood market has
been around 30% in past few years.

US home builders are absorbing the additional cost for
now according to the National Home Builders Association
but in the longer term the cost of new housing is likely to
rise. The Association is urging US domestic sawmills to
produce more sawnwood and is encouraging imports from
other sources such as Chile in order to increase
competition.

Canada and US have started trade negotiations, but little
progress is expected until the US investigation is
complete. The US Department of Commerce announced in
late February that it will postpone the preliminary
determination of countervailing duties to late April. Based
on recent price increases by Canadian mills, producers
expect duties of up to 30%.

Positive outlook for residential remodeling market
The residential remodeling market reached an all-time
high of US$340 billion in 2015, surpassing the prior peak
in 2007, according to a report released by the Harvard
Joint Center for Housing Studies (Demographic Change
and the Remodeling Outlook, February 2017).

Rising house prices are encouraging owners to invest in
home repairs and improvements. Spending on home
improvements and repairs is expected to increase 2.0%
annually on average through 2025, comparable to the
overall economic growth rate.

Spending by older owners (age 55 and over) is projected
to account for more than three-quarters of total growth.
Over half of all spending will be by homeowners age 55
and over by 2025. Much of the expenditure by older
owners is to adapt their homes for better accessibility and
comfortable aging.
The homeownership rate for the under-35 age group fell
from 43% in 2005 to a historic low of 31% in 2015. Even
when younger households are able to purchase a home
they generally have fewer resources to make
improvements and repairs because of climbing mortgage
rates and rising house prices.

However, the shortage of affordable housing encourages
capital investment into older homes and renovating them
for rental housing. Also the number of younger
homeowners should increase as the economy continues to
improve.

The main challenge for the wood product industry
supplying the home improvement sector is rising home
prices. A major opportunity is the growing demand for
sustainable home improvements. The Center for Housing
Studies predicts significant growth in the niche market for
energy efficiency, environmental sustainability and
healthy homes. Demand for building materials will
increase that are renewable, recyclable and address indoor
health concerns.

Connecting small forest owners with loggers
A small startup company from Eastern Canada has
developed an online tool that helps small forest owners
generate revenue. The WoodsCamp product uses open
data that tells woodlot owners the tree species and timber
value growing in their forest. The remote sensing data was
collected by the Nova Scotia government for the entire
province.

Forest owners can find out the value of their forest using
an online app, even if they live thousands of miles away. If
they decide to sell the timber through WoodsCamp, the
brokerage works with loggers and does the marketing to
processors. To the loggers and mills WoodsCamp offers
the prospect of a sustainable and efficient supply chain.
The company plans to grow the online brokerage in Nova
Scotia this year before expanding into other markets.