Report from North America

Decline in hardwood plywood imports from tropical
countries
US imports of hardwood plywood declined 4% in 2016
from the previous year. In 2015 plywood imports
increased 12%. A total of 3.14 million cu.m. of hardwood
plywood were imported in 2016, valued US$1.82 billion.
The value of imports was down 1% from 2015.

The decline was mainly in imports from tropical country
producers, while imports from China, Russia and Canada
increased.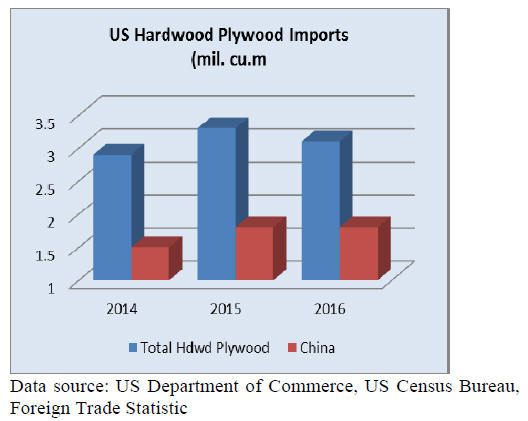 China exported 1.83 million cu.m. of plywood to the US in
2016, up 2% from 2015. China¡¯s share in total US
hardwood plywood imports grew from 55% in 2015 to
58% in 2016.

Russia surpassed Indonesia in 2016 to become the secondlargest
source of US plywood imports. Imports from
Indonesia fell 35% to 321,812 cu.m., although the value of
imports decreased only 14%.

Plywood imports from Malaysia were 65,110 cu.m. in
2016, down 17% from 2015.
Imports from other countries were slightly down in 2016,
although Italy and Cambodia expanded shipments to the
US in 2016. Italy¡¯s exports were up 42%, while imports
from Cambodia increased 35% to 19,459 cu.m.

Tropical veneer imports up 14% in 2016
Tropical hardwood veneer imports were worth US$233.7
million in 2016, up 14% from the previous year. Imports
from many leading suppliers doubled from 2015,
including from Italy, India, Ghana and Cameroon.

Italy was the largest supplier of tropical veneer in 2016 at
US$15.9 million, followed by China (US$9.6 million).

India, Cote d¡¯Ivoire and Ghana each shipped over US$6
million worth of tropical veneer to the US in 2016. Veneer
imports from Cameroon doubled from 2015 to US$2.6
million.

Higher moulding imports from Malaysia in 2016
The value of hardwood moulding imports into the US
declined for the second consecutive year. Imports were
worth US$184.8 million in 2016, down 5% from 2015.

The largest drop was in moulding imports from China,
which decreased 12% to US$57.5 million in 2016. Imports
from Brazil declined 5% to US$46.1 million.

Malaysia and Canada increased hardwood moulding
shipments from 2015. Imports from Malaysia were up 7%
and valued at US$14.4 million.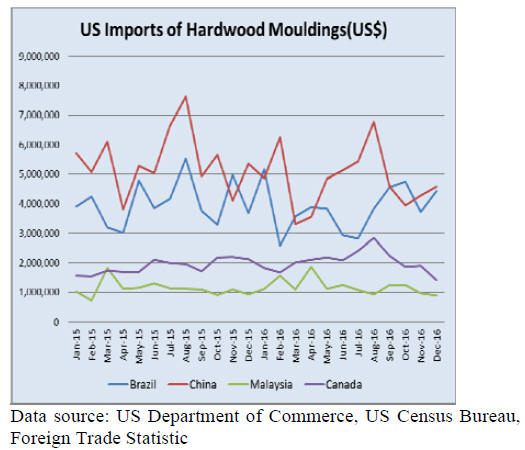 Strong growth in engineered wood flooring imports
US imports of hardwood wood flooring decreased in 2016,
while assembled flooring panel (engineered flooring)
imports were up.

Hardwood flooring imports fell 15% to US$40.5 million in
2016. The largest drop was in imports from Malaysia,
which were down almost 40% from 2015.

Imports from Malaysia were worth US$6.3 million in
2016, compared to US$9.1 million from Indonesia and
US$9.7 million from China.
Imports from Indonesia were also lower than in 2015,
while China¡¯s shipments grew 11%.

Engineered flooring imports were worth US$164.6 million
in 2016, up 21% from 2015. Imports from China were up
25%, and China accounted for 46% of US assembled
flooring imports.

Most other suppliers also benefited from higher US
imports in this wood flooring category. Assembled
flooring imports from Indonesia increased 21% to US$8.1
million in 2016.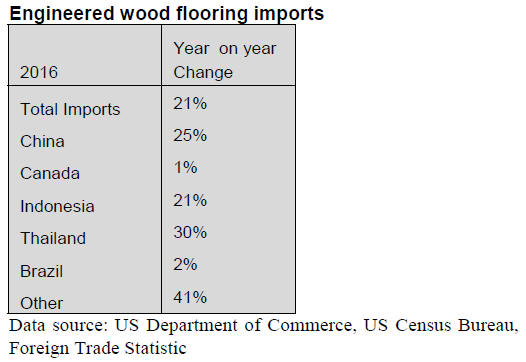 Record high 2016 wooden furniture imports but
exports from Malaysia and Indonesia slip
US wood furniture imports reached a new record high in
2016. Wooden furniture imports were worth US$16.71
billion, up 3% from 2015.

Imports from all major suppliers increased except
Malaysia and Indonesia. Furniture imports from Malaysia
grew strongly in 2015, but declined 5% in 2016 to
US$673.3 million. Imports from Indonesia were down 9%
from 2015.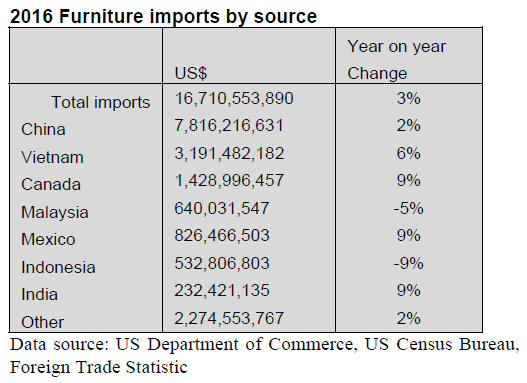 China¡¯s share in total imports decreased again this year to
46.8%, while Vietnam¡¯s share grew to 19.1%. Malaysia¡¯s
share in total imports was with 3.8% the same as two years
ago (2014).
Wooden furniture imports from China increased 2% to
US$7.82 billion in 2016.

Imports from Vietnam were worth US$3.19 billion (+6%),
but strongest year-over-year growth was in imports from
Canada, Mexico and India. Furniture imports from India
amounted to US$232.4 million in 2016.

Furniture and wood product manufacturing activity
down in January
Real GDP increased at an annual rate of 1.9% in the fourth
quarter of 2016, according to the first estimate released by
the US Department of Commerce. In the third quarter, the
GDP increased 3.5%. Stronger residential and nonresidential
construction contributed to GDP growth in the
fourth quarter.

The unemployment rate was almost unchanged in January
at 4.8%, according to the US Bureau of Labor Statistics.
Employment in construction rose in January, following
little change in December.

Economic activity in the manufacturing sector expanded in
January and the overall economy grew for the 92nd
consecutive month, according to the Institute of Supply
Management. Furniture and related products
manufacturing shrank for a second consecutive month in
January. Wood product manufacturers also reported lower
activity than in December.

Consumer confidence retreated in February but remained
positive on average, according to the University of
Michigan consumer confidence index. There is a risk of a
consumer spending decline because almost one third of the
households surveyed held very unfavourable views of
economic policies under the Trump administration.

In related news department store chain JCPenney said it
will close 130 to 140 stores and sever distribution
operations at two facilities to better align its store and
online operations and better compete with online players.

In addition to the stores, JCPenney will close its Lakeland,
Fla., distribution center in early June and is selling its
supply chain facility in Buena Park, Calif.

Housing market strong at start of 2017
Residential home construction declined almost 3% in
January to a seasonally adjusted annual rate of 1.246
million units, according to the US Department of Housing
and Urban Development and the Commerce Department.
Single-family starts were up 2%, while multi-family
declined after an unusually high level in December.

Builders¡¯ confidence in the market for new single-family
homes decreased in February, but builders remained
overall optimistic.

The main challenges for home builders remain the same as
last year, labour availability and a shortage of building lots
according to the National Home Builder Association.

The association expects continued growth in home
construction this year due to strong demand.
The number of building permits issues, which indicates
future building activity, increased 5% in January from the
previous month at a seasonally adjusted annual rate.
Single-family permits declined.

Sales of existing homes sales increased in January to the
fastest pace in almost a decade, according to the National
Association of Realtors. January¡¯s sales were 4% higher
than a year ago despite rising interest rates. However,
affordability is deteriorating with the median home price
over 7% higher than a year ago.