US Dollar Exchange Rates of 10th February 2017
China Yuan 6.8776
Report from China
Manufacturing output indicator giving way to role of
services
The January 2017 purchasing managers index (PMI) for
manufacturers released by the National Bureau of
Statistics was 51.3, down slightly from a month earlier.

See:
http://www.stats.gov.cn/english/PressRelease/201702/t20170208
_1460251.html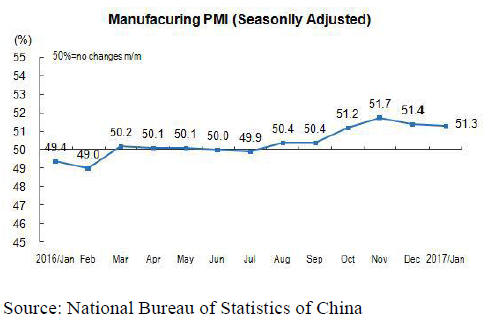 In terms of enterprise size, the PMI for large-sized
enterprises was 52.7, down 0.5 month on month but
continues to positive. The official PMI for medium-sized
enterprises was just in positive territory at 50.8 and was up
from a month earlier. However the PMI for small-sized
enterprises was 46.4 and continues to decline.

While the manufacturing PMI data tend to be closely
watched much more of China's economy is now driven by
domestic consumption. The government has a policy to
move the economy away from manufacturing and
investment led growth to on in which the service sector,
which includes consumer industries such as real estate,
retail and leisure, plays a much bigger role.

Action plan for national e-commerce
A national action plan to promote development of Ecommerce
includes 5 major special elements:
Infrastructure construction Innovation and development
Regional development Enhancing wide availability and
Policy development
.
This national plan will impact the forestry and wood
products sectors in China.

Under the plan the application of e-commerce will be
encouraged to promote innovation, transformation and
upgrading and the construction of e-commerce platform
will be promoted mainly for wood as well as non wood
forest products and tourism. The plan involves:



constructing international channels for ecommerce



ensuring easy access to e-commerce sites major
cities in the ¡®Belt and Road¡¯. Regions will
cooperate to develop information hubs and create
an for mutual regulation and recognition.



encouraging companies to build cross-border ecommerce
trading platforms and to build international logistic systems.



eliminating institutional obstacles to the rapid
development of e-commerce.
According to the plan, the construction of e-commerce
economy monitoring platform, e-commerce market entity
trustworthy service projects, e-commerce product quality
promotion project will be built. As part of this payment
security systems will be enhanced and monitored.

According to the e-commerce development plan, during
the 13th Five-Year Plan released recently there are three
major goals; turnover of e-commerce is expected to be
RMB40 trillion, the value of the network retail sales will
amount to RMB10 trillion and direct and indirect
employment will reach 50 million.

The Hong Kong based HK Trade Development
Corporation has a useful analysis of attitudes of Hong
Kong manufacturers to e-commerce.

See:
http://economists-pick-research.hktdc.com/businessnews/
article/Research-Articles/E-commerce-Challenges-and-
Opportunities-for-
Exporters/rp/en/1/1X32LK39/1X0A8VKV.htm?DCSext.dept=12
&WT.mc_id=6164570

Stricter control of solid laminate flooring in domestic
market
In recent years complaints from domestic consumers about
the quality of wooden flooring have increased and the
government has now acted.

The General Administration of Quality Supervision,
Inspection and Quarantine has now added 26 types of
building and interior decoration materials into the list for
quality supervision in 2017.

Solid flooring and laminate flooring have been included
into the list. Local experts indicate that this action will
improve the quality of flooring further in the near future.