Report from North America

Ipe leading growth in tropical sawnwood imports
US imports of temperate and tropical sawn hardwood
grew 11% in November to 70,376 cu.m. The value of
sawn hardwood imports increased 4% from the previous
month to US$39 million.

Imports of tropical species were up 9% in November in
both volume and value following a brief one-month
decline in October.

Tropical sawnwood imports were 20,702 cu.m. in
November, worth US$21.5 million. Compared to the same
time in 2015, year-to-date imports of tropical sawnwood
were down 11%.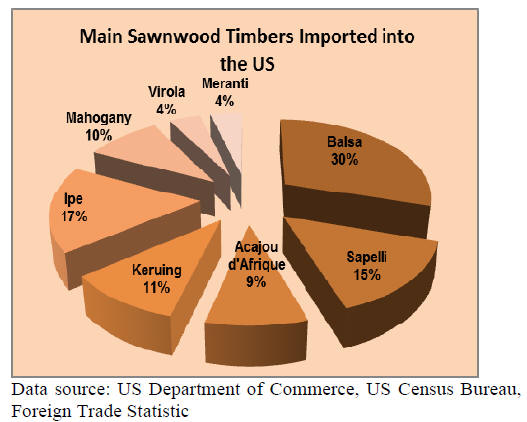 Much of the growth in tropical imports (and the October
decline) was in imports of ipe sawnwood. Ipe imports
grew 23% in November to 2,882 cu.m. Year-to-date
imports of ipe were up 3% from November 2015. 2,554
cu.m. of ipe sawnwood were imported from Brazil in
November.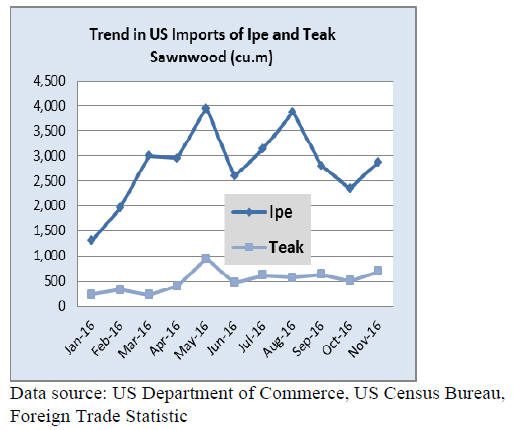 Imports of jatoba, meranti, cedro, teak, keruing and
padauk also recorded month-on-month growth in
November. However, Sapelli sawnwood imports
continued to decline. Imports were down 8% month-onmonth
in November.

Imports of acajou also fell by almost one third in
November. Year-to-date imports of acajou were
significantly lower than at the same time in 2015.

By country, Brazil, Malaysia and Indonesia gained in
November due to higher exports of ipe, keruing and
meranti to the US. Imports from the major producers in
Africa were down in November.

Canadian sapelli imports down in November
Canadian imports of tropical sawnwood were worth
US$1.40 million (US dollars) in November, down 4%
from the previous month. Year-to-date Canadian imports
were up 16% from November 2016.

Sapelli sawnwood imports fell by one third in November
to US$258,168. Imports of virola, imbuia and balsa
(combined) grew from October with balsa imports from
Ecuador accounting for approximately half of the growth.

Year-to-date most major exporters of tropical sawnwood
to Canada gained over the same time last year, except
several African suppliers. Canadian imports from Congo
(formerly Brazzaville), Ghana and Congo (formerly Zaire)
declined compared to January to November 2015.
US importers prepare to meet CITES rosewood
regulations
The parties to the Convention on International Trade in
Endangered Species (CITES) have added the entire genus
of Dalbergia spp. in Appendix II to prevent unstainable
use of all rosewood species.

Beginning January companies that import rosewood
products must comply with the new CITES regulations.
Companies that utilise rosewood should make sure their
suppliers are in compliance with the new regulation.

The only exception is Brazilian rosewood (Dalbergia
nigra), which is listed in Appendix I as a species
threatened with extinction. Also added to Appendix II
were the three bubinga species of Guibourtia demeusei,
Guibourtia pellegriniana and Guibourtia tessmannii, and
kosso (African rosewood, Pterocarpus erinaceus).

From January 2, 2017, rosewood imports into the US must
be accompanied by CITES permits or certificates issued
by the country of export or re-export. This date applies
even if the shipment was exported before January 2, but
will arrive in the US on or after January 2.

Rosewood is used in musical instruments and high-end
furniture. According to the Woodworking Network, China
and Vietnam are the main trade and processing hubs for
rosewood.

The detailed explanation of the changes and other
resources are available from the US Department of the
Interior's Fish and Wildlife Service:

https://www.fws.gov/international/pdf/questions-andanswers-
appendix-II-timber-listings-December-2016.pdf

Anti-dumping investigation continues for plywood
from China
The US Department of Commerce will continue to
conduct its antidumping and countervailing duty
investigations on imports of hardwood plywood from
China. A judgment on countervailing duties is due
February 13, 2017, and its preliminary antidumping duty
determination is expected around April 27, 2017.

All six commissioners on the US International Trade
Commission (USITC) voted in the affirmative that "there
is a reasonable indication that a United States industry is
materially injured by reason of imports of hardwood
plywood from China that are allegedly subsidized and sold
in the United States at less than fair value", according to a
USITC press release.

Included in the investigation are non-structural hardwood
plywood products used in the manufacturing of furniture,
cabinetry, wall paneling and similar products.

Not included are structural plywood, products which have
a face and back veneer of cork, multilayered wood
flooring, plywood which has a shape or design other than a
flat panel, and products made entirely from bamboo and
adhesives.

Apparent consumption of hardwood plywood in the US in
2015 was US$2 billion with almost 60% imported,
according to the USITC. The largest sources of hardwood
plywood imports were China, Indonesia, Russia, Canada
and Malaysia.

Six US plywood producers, comprising the Hardwood
Plywood Coalition, asked for this third investigation into
hardwood plywood products from China. The American
Alliance for Hardwood Plywood and the US kitchen
cabinet manufacturers oppose the investigation as
members are importers, distributors and retailers of
hardwood plywood.

The previous Department of Commerce investigation
ended with the removal of all anti-dumping and
countervailing duties on hardwood plywood from China.

China announced last December that it had launched a
complaint at the World Trade Organization over the
approach used by the US and the EU to calculate antidumping
measures against Chinese exports. The complaint
includes the use of third country prices when assessing
whether Chinese products are sold below market value.

Anti-dumping duty on wooden bedroom furniture from
China remains
In a required five-year review process the US International
Trade Commission (USITC) decided that revoking the
existing anti-dumping duty order on wooden bedroom
furniture from China would be likely to lead to
continuation or recurrence of material injury of the US
industry.

As a result the existing antidumping duty order on imports
from China will remain in place. The commission's public
report Wooden Bedroom Furniture from China will be
available by February 15, 2017.