Japan Wood Products Prices
Dollar Exchange Rates of 25th November 2016
Japan Yen 113.22
Reports From Japan
Household spending done eight straight months
According to the Ministry of Internal Affairs and
Communications Japan's household spending fell for the
eighth straight month in October. Household spending, a
key economic indicator dropped just under 0.5% in
October year on year signaling that consumers still are
very cautious on spending.

The Consumer Confidence Index in October 2016 was
42.3, down 0.7 points from September.
The Overall livelihood index fell as did all other indices.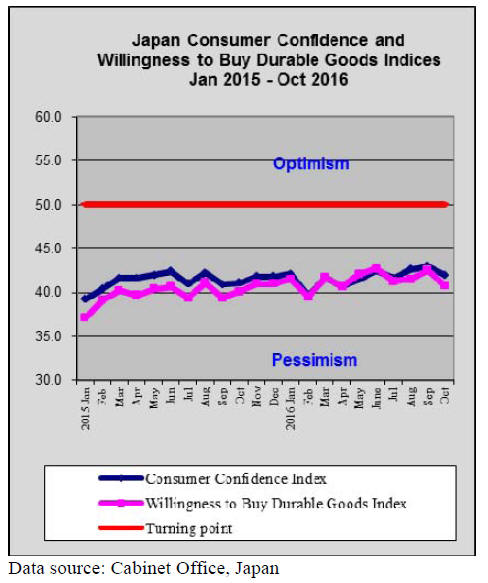 Likely US stimulus spending drives up dollar
The yen weakened by around 7% against the US dollar
over the past month, a decline which is much more than
any other major Asian currency. The driver of the yen
weakness has been mainly the assumption that the new
Republication Administration in the US will push forward
with plans for massive stimulus measures coupled with a
rise in interest rates.

In the past 18 months a lot of money has flowed to
emerging markets as well as to Japan but this is now being
repatriated in anticipation of a stronger US dollar.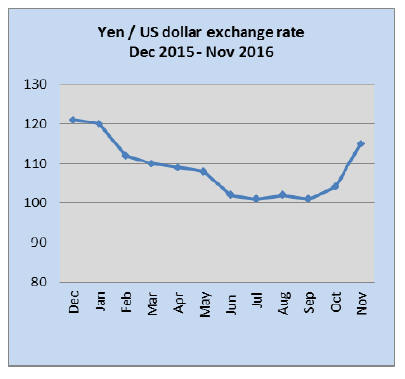 Three months of growth in housing starts
Japan's October housing starts rose almost 14% building
on the gains in September. For the year to-date annual
housing starts could come in at around 983,000, much
lower than the 964,000 forecast.

Construction companies report healthy order book
positions (up 15% year on year).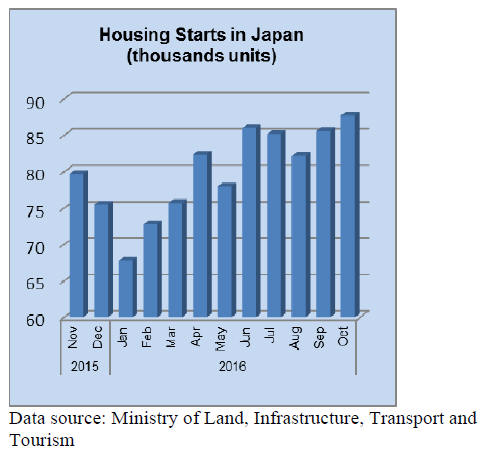 Import round up
Doors
Year on year Japan's August 2016 imports of wooden
doors (HS 441820) were up 5% and compared to levels in
July they rose 7%. As has been the norm for the year todate
the top three suppliers in August were China (67%),
the Philippines (17%) and trailing behind Indonesia at 5%.

The main drivers of demand for wooden door is the new
build and home renovation market and recent
improvement in housing starts and the especially strong
demand for apartments in the major cities is supporting
wooden door imports.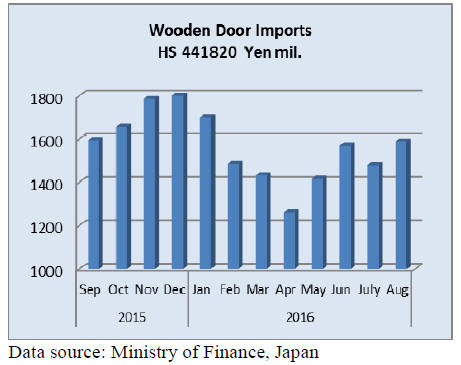 Windows
Japan's wooden window imports have been rising steadily
for the three months since June this year and August
imports were up 5.5% on July. However, year on year
imports were down 6% in August.

As is the situation with wooden doors, shippers in China
and the Philippines dominate Japan's imports. Shipments
of wooden windows in August from the top two suppliers
were running at around 35% each with the US coming in
third accounting for a significant 20% of imports.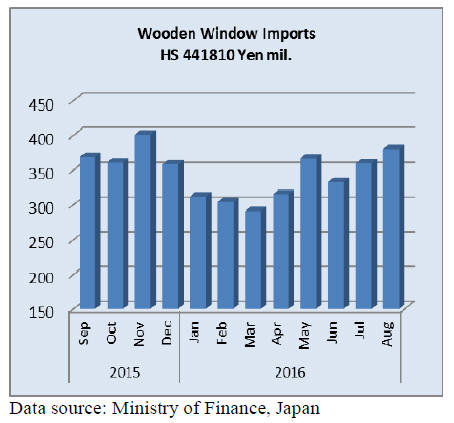 Assembled flooring
Three categories of assembled flooring are included in the
data presented below, HS 441871, 72 and 79.

Flooring shipped under HS441872 accounts for the bulk of
imports (62%) followed by HS 441879 (37%). Shipments
of HS 441871 are very small and come primarily from
Thailand.

Shippers in China dominated Japan's August imports of
HS 441872 flooring accounting for around 74% of all
imports under this category. The other major supplier was
Indonesia (8%). Shipments from the EU accounted for
17% of Japan's imports of this category of flooring.
Shipments of HS 441879 flooring are fairly evenly split
between Indonesia (31%) and China (28%) with Vietnam
and Thailand together accounting for a further 17% each.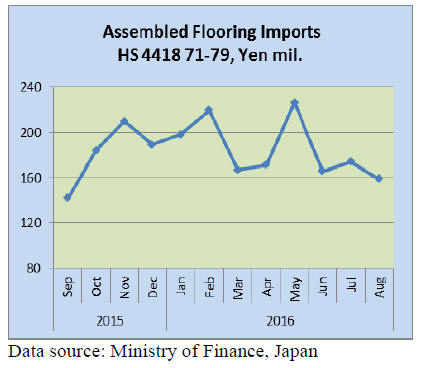 Plywood
The figures below depict the combined imports of 4
categories of plywood, HS 441210/31/32 and 39. Two
thirds of Japan's plywood imports fall under HS 441231
and within the category Malaysia (54%) and Indonesia
(40%) are the main suppliers. The other significant
suppliers are China, taiwan P.o.C and the Philippines.
Shipments of HS 441232 plywood were mainly from
Malaysia and Indonesia with some originating in the EU.

With around 98% of Japan's August plywood imports
accounted for within the two categories mentioned above
the balance is split between HS 441210 (China the only
supplier in August) and HS 441239 supplied by mainly
China, the Philippines and New Zealand.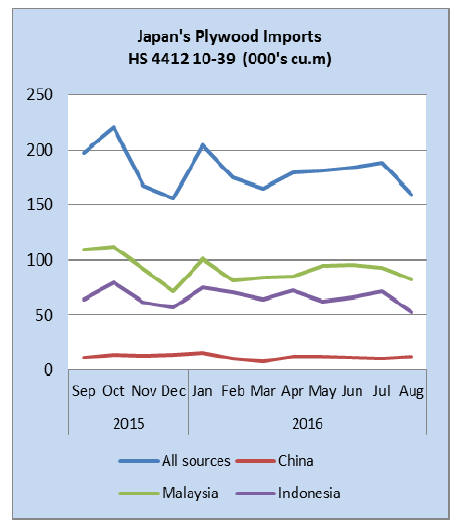 Trade news from the Japan Lumber Reports (JLR)
For the JLR report please see:
http://www.nmokuzai.
com/modules/general/index.php?id=7
Changing domestic log market
Self-sufficiency rate of wood in 2015 was 33.3% and it
was 31.2% in 2014. It had been below 20% for five years
since 2000 then it was increasing since 2005 steadily and
now it appears that the rate would stay 30% and higher
after about 30 years. The reason of increase is decline of
imported wood while domestic wood supply increased.

The supply of domestic wood in 2015 was 25,060,000
cbms. This is the first time that the volume exceeded over
25 million cbms in 21 years since 1994. When the rate was
the bottom in 2002 with 18.8%, supply of domestic wood
was 16,920,000 cbms so the supply has increased by about
8 million cbms in 13 years.

While the rate increased from 18.8% to 33.3% and the
volume increased by about 8 million cbms, there was large
change on both log supply side and demand side of
consuming lumber and plywood mills.

Changes of log users are that sawmills have much more
large capacity and shifting from imported materials to
domestic logs by plywood and laminated lumber mills
then start-up of biomass power generation facilities, which
use large amount of unused wood. This is totally new
demand for domestic logs.

Changes of log supply side are improved production by
introducing high performance logging machinery and
development of logging road system then larger subsidy
for harvesting thinning by the government. These changes
resulted in direct delivery of logs to user mills without
going through traditional log auction markets. Then large
log users expand much wider sourcing of distant areas.

Then who are major players in this stage? Log suppliers,
forest unions, system sales of national forest and log
marketing firms are the main players and they deliver
direct to users so a majority of increased volume of eight
million cbms in last 13 years is delivered direst to large
log users.

Advantage of log users is that they do not have to go to
many auction markets to collect necessary volume while
the suppliers have solid buyers with price stability by price
negotiation in every several months.

Plywood mills are large log users and some have to go far
places to buy logs. For instance, mills in Miyagi prefecture
buy logs from eleven prefectures including Hokkaido then
mills in Ishikawa prefecture buy logs from ten prefectures.
Transporting plywood logs is not economical but mills
need large volume of logs so they need to go far places.

When mills relied on imported materials, they situate close
to log receiving ports but now water front is not good
location if domestic wood is main material so some build
mills close to the forests. This is one of the changes in
recent years. Another change is building processing plants
close to log supply sources.

Rather than hauling logs in long distance, which costs
more for trucking, building wood chip plant then transport
wood chip to biomass power generation plant. Wood chip
trucking cost is far lower than trucking logs. Or building
veneer plant up in the woods then transport veneer to far
plywood mills, which saves trucking cost. The same deal
on lamina to laminated lumber mills. These changes are
not temporary but seem permanent

Plywood
Domestic softwood plywood consumption continues busy
by large house builders and precutting plants. September
production was 252,400 cbms, 17.0% more than
September last year and 9.8% more than August. The
production has been over 250,000 cbms for last three
months.

Structural plywood production was 245,300 cbms, 22.8%
and 6.7% more. The shipment was 254,900 cbms, 11.0%
more and 6.7% more so the inventories were down to
94,600 cbms. Decline of the inventory has continued for
last six months.

Structural plywood shipment was 246,200 cbms, 7.8%
more than August, which exceeded the production by 900
cbms. This is the same level of shipment as last June. The
inventories were down to 85,300 cbms.

Generally the supply continues tight but there is no
confusion of scratching the supply among precutting
plants since precutting plants place orders well ahead of
necessary time. There are still some precutting plants
looking for plywood and they inquire wholesalers and
trading firms occasionally. Wholesalers, which purchase
plywood regularly from the mills, are having necessary
volume but delivery is delayed on additional orders.

The market prices of imported plywood have been
dropping for last one year then the inventory adjustment is
done by trading firms and wholesalers in September's
book closing month so the bottom feeling is spreading in
the market with limited future orders to the suppliers.

Trading firms and wholesalers try to stop further price
deterioration and retailers are following but the move is
not strong enough to push the prices up since the demand
for concrete forming panel remains weak.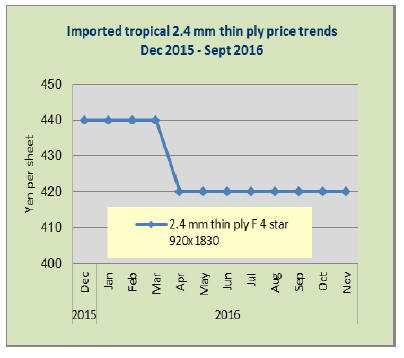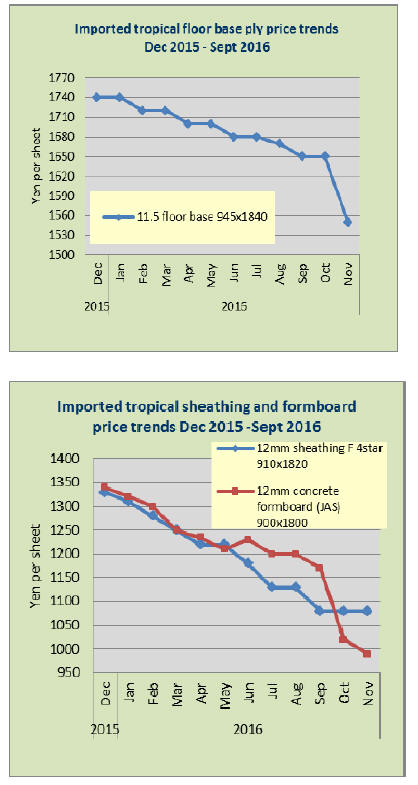 Mitsui Home Component sets up Wood Structure
Research Institute
Mitsui Home Component (Tokyo) announced that it sets
up Wood Structure Research Institute. It will develop new
technique of wood structure, improvement of productivity,
and new business with wood structure and expand
business area of 2x4 method.

Mitsui Home Component has marketing division,
producing division and development division but this new
institute does not belong to any of these divisions and will
be independent from all the others in the company.

The company manufactures and process 2x4 lumber not
only for Mitsui Home but other builders and design and
does actual construction works. The Institute will develop
new technique other than 2x4 by taking in traditional post
and beam construction, CLT construction and large space
design to make the best use of wood.

Besides development of new business, it will improve
productivity of the plant and coordination between
production and marketing. Developing something the
market did not have and it should have marketability are
major theme for the Institute.