Report from Europe
Tropical share of EU plywood market stabilises but at
low level
In the last ITTO report on the European plywood market
(MIS 16-31 May 2016), it was noted that the share of
tropical countries in EU plywood imports fell to an alltime
low of less than 8% in 2015.

While EU imports of plywood from tropical countries
were rising slowly last year, imports from other countries
increased more sharply, particularly of mixed hardwood
plywood from China and birch plywood from Russia.

Latest EU import data (to end August) shows that the
share of tropical plywood in total EU plywood imports has
stabilised at the lower level during 2016. However there
has been some shift in the share of other plywood
suppliers into the EU.
This year Chinese mixed hardwood plywood has lost share
in the EU market to Russian birch plywood and various
suppliers of softwood plywood, including Brazil, Chile
and Russia (Charts 1 and 2).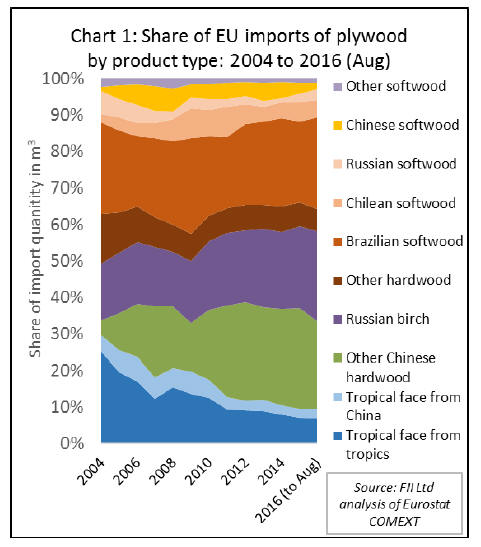 After falling back 7% to 276000 cubic metres in 2015, EU
imports of hardwood-faced plywood from tropical
countries rebounded 7% to 202000 cubic metres in the
first eight months of this year.

EU imports of tropical hardwood-faced plywood from
China, which increased 5% to 95000 cubic metres in 2015,
have continued to rise rapidly this year, up 30% to more
than 82000 cubic metres by the end of August.

However, EU imports of other hardwood-faced plywood
from China (including birch plywood, mixed light
hardwood, and various other forms of combi plywood)
have slowed this year, falling 6% to 709000 cubic metres
in the first eight months.

The changing composition of EU plywood imports from
China may be partly related to strong competition from
Russian birch plywood, of which EU imports increased by
26% to 741000 cubic metres in the first 8 months of 2016.

Enforcement of EUTR and CE marking requirements may
also be encouraging a shift from Chinese mixed light
hardwood products to plywood containing more clearly
identified species of known origin and technical
performance.

This same factor is also likely to explain the increase in
EU imports of Chinese plywood faced with hardwood
species identified as of tropical in origin.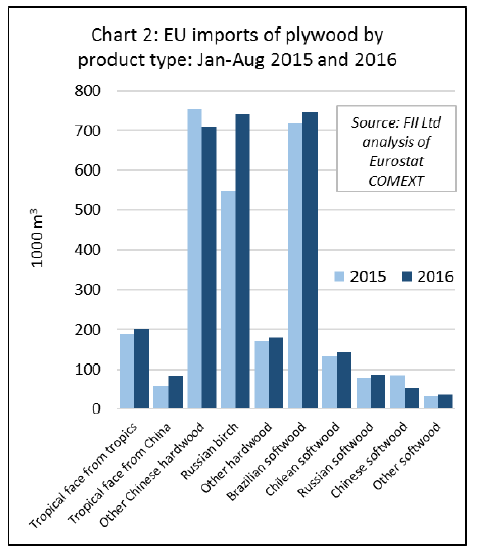 Tropical countries have been supplying more hardwood
plywood into the EU this year. In the first eight months of
2016, EU imports increased 11% to 76000 cubic metres
from Malaysia, 7% to 73000 cubic metres from Indonesia,
and 12% to 30000 cubic metres from Gabon.

However, the shifting composition of plywood supplied
into Europe from China has meant that country has now
emerged as the EU¡¯s largest single supplier of tropical
hardwood plywood. This raises questions about the
relative competitiveness of plywood manufacturers
operating in tropical countries (Chart 3).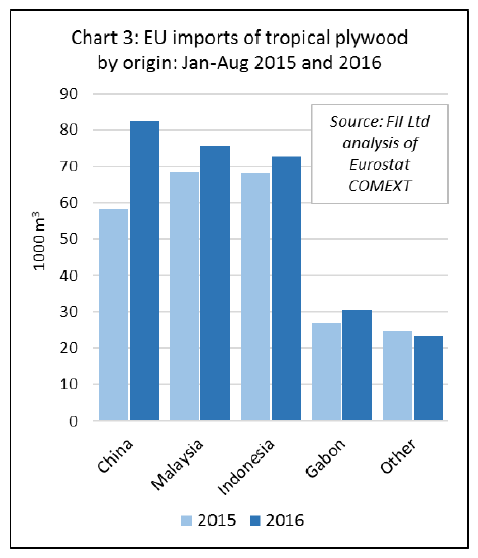 UK switches to tropical hardwood plywood
manufactured in China
Trends in overall EU imports of plywood are also partly
dependent on shifting market conditions and preferences
in different parts of the EU (Chart 4).

The increase in EU imports of tropical hardwood faced
plywood from China this year has been concentrated
almost entirely in the UK with a smaller amount destined
for the Netherlands.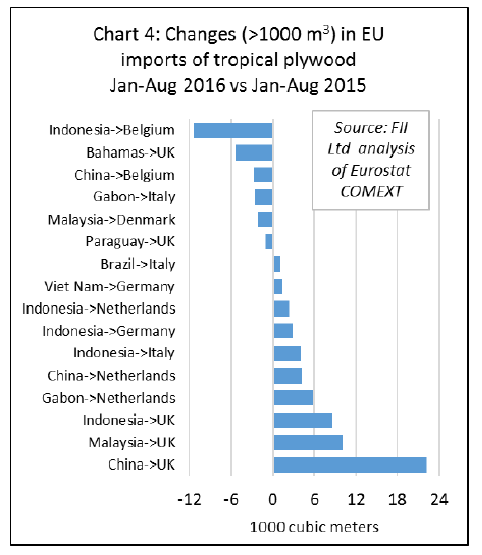 In recent years, of all EU importing countries, the UK has
been most tempted by the low prices and relatively short
transit times offered by Chinese plywood suppliers.

UK importers have also been under intense pressure to
demonstrate conformance to EUTR after the NMO, the
UK¡¯s enforcement agency, published a report in February
2015 revealing failures by several UK importers of
Chinese plywood to meet regulatory requirements.

Specific concerns were raised over the lack of accurate
information on species content in Chinese hardwood
plywood.

The sharp rise in UK imports of Chinese plywood faced in
tropical hardwood may therefore simply be a result of
efforts to ensure more accurate identification of species
content.

It also suggests that a significant proportion of this
material is faced with FSC or PEFC certified tropical
hardwood, or at least that Chinese manufacturers are now
successfully reassuring customers of the legality of their
tropical veneer supplies by other means.

Much of the gain in EU plywood imports from Indonesia
during 2016 has also been concentrated in the UK, with
other gains being made in Germany, the Netherlands, and
Italy.

These gains have been sufficient to offset a big fall in
imports of Indonesian plywood by Belgium. Rising EU
imports of Malaysian plywood in 2016 have been mainly
destined for the UK, Netherlands and Belgium.

The gain in EU imports of plywood from Gabon in 2016
has all been concentrated in the Netherlands. In fact, 60%
of all EU plywood imports from Gabon have been
destined for the Netherlands this year. Imports into France
and Italy, which historically have been leading markets for
African okoume plywood, have declined so far in 2016.

Weak recovery in ECE wood market expected to
continue despite risks
Overall, the pattern of weak recovery in EU and North
American forest products markets following the global
financial crisis is continuing in 2016 while the CIS market
is declining.

Currency volatility and low oil prices have been key
determinants of recent forest products trade trends. New
market opportunities for forest products are arising from
innovative products and policy measures to reduce carbon
emissions and encourage moves to a circular economy.

However, there are significant downside risks to the
stability of the global economy. The forest products sector
also needs to focus more on ensuring the regulatory
environment does not create unnecessary barriers to trade
and enhances, rather than hinders, the competitiveness of
wood relative to other materials.

These were key conclusions of the seventy-fourth session
of the recent ECE Committee on Forests and the Forest
Industry (COFFI) held in Geneva, Switzerland.

See: https://www.unece.org/forests/coffi74#/

Drawing on the UNECE Forest Products Annual Market
Review 2015-2016 published to coincide with the
meeting, and presentations by regional market experts, it
was concluded that the general condition of forest
products markets in the ECE region remained relatively
stable in 2015 and the first half of 2016.

See: http://www.unece.org/forests/fpamr2016.html

European and North American markets experienced
moderate consumption growth, benefitting from generally
positive economic developments and improvements in the
housing and construction industry.

In contrast, deteriorating economic conditions and
currencies depreciations primarily accounted for a more
than 4% contraction of sawnwood and panels consumption
in countries of the Commonwealth of Independent States
(CIS).

COFFI highlighted that currency volatility is playing an
important role in trade of forest products in the UNECE
region. In the United States during 2015, imports of wood
products jumped about 10%, while exports declined by
about the same ratio due to the strong US dollar.
Meanwhile the weakness of the euro and other European
countries is contributing to a rise in the EU¡¯s net trade
surplus of forest products. In the CIS countries, a
weakened rouble is pushing exports to record highs for all
major product categories, in many cases more than
countering the lack of domestic demand and thus
increasing production.

The gap between the pace of economic expansion in the
EU and the U.S. is narrowing, as economic activity in the
euro area is rising. The wood furniture manufacturing
sector in Europe continues to show resilience and is
growing, with 84% of furniture consumed in Europe
produced domestically.

Construction is expanding only slowly across Europe as a
whole, but some individual markets are now performing
well, notably in Germany, Netherlands, and the UK, while
Spain is bouncing back after a particularly deep recession.

The meeting observed that recent trade negotiations within
the ECE region, if brought to a satisfactory conclusion,
offer potential to further boost international trade in forest
products.

Canada and the EU have concluded negotiations on the
Comprehensive Economic and Trade Agreement (CETA),
while the Transatlantic Trade and Investment Partnership
(TTIP) ¨C a trade agreement between the EU and the US ¨C
is still under negotiation. Both the CETA and TTIP would
encourage transatlantic trade particularly in value added
forest products.

Patchy and uneven growth in ECE hardwood
consumption
On sawn hardwoods, COFFI concluded that production in
the ECE region increased by 1.8% to 40.7 million cubic
metres in 2015, rising in all three sub-regions (Europe,
North America and CIS).

Consumption of sawn hardwood in the ECE region also
increased to 35.6 million cubic metres in 2015, a 0.9% rise
compared to 2014 and the fourth consecutive year of
increase. Falling consumption in Europe and the CIS in
2015 was offset by rising consumption in North America.

It was reported that European consumption of sawn
hardwood decreased 2.8% to 12.2 million cubic metres in
2015, mainly due to a significant decline in Turkish
consumption. Consumption in EU28 countries increased
by 0.8% in 2015, to 9.5 million cubic metres, benefiting
from (albeit slow) growth in key sectors of the EU
economy, including construction and furniture.

There has been little change in European hardwood
fashion trends which remain heavily oriented towards the
¡°oak look¡±. For example, oak is now used in over 70% of
wood flooring manufactured in Europe while the share of
tropical woods continues to decline and other temperate
species account for only a small share.

Such is the strength of demand for oak in Europe, that
supplies are becoming restricted and prices have been
rising sharply this year.

According to COFFI, sawn hardwood consumption in the
CIS sub-region fell 25.9% to 1.46 million cubic metres in
2015 following a 3.6% fall the year before. However,
hardwood production in the CIS increased 2.3% to 3.4
million cubic metres, with exports taking up the slack.

The weakness of the rouble encouraged a 50.5% increase
in sawn hardwood exports by the Russian Federation to
1.4 million cubic metres. The Russian Federation exported
1.2 million cubic metres to China in 2015, 49% more than
in 2014 and by far the highest level ever recorded.