US Dollar Exchange Rates of 10th November 2016
China Yuan 6.8021
Report from China
Investment in assets and steady retail sales hold
growth steady
In a review of the performance of the economy up to
October this year China¡¯s National Bureau of Statistics
(NBS) says there has been a steady improvement even as
the government policy on ¡°reducing overcapacity,
lowering inventories, deleveraging, lowering costs and
strengthening the weak links¡± takes effect.

In October the total value added by industrial enterprises
was up by 6% year-on-year. An analysis by ownership
type showed that the value added in state enterprises went
up by 3%; by between 4-5% in private local and foreign
private enterprises but fell in collective enterprises.

The NBS says investment in fixed assets expanded over
8% in the first ten months of this year. Investments by
state enterprises increased almost 21% but investment by
private enterprises grew a more subdued 3%.

Retail sales in China have held up well this year and the
NBS says purchases of consumer goods expanded 10%
year on year in October.

Certain categories of high value consumer goods saw
rapid growth. Sales of office goods grew 13% while
purchases of furniture expanded 11%. Purchases of
building and decoration materials increased 12%.

Building and construction investments are key drives of
growth but, as moves to curb building begin to bite, this
will eventually trickle down to other consumer product
sectors including wood products.

For more see:
http://www.stats.gov.cn/english/PressRelease/201611/t20161114
_1428287.html
Efforts to cool housing market score
The Chinese housing market shows little sign of cooling.
Data from lenders is showing medium and long-term
household loans, which are mostly mortgages, made up
75% of new loans issued in October, up from the 47% in
September.

Investment in real estate development in the first ten
months of 2016 increased 6.6% year-on-year, of which
investment in homes expanded 6% and accounted for 67%
of all real estate development investment.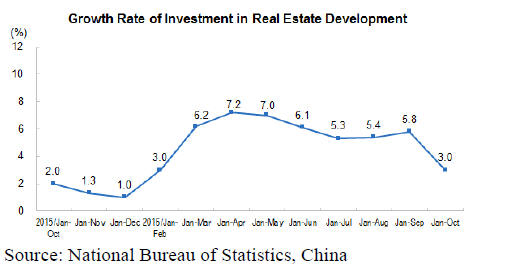 In the first ten months of this year the area of land area
purchased for real estate development fell 5.5%, a trend
apparent since the beginning of this year. However the
pace of decline eased in October.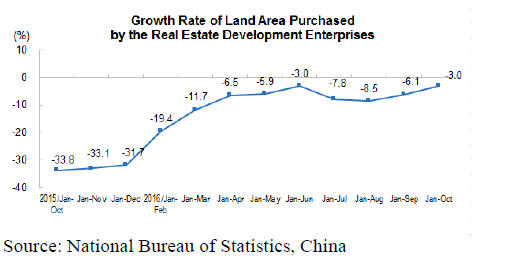 Growth in housing sales stayed steady in China in the first
10 months of year, but slowed for the month of October
alone, after a slew of cities cracked down on their
overheated property markets.

Housing sales rose almost 43% in the first 10 months of
this year compared to a year earlier according to data
released by the National Bureau of Statistics. However in
October the pace of growth in sales slowed as many
Chinese cities put a brake on sales by demanding higher
down payments.

See:
http://www.stats.gov.cn/english/PressRelease/201611/t201
61115_1429481.html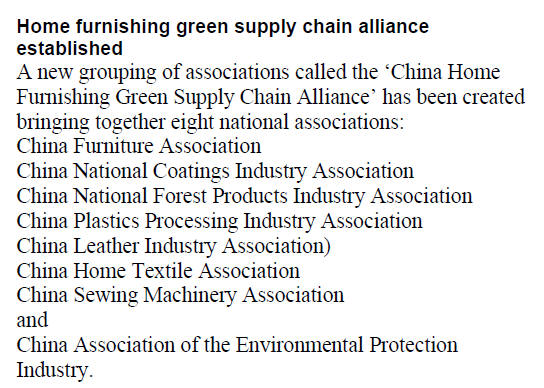 This new body is an independent corporate organisation
composed of up and downstream production enterprises,
commercial agencies, trade and logistics companies,
design agencies and research institutions.

The Alliance will further develop national product safety
standards and only compliant enterprises will be invited to
participate in the Alliance.

According to the organisers the ultimate goal is to achieve
coordinated development of the supply chain, to achieve
up-downstream cross-border integration and promote
progress in the domestic home furnishing industry,
introduce new technologies, upgrade products and
development management skills.

The secretariat of the Alliance will be located in
Dongguan City, Guangdong Province. The furniture
industry is very active in Dongguan City and 2015
furniture output was around RMB79 billion.

See: http://dg.southcn.com/content/2016-
11/07/content_159222509.htm

Price for NZ radiata set to rise
News is emerging that timber harvesting will be affected
by the massive earthquake in New Zealand. A magnitude
7.8 earthquake struck on 13 November and this caused
extensive damage to the road network.

According to GeoNet, New Zealand's official source of
geological hazard information, one of the most serious
medium term impacts of this quake is the damage done to
the road network. The agency says they estimate there
have been more than 80,000 landslides since the quake
and it will take months to open all the affected roads.

Analysts are forecasting that logging across North Island
will be affected for a month at least. With Chinese New
Year less than two months away demand for timber in the
construction sector has risen as contractors rush to
complete contracts.

The trade in China is forecasting that the price for radiata
pine from New Zealand is likely to rise as stocks fall due
to the cessation of logging.

Linyi top plywood exporter
According to the Linyi Entry-Exit Inspection and
Quarantine Bureau, between January and October this year
the value of plywood exported rose 6% to US$1.421
billion accounting for 30% of national total. Linyi,
Shandong Province is ranked number one for plywood
production and export.

Furniture manufacturers import particleboard so their
products meet international emission standards
Many enterprises in China find it better to import high
quality particleboard in order to meet mandatory standards
for formaldehyde emission for panel style furniture
manufactured for international markets. According to
China Customs, in the first nine months of 2016
particleboard imports rose 32% to 560,200 cubic metres.

The top source countries were Thailand (157,700 cubic
metres, accounting for 28%), Malaysia (141,900 cubic
metres, 25%), and Romania (93,500 cubic metres,
accounting for 17%), particleboard imports from these
three countries accounted for 70% of the national total
import.

US hardwood imports keep growing
2016 continues as a record year for US hardwood imports
by China. In the first 8 months hardwood imports from the
US increased 19% to USS1.082 billion. The world value
of global exports of US hardwood was US$2.361 billion
and China and Southeast Asia accounted for 46% and 8%
of global exports respectively.

China imported US$785 million in US hardwood
sawnwood and US$263 million in hardwood logs.

Red oak continued as the most popular timber accounting
for around 40% of all US hardwood exports to China. US
ash exports expanded 26% and China¡¯s imports of cherry
and walnut also increased in the first eight months of this
year.

See: http://www.ahecchina.
org/images/news2016/Market%20dynamic%20Oct_
Eng.pdf