Japan Wood Products Prices
Dollar Exchange Rates of 10th November 2016
Japan Yen 106.83
Reports From Japan
Japan ratifies the TPP
The government of Japan has ratified the Trans-Pacific
Partnership (TPP) trade deal which was at the centre of the
government's plan to revive economic growth through
expanded tariff free trade.

Under the terms of the TPP treaty it must be ratified by the
US to take effect but this may be unlikely in the short term
as the new Republican administration in the US has vowed
to review the agreement and may move to reopen
negotiations.

The quick ratification by Japan is meant to send a signal to
the US and other TPP signatories that Japan wishes to
proceed with the deal. A paper produced by the White
House Council of Economic Advisors says that if the US
does not ratify this trade pact US firms could lose
competitiveness in the Japanese market and this could
result in high job losses in the US.
Machinery Orders for September and forecast final
quarter
The Japanese Cabinet Office has reported core machinery
orders fell once again in September. This was put down to
the weak global economy and weakness in Japan's
domestic economy.

In the October-December period the total amount of
machinery orders was forecasted to fall further by 1.3%
and private-sector orders have been forecast to drop by
almost 6% from the previous quarter. The Cabinet Office
downgraded its assessment of potential machinery order
growth and indicated recovery is now stalling.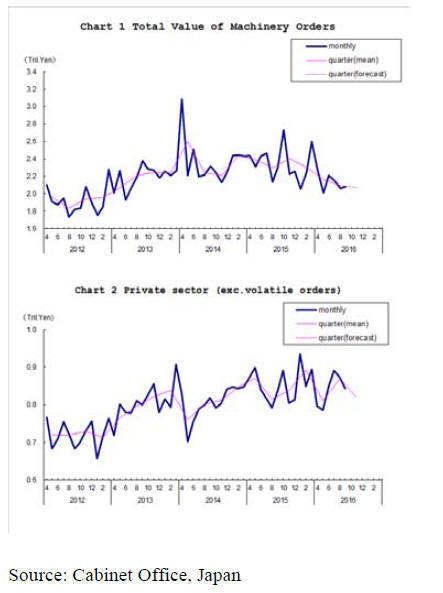 Annualised GDP swings back and forth
Preliminary GDP data point to an unexpected rise in the
past quarter. Japan's economy expanded more than
forecast in the first nine months of this year driven by
higher exports which off-set weak consumer spending.

On the basis of the latest preliminary numbers Japan's
GDP expanded by an annualised 2.2% as of September.

See:
http://www.esri.cao.go.jp/en/sna/data/sokuhou/files/2016/qe163/
gdemenuea.html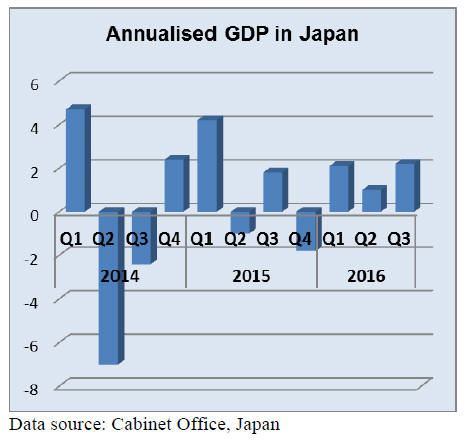 Dollar rises against yen after initial shock fall
The US dollar quickly recovered from a bout of selling
immediately after the result of the US election was
announced. The dollar was recently up about 1% against
the euro and it recovered from a nearly 4% loss against the
Japanese yen.

The US dollar had extended its gains to a five-month high
of yen107.50 on 14 November reflecting expectations for
an economic stimulus package from the incoming
Republican administration.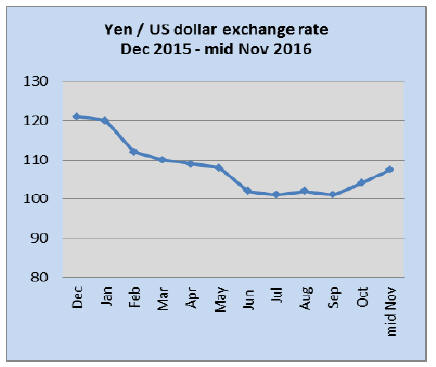 Apartment prices rise out of reach
Ultra-low interest rates in Japan have attracted buyers,
especially those with high levels of savings, to jump into
the property market. This has pushed prices in the Tokyo
area well out of reach of ordinary families.

An unusual situation has developed whereby, as average
sales prices for apartment continued up in Tokyo (rising to
a 25 year high), the number of offers dropped by almost
the same amount.

The Real Estate Economic Institute has reported that sales
of properties over yen 100 million rose by 85% this year
while demand for lower priced homes fell almost 20%
even as the commercial banks offered mortgages at around
1%.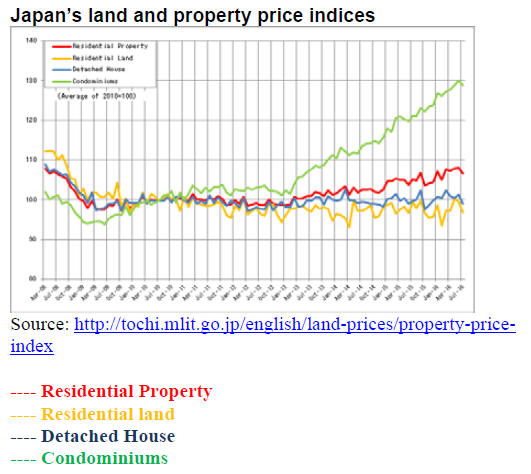 Japan's furniture imports
2016 started well for shippers supplying wooden office,
kitchen and bedroom furniture for the Japanese market.
But as the year advanced a pattern of steady decline
emerged which has been sustained through to August.

Japan's imports of wooden office furniture items have
fallen around 24% since the peak in January. Similarly,
imports of wooden kitchen furniture have fallen by 19%
up to August and the fall in wooden bedroom furniture has
been even more dramatic as a 31% fall in imports has been
recorded.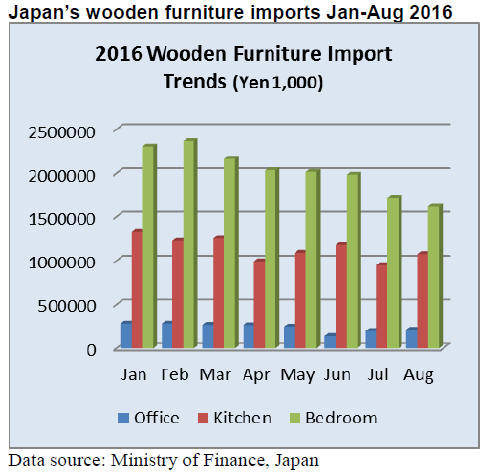 Office furniture imports (HS 940330)
Year on year, imports of wooden office furniture in
August were down 3% but there was a rise in month on
month imports of 14%.

The top three shippers to Japan of wooden office furniture
in August (as they were for the year) were, in order of
rank, China, Poland and Portugal. These three provided
around 80% of all Japan's wooden office furniture imports
in August.
Compared to a month earlier shipments from China rose
10%, shipments from Poland jumped 75% and shipments
from Portugal quadrupled.

Kitchen furniture imports (HS 940340)
The hint of a recovery in wooden kitchen furniture imports
in June was not sustained through into July and even
though August imports bounced a little overall year on
year imports of wooden kitchen furniture fell 3%.

Throughout this year four shippers have dominated the
imports of kitchen furniture, Vietnam ( 41% of Aug
imports), the Philippines (21% of Aug imports), China
(11% of imports) and Indonesia (7% of Aug imports).
These top four suppliers accounted for 94% of all wooden
kitchen furniture imports in August.

In August Vietnam saw shipments to japan rise 34%, the
Philippines achieved a 21% growth month on month while
both China and Indonesia saw shipments decline in
August (10% and 25% respectively)

Bedroom furniture imports (HS 940350)
Bedroom furniture imports have plummeted since January
and it is difficult to explain why there has been such a
sharp fall. Housing starts and consumer sentiment are
drivers of demand for furniture but the extent of the
decline in bedroom furniture imports compared to the
more modest decline in kitchen furniture imports seems to
suggest other factors are involved.
One possible explanation could be that the home
renovation market which has expanded in recent years is a
factor. In a renovation project a new kitchen would seem
appropriate but those undertaking renovations may carry
their existing free standing furniture such as beds with
them to the renovated home.

Year on year August imports of wooden bedroom
furniture were down 11% and month on month imports
also dipped by 6%.

Two shippers, China and Vietnam accounted for around
85% of all Japan's August imports of wooden bedroom
furniture. In August only Indonesia and Denmark recorded
noticeable gains in shipments to Japan.

Trade news from the Japan Lumber Reports (JLR)
For the JLR report please see:
http://www.nmokuzai.
com/modules/general/index.php?id=7

Wood demand projection meeting
The Forestry Agency held the second wood demand
projection meeting and drew up demand projection on
major items for the second half of fiscal year of 2016.

New housing starts in 2016 are estimated about 959,000
units, 4.2% more than 2015. With this assumption, the
projection of demand for the second half of 2016 (October
2016 to March 2017) has very little change compared to
the same period of last year.

Projection of domestic wood is changed downward for
lumber use while wood for plywood is changed upward
for period of July through October and total year. Plywood
use would keep increasing. Generally the demand would
be expanding for the second half of the year. Export
volume of domestic plywood for the first seven month of
2016 increased by 81.3% from 2015.

Imported plywood demand is firm for Indonesian floor
base by active operations of floor manufacturers in Japan
so Indonesian supply would increase while Malaysian
plywood demand would decline considerably with slow
demand for concrete forming panel.

Demand for laminated lumber is firm on both domestic
and import products so overall volume would increase
over last year. On imported laminated lumber, new
redwood plant will start up in Europe so this will be
additional for the imports.

North American log import would be almost the same as
last year probably with slight decline. Import of Douglas
fir logs last year was rather high because of coming
increase of consumption tax but after it was decided to
postpone, hope of rush-in demand faded. Demand for
North American lumber is almost the same as last year
with the supply increasing.

Demand for European common lumber would slow down
in the first quarter next year so the supply would decrease.
South Sea logs for lumber use would decrease because of
supply tightness .Logs for plywood would increase
temporarily since port of Niigata closes the gate for 40
days since February next year so local mills plan to import
logs before this happens.

Demand for Russian logs continues decline compared to
the same period of last year with number of sawmills
cutting Russian logs continue declining.

Log supply for biomass generation in Kyushu
With many biomass power generation plants starting,
some feared that log supply would be short but now the
supply is exceeding the demand in Kyushu.

Biomass power plants started about spring of last year and
a large one with output of 18,000 kw in Ohita, which
started recently seems to be the last one for a time being.
In short, the log demand for power generation plants in
Kyushu is estimated about two million cubic meters,
which is totally new demand. Supply shortage is solved by
aggressive log producers and power plants use other fuel
such as PKS and wood pellet so demand and supply
balance is now stable.

South Sea (Tropical) logs
After the Sarawak government reduced log export quota,
India and Japan have hard time to have enough volume for
shipments. Particularly, it is hard to buy small and super
small logs so the Japanese buyers are shifting to Sabah,
where more logs are available. Kapur and keruing in
Sabah are more difficult to buy now.

Rainy season will start in November and log supply will
get tighter. Malaysian log prices are staying high at
US$275 per cbm FOB on meranti regular, US$255 on
meranti small andUS$245 on super small.

Since the demand for South Sea logs, lumber and plywood
in Japan is sluggish in Japan, the buyers reduce purchase
volume if the export prices stay up high so there is quite a
gap between supply side and Japan side.

Since purchase by India and China is slow now, Sarawak
log suppliers cannot be aggressive now.

Meantime, weather in PNG and Solomon Islands is stable
so that log production is active but main buyer, China is
absent due to depressed China domestic market then India
started buying to replace Sarawak logs so there is no
surplus.

Itochu Kenzai expands sales of certified plywood
Itochu Kenzai Corporation (Tokyo) plans to increase sales
of ecological panel products. It has own ecological brand
of 'global wood' for panel products and it will add more
products under this brand.

Among major building materials trading firms, as far as
plywood handling is concerned, Itochu Kenzai is third
with 20% in total business but as far as domestic plywood
handling is concerned, it is the top with 25%.
Domestic plywood handling is further increasing. Share of
import plywood and domestic plywood reversed this year
and domestic share is 52% and it thinks this trend would
continue.

Percentage of 'Global wood' is now 20% in total plywood
sales and it plans to add more products for this brand. In
imported plywood, they are hybrid plywood with 100%
planted wood and coated plywood and structural plywood
with forest certification. In domestic plywood, structural
plywood with cypress.

From Indonesia, new product is 100% planted wood
plywood with falcata for face and back and planted
meranti for core, which has higher specific gravity and has
much better nail holding performance, which solved weak
point of 100% falcate plywood.

Forest certified products have brand name of 'Save naturestructural
and Save nature-coated concrete forming'. It
says monthly sales of 'Global wood' products are 10,000
cubic meters and it plans to increase 10% for this term.

Ta Ann's to make all products certified
Ta Ann Plywood SDN BHD. (Sibu Sarawak, Malaysia)
proposed rearrangement of its own timberland and planted
areas to the Sarawak government to obtain Forest
Management Certification and it is approved on
September 23. This is one of the efforts to achieve
continuous growth and forest preservation and to make
environmentally friendly management.

Proposed content is to rearrange complicatedly located its
own timberland and planted areas clearly and makes three
natural grown timberland units and two planted timberland
units (LPFs). With this rearrangement, obtaining forest
certification will be much faster.

Ta Ann has been studying with many consultants to have
mutual certification between MTCS, which is Malaysian
forest certification system and PEFC after it disclosed
obtaining of FMC.

It has also been working together with Sarawak forestry
Department, universities and National Environmental
Academy to improve precision of investigation for the
certificate. Ta Ann uses logs from its own timberland so
that traceability is high.

Once mutual recognition by MTCS and PEFC, all the
plywood Ta Ann processes will be PEFC certified
products. Ta Ann makes eucalyptus veneer from logs
produced from PEFC certified forest at Ta Ann Tasmania,
Australia.

The veneer is shipped to Sarawak and Ta Ann makes
plywood, which is PEFC certified plywood. It supplies
coated plywood and structural plywood for Japan.

Domestic solid hardwood flooring developed
Horiuchi Wood Craft Co., Ltd (Ashigara county,
Kanagawa prefecture), wood processor of thinning and
local wood, has developed domestic solid hardwood floor
board with FSC certified wood. This is the first for such
certified wood products in Japan. It has started marketing
the product since this fall. It is order made products and it
takes about six to twelve months for delivery.

FSC certified material wood is procured from Iwate
prefecture and Hokkaido. Species are ash, oak, chestnut,
cherry, birch, beech, walnut and magnolia. Domestic
hardwood log supply is unstable and FSC certified logs are
hard to find and there are little mills to have COC
certificate so commodity production is difficult.

Horiuchi Wood Craft has been manufacturing various
hardwood products such as base for lacquer ware, wooden
toys, wood stationary and novelty goods. Since it has
acquired COC certificate, it has been manufacturing
certified goods so it has wide knowledge of certified
goods. It has built up network of forest owners with
certification and processing plants.

It has started certified hardwood products since last year
then it decided to start marketing hardwood floor as more
demand would increase toward the Tokyo Olympic Games
in 2020.