Report from North America

Market for balsa remains strong
US imports of temperate and tropical sawn hardwood
declined 3% in October to 63,294 cu.m. Imports of
tropical species decreased more than most temperate
hardwoods, reversing this summer¡¯s trend of higher
growth rates in tropical imports.

Despite stronger housing starts and home sales in 2016,
year-to-date imports of tropical sawnwood fell in October.
Tropical sawnwood imports were 18,943 cu.m. in October,
down 8% from the previous month.

The value of tropical sawnwood imports declined by 15%
to US$19.7 million in October.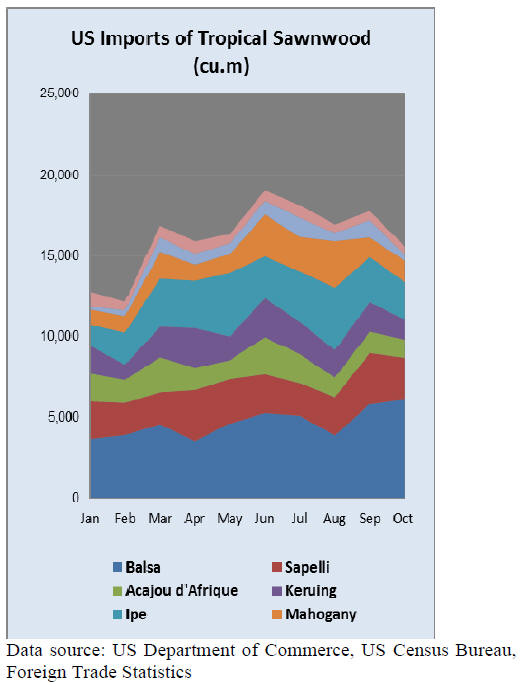 The strongest year-to-date decline was in sapelli imports.
Sapelli sawnwood imports fell 19% month-over-month
and by one third year-to-date from October 2015. Imports
of ipe sawnwood declined in October to 2,350 cu.m., a -
2% decrease year-to-date compared to the same time last
year.

US imports from Indonesia increased 4% from September.
Imports of red meranti and other unspecified tropical
species from Indonesia grew, while keruing sawnwood
imports were down in October. Keruing imports from
Malaysia fell to just 830 cu.m. in October.

Year-to-date US imports of almost all tropical species was
lower than in October 2016. Of the main species imported
only balsa imports grew in 2016.

The US has traditionally been the world¡¯s largest market
for balsa with Ecuador exporting almost all balsa
sawnwood to the US.

Balsa for wind turbine blades
The US and China are the largest markets for wind turbine
blades, but growth in wind blade production is forecast to
slow in both countries after 2019 as renewable energy
targets are met (Navigant Research (2016): Wind Turbine
Blade Technology & Supply Chain Assessment).

Balsa also competes with polymer composites in industrial
applications. As wind turbine manufacturers design larger
blades, materials have increasingly precise performance
requirements (Esler (2014) Balsa Wood Substitute
Developed for Wind Turbine Blades, in Woodworking
Network, Dec 21).

Bio-based plastics are also being researched. However,
future demand for balsa is expected to remain strong. The
wind energy and transport sectors are growing worldwide,
and balsa is a strong, renewable, environmentally friendly
and cost-efficient core material.

Growth in Canadian imports of sapelli and balsa
Canadian imports of tropical sawnwood increased to
US$1.46 million in October and were up 16% year-overyear.
The Canadian tropical sawnwood market was worth
7.4% of the US market based on October imports.

Balsa imports increased in October with imports from
Ecuador up 30% from the previous month. Year-to-date
imports from Ecuador increased 15% from October.
Sapelli sawnwood imports grew in October and were
worth US$379,328. Canadian imports from Cameroon and
Congo (formally Brazzaville) declined in October despite
the growth in sapelli imports.

Growth forecasts for wood mouldings
US wood moulding and trim demand is expected to grow
5.7% annually to US$5.8 billion in 2020, according to a
Freedonia market report published in November (Molding
& Trim in the US, 6th Edition).

Both residential and non-residential construction and
renovation will boost demand for wood moulding and
trim. Spending on office and commercial buildings is
expected to make strong gains in the next four years.

Solid wood will remain the largest material type in
moulding and trim, but it continues to face growing
competition from other materials. Plastic moulding and
trim is forecast to grow at a faster rate through 2020
(+6.3% per year) than wood. The fastest growth will be in
engineered wood.

See: http://www.freedoniagroup.com/industry-study/moldingtrim-
in-the-us-by-material-product-market-and-region-6thedition-
3474.htm
Wood-plastic composite is used primarily in exterior
trim
According to the Freedonia study, contractors and
remodelers are more likely to use new, non-wood
products, while homebuilders tend to specify wood or
engineered wood for moulding and trim.

The majority of the growth in demand will be in interior
moulding and trim. Growth in new single-family house
construction will drive demand for stairs in particular. The
other major market for mouldings will be in the home
renovation segment of the housing market.

Positive outlook for hardwood flooring market
Hardwood flooring had the second-largest market share
after carpet in the US$23.14 billion US floor covering
market in 2015, according to a market research study
(Catalina Research (2016): Floor Coverings Industry
Trends). Hardwood flooring accounted for US$3.79
billion with imports at US$1.23 billion in 2015.

See: http://www.catalinareports.com/report-categories/floorcoverings-
industry-trends/

Over half of the hardwood flooring market is in residential
replacements, followed by new residential construction
(25%). The remainder of the market is primarily
commercial hardwood flooring (new and replacement).

The outlook for hardwood flooring in the US is positive
since residential and commercial construction and
renovation are expected to continue growing.

The laminate flooring market accounted for US$912
million in 2015. Laminate flooring has lost market share to
vinyl tile and other hard surface flooring materials. High
formaldehyde emissions found in some imported laminate
flooring from China has had a negative effect on the image
of laminate flooring.

Canada promotes wood infill walls in China
A new wall system was showcased in China¡¯s Jiangsu
Province during British Columbia¡¯s forestry trade mission
to Asia. The infill wall is a standard North American wood
wall with drywall and is installed between concrete floors,
ceilings and pillars. The wall in the city of Nanjing will be
completed this winter and a portion of the components will
remain visible to show the technology used.

The wood wall infill system would support China¡¯s goals
of green building and prefabrication in construction.

On the same trade mission Canadian officials promoted
the government¡¯s policy on combating illegal logging and
its trade, Canadian industry practices and forest
governance to ensure sustainability, legality and
traceability of wood products.