Japan Wood Products Prices
Dollar Exchange Rates of 09th December 2016
Japan Yen 115.36
Reports From Japan
Capital investment growth rebounds in October
Japan's Cabinet Office has released details of the value of
manufacturing machinery orders received by companies
operating in Japan. The October figure is up 3.3% from
September on a seasonally adjusted basis. Private-sector
machinery orders, excluding those for ships and power
generation, increased a seasonally adjusted by 4% in
October.

Private sector capital spending is just one indicator, and a
rather volatile one, of the direction of the economy.
The government is hoping that capital spending will
support sustainable growth.Capital investments fell in the July-September quarter for
the first time in nearly four years and in the third quarter
the Japanese economy grew much slower than initially
estimated driven lower by global economic uncertainty.

See: http://www.esri.cao.go.jp/en/stat/juchu/1610juchu-e.html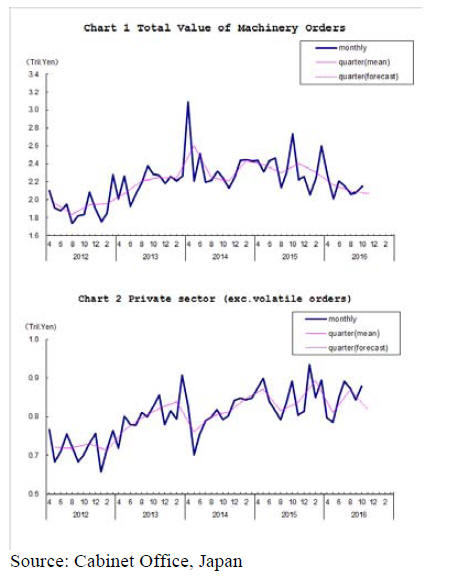 OECD pessimistic on growth prospects in 2017/18
Japan's GDP is forecast to expand by just 1% in 2017 and
then slow in 2018 says the latest assessment from the
OECD. The brake put on reforms required to spur growth
has slowed fiscal consolidation but has helped the country
weather the mid-year yen appreciation. The OECD again
reiterated that structural reforms are essential to boost
productivity and to get more women back to work.

The OECD writes "This would enhance social cohesion
and reduce Japan's high relative poverty rate. Faster
growth is critical to stopping and reversing the run-up in
public debt, which is projected to reach 240% of GDP by
2018."

See: https://www.oecd.org/economy/japan-economic-forecastsummary.
htm

All eyes on the US Federal Reserve
The Yen fell mid-December marking the fifth-consecutive
weekly drop against the US Dollar. As of 10 December the
Yen was at its weakest in almost two years. The midmonth
US Federal Reserve meeting has determine the
direction of the yen and a further decline seems inevitable.

Interest rates in the US are on the way up. At the last
meeting of the Federal Reserve the benchmark interest
was moved from the current 0.25-0.50% to a range of 0.50
and 0.75%
US employment has been improving as have wages. The
head of the Federal Reserve said she expects rates to be
raised three times in 2017.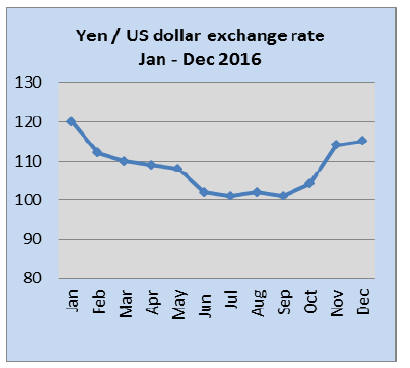 Japanese investors chase returns in housing sector
Financial agencies in Japan are keeping a close eye on the
condominium and apartment block loan portfolios of
commercial banks so as to be sure the banks are properly
assessing the risks associated with such loans.

This concern stems from data showing loans for apartment
building has expanded rapidly against a backdrop of an
increase in vacancy rates especially in Tokyo. With
interest rates at zero, investors have turned to the property
market looking for returns. The Bank of Japan says loans
for condo and apartment buildings have grown at twice the
rate of overall lending.

Another factor stoking concern amongst the financial
watchdogs is that demand for housing could fall well
below the rapidly rising supply even in the main cities as
the population in Japan is on a steady downward trend and
this is likely to spill over to Tokyo by 2020.

Japan's furniture imports
January 2016 marked the high point for wooden kitchen
and bedroom furniture imports but since then there has
been a steady decline in the value of imports of both
categories of furniture. However, year on year figures are
more encouraging with kitchen furniture imports steady at
2015 levels in the first 9 months and bedroom furniture
imports showing just a 1% decline year on year.

Wooden bedroom furniture imports display cyclical
demand but this is less pronounced for wooden kitchen
furniture imports. Of the three categories of wooden
furniture imports being tracked, only office furniture
imports are showing a downward trend for the first 9
months of this year.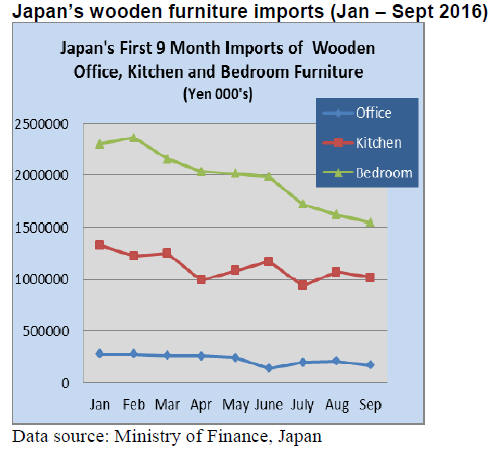 Office furniture imports (HS 940330)
September year on year imports of wooden office furniture
were down 8% and month on month imports dropped a
huge 17.5%.While shippers in China dominate the trade in
office furniture with Japan (60% of the total) the second
and third ranked suppliers alternate between suppliers in
the EU.

In September the second ranked supplier was Italy (18%
of Japan's total imports) followed by Poland. In
September China's share of total wooden office furniture
imports dropped 25% while the two EU suppliers marked
gains.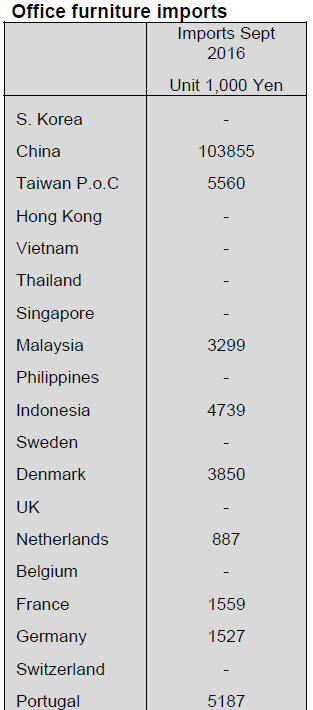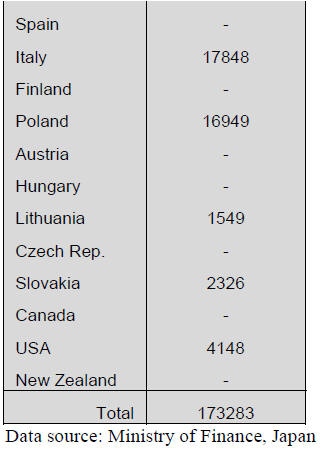 Kitchen furniture imports (HS 940340)
For the year to September 2016 there was an 1% year on
year drop in wooden kitchen furniture imports into Japan
and compared to August, September imports were down
around 5%.

The same four shippers dominated September imports of
wooden kitchen furniture: Vietnam, the Philippines, China
and Indonesia. From the beginning of this year Vietnam
has been the main supplier but in September shipments
from the Philippines just topped those from Vietnam.
Together, the Philippines and Vietnam account for around
70% of all Japan's imports of wooden kitchen furniture
with each accounting for around 35%.

The third ranked supplier is China which in September
accounted for a further 10% of Japan's kitchen furniture
imports.

Bedroom furniture imports (HS 940350)
Bedroom imports by Japan are exhibiting the typical
cyclical trend seen in previous years. For the first 9
months of 2016 imports have fallen mirroring the trend in
2015. It remains to be seen if imports will increase in the
final quarter on the back of the healthy increase in new
home building starts.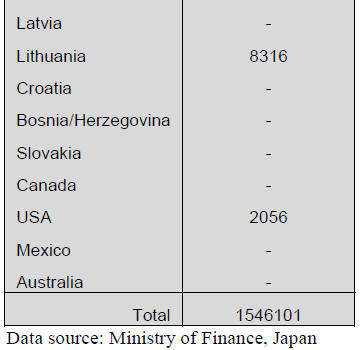 Trade news from the Japan Lumber Reports (JLR)
For the JLR report please see:
http://www.nmokuzai.
com/modules/general/index.php?id=7

Joint action plan by five groups
Demand promotion of domestic logs has been busy but
replantation after the harvest is now the question. Five
groups made joint declaration to warn sustainability of
domestic forests.

Japan Forestry Association, Japan Federation of Wood
Industry Association, Japan Federation of Forest
Association, Forest management Association of Japan and
Japan Federation of Logging Association signed action
plan to establish sustainable forest management and five
groups declared to realize fundamental policy for
promotion of utilization of wood and sustainability of the
forest.

In 2015, joint action plan was made for reconstruction of
forest in Japan. As one of concrete plans, in April 2016,
the law to use wood for public buildings should be
extended to private buildings so that it is necessary to have
a new law of wood use promotion law. It is requested to
the Forestry Agency.

This year's action plan includes having system to have
sustainable forest by cooperation from economic society
and general public. It is necessary to establish fundamental
measures of utilization of wood including revision of the
wood use for public buildings through every level of
government system. It is also necessary to share the
information of forest and forest owners then to create
understanding of this move through general public as
national move.

The groups commented that even if the demand of wood
increases, it is doubtful to replant after the harvest based
on current return to forest owners, unless cycle of harvest
and replant is established soon, future planted forest
resources would be gone, timber harvest got busy in
Kyushu by exporting logs, increased consumption by
biomass power generation and building large new
sawmills but replantation is not progressing and this will
be the common national issue eventually.

Another comment is that recent increasing demand of
domestic wood is mainly for lower grade used for biomass
power generation like B & C class logs but demand for A
class logs, which is high grade logs to recover clear
lumber with higher prices. Unless demand for such higher
grade logs increases, return to the forest owners remain
low so that expenses for replanting are hard to generate.
After all, demand promotion is fine but it is imminent
issue to establish cycle of harvest then replant.

Japan Wood Station in Vietnam
The Japan Wood Products Export Promotion Council
opened 'Japan Wood Station' in Ho Chi Ming in Vietnam
to display Japanese wood products with subsidiary of
Forestry Agency to promote exporting wood products.

The station has floor space of 133 square meters.
Displayed items are square, beam and decorative girder,
structural laminated lumber, panel, laminated lumber for
interior finish and siding board. Also special items used
for the Japanese style room and Japanese style room.

In late October, representatives of Forestry Agency and
other groups visited the room and discussed schedule of
opening ceremony and also discussion with the
Vietnamese wood products users

Imported South Sea (tropical) hardwood plywood
The market of 12 mm panel has been declining little by
little for over a year but now after the importers and major
wholesalers finished interim book closing in September,
the inventory adjustment completed.

Level of inventory gets low and order files are low for
future arrivals. Major plywood manufacturers in Sarawak,
Malaysia announced $20 price increase.

In this situation, the extreme low price offers are totally
gone from the market but price increase is difficult due to
depressed demand so it will take more time until the prices
climb. 12 mm 3x6 JAS concrete forming for coating
panel prices dropped down to 1,050 yen per sheet
delivered and green 3x6 concrete forming panel to 960-
970 yen in late September, which were extremely low.

Then in October, the yen got weaker down to 104-105 yen
per dollar so tide of strong yen is changed then in middle
of October, the largest Sarawak plywood supplier
proposed $20 per cbm higher FOB prices because of high
material log prices and other suppliers follow suit.

If these prices are accepted, FOB prices are $450-460 on
3x6 JAS concreter forming panel and $520 on 3x6 JAS
coated concrete forming panel.
Then in November, some wholesalers started purchasing
in declining inventory because of higher cost in future.
The importing trading firms started proposing higher
prices to get out of loss business. Some importer says to
bring the prices of 3x6 concrete forming panel for coating
up to 1,150-1,200 yen is a target as the first step.

The importers have started committing future cargoes of
tight items so higher FOB offers are gradually accepted.
However, demand for concrete forming panel will slow
down in winter time until March next year so the buyers'
desire to purchase is dull. Increase of market prices will
take time and be slow. The move would start from upper
stream of distribution channels then gradually spread
downstream.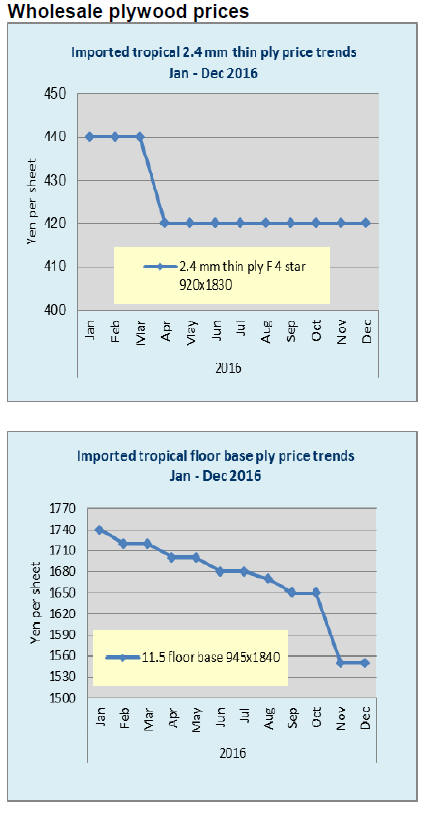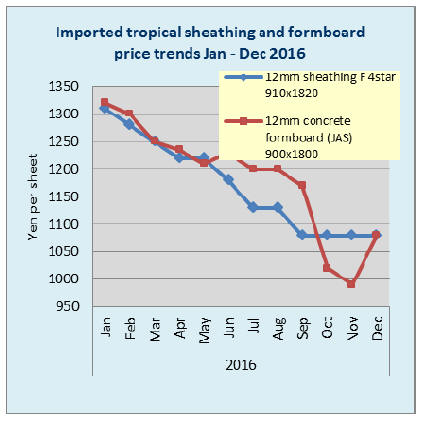 South Sea (tropical) logs
In Malaysia, there are more rainy days in November so it
is arrival of rainy season. There are more rain falls in
Bintulu, Sibu and Sabah so log production will be affected
by weather factor now.

Log suppliers in Sarawak try to harvest regular grade logs
to have higher return affected by reduced log export quota
set by Sarawak government but this move could be
temporary since number of regular grade log buyers is
limited.

The Japanese log buyers have hard time to buy small and
super small logs now. Some go to Sabah by limited supply
in Sarawak.

Log buyers from India are not able to buy enough logs in
Sarawak with high prices so they are now in PNG and
Solomon Islands where China is the main buyer but
because of depressed market in China, they reduced a
number of ships to the area so India sneaked in while
China is absent.

India does not concern to quality of logs so much and they
can use low grade logs with large hole so as long as the
prices are low and the volume is available, source does not
have to be Sarawak.

With rainy season coming, log supply will decline and the
prices would go up higher but for Japan, the yen is getting
weaker and the demand is stagnant, the importers are not
able to accept higher log prices. Presently Sarawak log
prices stay up high at US$275-278 per cbm FOB on
meranti regular, US$255-258 on meranti small and
US$245-250 on super small.

Itochu Kenzai concentrates on legal products
Itochu Kenzai Corporation (Tokyo) decided to start
handling legal products only starting April 2018. This
includes all the imported products and shipments. On any
suspicious products, it will visit supply sources and
confirm legality. It will visit some European company to
which environmental groups expressed some doubtful
comment. This move is to deal with the Clean Wood law,
starting in 2017.
Its business policy is to make effort of stable supply of
only products the customers' needs and it considers
environmental protection important by expanding in
handling of legally certified products the Clean Wood law
stipulates.

In particular, in wood products trading department, four
points are important, consideration to environment,
proposal business, unique supply sources and non-housing
business.

Handling of legal products has been increasing so since
April 2018, all the products will be legally certified. In
2015, share of certified products (lumber and laminated
products) were 79% then it increased to 84% during April
and August 2016.

The employees and customers' members visit suppliers to
see if the products are conforming to conditions of
environmental protection. It will send some to the
European suppliers shortly.

It has its own house brand of Chikyuugi (Earth Tree),
which includes Canadian WFP certified KD hemlock. It
will supply of this products steadily by having inventory
on both sides of the Pacific.

Also, as an agent of Metsa Wood, it handles Metsa
products consistently then it will increase handling of
redwood laminated lumber supplied by Schweighofer.
Since 2017, it plans to handle legally proved Russian red
pine lumber. It will consider forming processing system of
domestic logs.

Arauco plans eight ships in 2017
Arauco, the largest Chilean radiate pine lumber supplier,
announced 2017 plan of bulk ships for green lumber for
Japan. It plans eight ships in 2017, the same as 2016 with
the volume of 144,000 cbms. It has two additional ships as
option in case the demand picks up.

Actual arrivals of total Chilean lumber during January and
August in 2016 are 134,200 cbms, 8.2% less than the same
period of last year so total year volume is expected to be
about 200 M cbms. Arauco's supply volume for Japan in
2016 is estimated about 140 M cbms (loading base).

The last ship of the year will depart Chilean port in late
December and arrive Japan in early February of 2017.
Therefore, the first ship of 2017 will be loading in early
February. Arauco figures about 18,000 cbms for Japan per
every ship and plans shipment in every 45 days. Ships'
loading volume is 30,000-50,000 cbms per ship chartered
from three shipping companies, NYK, WBC and DAM.

The volume includes markets of China and Korea. Chilean
lumber suppliers revised joint shipment and
individual supplier negotiates with shipping lines of yearly
necessary ships. Since shipments include other markets
volume, ships' rotation is flexible so that inventory
management is much more difficult than before after
regular 45 days rotation is disrupted.