Report from North America

Hardwood plywood imports decline for third
consecutive month
Hardwood plywood imports declined for the third
consecutive month in September to 270,584 cu.m. The
value of plywood imported in September was down 3%
from the previous month.

Year-to-date, the value of plywood imports increased in
September for imports from Canada, Ecuador, and to a
lesser degree, Malaysia. Despite the higher volumes
shipped for most other suppliers the value of plywood
exports to the US market declined compared to September
2015.

The largest month-on-month drop was in plywood imports
from China. The US imported 148,645 cu.m. from China
in September, worth US$89.6 million. Year-to-date import
volumes from China were 1% higher than in September
2015.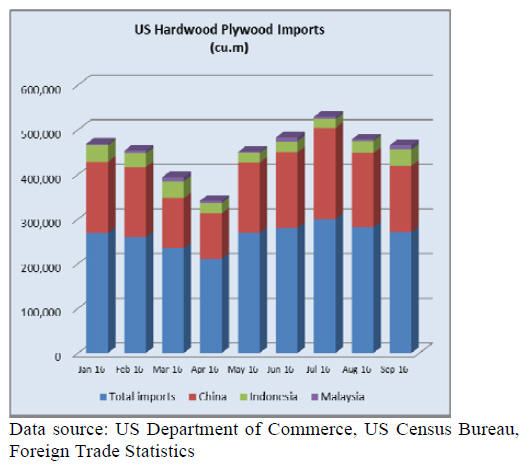 Hardwood plywood imports from Malaysia almost tripled
in September from the previous month to 9,825 cu.m.
Despite this month's growth in shipments, year-to-date
imports from Malaysia were down from September 2015.

Hardwood plywood imports from Indonesia and Ecuador
were also up in September, but year-to-date import
volumes remain below 2015 levels.

Tropical veneer imports down in September
Tropical hardwood veneer imports fell by more than half
in September to just US$1.1 million. Imports from
practically all countries declined. The largest monthly
decrease was in the two largest suppliers Italy and China.

Year-to-date imports of veneer remain significantly up
(+46%) compared to September 2015.

Higher moulding imports from Malaysia
Imports of hardwood moulding were worth US$15.7
million in September, down 12% from the previous
month. Year-to-date imports were 4% below September
2015.

Imports from Brazil and Malaysia increased in September
despite the overall decline. Brazilian shipments to the US
were worth US$4.6 million. Imports from Malaysia
increased to US$1.2 million in September. Moulding
imports from China were down one third from August.

Year-to-date moulding imports from Canada and Malaysia
were up compared to the same time last year, while China
and Brazil shipped less this year.

Malaysia and Indonesia lose imports share in
hardwood flooring
Imports of hardwood flooring and assembled flooring
panels decreased in September. Hardwood flooring and
assembled flooring panel imports were worth US$3.3
million and US$13.9 million, respectively, in September.

Year-to-date imports of assembled panels were up 13%
compared to September last year, while hardwood flooring
imports declined year-to-date.

Hardwood flooring imports from Malaysia and Indonesia
fell in September. Last year both countries were the largest
suppliers to the US market, but 2016 year-to-date China
has become the largest source of hardwood flooring
imports.

Canada shipments of hardwood flooring also grew in 2016
helped by a more favourable exchange rate.

Imports of assembled flooring panels from all major
suppliers except Brazil declined in September. Imports
from Brazil increased to US$685,136, but year-to-date
imports were down 14% from September 2015.

China remains the largest source of assembled flooring
imports and its shipments to the US increased 16% yearto-
date from September last year. Indonesia, Thailand and
Vietnam also expanded their share in US imports in 2016.

Wooden furniture imports down 8% in September
Wooden furniture imports declined 8% in September to
US$1.33 billion. Year-to-date imports were up 2% from
September 2015.

Furniture imports from most countries decreased in
September except from Indonesia. Imports from Indonesia
grew in September (US$36.5 million), but year-to-date
they were still 9% lower than at the same time last year.

Year-to-date China's furniture exports to the US were
unchanged from September 2015, despite a 7% monthover-
month decline this September.

Canada, Mexico and India had the strongest growth in
year-to-date wooden furniture exports to the US market.
Imports of non-upholstered seats were unchanged from
August, while all other types of furniture imports
decreased in September. The strongest monthly decline
was in kitchen furniture imports.

Stronger GDP growth in third quarter
GDP increased at an annual rate of 2.9% in the third
quarter of 2016, based on the first advance estimate by the
Bureau of Economic Analysis. In the second quarter, real
GDP increased 1.4%.

The unemployment rate was practically unchanged at
4.9% in September, according to the US Bureau of Labor
Statistics. Employment in construction, manufacturing,
wholesale and retail trade changed little from the previous
month.

Economic activity in the manufacturing sector expanded in
October, according to the Institute of Supply Management.
Furniture and related products manufacturing reported
growth in October following a month of lower output.
Wood product manufacturing shrank for a second
consecutive month in October.

The US manufacturing industry reported little impact on
their businesses this quarter from the bankruptcy of the
Hanjin Shipping Company. Over half of the companies
surveyed by the Institute of Supply Management were not
affected, while 30% reported a small, but not serious
impact.

Housing starts and existing home sales at highest
level since 2007
Housing starts soared by 26% in October to a seasonally
adjusted annual rate of 1.32 million units, according to the
US Department of Housing and Urban Development and
the Commerce Department.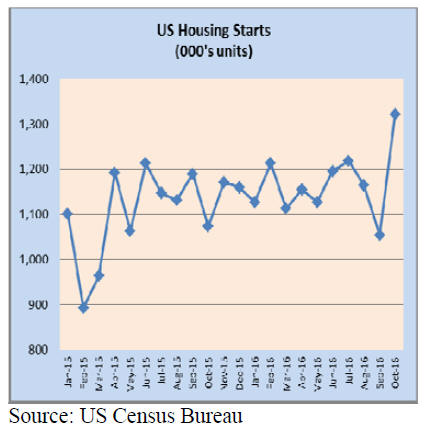 Construction of new single-family houses reached their
highest level since October 2007. Multi-family housing
starts production jumped almost 70% from the previous
month. However, the National Association of Home
Builders still expects lower multi-family construction
overall this year than in 2015.

Builders' confidence in the market for new single-family
homes held steady in November. The survey was carried
out by the National Home Builder Association before the
election in early November.

The number of building permits issues, which indicates
future building activity, changed little in October. Singlefamily
permits increased slightly to 762,000, while multifamily
permits declined by 3%.

Sales of existing homes sales reached the highest level at a
seasonally adjusted annual rate in October since February
2007, according to the National Association of Realtors.
Sales were 6% higher than at the same time last year. The
National Association of Realtors Sales credits pent-up
demand and economic growth with the upswing in sales.

Long-term downward trend in single-family house
construction in Canada
Housing starts in Canada fell 12% in October at a
seasonally adjusted annual rate. The decline was mainly in
multi-family construction, but single-family starts also
fell.

The Canadian Housing and Mortgage Corporation
forecasts slightly lower starts for this year and next year
than in 2015. High home prices have contributed to
affordability challenges, especially among first-time home
buyers.

Construction of single-family homes has trended
downward since 2009. In 2016 the average share of singlefamily
homes in total starts was 67% in the US compared
to 30% in Canada. The downward trend in single-family
construction is expected to continue in the next two years
as house prices in the major cities have become
unaffordable to most Canadians.

US Lumber Coalition petitions government to impose
duties on Canadian imports
The US Lumber Coalition has filed a petition with the US
government to impose duties on sawn softwood from
Canada.

The group alleges that provincial governments in Canada
subsidise softwood producers, mainly by selling trees from
public land to sawmills at lower than market value prices.
Softwood is not included in the North American Free
Trade Agreement NAFTA and the 2006 softwood lumber
agreement expired last year.