US Dollar Exchange Rates of 25th October 2016
China Yuan 6.7798
Report from China
Put a brake on real estate investment says Banker
The chief economist at the People¡¯s Bank of China¡¯s
Research Bureau has warned of the consequences of not
reigning in the flow of investment into new housing. In a
widely quoted statement he said ¡°Measures should be
taken to put a brake on the excessive bubble expansion in
the property sector and we should curb excessive
financing into the real estate sector¡±.
Investment in real estate continued to expand in the first
nine months of this year compared to the same period last
year according to data from the National Bureau of
Statistics but the pace of expansion has been slowing and
forward purchases of land for development are down on
levels in 2015 but have shown a tendency to pick up over
the past few months.

According to a press release from the National Bureau of
Statistics, investment in real estate development in the first
nine months of 2016 was up 5.8% year-on-year of which,
the investment in residential buildings was higher by 5.1%
and accounted for almost 67% percent of all real estate
investment.

The spread of investment by region shows considerable
variations with the Central region seeing the fastest pace
of investment growth.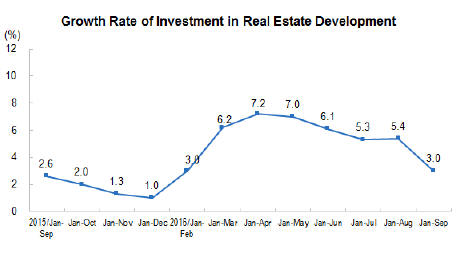 Purchases of land by housing developers in the first nine
months of this year was down 6.1% year-on-year but the
pace of decline has started to slow signaling further
growth in the housing stock.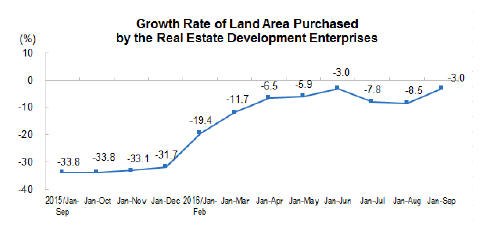 For more see:
http://www.stats.gov.cn/english/PressRelease/201610/t20161020
_1412038.html

Taiwan P.o.C introduces new import rules
It has been reported that, in an effort to control the spread
of the Asian long-horned beetle (anoplophora
glabripennis), Taiwan P.o.C has introduced new rules
covering log imports.

The Asian long-horned beetle is native to eastern China,
Japan and Korea. The adult beetles lay in the cambium of
the host tree on hatching the larvae can have a devastating
impact of forest areas.
From 1 October this year authorities in Taiwan P.o.C have
required the species name and country of origin for all
logs to be specified in the quarantine certificates, including
logs from mainland China. Logs without correctly
completed phytosanitary certificates will be held for
investigation which could take up to a month.

Home furnishing industry locates to Qingfeng county
Factory units have been built at the Qingfeng industrial
Zone and reports suggest some 20 home furnishing
enterprises in Hebei Xianghe County will transfer to the
new Qingfeng industrial zone by the end of this year.
Currently 63 home furnishing contracts worth more than
RMB8 billion have been signed with companies currently
in the zone.

There are around 400 home furnishing manufacturing
enterprises in Qingfeng County, He¡¯nan Province and
locally this county is called the ¡®China Middle Furniture
(Qingfeng) Industry Base¡¯ by the China Furniture
Association.

Rapid development of China¡¯s custom made furniture
business
In the first three quarters of 2016 the turnover of the
leading custom made furniture manufacturing enterprise
SOGAL Home Furnishing Co., Ltd rose 43% to
RMB2,971 billion, and net profits of the company grew
48% to RMB408 million.

The latest figures available show that nearly 90% of
company profits are from custom made furniture
production, a segment of the furniture market that has
developed rapidly in recent years.

For more see: http://www.sogal.com.cn/
and
http://www.sogal.com.cn/En/index.html

Breakthrough in formaldehyde free plywood
production
At a press conference arranged by the China High-Tech
Industrialization Association a key technology for
formaldehyde free plywood production was introduced.

Through application of this technology formaldehyde
emissions can be reduced to only 0.015mg/L which is 1%
of national E1 standard for plywood. The Scientific and
Technological Achievements Evaluation Committee
within the China High-Tech Industrialization Association
stated that no other formaldehyde adhesive has attained
this level of emission elimination.

According to the National Planning Report during the 13th
Five Year Plan (2016 to 2021) it is forecast that national
wood-based panel production will stabilise at between
260-280 million cubic metres.

For more see: http://sanwen8.cn/p/46cU73K.html

Xianyou county awarded title - ¡®Capital of Global
Chinese Style Classical Furniture ¡®
The 2016 China Redwood Art Carving Fair was held 18 to
23 October 2016 and carvers in Xianyou County were
awarded the title ¡°Capital of Global Chinese Style
Classical Furniture¡± by the Chairperson of the Asia-Pacific
World Crafts Council.

The exhibition extended over 60,000 square metres and
some 500 producers participated along with tens of
thousands of redwood art carving hobbyists, consumers
and experts.

Sharp rise in log imports from Russia
In the first three quarters of 2016 log imports through
Taicang Port totaled 6.51 million cubic metres valued at
US$920 million. Of the total, the value of log imports
from Russia through Taicang Port soared over 300% to
US$330 million (1.12 million cubic metres). The main
species were larch and fir.

Langfang the main centre for furniture production
According to Hebei Entry-Exit Inspection and Quarantine
Bureau in the first three quarters of 2016 the value of
wooden furniture exports rose 16% to US$204 million.
This is the first time for furniture exports from the
province to exceed US$200 million. Furniture exports
from Hebei Province include household, office, hotel and
hospital furniture and are shipped mainly to the USA,
Italy, Germany and Canada.

Langfang is the main centre for furniture production in
Hebei Province and the value of Langfang furniture
exports accounted for nearly 90% of the total from Hebei
province in the first eight months of this year.