2. GHANA
Ghana private sector gets help on VPA
The Food and Agriculture Organisation (FAO) has signed
Letters of Agreement with five corporate bodies in Ghana
aimed at supporting private sector implementation of the
Voluntary Partnership Agreement (VPA). FAO will fund
this support from its Forest Law Enforcement Governance
and Trade (FLEGT) programme.

Participating agencies include the Kumasi Wood Cluster
Association, the Ghana Timber Millers Organization and
the Nature and Development Foundation which can all
submit proposals for funding activities which support VPA
implementation.

The Forestry Commission will take the lead in capacity
building amongst small-holders and artisanal millers to
eliminate illegal practices.
At a ceremony in Accra Mr. William Hanna, Head of the
EU Delegation in Ghana said the EU Timber Regulation
(EUTR) has placed a legal obligation on European wood
product importers to see that imported products are
manufactured from legally sourced raw material.

Only Asian markets have grown in first 7 months
Ghana¡¯s exports in the first seven months of this year
totalled 228,387 cubic metres and earned Euro 130,732
million. Compared to the same period last year the
performance in up to July recorded a 10% increase in
export volumes and a 24% increase in export earnings.

The leading export products up to July were air-dry
sawnwood (60%), kiln-dry sawnwood (13%), plywood to
regional markets (9%), roundwood billets (8%) and sliced
veneer (4%) with other wood products accounting for the
remaining 6%.

Export shipments of wood products from Ghana were
largely to the Asian markets which accounted for 72%
followed by African regional markets (12%) and Europe
(11%).

The Middle East and America accounted for the balance.
It was only the Asian markets where an increase in exports
was achieved.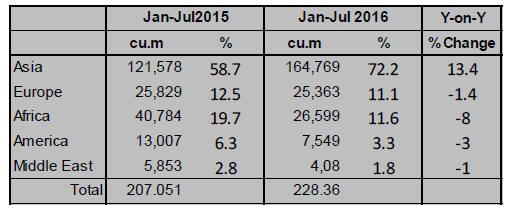 For the period under review the average unit price of all
wood products for 2016 was euro 572/cu.m compared to
euro 511/cu.m in 2015.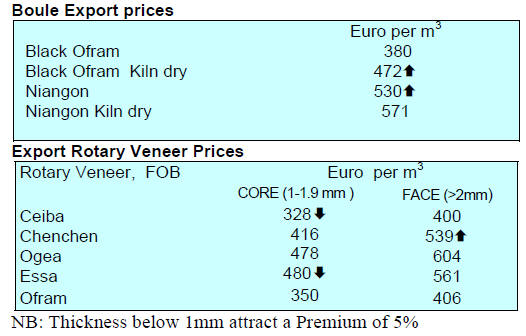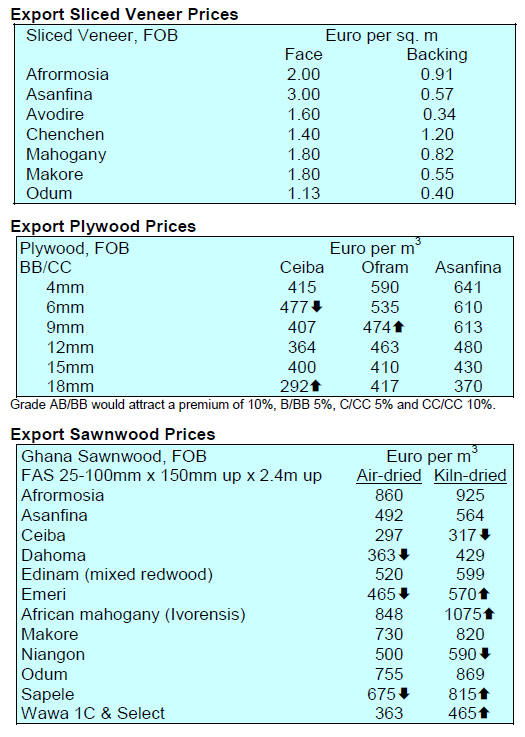 3. SOUTH AFRICA
Malaysian exporters actively pushing meranti
Analysts report that Malaysian shippers have become
more active in the market and are taking on the
competition from okoume through discounts. Reports
suggest there is a slight excess of stocks which has had a
downward influence on domestic sales prices. Local
traders expect this situation to ease in the coming weeks
particularly as some Malaysian (and others) export
containers are being shut-out on many vessels.

Overall, the timber market is busy and pine sales are
robust though there are some reports that sales of gangnails
for trusses construction have fallen. This seems to
point to the ¡®informal¡¯ market absorbing more timber and
this is borne out by the low stocks at most pine mills.

Reports say American hardwoods are selling well as there
is firm demand in the shop-fitting and furniture sectors.

Panel market oversupplied
The panel market continues to be overtraded and there is a
lot of discounting of both MDF and particleboard at
present even in the face of the announcement by Sonae
Novobord that they will be looking to increase prices in
January.
Domestic mills continue to invest counting on an
economic rebound
Although retail sales are under pressure from slowing
infrastructure and housing spending, investment in
production capacity continues. Many government building
programmes are on hold because of the changes in
administration of some major municipalities.

Housing construction remains slow with plans passed for
residential buildings down 5%, non-residential approved
building plans are down 16% and in the alterations and
additions segment of the market there has been an 11%
drop in approvals.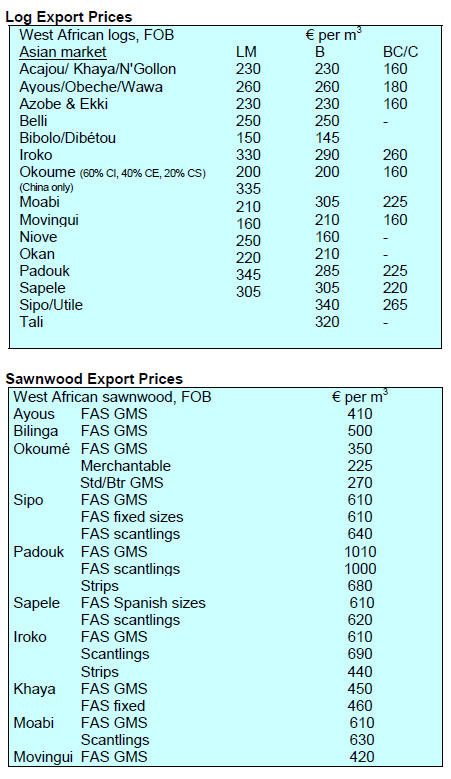 Correction: In the previous issue of our report we said a team
from the Malaysian Timber Council visited South Africa,
actually the team was from the Timber Exporters¡¯ Association of
Malaysia.
4. MALAYSIA
Domestic demand major driver of economy
Malaysia¡¯s Ministry of Finance has just released its
¡®Economic Report on Malaysia¡¯ which indicates the
economy is expected to expand 4-5% in 2017.

The report says inflation will be benign in 2017 and
employment will hold up well especially as the services
and manufacturing sectors are expected to expand in 2017.
Non-oil related revenue will contribute more than 85% to
total revenues as the new goods and services tax collection
stabilises. Malaysia¡¯s domestic demand is a driver of
growth and this year local consumption expanded nearly
5%.

Sarawak timber legality scheme explained to Japanese
A joint mission by the Sarawak State and the timber
industry recently visited Tokyo and Osaka to explain the
operation and monitoring of the Sarawak Timber Legality
Scheme. Some 200 participants, including importers and
end-users of Sarawak wood products attended the various
events.

Japan is an important market for wood products from
Sarawak and the mission sought to inform the Japanese
timber sector of the achievements in eliminating illegal
timber from the supply chain.

Leading the mission was Minister of Resource Planning
and Environment, Awang Tengah Ali Hasan, who told the
participants the government¡¯s priority is protecting the
forest, environment and wildlife through sustainable
management, generating employment and export earnings.

PWI secures log supplies through acquisition
Towards month end Priceworth International (PWI), a
major investor in wood products manufacturing, said it
was buying Rumpun Capaian which has a long-term forest
concession in Trus Madi, Sabah.

According to PWI, this acquisition is expected to generate
a sustainable forest harvest of around 6.5 million cubic
metres over the remaining life of the concession. This
harvest will go some way to address the raw material
supply for PWI¡¯s massive logging and wood processing
capacity.
5. INDONESIA
Furniture a best seller at Expo Indonesia
The Director General of Export Development at the
Ministry of Trade, Arlinda, reported that Indonesian
furniture attracted considerable interest from international
buyers at the Trade Expo Indonesia (TEI) which recently
concluded in Jakarta.

The Minister said business was concluded with buyers
from around the world including India, Russia, Malaysia,
Japan, and Taiwan P.o.C and resulted in contracts worth
over US$950 million, a 7% rise from last year. The Expo
attracted 15,567 visitors from 125 countries.

For more see: http://www.antaranews.com/berita/590530/mebelproduk-
terlaris-di-tei-2016
And
http://www.tradexpoindonesia.com/

¡®Lightweight¡¯ plantation timbers to be promoted in
Germany
In related news, Indonesia and Germany signed a
cooperation deal on the side-lines of Expo. The Director
General of Export Development, Ministry of Commerce,
Arlinda said the two countries will cooperate to develop
markets in Germany for ¡®lightweight¡¯ timbers from
Indonesia. Media reports suggest some US$3 million will
be available to promote the trade in timbers from
Indonesia.

Trade with Romania to grow
Indonesian Foreign Minister, Retno LP Marsudi, hosted
her counterpart from Romania recently cementing the 66
years of diplomatic relations between the two countries.
This was the first official visit to Indonesia by a Romanian
Foreign Minister.
Retno LP Marsudi said growth in bilateral trade had
expanded in recent years and that Indonesia has enjoyed a
trade surplus with Romania for several years. Romania is
Indonesia¡¯s sixth-largest market and exports to Romania
include rubber, paper, paper products and synthetic fibre.

Minister outlies benefits to Indonesia from joining TPP
The Indonesian government is eager to join the Trans-
Pacific Partnership (TPP) which brings together 12
countries including Indonesia¡¯s main trading partners.
However, according to an October issue of ¡®Indonesia
Investment¡¯ opinions vary on whether joining would
benefit Indonesia.

¡®Indonesia Investment¡¯ quotes the Indonesian Minister of
trade saying he believes that Indonesia will become an
attractive production hub for Japanese manufacturers
given the competitive production environment and the
attractive size of Indonesia¡¯s domestic market. Indonesia
Investment says ¡°Existing Japanese manufacturers are
reportedly planning to increase production capacity at their
plants in Indonesia.

For more see:
http://www.indonesia-investments.com/news/todaysheadlines/
trans-pacific-partnership-makes-indonesia-attractivefor-
investment/item7281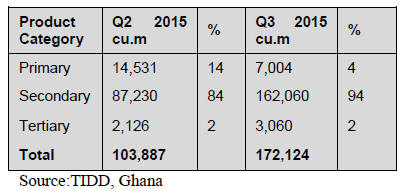 6. MYANMAR
New Foreign Investment Law criticised
Details of Myanmar¡¯s new Investment Law are expected
to be released the end of March next year at the latest
according to U Maung Maung Win, Deputy Minister of
National Planning and Finance. The new legislation
combines the Myanmar Citizens Investment Law and the
Foreign Investment Law.

However, civil society groups have expressed concern that
the consultation period was inadequate and that the
legislation needs to be strengthened to ensure responsible
investment.

They complain that the new law does not provide for
adequate oversight of the Investment Commission and
does not provide for adequate environmental assessment.

During April to September period this year foreign direct
investment (FDI) declined significantly to US$1.4 billion
compared to US$3 billion in the same period last year.

As with many other countries the Myanmar currency has
weakened against US dollar disrupting business
transactions but despite the currency issues over the past
five months international trade reached to US$11 Billion
with the forest sector contributing just US$100 million.

Urgent need to tackle verification of legality
Following an investigation into Myanmar teak arriving in
the EU the Environmental Investigation Agency (EIA)
submitted a complaint in five countries saying some
importers were not fulfilling the terms of the EUTR.

According to Barber Cho, Secretary of Myanmar Forest
Certification Council (MFCC) representatives of one
company named in the EIA investigation sought and were
granted permission to examine harvesting controls in
Myanmar. The MFCC was told by the Forestry
Department (FD) and the Myanma Timber Enterprise
(MTE) that the proposed study tour was cancelled by the
company when the logging suspension was announced.

Mr. Cho asserts that ¡°both FD and MTE are moving in the
right direction to verify the legality of Myanmar¡¯s timber
and the EIA should do more on teak shipments (to the EU)
from China and other countries where Myanmar teak is
reprocessed for export¡±.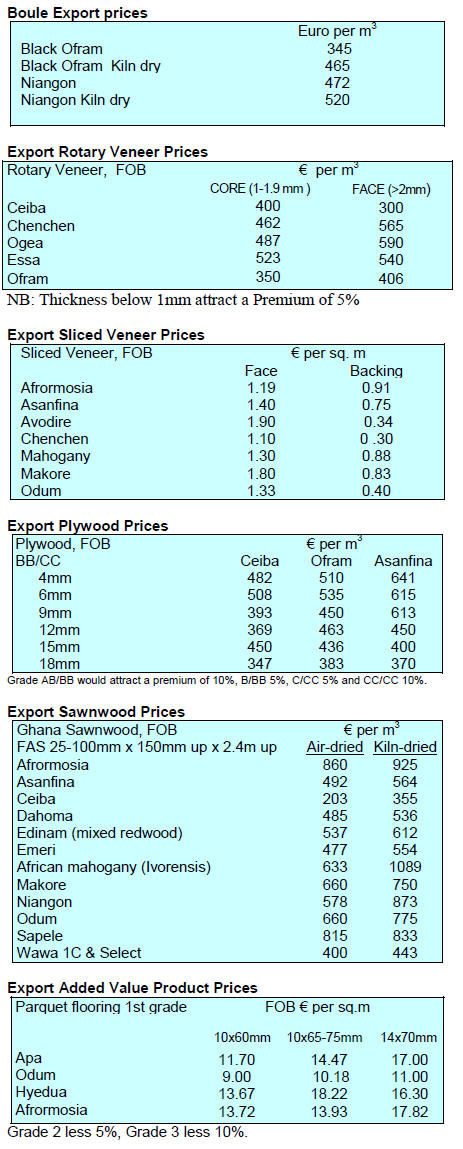 7. INDIA
Slight weakening of economic indicators in August
The Ministry of Finance monthly economic report for the
second quarter (April-June) 2016 released by the Central
Statistics Office shows GDP growth in the second quarter
was 7.1% compared to the 7.5% in the same period last
year. However, the report shows a decline in the Index of
Industrial Production (IIP) at -2.4% in July 2016 as
compared to 4.3% a year earlier.

On foreign trade the report says exports and imports both
declined in August (- 0.3% and -14% respectively
compared to a year earlier)

For more see:
http://finmin.nic.in/stats_data/monthly_economic_report/2016/in
daug16.pdf

Inflation rate trends
The Office of the Economic Adviser (OEA) to the Indian
government provides trends in the Wholesale Price Index
(WPI). The official Wholesale Price Index (WPI) for All
Commodities (Base: 2004-05=100) for September
declined by 0.2 percent to 182.8 from 183.1 for August.

The annual rate of inflation, based on the monthly WPI,
stood at 3.57% (provisional) for the month of September
2016 compared to -4.28% for September 2015.

See: http://eaindustry.nic.in/cmonthly.pdf

Timber and plywood price indices climb
The OEA also reports Wholesale Price Indices for a
variety of wood products. The Wholesale Price Indices for
Wood Products and Plywood are shown below.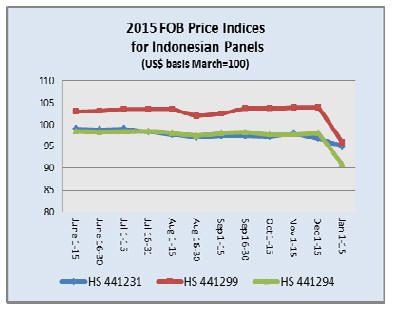 First of season¡¯s log auctions
Log auctions of the new season have been just concluded
in the Dangs Division depots. The logs offered were fresh
and of good quality. The total quantity offered was around
8,500 cubic metres, mostly teak.
Analysts report the buying tempo was upbeat and the
prices secured were much higher compared to the same
time last year. This, say analysts, was due to the scarcity
of good quality logs and bidding competition. The prices
achieved as shown below: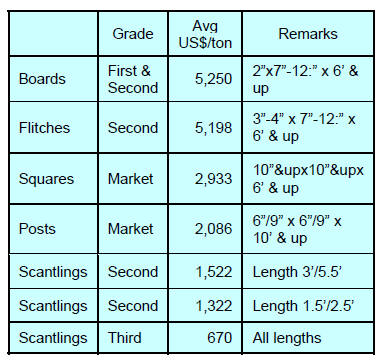 Good quality non-teak hardwood logs, 3 to 4 metres long
having girths 91cms and up of haldu (Adina cordifolia),
laurel (Terminalia tomentosa), kalam (Mitragyna
parviflora) and Pterocarpus marsupium, fetched lower
prices in the range of Rs.700-900 per c.ft for the better
qualities and from Rs.600-700 per c.ft for medium quality
logs while the lowest quality attracted prices of between
Rs.300-450 per c.ft.

Auction sales at depots in Surat Division will begin 8
November and at those in Vyara Division from 10
November. The indications are that the quality of logs to
be offered at these auctions is good.

Furniture makers move online to match competition
The president of the Kerala Furniture Manufacturers and
Merchants Association has said ¡°to become more
competitive the members of the association plan to expand
online marketing of knock-down furniture¡±. Association
members reported sales of around Rs. 120 billion last year.

In an effort to upgrade both the technology and skills of
the industry in the state there are plans to consolidate the
several clusters on one site and land has been secured in
Angamaly a municipality in the Ernakulam district of
Kerala.

Media reports say 50% of the development cost will come
from the central government, 25% from the State and the
balance from industry.

For more see:
http://www.thehindu.com/news/cities/Kochi/furnituremakerstake-
the-eroute-to-beat-competition/article7505892.ece
Plantation teak prices
Domestic demand for plantation teak remains firm.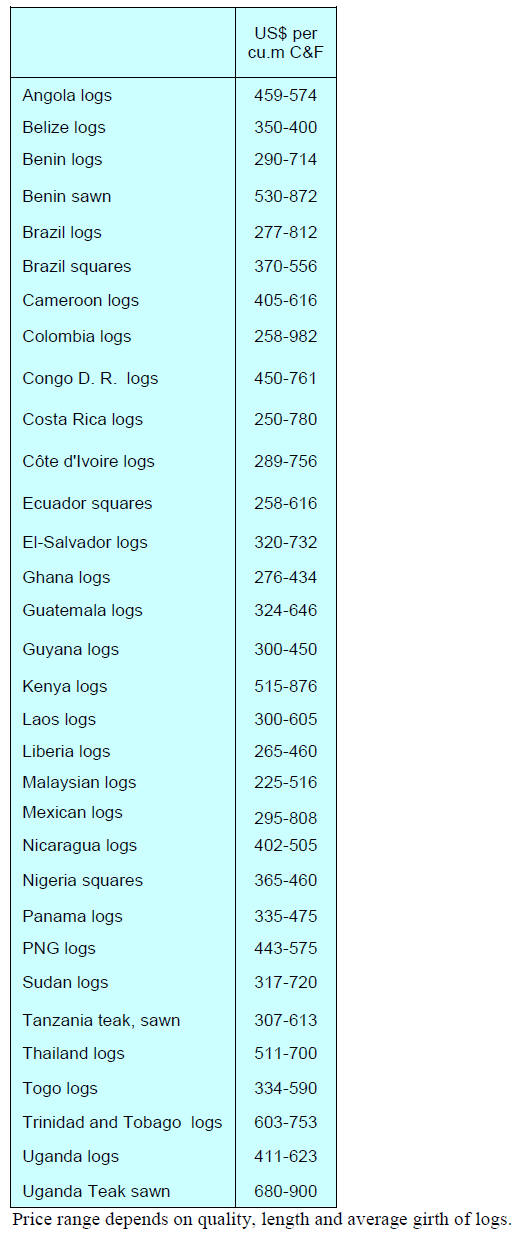 Prices from the three new plantation logs suppliers remain
unchanged at: Taiwan P.o.C (US$1036 to 2126 per cu.m
C&F) and Honduras (US$471 to US$539 per cu.m C&F).
Sawn teak: from China (US$855 to 1118 per cu.m C&F)
and from Myanmar (US$461-2895 per cu.m C&F).
Prices for locally sawn imported hardwoods
There have been changes in prices as shown below.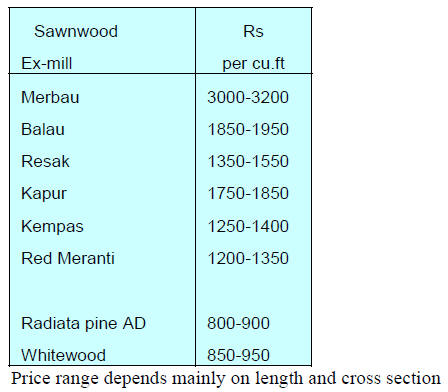 Myanmar teak flitches resawn in India
Demand remains steady and current supplies are adequate.
Imports of sawn teak from Myanmar and China have kept
prices stable.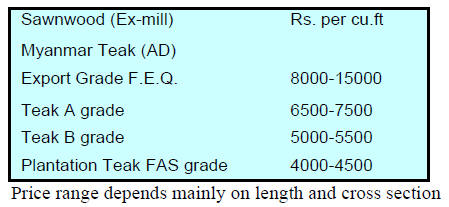 Prices for imported sawnwood
Demand for imported sawnwood has started to rise and
this has lifted prices for some species.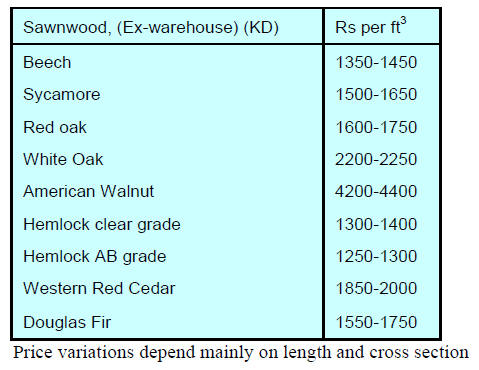 Prices for WBP Marine grade plywood from domestic
mills
Prices remain unchanged.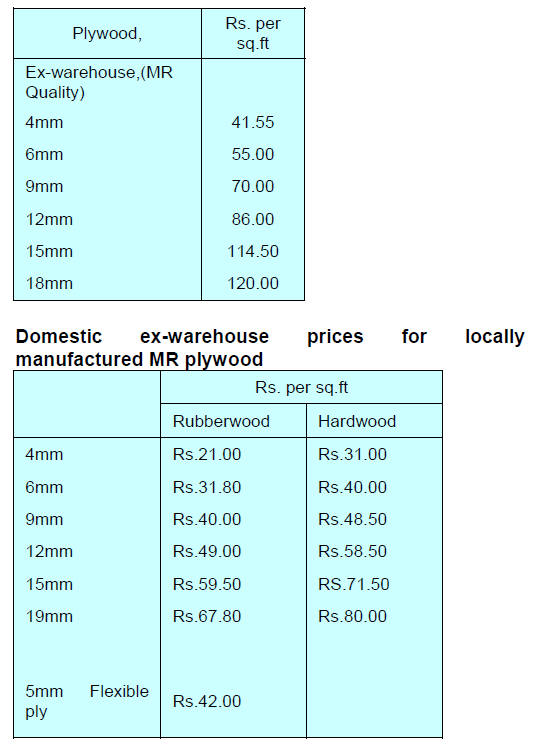 8. BRAZIL
First cut in interest rates in 5 years
The official Brazilian inflation rate based on the Consumer
Price Index (IPCA) was just 0.08% in September
compared to 0.44% in October this year. This is the lowest
rate of inflation for September since 1998 when it fell to
0.22%. Over the past 12 months the cumulative inflation
rate was 5.51%.

Given the slowing inflation the Monetary Policy
Committee (COPOM) cut the interest rate (SELIC) by
0.25 percentage point, to 14% from 14.25%, the first
reduction since 2012.

Furniture manufacturers expect suppliers to be highly
professional and innovative
Product quality, fair price, prompt delivery and prompt
communications are the main attributes a furniture
manufacturers looks for from a supplier.

These factors can be achieved as commercial partnerships
evolve over time. Manufacturers also expect suppliers to
be innovative in terms of the products they offer so as to
offer opportunities to improve competitiveness and allow a
manufacturer to differentiate itself from others in the
market.

Innovation is fundamental to the growth and development
of the furniture sector as consumers expect new products
and designs such that at all stages of the supply chain there
is a need to pursue innovation.

Export update
In September 2016, the Brazilian exports of wood
products (except pulp and paper) increased 13% in value
compared to September 2015, from US$209.5 million to
US$237.0 million.

The value of pine sawnwood exports jumped 63%
between September 2015 (US$ 21.7 million) and
September this year (US$ 35.3 million) and in terms of
volume exports increased 85% over the same period, from
97,900 cu.m to 181,100 cu.m.

Tropical sawnwood exports also increased in September
by 30% from 23,200 cu.m in September 2015 to 30,200
cu.m in September this year. The value of exports also
rose but by just 24% from US$11.4 million to US$14.1
million over the same period.

In contrast to the performance of sawnwood exports pine
plywood exports fell slightly in September 2016 in
comparison with September 2015, from US$36.4 million
to US$35.8 million however, the volume traded increased
around 7% from 125,300 cu.m to 133,800 cu.m, over the
same period.

As for tropical plywood, exports increased 59% in
volume, from 3,900 cu.m in September 2015 to 13,200
cu.m in September 2016. In value, exports increased 39%
from US$3.9 million to US$5.4 million, during the same
period.

The value of wooden furniture exports increased from
US$34.8 million in September 2015 to US$35.7 million in
September 2016, a 2.6% increase.

The decline in the domestic construction sector and
strengthening of the US dollar led to an increase in
processed timber exports in the first three quarters of this
year.

Plantation pine sawnwood exports rose by 47% year on
year in the first three quarters of the year according to
ABIMCI (Brazilian Association of Mechanically-
Processed Timber Industry).

ABIMCI is forecasting that 20% of the total volume of
pine sawnwood produced this year will be exported but
that earnings will be lower than in 2015 because of the
falling prices in the international market.

Strengthening the Brazil-Canada Chambers of
Commerce link
Representatives from the forest sector and the Mato
Grosso State Development Agency met with the Brazil-
Canada Chamber of Commerce in early October to discuss
ways to strengthen ties and identify business opportunities.

The Brazil-Canada Chamber of Commerce has existed for
over 40 years and has steadily built up business links
between the two countries. One of the objectives of the
Chamber is to obtain reliable information on business
enterprises and identify opportunities for cooperation and
trade.

In the recent meeting, a representative from the Center for
Timber Producers and Exporters of the State of Mato
Grosso (CIPEM) provided details of the forestry and
industry sector of Mato Grosso including production and
output from natural and planted forests and the steps taken
to ensure natural forest logging is sustainable.

Currently, the managed forest area in the State extends to
3.2 million hectares and the State aims to increase this to 6
million by 2030 which would result in timber production
rising to 6 million cubic metres annually. Among the
exported timber species are teak (for which plantations
extend over 80,000 hectares) as well as African
mahogany.

Representative of the Chamber said that despite the US
being the main export market exports to Canada at US$17
million are significant and can grow particularly as
Canada was not seriously affected by the global economic
crisis and there is a vibrant construction sector in the
country.

Altamira forest concessions
Part of the Altamira National Forest has been earmarked
for commercial logging and has the potential to produce
around 200,000 cubic metres of logs annually. This, say
analysts, could yield an income of R$80 million per year
and generate 900 jobs.

Currently logging produces almost 500 cubic metres per
day including timbers such as angelim amargoso (Vatairea
spp.), angelim pedra (Hymenolobium petraeum), cumaru
(Dipteryx odorata) curupix¨¢ (Micropholis venulosa),
garapa (Apuleia leiocarpa), jatoba (Hymenaea courbaril),
muiracatiara (Astronium lecointei), tachi (Tachigali spp.)
and tauari (Couratari guianensis). These timbers find a
ready market in the Southern and Southeastern Regional
markets such as Rio Grande do Sul, Santa Catarina and
São Paulo.

Under the Brazilian Forest Concession Law and after
competitive bidding the government grants a long term
lease (usually 40 years) allowing the concessionaire the
right to manage the forest area.

In the Altamira National Forest the Chico Mendes Institute
for Biodiversity Conservation (ICMBio), the public
agency responsible for protected areas in Brazil, is present
to ensure concession holders adhere to the approved
management plan which addresses issues such as
biodiversity conservation.

9. PERU
37th Annual National Forestry Congress
Peru¡¯s 37th annual National Forestry Congress (Conafor)
was held in Lima from 26 to 28 October and brought
together forestry and forest industry stakeholders to
analyse trends and developments in the sector and
exchange experiences and hear about the latest research.

The main focus of this years¡¯ Conafor was management of
natural forests and forest plantations, value added forest
products and the contribution of international technical
cooperation in forestry development and management.

Mexico/Peru exchange on technological innovation
As part of a project titled "Innovation Exchange of
experiences and tools for the dissemination of design"
which aims to build stronger ties between the forestry
sectors in Peru and Mexico, a delegation from the institute
of Design and Technological Innovation in Mexico visited
Peru.

This initiative is managed by CITEmadera and one
activity is the arrangement of visits between the two
countries to develop joint activities in education, training
and industry development especially in the furniture
sector.

During the weeklong visit the delegation from Mexico
viewed the CITEmadera facilities and the work being done
on technological innovation in wood processing.

Promoting forest plantations
In order to promote forest plantation financing the
National Forest Service and Wildlife (SERFOR) in
cooperation with the Regional Government of Ucayali
announced the launch of a campaign entitled ¡®Registration
of Forest Plantations in Pucallpa¡¯.

The main aim of this campaign is to contribute to the
formalisation of the value chain for plantation timbers and
the improvement of incomes for plantation owners.

The registration of forest plantations is free and is
performed from the third year of planting established as
set out in the current forest and wildlife regulations.

Producers who register their plantations will be able to
take advantage of various benefits such as technical
assistance, marketing support, help with access to
financing and addressing issues of timber legality.

This experience of joint work between the SERFOR the
Government of Ucayali will be replicated in other regions
such as Loreto, Junin, Pasco, Mother of God, Amazonas,
Huanuco and San Martin.

New approach to National Forestry Development Plan
The Executive Director of SERFOR, John Leigh Vetter,
has announced that the immediate task of SERFOR is to
fulfill its commitment to the development of a National
Forestry Development Plan in which each region of the
country will have a work plan specifically tailored to their
potential and capabilities.

Leigh said the National Policy and Law of Forestry and
Wildlife will be the foundation upon which the National
Plan will be crafted and as such will address three
objectives: utilisation of resources based on land use
planning and forest zoning; providing access to benefits
from forest management to forest communities and
strengthening sustainable forest management.

When operational the National Plan will achieve a
reduction in the rate of deforestation, the promotion of
forest plantations and restoration of degraded areas.