Report from North America

Ipe sawnwood imports remain high
US imports of temperate and tropical sawn hardwood
grew 10% in August to 95,532 cu.m. Tropical sawnwood
imports accounted for 21,143 cu.m. or 22% of total
hardwood imports in August.

Tropical imports declined 5% from July, but the value of
tropical sawnwood imported grew 3% in August to
US$24.9 million. Year-to-date tropical imports were down
15% compared to August 2015.

The month on month decline was mainly in imports of
balsa and acajou d¡¯Afrique. Balsa imports fell 24% to
3,897 cu.m. in August, while acajou d¡¯Afrique decreased
by one third from July to 1,204 cu.m.

Imports of ipe sawnwood remained strong and led US
imports by value. Ipe imports were 3,874 cu.m. in August,
worth US$8.1 million.

Mahogany sawnwood imports grew 35% in August to
2,889 cu.m. Guatemala increased mahogany exports to the
US market in recent months. At 1,402 cu.m., imports from
Guatemala accounted for half of all mahogany imported in
August.

Teak imports from Myanmar increased to 255 cu.m. in
August. US wood imports from Myanmar are possible
under a license issued by the US Treasury Department and
through the state-owned Myanma Timber Enterprise.
About 45% of the world¡¯s non-plantation teak grows in
Myanmar.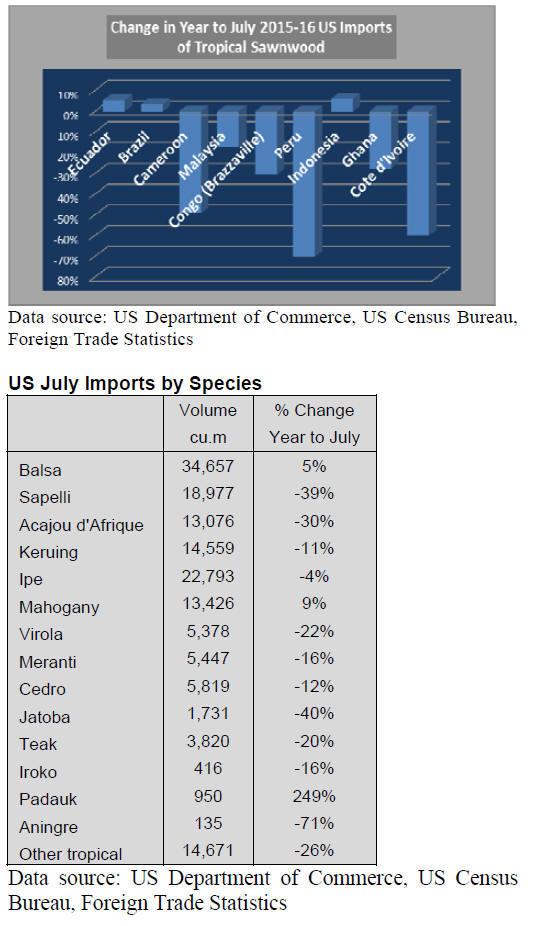 Canadian tropical hardwood imports up 19% in August
The value of Canadian imports of tropical sawnwood
increased for the second consecutive month in August.
The value of tropical imports was US$2.4 million, up 19%
from July. Year-to-August imports were 19% higher than
in August 2015.

Myanmar was the third-largest source of Canadian tropical
hardwood imports in August after Cameroon and Ecuador.
Sawn hardwood imports were worth US$177,769, up 27%
from July. Canada eased its economic sanctions against
Myanmar in 2012 and reinstated General Preferential
Tariff (GPT) and Least Developed Country Tariff (LDCT)
status for Myanmar in 2015.

Canadian Imports of most species grew in August with the
exception of mahogany. Virola, imbuia and balsa imports
(combined) accounted for just under US$0.5 million, up
25% from July.
Sapelli sawnwood imports were worth US$324,393 in
August, up 1% year-to-August from the same time last
year.

LEED legal wood credit criticised by NGOs
Earlier this year the US Green Building Council (USGBC)
announced an Alternative Compliance Path credit for its
green building rating system ¡®Leadership in Energy and
Environmental Design¡¯ (LEED). The purpose of the credit
is to prevent the use of illegal wood in buildings by
promoting verified legal wood.

The Sierra Club, Greenpeace, and other environmental
groups have proposed an alternative approach for the
credit, which would use FSC product certification. They
claim that the credit designed by the USGBC would
simply legitimise what they consider to be weak forestry
certifications.

LEED is the most widely used green building certification
system in North America. Worldwide there are nearly
75,000 commercial projects participating in LEED,
according to the USGBC.

US may impose duties on sawn softwood from Canada
The Softwood Lumber Agreement between Canada and
the US expired in October 2015 and the one-year period of
tariff-free trade passed without a new agreement. The
previous agreement limited Canadian access to the US
market through a combination of export taxes and volume
quotas, thus providing stability for the Canadian industry.

The US sawmilling industry, represented by the US
Lumber Coalition, indicated it will initiate trade cases
against imports from Canada now that the one-year
litigation standstill period has passed. Preliminary
countervailing duties for Canadian exporters could start as
early as spring 2017.

Canadian and US negotiators continue to work towards an
agreement. The US election in November and a generally
protectionist climate contribute to the difficulty of
reaching a new trade agreement.

Producers in British Columbia have worked on reducing
their reliance on the US market by expanding exports to
Asia, including India and Southeast Asia. Large Canadian
companies have purchased sawmills in the US in the last
decade to lessen the impact of potential duties on
Canadian sawn softwood.

US builders to increase softwood imports from Chile
The National Association of Home Builders (NAHB)
seeks to maintain a dependable and affordable supply of
sawn softwood, even if the US imposes duties on
Canadian imports. Since US domestic production does not
meet demand, the NAHB hopes higher imports from other
countries such as Chile will provide a steady supply of
timber for home construction.

US home builders participated in meetings with sawn
softwood producers in Chile, trade organizations and
government officials in September. The meetings in Chile
were intended to establish trade contacts and reduce
barriers to increasing Chilean timber exports to the US.

Canada¡¯s share in the US sawn softwood market was an
average 28% in the last three years. Chile¡¯s market share is
just over 1%.