US Dollar Exchange Rates of 10th October 2016
China Yuan 6.7052
Report from China
Growth in manufacturing mainly from state enterprises
The most recent data for China¡¯s manufacturing
purchasing managers index (PMI) is that for September.
The press release from the National Bureau of Statistics
shows that activity in the manufacturing sector expanded
at the same rate as in August.

The official Purchasing Managers' Index (PMI) stood at
50.4 in September, the same as in August. A reading
above 50.0 signals expansion.

The PMI for large-sized enterprises (mostly state
enterprises) was 52.6 and continues to be higher than the
negative threshold; that of medium-sized enterprises was
48.2, a drop from August levels while the PMI for smallsized
enterprises also fell.

Among the five sub-indices comprising the PMI, the
production index and new orders indices were higher than
the negative threshold.

The employed person index, main raw materials inventory
index, and supplier delivery time index were also lower
than the threshold.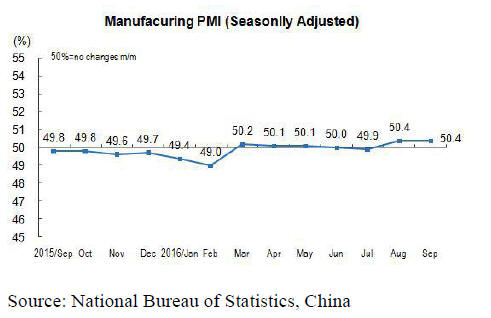 The most encouraging news is perhaps that export orders
increased in September and output rose slightly.

Analysts suggest that the movement of the PMI over the
past few months signals stable growth but a growing
dependence on government spending. On the downside the
housing market is overheated and debt levels are rising
fast.

See:
http://www.stats.gov.cn/english/PressRelease/201610/t201
61009_1407562.html

Timber industry alliance established
It has been reported that a ¡®Timber Industry Chain
Alliance¡¯ within the China National Forest Product
Industry Association has been jointly launched by the
Zhangjiagang Wood Industry Association in Jiangsu
Province and the Linyi Wood Industry Association in
Shandong Province.

The aim of establishing the new grouping is to promote
and strengthen local wood industry associations to support
communication and exchange, cooperation in the field of
wood products industry among alliance members and to
try and achieve an ¡®ecosystem circle¡¯ for China¡¯s timber
industry.

Through this effort it is hoped that there can be a healthy
development of the timber industry through efficient
collaboration, specialization and optimal allocation of
timber resources.

Russian sawnwood domination in China¡¯s imports
According to China Customs data, in the first eight months
of 2016 China¡¯s sawnwood imports rose 21% to 21.11
million cubic metres of which 42% of imports were from
Russia. Other main suppliers were Canada (mainly sprucepine-
fir) and Thailand which supplied mainly sawn
rubberwood.

Chinese company opens home furnishing shopping
mall in Ghana
The first large scale home furnishing shopping mall
(SaveMore) founded by a Chinese company has opened in
Ghana¡¯s capital Accra. The mall extends over 3,000
square metres and marks a new era for Chinese enterprises
as they seek a share of the home furnishing market in
Ghana. At present, there are more than 700 Chinese
enterprises operating in Ghana.

Shipping costs rise
It has been reported that the bankruptcy of the Hanjin
shipping line has thrown ports and retailers around the
world into confusion. Recently written notices were
received from shipping companies and agents that the
prices for ocean shipping from North America to Asia will
increase as of 1 November 2016.

The price for a 40 foot container will increase by at least
US$100 from West Coast / East coast to Asia, at least
US$150 from USA inland to Asia and timber importers
will face rising costs.

Log prices rise in Zhangjiagang market
Prices for imported logs from Papua New Guinea landing
at the Zhangjiagang timber market have risen to between
RMB80 to RMB220 per cubic metre. The price for
Terminalia log has increased to RMB200 per cu.m. The
costs of imported logs has increased by between 5% to 8%
in RMB terms and will translate into higher consumer
prices.

Quality and safety demonstration facility for exported
wood products
A national quality and safety demonstration facility for
wood products destined for export will be created in
Fusong County of Jinlin Province.

The aim is to support export enterprises, promote
sustainable wood product exports and improve the quality
of exported wood products through incentives and
preferential policies.

Efforts will be made to enhance customs clearance,
inspection and supervision, the introduction of technology,
brand building, testing services, information and
consulting. A special effort will be directed to stimulate
innovation and productivity in small and medium
enterprises.

There are eight major wood product manufacturing
enterprises in Fusong County with an annual turnover of
RMB5 million. Yearly wood product exports are around
US$170 million for the Japanese, South Korean, ASEAN,
US, Russian, South American and Australian markets.

Liuzhou City the main production area of blockboard
According to Liuzhou Forestry Bureau the annual
production of blockboard in Liuzhou City is about 2
million cubic metres accounting for 40% of the total in
Guangxi Zhuang Autonomous Region.

By the end of 2015, there were 1,580 timber processing
enterprises whose output was around RMB20 billion.

The latest forest inventory in the region shows a stocking
volume of 70 million cubic metres. In 2015 the annual
harvest was around 1.5 million cubic metres in Liuzhou
City and it is forecast that for this year the harvest will
exceed 2 million cubic metres. The blockboard utilises fir
and poplar veneers and is generally faced with okoume.