US Dollar Exchange Rates of 26th September 2016
China Yuan 6.6696
Report from China

Slowing pace of investment in real estate
The National Bureau of Statistics of China has released
data on real estate developments. Investment in real estate
in the first eight months of 2016 increased 5.4% year-onyear
of which investment in residential buildings was up
by 4.8% and accounted for 67% of all real estate
investment.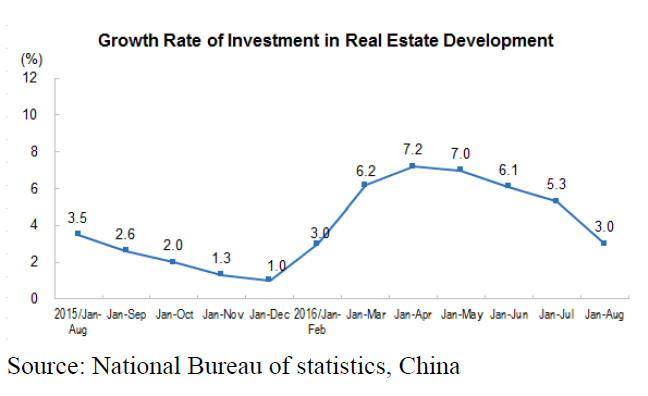 However, in the first eight months the area of land
purchased by real estate developers was down 8.5% yearon-
year and the pace of decline in purchases is
accelerating.

Demand for new homes seems unchecked with the
average price for a new home in 70 of the country¡¯s main
cities soaring over 9% in August this year compared to
August last year. This marks the eleventh monthly rise in
average prices.

According to the China Housing Index prepared by the
National Bureau of Statistics in Tier 1 cities such as
Beijing prices jumped over 20% while in Shanghai August
prices were up over 30% year on year.
2015 wood product output

China¡¯s output of domestic commercial logs in 2015 fell
13% to 72 million cubic metres, sawnwood production
from domestic and imported logs rose 9% to 74.3 million
cubic metres and wood chip output remained the same as
in 2014 at 42.86 million cubic metres.
Wood based panel output in 2015 expanded 5% to 286.8
million cubic metres of which output of plywood,
fiberboard and particleboard were 165.46 million cubic
metres, 66.19 million cubic metres and 20.3 million cubic
metres respectively.

Output of other wood-based panels totalled 34.85 million
cubic metres of which 60% was blockboard.

Wooden flooring output in 2015 was at the same level as
in 2014 at 770 million square metres. Of the total, output
of solid flooring was 130 million cubic metres, solid
composite flooring output was 240 million cubic metres,
laminate flooring output amounted to 290 million square
metres and bamboo flooring reached 100 million square
metres.

First half 2016 output up year on year
According to the State Forestry Administration, the
performance of China¡¯s forest industry was good in the
first half of this year with the total value of production
rising 8% to RMB2.58 trillion.

Of the total, the value of the primary sector output grew
8%, secondary processors saw a 3% rise and the output of
the tertiary sector expanded a massive 25% compared to
the same period in 2015.

Because of logging bans in natural forests first half 2016
output of domestic commercial logs fell just over 2% to
27.66 million cubic metres while output of bamboo fell
1.8% to 660 million pieces. In contrast output of woodbased
panel rose 18% but output of wooden flooring fell
11%.

Huge demand for wooden buildings in China
The demand for wood frame buildings in China is huge. It
is estimated that the market value for wood frame
buildings will be in the tens of billions of US dollars by
2030.

Currently around 2 billion square metres of new buildings
are constructed annually in China of which only 20% are
considered ¡®green building¡¯. According to the national
plan, the proportion of ¡®green buildings¡¯ should increase to
50% by 2020.
Bonded furniture on sale in Shanghai
It has been reported that the first national bonded zone for
furniture had become operational in the Shanghai Yuexing
Furnishing Mall on Macao Road, Putuo district. Many
foreign furniture brands are on sale for the first time and
are available duty free.

This is the first time consumers can purchase duty free
imported furniture directly.
The National Customs Department has offices in the
bonded zone to supervise and guarantee the quality,
traceable source and the responsibility for all products.
For more see: http://www.yuexing.cn/yxjjjt.shtml
Surge in log imports
According to the Zhejiang Inspection and Quarantine
Bureau, in the first eight months of 2016, log imports
through Huzhou port were more than 143,000 square
metres valued at US$64.47 million, up 23% in volume and
25% in value over the same period of 2015.

However, the inspection and quarantine departments faced
considerable great challenges as over 60 exotic pests were
intercepted at Huzhou port, up about 50% over the same
period of 2015.

The main reason for the increase is the great demand for
logs from flooring enterprises in Nanxun town of Huzhou
city in Zhejiang province. There are more than 400 wood
flooring manufacturing enterprises with a capacity of
about 100 million square metres which is around 35% of
the national total flooring capacity.

In related news the Jiangsu Entry-Exit Inspection and
Quarantine Bureau has reported that as of the end of
August this year log imports through Changshu port
exceeded 2 million cubic metres valued at US$246
million. Log imports through Changshu port soared 78%
to 361,300 cubic metres in August 2016 alone.

Radiata pine from New Zealand was dominant log species.
In addition, imported logs comprised douglas fir, larch,
spruce and cedar mainly from Australia, Russia, Japan and
the US.

From January to August 2016 log imports from New
Zealand rose 7% to 1.66 million cubic metres. However,
during the same period log imports from Russia fell about
40% to 88,000 cubic metres.