Japan Wood Products Prices
Dollar Exchange Rates of 26th September 2016
Japan Yen 100.37
Reports From Japan
Consumer confidence picks up
The August Cabinet Office survey of consumer confidence
showed that sentiment strengthened more than expected in
August. The overall sentiment index rose, as did the
indices for income growth, overall livelihood, willingness
to buy durable goods and the employment. All eyes are
now on the upcoming BoJ quarterly tankan survey to be
release in early October.

A poll of economists suggests overall business sentiment
could show an improvement driven by the large
manufacturers which have recovered from the drop in
production following earthquakes in southern Japan and
the growing consensus that Brexit issues are manageable,
but the strengthening yen will weigh heavily on sentiment.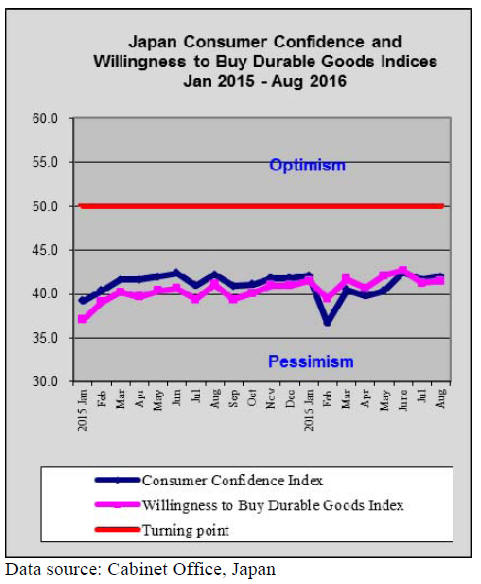 Holding down the yen becomes increasingly difficult
for the BoJ
The BoJ has run out of easy options to keep the yen at
optimal levels for the country's exporters and analysts
now say only an interest rate rise in the US will stem the
current steady strengthening of the yen.

At the end of September the yen was at just over 100 to
the dollar and the late surge in the yen strength came after
the BoJ said it intended to adopt a policy that keeps
interest rates at current levels for a prolonged period.

The Japanese yen has firmed more than 15% percent
against the US dollar this year and at 100 per dollar
exporters are facing serious problems.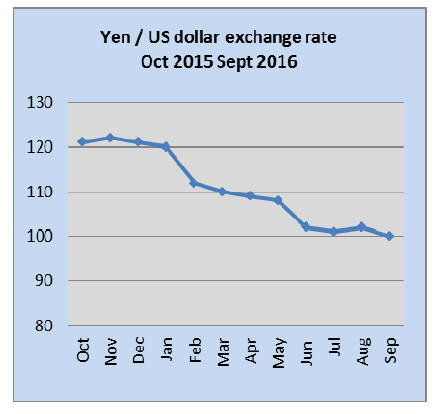 For the first time in 9 years pace of decline in land
prices slow
In the first half of this year loans for real estate purchases
sky-rocketed to more than Yen 3 trillion which is higher
than the peak recorded during Japan's housing bubble two
decades ago. The surge in loans for homes and
commercial building is the result of the negative interest
rate adopted by the Bank of Japan in February this year.

It is apparent that the robust building sector is being driven
by high inflows of money as' bricks and mortar' are seen
as a safe bet for investment since commercial bank saving
rates have fallen. By way of example, prices for
development land in Tokyo's up market areas have
doubled in three years.

This year, and for the first time in 9 years of continual
decline, average commercial land prices across Japan
leveled off according to the land price survey from the
Ministry of Land, Infrastructure, Transport and Tourism.

August housing starts, while continuing to expand above
month on month levels in 2015, the pace of increase
appears to be slowing. After the strong performance of
July starts expectations were for robust growth to continue
with analysts expecting at least a 7% year on year
expansion in August. However, the figures show that there
was only a 2.5% increase compared to August 2015.
Data from the Ministry of Land, Infrastructure, Transport
and Tourism says construction companies reported an
almost 14% rise in orders in August which comes after the
steep decline in July.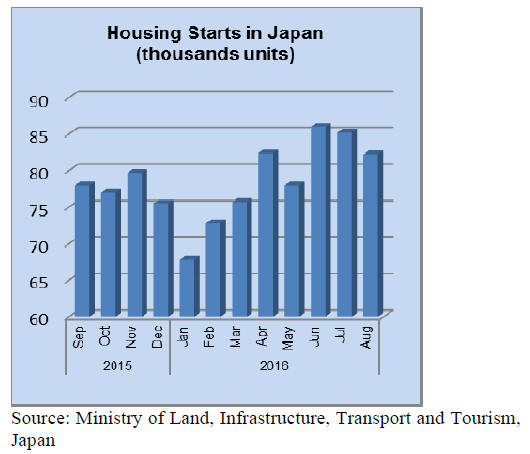 Import round up

Doors
Japan's first half 2016 wooden door imports were down
2% from the same period in 2015. June imports of wooden
doors were flat year on year but up 10% on levels reported
for May.

In June, the top three suppliers were China (62%),
Philippines (17%) and Indonesia (9%) making up over
80% of all wooden door imports.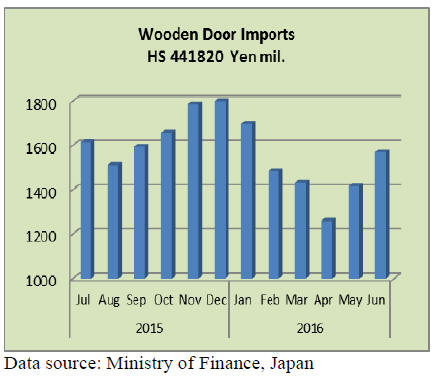 Windows
First half 2016 imports of wooden widows into Japan were
down 8% year on year. June imports were down by the
same amount compared to levels in June last year and
compared to May, June imports were down 9%.

In contrast to the other products reported the spread
between supply countries is closest with wooden windows.
The top suppliers in June were China (40%), the
Philippines (31%) and the US (23%). These three
suppliers account for the bulk of wooden window imports.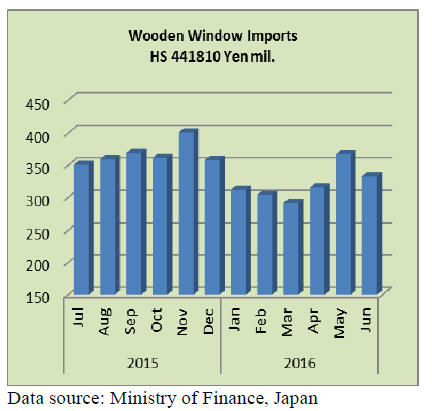 Assembled flooring
The figure below shows combined imports of HS 441871-
79. In June this year there were no imports of HS4418-71
products. First half imports of assembled flooring were
down 5% compared to the same period in 2015 and there
was a steep decline in June imports compared to May
(27%).

For HS 4418-72 the top suppliers were China, Thailand
and Indonesia while for HS4418-79 the top three were
Indonesia, Thailand and China.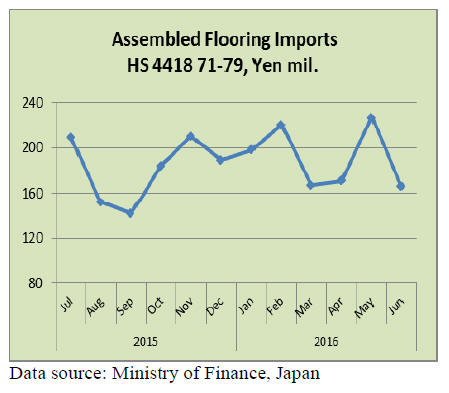 Plywood
Japan's first half 2016 plywood imports were down 6%
year on year but June imports were some 8% higher than
in June 2015. Compared to a month earlier, the value of
June imports were virtually unchanged.

The main suppliers of plywood to Japan are Malaysia,
Indnonesia and China. Malaysia's first half shipments to
Japan were down 11.5% year on year while shipments
from Indionesia in the first half of this year jumped 3.5%.
First half imports from China fell sharply (-29%).
The figure below shows the combined imports of HS 4412
10-39. Very little plywood classified as HS 4412-10 is
imported into Japan, the bulk of imports comprise
HS4412-31 (68%) of total plywood imports with most
coming from Malaysia and Indonesia.

The second significant category of plywood imports is HS
4412-32 which contributes another 30% to total imports.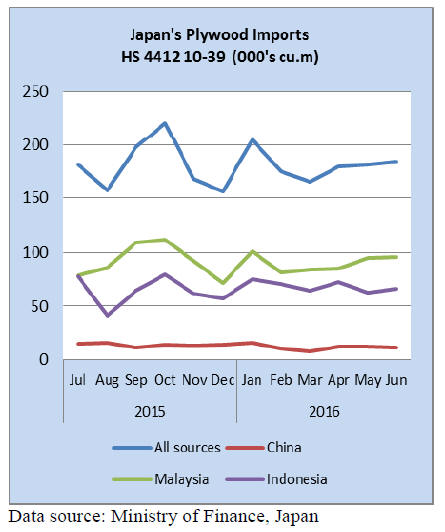 Trade news from the Japan Lumber Reports (JLR)
For the JLR report please see:
http://www.nmokuzai.
com/modules/general/index.php?id=7

South Sea (tropical) log and lumber imports down in
the first half of the year
Both logs and lumber imports from South Sea countries
decreased for the first half of the year. Particularly log
import dropped by 19.4% compared to the same period of
last year. The reasons are tight control of illegal harvest by
the Malaysian government, higher export log prices in
limited supply and slump of Japanese hardwood plywood
mills.

Total log volume was 92,600 cbms, 19.4% less than the
same period of last year. Large drop of Malaysian log
export, which is about 80% of total, was the reason. In the
past, log export volume from Sarawak, Malaysia increased
after April with end of rainy season but the weather this
year was unstable then harvest volume allocation was
another reason of reduced supply.

The Japanese log importers were unable to purchase
sufficient volume to fill up ships after aggressive purchase
by India started.

South Sea lumber import for the first half was 250,300
cbms in which lumber was 113,000 cbms and free board
was 136,000 cbms. Indonesian mercusii pine harvest is
limited from the beginning of the year and some mills,
which failed to procure logs, stopped production so the
supply was low in January and February. Since then the
supply has been continuing in low level.
Log and lumber export for the first half of the year
According to the trade statistics the Ministry of Finance
made up, softwood log exported from Kyushu ports for the
first half of this year is 254,848 cbms, 6% more than the
same period of last year but the value is 9.1% down due to
lower export value.

Log exporters have been complaining about poor return as
a result of lower export value by strong yen particularly
for China market.

Total log export from all Japan is 313,632 cbms, 2.2% less
than 2015 and the value is 15.4% less. Compared to all
Japan, Kyushu export business is better. There are eight
log exporting ports in Kyushu.

Export log prices in Kyushu are now 8,000 yen per cbm
delivered loading port, more than 1,000 yen down from
last year's prices.

Despite lower export log prices, there have been enough
volume for export because log supply for biomass power
generation facilities was excessive as generation facilities
use a certain amount of imported fue.

Lumber export was 37,105 cbms, 25.5% more with the
value of 1,521 million yen, 2% more. In this, 10,876 cbms
were exported from Kyushu, 62.9% more with the value of
328 million yen, 22.7% more so lumber is becoming major
export item instead of logs.

Plywood
Market of domestic softwood plywood continues very
active movement. Orders from major house builders and
precutting plants are booming and plywood mills keep
running in full capacity.

Since the shipments are so busy that plywood mills have
no surplus to build up inventory. They ship out as soon as
they produces. Thick panels and special size panels are
particularly short in supply so that mills keep changing
production lines from one to the other.

In July, production of softwood plywood was 246,700
cbms while the shipment keeps high level of 250,000
cbms for two months. Therefore the inventories were
101,800 cbms, 3,000 cbms less than June.

Average monthly production during January and July this
year was 239,000 cbms, which is 27,400 cbms more than
the same period of last year.

Demand continues active in September. Medium and
small precutting plants have ample orders now from local
contractors and outsourcing orders from large precutting
plants so the demand for plywood will be busy through the
end of the year. Orders for tongue and groove panel will
take more than a month before delivery.
Movement of imported concrete forming panel was a bit
active but the market is on weak side as prospect of further
appreciation of the yen is anticipated so that it is hard to
wipe out prospect of further reduction of the market
prices. The importers and wholesalers carry very limited
inventory but the shipment remains depressed.

Daiken started up Indonesian door plant
Daiken Corporation (Osaka) announced that its interior
door manufacturing plant in Surabaya, Indonesia started.
Daiken Darma Indonesia (DDI), a joint venture company,
will operate the plant.
Indonesia has the fourth largest population in the world
and its economic growth is energetic so the housing
demand is expected to grow fast. Particularly, high and
medium income people are interested in high quality and
refined design products.

To expand the sales of housing materials, Daiken has been
researching the market since 2012 and established a joint
venture company, SDI which specializes marketing and
installation works of interior materials.

Now with start-up of the door plant, Daiken develops,
manufactures, marketing including installation works.
Daiken plans to start marketing the products to local
Japanese developers and house builders, which are
engaged in business in Indonesia first then approach local
developers. The target of sales is 180,000 sets by 2020.