Japan Wood Products Prices
Dollar Exchange Rates of 10th September 2016
Japan Yen 102.71
Reports From Japan
Wage increases eaten away by rising prices
Japan avoided a second recession when the latest GDP
data was revised up to an annualised 1% growth over the
previous quarter. But the combined effect of slowing
exports, particularly to China, weak consumer spending
and subdued business investment is holding back growth.

In a recent IMF report there was a suggestion that the
government should adopt a hardline on wage
improvements. Major companies in Japan have reported
healthy profits and the IMF suggests they need to be
nudged into offering more pay as past wage increase have
been eaten away by rising prices.

The government is maintaining its undertaking to push up
the consumption tax from 8% to 10% next year and this is
likely to cause a surge in last minute purchases in the latter
part of the first quarter in 2017.

Machinery orders from domestic companies rise but
overseas orders drop
Cabinet Office data has shown that orders for machinery
by Japanese companies unexpectedly rose in July marking
the second monthly increase. This came as a relief for the
government. However, weak consumer demand and the
stronger yen continue to be holding down growth
prospects.

Machinery manufacturers reported that July orders from
Japanese companies rose 0.3% mainly from the steel and
chemical sectors but overall machinery manufacturers still
face major challenges as orders from overseas, which are
not included in the Cabinet Office assessment fell almost
12% in July from a month earlier.

For more see:
http://www.esri.cao.go.jp/en/stat/juchu/juchu-e.html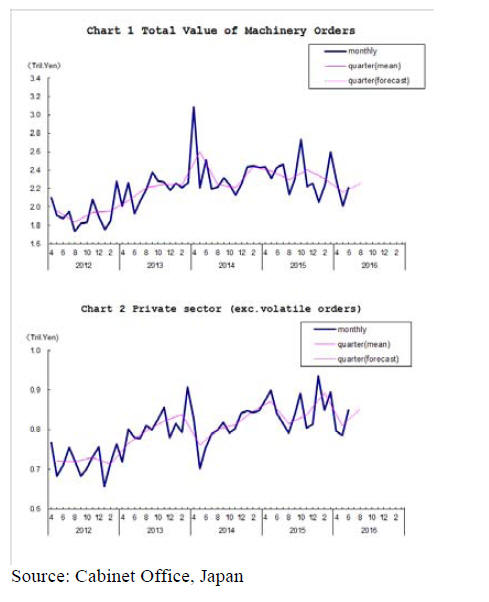 Business environment for Japanese SMEs
The Organization for Small and Medium Enterprises and
Regional Innovation, Japan (SMRJ) conducts regular
surveys of business conditions for SMEs, much the same
way as the Cabinet Office reports on the major companies.

In its April-June 2016 assessment the SMRJ says the
business condition index for all SME industries was minus
19.5 (down 1.4 points from the previous quarter),
signaling a worsening of conditions. Business conditions
in the manufacturing sector worsened in the second
quarter with industries in 14 sectors reporting deteriorating
conditions. In the SMRJ 'Timber and Wood Products'
category of SMEs business conditions were reported as
weaker than in the previous quarter.

For more see:
http://www.smrj.go.jp/english/business_conditions/098747.html
and
http://www.smrj.go.jp/english/dbps_data/_material_/english/pdf/
survey/business_conditions_144.pdf

Exporters hope for a weaker yen
Tokyo investors cheered the downward trend in the value
of the yen against the US dollar. This reversal comes as
the Bank of Japan (BoJ) mulls further action to get the
currency back to around 105 to the dollar, said to be the
critical rate for exporters.

The likelihood of a US interest rate move some-time soon
has helped shift the emphasis to the dollar away from the
'safe haven' yen but exporters would like to see the yen
lower.

However, the BoJ threats of further efforts to stem the
strengthening of the yen have had little impact on currency
markets as the Bank has few options left other than even
lower negative interest rates.
Only surprisingly poor data on employment, retail sales,
industrial output or consumer spending would trigger a
sharper depreciation of the yen.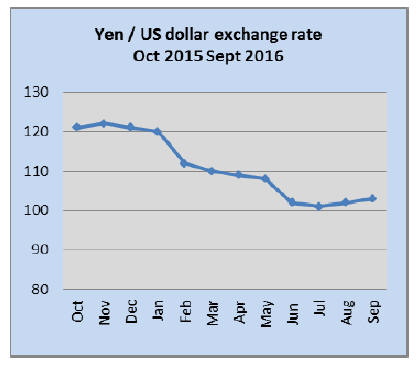 Boosting stock of low rent homes – discussion on
using vacant houses
The Japanese government is trying to find ways to boost
the availability of low-cost housing to provide for the
increasing number of elderly and the growing army of
young people who are trying to survive on low salaries,
especially those with one or more part-time jobs.

The stock of low rent public housing cannot meet current
needs so the government is considering if there is a way to
utilise the huge number of vacant houses in Japan. This,
say proponents of the idea, would help satisfy housing
needs and at the same time address the potentially risks to
public safety from abandoned houses.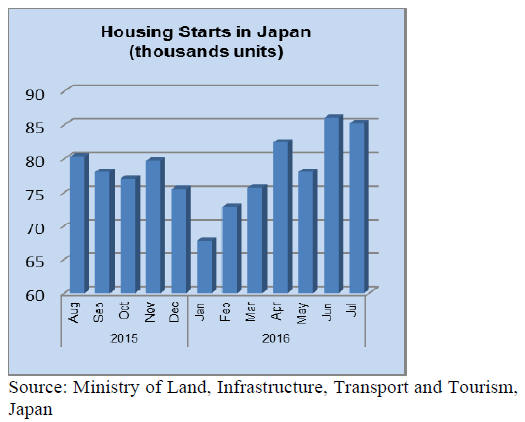 Japan's first half 2016 furniture imports
Japan's first half 2016 wooden office furniture (HS
940330) imports were down around 10% from the first
half in 2015 refelecting the continued weak business
climate in the country. On the other hand both kitchen and
bedroom furniture imports were up on 2015.

Wooden kitchen furniture (HS940340) imports in the first
half of 2016 rose 6% while imports of wooden bedroom
furniture (HS940350) in the first half of 2016 were up
marginally (2%) on the same period in 2015.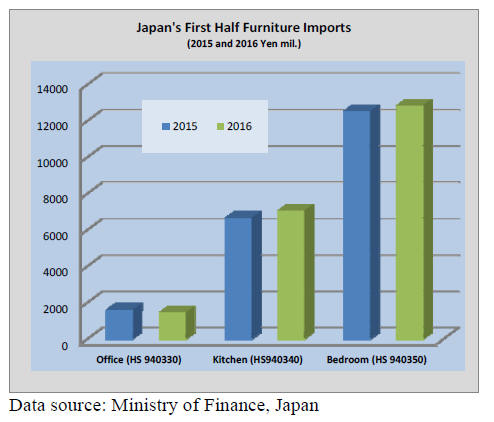 Office furniture imports (HS 940330)
Year on year, imports of office furniture in June 2016
were down a massive 28% compared to the previous
month. From the highs in January this year Japan's
imports of wooden office furniture have consistently
fallen. Business confidence and a lack of private sector
investment by Japanese enterprises of all sizes has
dampened demand for furniture.

In June the top suppliers of wooden office furniture to
Japan namely, China, Portugal and Taiwan P.o.C saw
sales drop. Japan's imports of wooden office furniture
from China fell 26% in June compared to May, imports
from Portugal were down 87% in June and imports from
Taiwan P.o.C fell 63% month on month.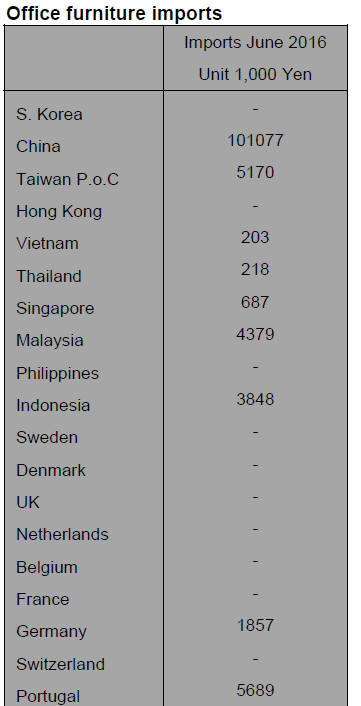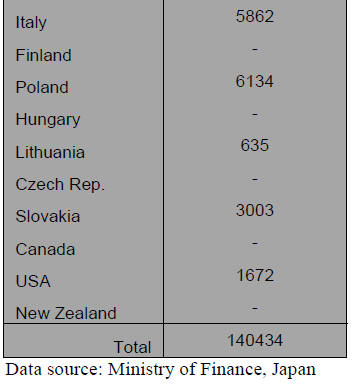 Kitchen furniture imports (HS 940340)
In contrast to the sharp fall in Japan's imports of office
furniture, imports of wooden kitchen furniture in June
were up 4% year on year and up 8% month on month.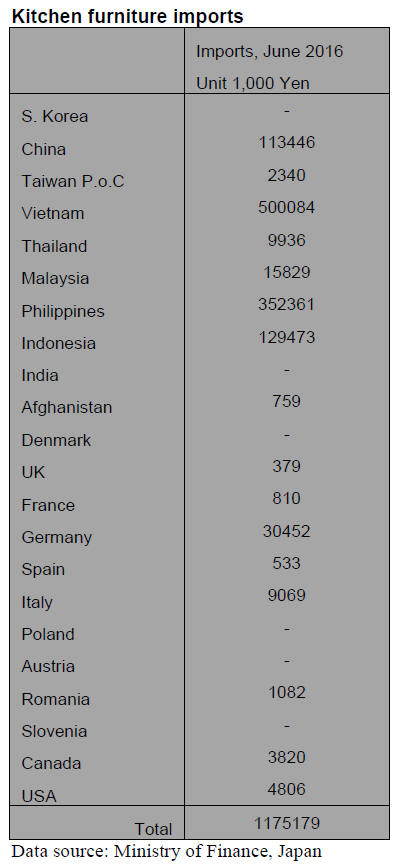 Shippers in Vietnam continue to dominate Japan's imports
of wooden kitchen furniture alone accounting for 36% of
all Japan's wooden kitchen furniture imports. The
Philippines was the second largest supplier in June
accounting for a further 29%. When shipments from
China are included the top three suppliers accounted for
more than three quarters of Japan's wooden kitchen
furniture imports in June.

Bedroom furniture imports (HS 940350)
Once again there was almost no change in the value of
Japan's June wooden bedroom furniture imports. For the
past three months the value of imports has been stuck in a
narrow range.

Year on year, June 2016 imports of wooden bedroom
furniture were up 5% but compared to May June imports
were down 1.5%. China was the main source of Japan's
imports of wooden bedroom furniture accounting for 57%
of all imports of this category of furniture. The other main
supplier in June was Vietnam (29% share of imports) then
followed Thailand (4.5%) and Malaysia (2.7%),.

Suppliers in Europe accounted for a combined 5% of
Japan's wooden bedroom furniture imports with Poland
being the main supplier accounting for just over half of all
shipments from Europe.

Trade news from the Japan Lumber Reports (JLR)
For the JLR report please see:
http://www.nmokuzai.
com/modules/general/index.php?id=7

Sarawak Timber Association announced plywood
production curtailment
Eight major plywood manufacturers in Sarawak like
Shinyang, Ta Ann, Samurin and WTK announced to
reduce the production by 10-15% starting August until
Japan market recovers with owners' signature.

This is unusual announcement by whole plywood industry,
not by individual manufacturer. Imported plywood market
in Japan has been depressed since early this year so that
ordered volume to the manufacturers have been dropping
for quite some time, which puts plywood mills in tough
spot.

The largest manufacturer, Shing Yang stopped sales after
it reduced the volume by 30% in last April and May but
the situation has not improved at all even by this move.
Looking at trend of imported plywood, the volume in 2015
was 17.3% less than 2014. Imported volume for the first
half of 2016 was 6.5% less than the same period of 2015.

Monthly average volume in 2016 is 232,200 cbms as
compared to 299,000 cbms in 2014, 20% down. Looking
at Malaysian volume, monthly average in 2014 was
121,800 cbms while monthly volume for the first half of
2106 is 93,400 cbms, 23% down.

Cost of supply side has been climbing. 6% commodity and
service tax is introduced in Sarawak since last April,
minimum wage is increased by 15% since last month, log
prices are staying up high. Log production in Sarawak for
the first six months of this year is 3,125,700 cbms, only
2% less than the same period of last year but aggressive
log purchase by India keeps log prices high even for
domestic use.

Export plywood prices on 3x6 JAS concrete forming panel
were about $ 450-460 per cbm C&F up until October last
year then the prices dropped down to $420 by weak
Ringgit. The prices are back up to previous level.

Plywood manufacturers are facing dropping order volume
with climbing manufacturing cost but Japan market has
very little hope for recovery. The group announcement
does not specify any period so they seem to keep
production curtailment until the prices recover to
satisfying level.

Log export for the first half of the year
According to the trade statistics the Ministry of Finance
made up, softwood log exported from Kyushu ports for the
first half of this year is 254,848 cbms, 6% more than the
same period of last year but the value is 9.1% down due to
lower export value.

Log exporters have been complaining about poor return as
a result of lower export value by strong yen particularly
for China market.

Total log export from all Japan is 313,632 cbms, 2.2% less
than 2015 and the value is 15.4% less. Compared to all
Japan, Kyushu export business is better. There are eight
log exporting ports in Kyushu.

Export log prices in Kyushu are now 8,000 yen per cbm
delivered loading port, more than 1,000 yen down from
last year's prices. Despite lower export log prices, there
have been enough volume for export because log supply
for biomass power generation facilities was excessive as
generation facilities use a certain amount of imported fuel.

South Sea (tropical) logs
Export log prices stay up high in Malaysia. Sarawak
suffers spotty heavy rain. Log purchase by India got active
after Sarawak government decided to reduce harvest
volume. India will be in monsoon season for about two
months since late August so they sent many ships all at
once before monsoon season starts. It is difficult to fill up
ships at Sarawak only so they go to Sabah, PNG and
Solomon Islands.

Japanese buyers do the same by limited availability in
Sarawak. There is no panic feeling since the market in
Japan is in slump. Export log prices in Sarawak are
US$275 per cbm FOB on meranti regular, US$255 on
meranti small and US$240 on meranti super small.

In PNG and Solomon Islands, log purchase by China is
getting slow by slowdown of Chinese economy but India
buys aggressively so the log prices continue firm.

Monthly log import to Japan has been low with 15,000-
22,000 cbms after last peak of 37,000 cbms in last
October.
Plywood
Demand for domestic softwood plywood continues very
active. June production was 251,300 cbms while the
shipment was 255,400 cbms so the inventories were very
low at 104,800 cbms.

Total production for the first half of the year was
1,426,700 cbms, 11.3% more than the same period of last
year. If this pace continues for the second half, total year
production would be about 2,853,500 cbms, the record
high volume.

Meantime, the shipment for the first half was 1,445,500
cbms and total year shipment would be about 2,891,100
cbms, also the record high. Domestic softwood plywood
manufacturers continue a full production but during
August, some mills shut-down for maintenance for about a
week.

Meantime, precutting plants keep running to catch up
orders even during the Bon holidays in August so the
supply shortage was feared but plywood mills made
cautious deliveries to each precutting plant so there was no
serious supply problem. Demand for plywood continues
strong since precutting plants secured enough orders for
September.

Total import for the first half of the year was 1,393,400
cbms. With this pace, annual import would be about
2,786,900 cbms, which is lower than last year's import of
2,885,700 cbms. The market in Japan lacks vigorousness
at all particularly after the yen got strong in early August.

Despite the announcement of Sarawak Timber
Association's to curtail plywood production uniformly,
there is no reaction in the market as August is slow month
and actual influence by such curtailment will not show up
until September and October so there is no Particular
reaction to this announcement.

Import of European lumber for the first half
Total imported volume of European lumber from January
to June this year was 1,419,329 cbms, 24% more than the
same period of last year.

By active demand for laminated lumber in domestic
market, lamina supply continues tight while KD stud
shortage is solved. In this period, export prices increased
because of lively demand in European market and the
export prices of lamina and KD stud advanced by Euro 20
per cbm compared to last January prices but the increase is
offset by exchange rate fluctuation.

There was strong resistance for lamina price hike by the
Japanese laminated lumber manufacturers so the volume
did not increase.

Therefore, lamina supply was chronically tight by limited
supply and increased production of laminated lumber in
Japan. Lamina supply would continue tight through the
second half of the year as long as demand for structural
laminated lumber stays active.

Stud supply was unstable because of delayed shipments
by the major supplier but the supply seems to be
supplemented by other smaller suppliers so the market did
not react so much despite tight supply. The market prices
softened as the imported cost was reduced by weak Euro.

In Central Europe, quality log supply is tight after beetle
damage started so the supply for Japan does not seem to
increase much in the second half but the present export
prices for Japan are attractive for the suppliers so the
supply would increase if more suppliers join.

Looking at by source, the volume from Sweden and
Finland, which are main supply source of lamina,
increased sizably while Rumania dropped but Austria,
common lumber supply source increased significantly.

Exclusive import of Indonesian lumber core
Showa Lumber Co., Ltd. (Hokkaido) announced that it has
acquired an exclusive marketing right of lumber core
made by Indonesian manufacturing company, Sengon Inda
Mas, SIM. It has been a year after SIM acquired JAS
certificate on the product and it has passes the inspection
by the Japan Plywood Inspection Corporation.

Showa Lumber closed its own plywood plant at Shibetsu,
Hokkaido then it concluded plywood manufacturing
consignment contract with some Chinese manufacturer in
Shanghai, China and started importing basswood plywood,
basswood lumber core and lauan lumber core plywood.

Then by heavy smog problem in Shanghai, use of coal
boiler was banned so that the plant moved to province of
Jiansu in 2014 to continue plywood production.

However, facing labor shortage and import duty on
imported materials in China, Showa Lumber decided to
move to Indonesia, where falcate and plywood are easy to
procure.

The Chinese partner, SIM has bought out several falcate
lumber manufacturers in Pekalongan, Indonesia and built
new lumber and plywood plant. They have acquired JAS
certificate in 2015 and has been shipping test products.

Core of lumber core is planted species of falcate. Lumber
core is used for shelves, dividing panel and various wood
working and furniture. Thickness is 12-30 mm with 3x6
and 4x8. SIM now produces 100% falcate lumber core
plywood with not only core but face and back plywood.

Showa Lumber imports about 1,750 cbms of lumber core
(35 containers) a month to various ports in Japan like
Tokyo, Osaka, Nagoya, Akita and Tomakomai. It also
continues importing basswood plywood (3-18 mm 3x6)
supplied by SIM's Jiangsu plant.

President Takahashi of Showa Lumber commented that
falcate is recyclable planted species in managed forest so
the supply is consistent to satisfy the customers. It also
continues importing Russian temperate hardwood lumber.