2. GHANA
China top in first half export league
The Timber Industry Development Division (TIDD) of the
Ghana Forestry Commission has released details of first
half 2016 exports.

According to the TIDD report the country earned a total of
euro109.88 million from the export of 194,000 cu.m of
wood products, a 24% increase in value and an11%
increases in volume when compared to the same period in
2015.

Data from the TIDD showed that, compared to first half
2015, increases were seen in exports of curl veneer,
kindling and air dried (AD) sawnwood. Markets in Asia
accounted for almost 71% of total exported volumes, up
significantly on 2015.

Exports to Europe were up slightly but exports to the US
and Middle East countries fell in the first half of 2016.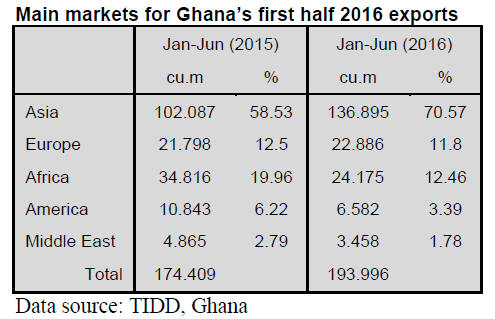 The leading buyers of Ghana¡¯s air dry (AD) sawnwood
were the China, India and Vietnam which together
accounted for 95% of all AD sawnwood exports. The US
imported almost 80% of all curl veneers with the balance
going to the UK.

Exports of AD sawnwood to regional ECOWAS markets
amounted to just over 115,000 cu.m in the first half of this
year. The Chinese market is emerging as significant for
exports of both AD and KD sawnwood.

In total, exports of primary products (logs and billets)
comprised just 9% of total export volumes in the first half,
down from almost 17% in 2015. In contrast, the volume of
secondary product exports increased in the first half of
2016 compared to the same period in 2015. Tertiary
products exports which included mouldings and dowels
fell as a proportion of total exports.

Teak, rosewood, papao, wawa and ceiba were the leading
species exported.

Ghana¡¯s domestic construction sector sees health
growth
Government infrastructure investment should provide a
boost to Ghana¡¯s construction industry after its slow start
in 2016 but this may not deliver improved profitability for
companies involved as rising costs continue to eat away at
profit margins.

Oxford Economic reports in its latest assessment ¡°With a
number of public works projects currently in the pipeline ¨C
ranging from housing developments to port upgrades ¨C
Ghana is likely to see an uptick in spending on
construction projects in the coming months.¡±

For more see:
http://www.oxfordbusinessgroup.com/ghana-
2016/construction-real-estate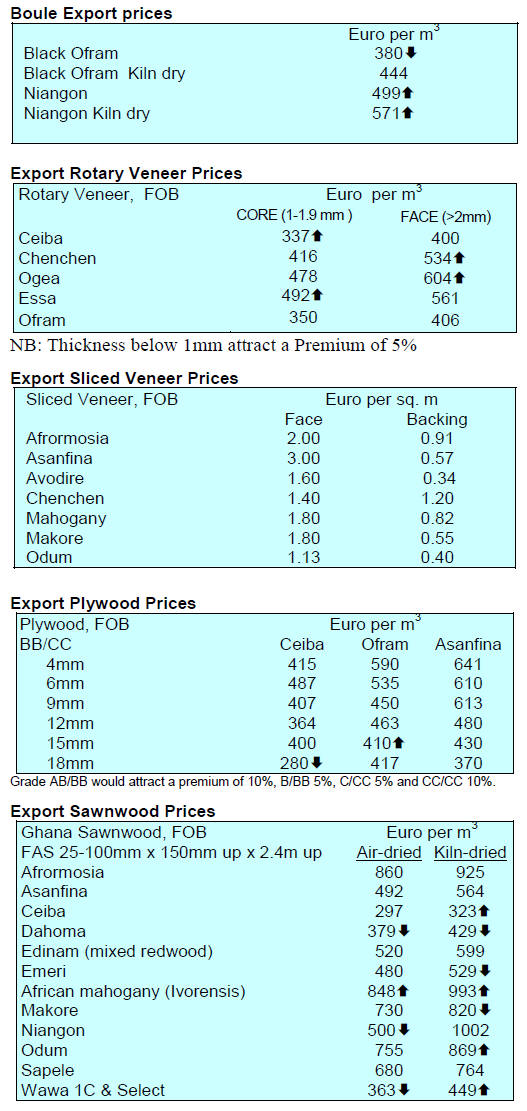 3. SOUTH AFRICA
Economy not fully recovered from 2008 crisis and now
faces a political challenge
South Africa¡¯s GDP is now larger than that of Nigeria and
this has lifted South Africa back to being the number one
economy in Africa.

However, the consensus amongst local analysts is that
short term economic prospects for the South African
economy are not strong since the country has not fully
recover from the downturn caused by the financial crisis of
2008 and is now experiencing political uncertainty.
Local government elections were held recently which
resulted in the ruling party losing a lot of support in urban
areas to the main opposition parties.

The effect of the shift away from the ruling party is that
there are hung municipal administrations in some key
cities such as Port Elizabeth ,Pretoria, Johannesburg
which, say analysts could mean infrastructure projects are
delayed or rescheduled.

Continued weak commodity prices, uncertainty over the
impact of Brexit on domestic demand, strained labour
relations, problems with power and water supplies and
prospects for zero growth in 2016 means that the outlook
for the South African building sector that does not look
promising.

For an in depth analysis of the construction and housing
sectors see:
http://www.pwc.co.za/en/assets/pdf/sa-construction-
2015.pdf
and
http://www.masterbuilders.org.za/images/LR_Annual_Rep
ort_2016.pdf

Change of local administrations could slow spending
on housing and construction
Despite the uncertainty second half 2016 timber market
prospects could be better than in the first half. The market
is beginning to recover from the election hiatus, although
the results will have an impact on government housing
projects for the time being. Having lost Cape Town, Port
Elizabeth, Johannesburg and Pretoria the ruling party has
lost control of sectors accounting for more than half of the
country¡¯s GDP.

Despite the uncertain times analysts report businesses
seem more confident and some projects, such as hotel
refurbishments which had been on hold, have now been
started.

The year-long steady flow of work in the shop fitting
sector continues but, while there is some expansion in the
low income housing market activity in the more expensive
middle and higher priced housing segment is depressed.

Major meranti user in liquidation
News has emerged that one of South Africa¡¯s major door
and window manufacturers and users of meranti, Zikiza,
has gone into receivership leaving local traders and some
Malaysian suppliers unpaid.

The strengthening of the rand and sale of Zikiza stocks has
put pressure on the market forcing some prices down.
South African importers are also seeing some weakening
FOB prices for Malaysian sawnwood which is put down to
slow sales in Europe.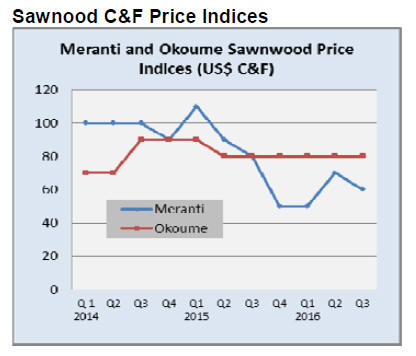 Softening meranti prices a challenge for okoume
Shippers of okoume, which competes with meranti in
some enduses, have been slow to react to softening meanti
prices so are seeing their sales drop.

Demand for US hardwoods is said to be steady supported
by the stronger rand which has resulted in a slight slide in
prices. Analysts report a softening of red oak prices and
that volumes being traded are about 15% down on last
year. Overall, traders report demand is moderate and that
there is increased demand in the refurbishment and home
alteration markets. Traditionally this is the busier part of
the year as all contracts need to be finished by early
December when builders begin their holidays.
4. MALAYSIA
Malaysian furniture exporters eying RM 40 million from
China expo
The China International Furniture Expo was held 8-11
September and the Malaysian Timber Council (MTC) is
eying potential orders for Malaysian furniture worth
around RM40 million. 18 Malaysian companies, including
six first-time participants, exhibited in the Malaysian
pavilion to promote their dining room, bedroom furniture
along with occasional furniture and upholstered furniture.

This is one of China¡¯s major furniture fairs and is an
annual event organised by the China National Furniture
Association and the Shanghai UBM Sinoexpo
International Exhibition Co. Ltd.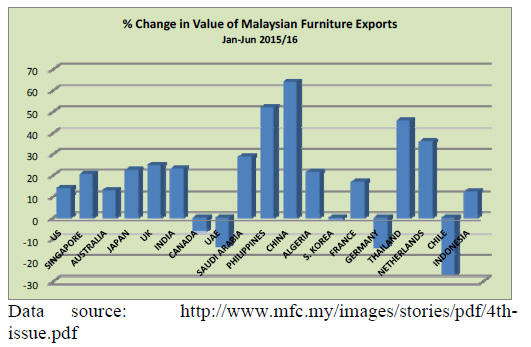 Last year Malaysia's export of wood products including
furniture to China were worth RM816 million which was
almost 4% of all wood product exports.

In 2013 Malaysia and China agreed to try and increase
bilateral trade to US$160 billion by 2017 after China
upgraded Malaysia to be its full strategic partner. This
bilateral arrangement seeks to take advantage of
opportunities generated from China¡¯s ambitious ¡®Belt and
Road¡¯ trade initiative.

See: http://mtc.com.my/wp-content/uploads/2016/09/2016-Press-
Release-on-Furniture-China-2016.pdf

Sarawak proposes State centre for acacia furniture
development
The Sarawak State government has plans to make the state
a centre for acacia furniture manufacturing. To move this
plan along furniture manufacturers in China have been
invited to consider working with partners in Sarawak to
manufacture acacia furniture for export.

This invitation came from the Assistant Minister of
Industrial Development during meetings with China
Timber and Wood Products Distribution Association
(CTWPDA).

The Minister said Sarawak has the raw materials and
suitable infrastructure to support growth in the furniture
manufacturing sector. The policy of the State government
aims to see 1 million hectares of forest plantation by 2020.
Currently, almost 400,000 ha of fast growing tree species
such as Acacia mangium have been established.

Since 1989 the state has had a policy of promoting further
processing and this has had some success as Sarawak is
the largest exporter of tropical hardwood plywood in the
region.

Last year, Sarawak produced 2.3 million cu.m of plywood,
0.8 million cu.m of sawnwood and 0.8 million cu.m of
other products such as veneer, mouldings, laminboard,
particleboard, MDF and laminated flooring.

The State also produced 0.6 million metric tonnes of
woodchip, charcoal briquette, wood pellet and door skins..
The state produced 8 million cu.m of logs from natural
forest and 911,000 cu.m of logs from forest plantations.

Sabah first half 2016 sawnwood and plywood exports
The Sabah Statistics Department recently released
sawnwood and plywood export data for the first half of
2016.

Compared to the same period in 2015, first half sawnwood
exports to the top six export markets, China, Taiwan
P.o.C, Thailand, Philippines, Japan and South Africa
declined. Only in the case of S. Korea was an increase
recorded. The distribution of exports is shown below.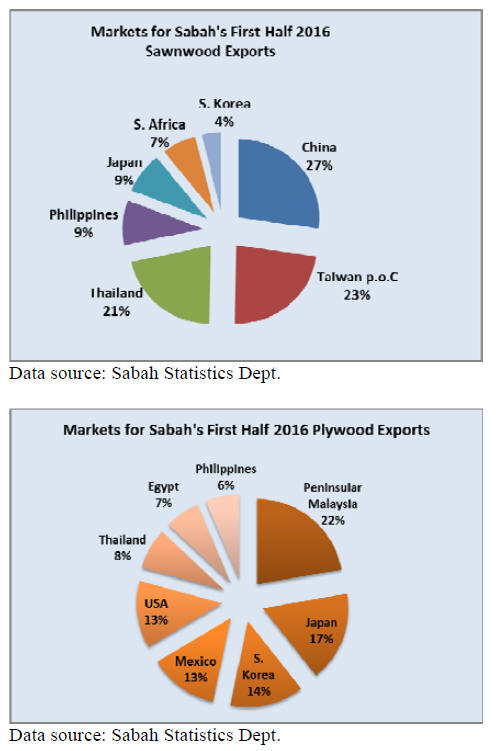 First half 2016 plywood exports showed a different trend
with exports to Peninsula Malaysia, Japan and S. Korea
coming in higher than in the same period in 2015. On the
other hand exports to Egypt and the Philippines were
almost unchanged year on year.
5. INDONESIA
Lower growth target formally accepted
The Indonesian government has formally accepted an
economic growth target of 5.1% for 2017 in anticipation
of cuts in government spending next year.

Behind the lower growth target is uncertainty in global
markets as well as the problem the government faces in
securing tax revenues at a time when commodity prices
are low.

The Minister of Finance, Sri Mulyani Indrawati, said
government spending this year will be below target which
will impact growth prospects and that further cuts are
likely next year.

First FLEGT timber to be shipped to Belgium and UK
Ministry of Environment and Forestry officials are aiming
to make Belgium and the UK the first markets to receive
Indonesia¡¯s FLEGT licensed wood products.
Beginning 15 November Indonesia will start issuing
"Forest Law Enforcement, Governance and Trade"
(FLEGT) licenses covering exports of wood products to
EU member states.

For more see: http://www.ttjonline.com/news/flegtlicensed-
timber-finally-on-the-eu-horizon-4996144

In related news, Indonesia¡¯s central and regional
governments will combine forces to help the country¡¯s
small and medium wood product manufacturers secure
SVLK certification. While the large sized companies were
quick to secure SVLK certification SMEs face problems in
understanding and adopting procedures to satisfy
inspectors and in paying for the services of certifiers.

Islamic authority joins fight against illegal burning of
forests
In a surprise move Indonesia¡¯s Islamic authority has
declared it a sin (haram) for Muslims to intentionally burn
a forest. Regional media report Dr. Chuzaimah T Yanggo
from the Ulema Council as saying a fatwa, or Islamic
ruling, has been issued.

Environment and Forestry Minister, Siti Nurbaya Bakar,
was present when the Ulema Council announced its move
which is aimed at bringing to an end the annual burning to
clear land which creates a dangerous haze across the
region.

The minister said this edict coming from such a respected
body should drive home that it is wrong to use fire to clear
forest because of the health risks smoke creates.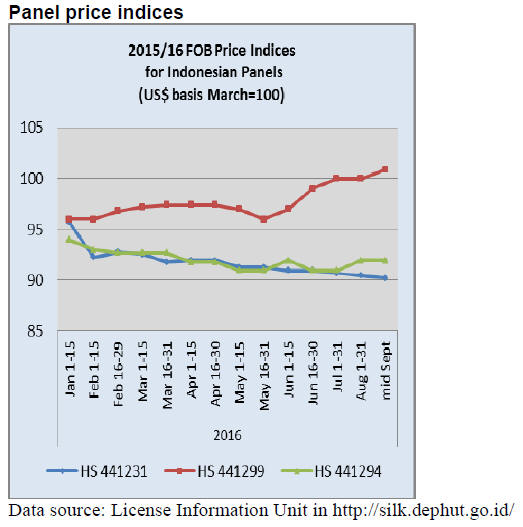 6. MYANMAR
Harvesting to resume in April
According to Myanma Timber Enterprise (MTE) Deputy
Director, U Aye Cho Thaung, the temporary suspension of
logging will be lifted in April but harvest levels will be
sharply reduced. However, the harvesting ban will
continue for the Bago mountain range.
It has been reported that there are about 19,000 teak and
530,000 other hardwood trees available for harvest in the
next fiscal year. Production will be limited to 15,000 tons
of teak and 350,000 tons of other hardwoods.

Myanmar delegation studies SVLK in Indonesia
A delegation from Myanmar led by the Myanmar Forest
Certification Committee Secretary, Barber Cho, recently
visited Indonesia to study the Indonesia Timber Legality
Assurance System (SVLK) and discuss with Indonesian
officials the VPA process.

The delegation met The Director General , Sustainable
Management, Dr. IB Putera and FLEGT Negotiator Dr.
Agus Sarsito. The delegation was also taken to Semarang,
Jepara and Yogyakarta to witness SVLK monitoring and
discuss the various activities conducted in support of
Indonesia¡¯s V-Legal system.

Identifying cross border transport routes for illegal
timber
According to research by the Myanmar Forest Department
(FD) there are 39 main routes along which illegal timber is
transported across Myanmar¡¯s borders. Amongst these 25
are suspected as leading to China, 6 to Bangladesh, 2 to
India and another 6 to Thailand.

The FD also reported that illegal timber is entering the
domestic supply chain to meet the needs of the people.
The FD analysis suggests it is unlikely that products
manufactured from illegal timber will enter international
markets.

Improved transparency is an important step for Myanmar
as negotiations progress on a VPA with the EU. Local
analysts say there are many drivers of the illegal timber
trade, one is unsatisfied needs of local people, corruption
and negligence of duty of officials.
It has been revealed that under the previous government,
between 2011-2016, of the more than 2,000 officials fired
almost half were said to be involved in the illegal timber
trade.

Seizures of illegal timber have been growing. In fiscal
2011-12, 30,327 tons were confiscated, in 2012-13 31,571
tons were seized and in 2013-14 seizures rose to 45,465
tons. The highest volume, 51,725 tons, was seized in
2014-15 and so far this year 4,600 tons has been seized.

In a departure from previous practices confiscated timber
will be sold to peoples in the region where it was
discovered instead of it being auction by the MTE.
7. INDIA
Economic prospects good says industry federation
The Federation of Indian Chambers of Commerce and
Industry (FICCI) surveys leading economists representing
industry, banking and financial services sector on
prospects for the Indian economy.

In its latest assessment FICCI is projecting GDP Growth
for fiscal 2017 at 7.8%, up on the recently revised forecast
from the IMF.

The FICCI survey analysis can be found at:
http://ficci.in/surveys.asp

This report says GDP growth picked up towards the end of
the second half and is set to expand on the back of
increased consumption, largely the result of the good
monsoon. A good monsoon tends to boost agriculture and
manufacturing and results in increased personal
consumption.

To quote the FICCI report ¡°The improvement in rural
demand on the back of a pickup in farm sector is likely to
give an impetus to industrial growth. Industry is projected
to grow by 7.3% in 2016-17, 0.2% higher than the
projection as per our previous survey round¡±.

Timber and plywood price indices climb
The OEA also reports Wholesale Price Indices for a
variety of wood products. The Wholesale Price Indices for
Wood products and Plywood are shown below.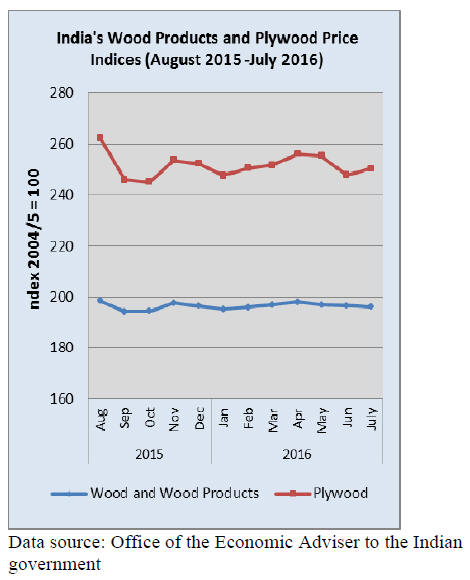 Inflation rate trends
The Office of the Economic Adviser (OEA) to the Indian
government provides trends in the Wholesale Price Index
(WPI).

The official Wholesale Price Index for All Commodities
(Base: 2004-05 = 100) for July rose 15 to 189.3 from 182
in June. The annual rate of inflation, based on the monthly
WPI, was up 3.55% (provisional) in July, 2016 compared
to July, 2015 and up 1.62% month on month.

See: http://eaindustry.nic.in/cmonthly.pdf

Anti-dumping duty on MDF from Vietnam and
Indonesia
India¡¯s Finance Ministry has imposed anti-dumping duty
on plain MDF imports from Vietnam and Indonesia.

This anti-dumping duty on plain MDF (also known as
Custom-wood or Craft-wood in the domestic market) will
be levied on boards having a thickness of 6mm or above
and will be valid for a period of five years.

The petition seeking an anti-dumping probe on MDF was
jointly filed by Greenply Industries and Mangalam Timber
Products. Rushil Decor Ltd, which accounts for 20% of
India¡¯s domestic MDF production supported the petition.

MDF is widely used for partitions, modular furniture and
cabinets due to its smooth and uniform finish. The product
is produced in two-types ¡ª plain and laminated. The
scope of the current petition did not include laminated
MDF.

Based on the recommendations of the designated authority
in its final findings, the revenue department has imposed
anti-dumping duties ranging from zero to US$64.35 per
cubic metre depending on the producer and country of
export.

Investment in veneer plants in Gabon
After Myanmar, Laos, Vietnam and Indonesia, Gabon has
emerged as a new location for veneer production by Indian
companies. Greenply Industries has announced it plans to
establish a veneer manufacturing plant in Gabon and this
has prompted other companies to consider investing in
Gabon.

The news from Gabon is that three or four Indian plywood
companies are considering setting up plants for the
production of face veneer. Several producers from
Yamuna Nagar also visited Gabon and have expressed an
interest to invest in the country.

Two companies in Gandhidham and one in
Vishakhapatnam are also considering establishing units in
Gabon¡¯s Special Economic Zone (GSEZ).

The GSEZ¡¯s industrial site is seen as offering many
opportunities. The harvestable forest in Gabon is
substantial such that raw material supplies are reliable.
Some 20 investors from India have already settled in the
GSEZ with sawmills, kiln drying facilities as well as
furniture, veneer and plywood manufacturing units.

The Indian plywood industry consumes approximately
1,400 containers of veneers every month and currently
these come from Myanmar, Laos and China. However
with the decision in Myanmar to halt logging importers
have begun to look elsewhere.

Reconstituted veneer plant in Hoshiarpur
Savitri Veneers based in Hoshiarpur, Punjab State has
started commercial production of reconstituted veneers at
its newly established plant.

This is India¡¯s first reconstituted veneer manufacturing
plant and has an annual capacity of around 5,000 cubic
metres.

Since the log export ban in Myanmar, India¡¯s face veneer
market has become unstable and veneer prices have more
than doubled. With the logging ban in Myanmar the steady
supply of Gurjan veneers cannot be assured. Laos is an
alternative source but developments there have raised
questions on the sustainability of exports.

The reconstituted veneer plant in Hoshiarpur will be using
local plantation timber and the company has developed its
own glue manufacturing facility.

Savitri Veneers is said to be targeting the market in
northern India initially but expects to expand production to
20,000 cubic metres so as to market throughout India.

Plantation teak prices
Plantation teak imports have risen to meet growing
domestic demand and this has had an impact on prices
from some sources.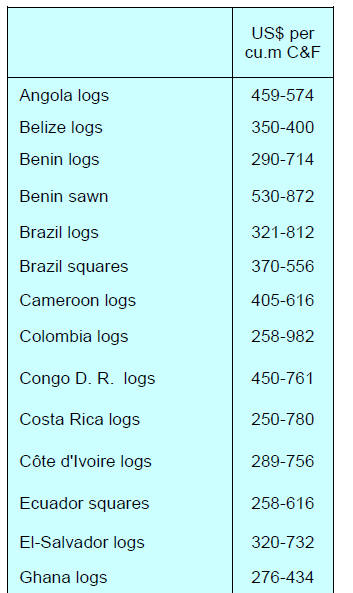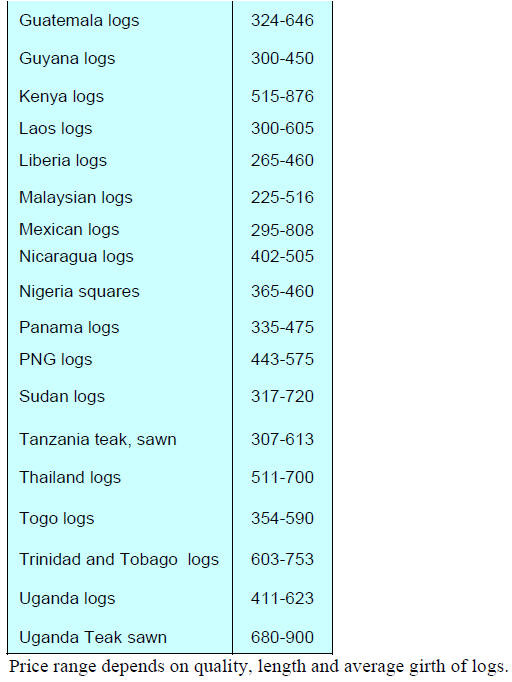 Three new plantation teak log suppliers have been
engaged, Taiwan P.o.C (US$1036 to US$2126 per cu.m. C
and F), China (US$855 to US$1118 per cu.m. C and F)
and Honduras (US$471 to US$539 per cu.m. C and F).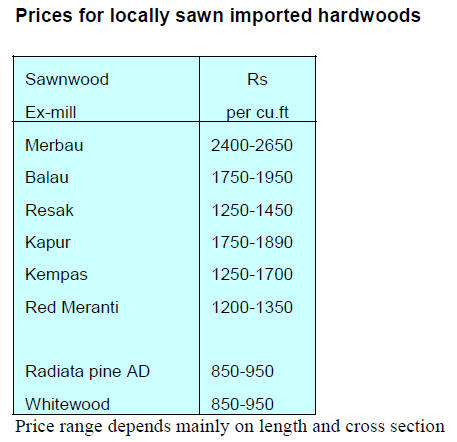 Myanmar teak flitches resawn in India
Domestic demand has improved but has not yet impacted
pricing as the steady import of sawn teak from Myanmar
is stabilising prices.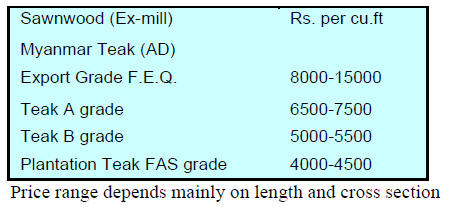 Prices for imported sawnwood
Demand for imported sawnwood is subdued such that
there are no opportunities to increase prices.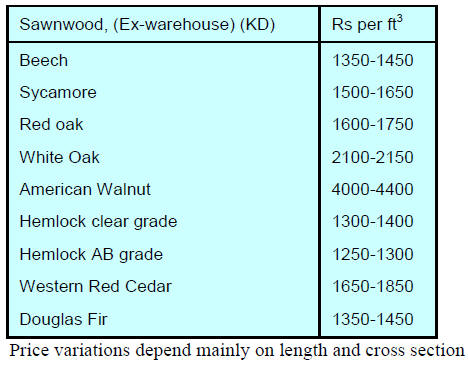 Prices for WBP Marine grade plywood from domestic
mills
Manufacturers report that domestic demand is sluggish
and that prices remain unchanged since last month.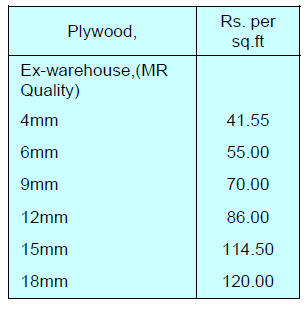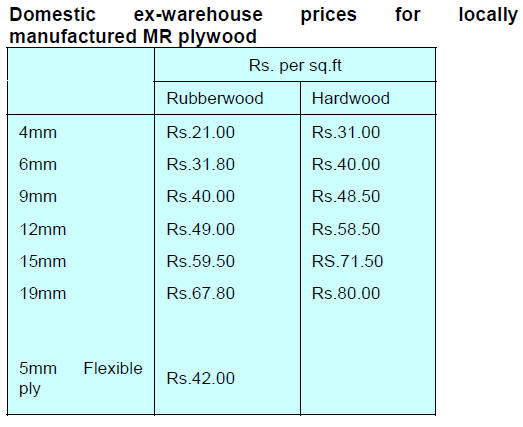 8. BRAZIL
Furniture sector affected by the domestic crisis
According to the Furniture Producers Association of
Western Santa Catarina (AMOESC) and the Union of
Furniture and Timber Industry of Vale do Uruguay
(SIMOVALE), furniture manufacturers may be facing a
35% fall in sales this year despite their efforts to diversify
marketing.

All companies in the Brazilian furniture sector have been
affected by the domestic economic crisis which began to
bite last year.

The economic crisis in the country and weak overseas
demand have seriously affected sales and are putting some
2,000 direct and 4,500 indirect jobs at risk. In the first half
of this year, in order to avoid having to dismiss workers,
many companies started to request workers to take leave
and provided payments as required by law.

The Federation of Industries in Santa Catarina State
(FIESC) has said that part of the problem facing furniture
manufacturers is the slow pace of innovation and design
which has aggravated the impact of an already weakening
market.

First wood frame building in Brazil
August marked the beginning of a new era in the Brazilian
housing sector with the opening of the first complete wood
frame building. Wood frame buildings are being promoted
as offering advantages in terms of lower on-site
construction costs.

The initial project consisted of two three-story buildings
with 12 apartments. The main construction materials were
sawnwood and wood based panels.

Representatives of government agencies, the production
sector and suppliers participated in discussions and
exchange of technical information on the new wood frame
construction system.
The Brazilian Association of Mechanically-Processed
Timber Industry (ABIMCI) states that the timber and civil
construction industries are facing new opportunities so that
an active participation of member companies in
developing this construction method and application is
fundamental.

They also said it is important to understand how a wider
range of wood products can be utilised and that technical
standards specifically for wood products for use in wood
frame buildings will be required. ABIMCI pointed out that
wood frame construction offers a real chance to increase
per capita consumption of wood products in Brazil¡¯s
domestic market.

Slow government decision making frustrating
businesses
Recent political uncertainty and slow efforts at
formulating effective measures for the resumption of
national economic growth is affecting the Brazilian timber
sector.

In July 2016 exports of wood products totalled US$201.1
million, a slight decline compared to June figures. At the
same time imports of wood products were US$7.4 million,
a 2.6% fall compared to the previous month.

The July trade balance remained practically unchanged
compared to June reaching US$194 million. Between
January and July 2016 wood product exports totalled
US$1,316.3 million, a 4.4% drop year on year such that
the accumulated trade balance in the first half of 2016 was
US$1,259.4 million, 3.6 % lower than the same period of
last year

Brazil¡¯s wood products export earnings increased 32%
between January and July 2016. The major changes in
export value occurred in February (+17%) and March
(+14%).

Amazon furniture attracts international interest
Government representatives and orgaizations from Acre
State participated in the first High Design - Home &
Office Expo. This international event, held in the first
week of August in São Paulo, has potential to become a
leading furniture design fair for Latin America.

During the fair the "Acre, Made in Amazônia" project was
launched building upon an idea conceived by the Acre
State government in partnership with the Dom Moacyr
Institute (IDM).

The project concept is built around the extensive
biodiversity and wealth of natural resources in the
Amazon forest and aims to develop a new industrial
furniture cluster for the creation of contemporary furniture
inspired by local culture and nature.

The launch introduced contemporary designs called
¡°palafita, jatob¨¢, empa-te, yuxin and estrela¡± each using
local species such as cedar (Cedrela), cherry tree (Prunus),
cumaru-ferro (Dipteryx odorata), ita¨²ba (Mezilaurus
itauba), jatoba (Hymenaea courbaril) and tauari (Couratari
guianensis).

During the event, the governor of Acre talked about the
importance of the project for the Brazilian forestry and
timber sector as it contributes to the domestic ¡®Legal
Wood Program¡¯ promoted by WWF-Brazil, to encourage
the use of certified wood in Brazil.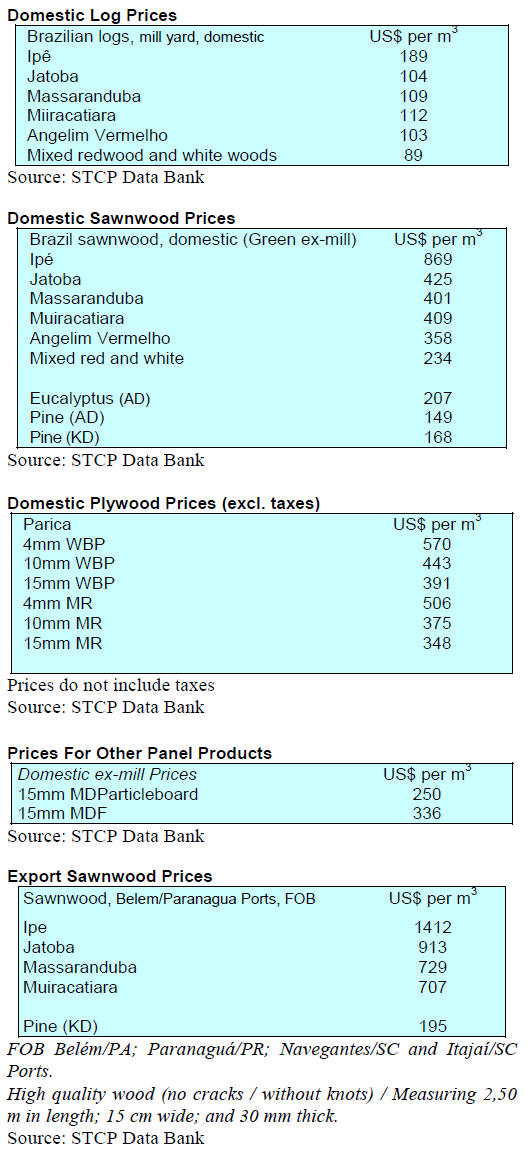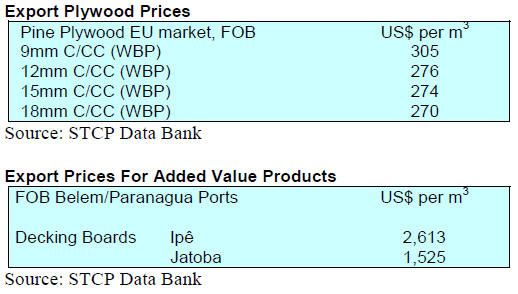 9. PERU
Non-traditional exports fall
The Center for Business Research (CIE), Perucamaras has
reported first half 2016 exports of ¡®non-traditional¡¯ (i.e.
excluding commodity products) from the Eastern Region
totalled US$37.4 million, a drop of almost 33% compared
with the same period of 2015.

This decline was mainly due to the poor performance of
agricultural sector exports (-8.4%) which account for most
non-traditional exports. At the same time exports of wood
and paper products, ranked the second highest of all nontraditional
exports, fell by 51% (US$13.5 million).

According to the report Peruc¨¢maras, total traditional and
non-traditional exports from the Eastern Region totalled
US$44.4 million, a drop of 32% year on year.

The main markets for Peru¡¯s exports in the first half 2016
were: China (14.4% of total exports), followed by the US
(14%), Colombia (9.7%) and Italy (8.4%). These four
countries together accounted for 46.4% of total shipments
from the eastern macro region of the country.

Of the four regions that make up this macro region, San
Martin recorded the highest share in total exports at 43%
followed Ucayali (27.3%), Loreto (23%) and Amazonas
(6.9%).

Of the non-traditional exports, wood and paper products
were significant but fell sharply compared to a year
earlier. Much the same trend in exports was reported for
the Loreto region.

Congress will evaluate forest sector issues
In order to assess the situation in the forestry sector and
the impact of issues on the economy and society in the
Amazon Region, Congressman, Jorge Melendez Celis,
convened a forestry working group.

Representatives of loggers, industrialists, exporters and
regional government officers from the Amazon Region
(Loreto, Ucayali and Madre de Dios) were invited.

The meeting discussed the threat of social conflicts that
could paralyse activities in the region brought on by the
sharply declining export trade which is having a
devastating impact on local communities.

SERFOR continues to promote local forest
management
Following a meeting between representatives of the
district government of Contamana (province of Ucayali,
Loreto region) and officials of the National Forest Service
and Wildlife (SERFOR) interest is growing in the
establishment of local forest management units in the
district. The meeting attempted to define the challenges
and benefits of having forests managed by local groups in
the state. Contamana is home to almost 40% of the
inhabitants of Ucayali Province and many see benefit in
the establishment of local forest management.