Report from North America
US wood product imports update
US imports of most tropical sawnwood and processed
wood products in the first half of 2016 were lower than in
the same period last year.

This is despite higher housing starts and increased
consumer spending compared to 2015. The exceptions to
the downward import trend were imports of wooden
furniture and assembled flooring panels (engineered wood
floors).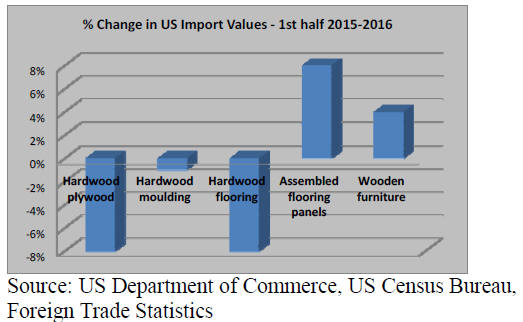 Decline in ipe and sapelli sawnwood imports
The import volume of sawn temperate and tropical
hardwood fell by one third in June to 86,178 cu.m.
However, the value of imports increased 2% to US$44.8
million because of higher tropical imports.

Imports of temperate species declined in June, while
tropical sawn hardwood imports volumes grew 18% from
May to 23,297 cu.m. The value of tropical imports was
US$23.9 million and accounted for 53% of all US sawn
hardwood imports in June, up from 49% in May.

Despite the overall growth in tropical imports, ipe and
sapelli imports declined in June. Ipe sawnwood imports
were 2,589 cu.m., down 35% from May. Sapelli imports
decreased 13% from the previous month to 2,379 cu.m.
Year-to-date sapelli imports were down over 40% from
June 2015. Imports of jatoba and teak also declined in
June.

Balsa sawnwood imports increased 14% to 5,283 cu.m.
Acajou d¡¯Afrique and keruing imports grew significantly
from May, but year-to-date imports remain below last
year¡¯s levels.

Among the main suppliers of tropical sawnwood to the US
market only Ecuador and Indonesia shipped more year-todate
than in June 2015.

Imports from the Democratic Republic of the
Congo/Kinshasa jumped to 1,178 cu.m. in June, up from a
monthly few hundred cubic metres earlier this year.
More hardwood plywood from China, Indonesia and
Malaysia in June
Hardwood plywood imports grew 4% in June to 279,542
cu.m. but year-to-date imports were lower than in June
2015. The value of plywood imported in June declined 3%
to US$155 million.

The reason for higher volumes yet lower value imports in
June was increased shipments from China. Imports from
China grew 8% from the previous month to 169,806 cu.m.,
while the value of imports decreased 5%.

Plywood imports from China remained below 2015 levels
in June, both in volume and value.

Hardwood plywood imports from Indonesia recovered
after a brief decline in May. June imports from Indonesia
were 24,486 cu.m., up 12% and worth US$15.4 million.
Plywood imports from Malaysia tripled to ,805 cu.m. from
the previous month, while imports from other major
plywood suppliers decreased in June.

Moulding imports from Brazil down
The US imported US$14.5 million worth of hardwood
moulding in June, down 9% from May. Year-to-date
imports were slightly lower (-1%) than in June 2015.

The month-on-month decline was chiefly in moulding
imports from Brazil. Brazil¡¯s shipments fell by 24% to
US$2.9 million. Imports from China and Malaysia were
up in June. Malaysian moulding shipments to the US were
worth US$1.2 million in June, up 12% year-to-date from
the same time last year.

Thailand increases engineered flooring exports to US
Hardwood flooring and assembled flooring panel imports
increased in June to US$4.2 million and US$16.9 million,
respectively. Year-to-date imports of assembled flooring
panels (engineered wood flooring) grew 8% from June
2015, but hardwood floor imports were down compared to
the same time last year.

Indonesia and China were the largest sources of hardwood
flooring imports in June at just over US$1 million each.
Despite a jump in imports from Indonesia in June, year-todate
Indonesian shipments were down 15% from June
2015. Hardwood flooring imports from China increased
24% year-to-date.

In assembled flooring panels, China and Thailand grew
their shipments to the US market compared to the same
time in 2015. China remains the main source of imports at
US$9.9 million in June.

Imports from Thailand are relatively small (US$323,408
in June), but year-to-date imports increased 76% from
June 2015.

Wooden furniture imports unchanged in June
Wooden furniture imports were unchanged in June
US$1.44 billion. Year-to-date imports were up 4% from
June 2015.

Furniture imports from China were unchanged monthover-
month, but imports from Vietnam and declined 3% in
June. Malaysia, Mexico and India increased shipment to
the US in June.Imports from most countries were up in the
first half of 2016, except for Malaysia (-2%) and Indonesia
(-4%).

Imports of bedroom furniture and wood furniture for other
uses increased in June, while office furniture, upholstered
and non-upholstered seating declined. Kitchen furniture
imports were unchanged from the previous month.

GPD growth up in second quarter
US GDP increased at an annual rate of 1.2% in the second
quarter of 2016, according to the first estimate released by
the Bureau of Economic Analysis. In the first quarter,
GDP increased 0.8% based on the final revised estimate.

The increase in GDP growth in the second quarter was
mainly due to higher personal consumption and lower
imports. Non-residential and residential construction
investment declined in the second quarter.The
unemployment rate was unchanged at 4.9% in July,
according to the US Bureau of Labor Statistics.

Housing starts continue to climb
Housing starts rose 2.1% in July to a seasonally adjusted
annual rate of 1.21 million units, according to data
released by the US Department of Housing and Urban
Development and the Commerce Department. This is the
highest level of residential construction since February.
Multifamily housing increased 5% in July, while singlefamily
construction was only slightly up (0.5%).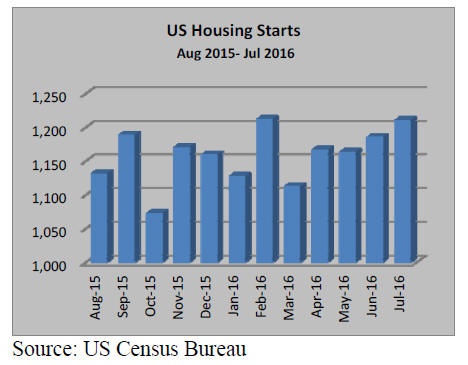 Single-family home builders are cautiously optimistic
about market conditions, according to the National Home
Builder Association. Shortages of building lots, skilled
workers and affordability issues continue to affect the
housing sector.