Report from Europe
EU imports of tropical sawnwood rise 11%
EU imports of tropical sawnwood have continued to
recover slowly in 2016 from the depths of recession in
early 2013. There was a particularly significant surge in
trade in the second quarter of this year, notably from
Cameroon. (Chart 1).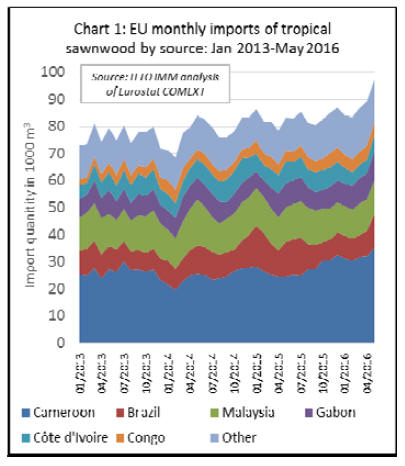 EU imports of tropical sawnwood in the first five months
of 2016 were 460,000 cu.m, 11% more than the same
period in 2015. There were significant gains in imports
from a wide range of countries including Cameroon
(+31% to 166,400 cu.m), Gabon (+20% to 50,200 cu.m),
Congo (+21 to 24,300 cu.m), DRC (+28% to 13,200
cu.m), Indonesia (+40% to 11,800 cu.m), Ghana (+15% to
10,900 cu.m) and Suriname (+56% to 10,000 cu.m).

These gains offset a decline in imports from Malaysia (-
8% to 59,900 cu.m) and Brazil (-16% to 53,600 cu.m).
(Chart 2).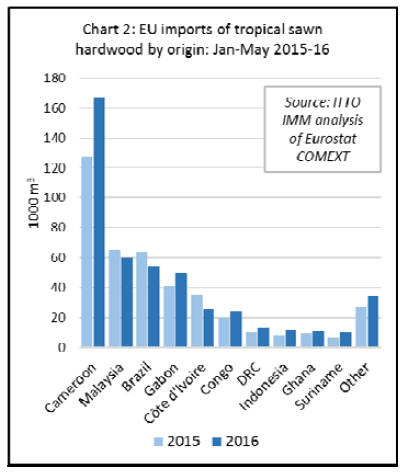 The rise in EU imports of tropical sawnwood in the first
five months of 2016 was concentrated in Belgium (+22%
to 147,000 cu.m), Italy (+27% to 61,800 cu.m) and Spain
(+24% to 31,000 cu.m). Imports into other leading
destinations, including Netherlands, France, UK, Germany
and Portugal, were very similar to the level in 2015. (Chart
3).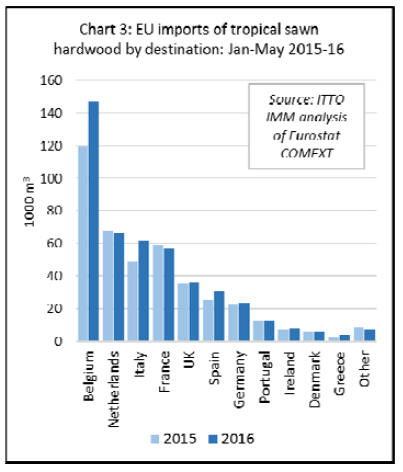 The increasing concentration of EU imports of tropical
sawnwood into Belgium, which accounted for 32% of the
total in the first five months of 2016 每 compared to only
26% for the year in 2014 每 is striking.

Companies in Belgium seem to be playing an ever larger
role in distributing tropical sawnwood into other parts of
the EU 每 a trend that may be partly driven by EUTR as it
discourages smaller EU operators to buy direct and to rely
on larger companies with greater resources available to
implement bureaucratic due diligence procedures.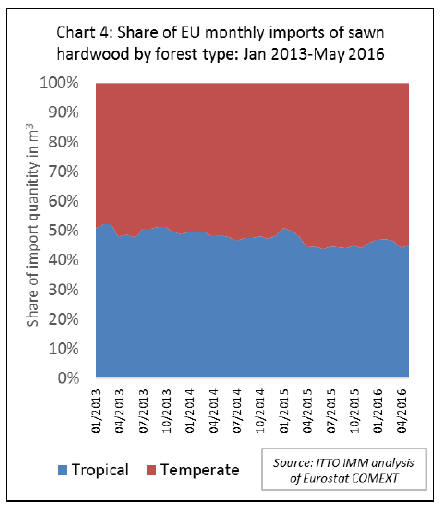 A rising share of the tropical timber imported into Italy
also seems now to be sold into other parts of the EU as the
country*s domestic market remains very weak. Some
larger Italian importers are known to be distributing
tropical hardwoods into northern parts of the EU.

While EU imports of tropical sawnwood have been rising
this year, trade in temperate sawn hardwood has risen
more rapidly so that the share of tropical wood has
continued to slide (Chart 4).

In the first 5 months of 2016, EU imports of sawn
hardwood increased sharply from Ukraine (+25% to
170,100 cu.m), the USA (+10% to 146,300 cu.m) and
Russia (+16% to 56,552 cu.m). This is a reflection of the
strong and increasing dependence on oak in the European
hardwood sector and is also due to policy and exchange
rate effects.

In the last two years, the euro has strengthened by 50%
against the Ukrainian hryvnia and by 40% against the
Russian rouble. The Ukraine also banned log exports from
November 2015, encouraging a switch to trade in
sawnwood.

STTC Conference focuses on public procurement
policy
The theme of the European Sustainable Tropical Timber
Coalition (STTC) Conference held in Rotterdam in June
and co-organised by the Dutch Ministry of Infrastructure
and Environment (MIE) was ※Real impact through timber
purchasing policies§.

As such it was less concerned with generic marketing
efforts to expand the European market for tropical timber
than with incentivizing sustainable forest management in
supplier countries by ※creating market demand for
certified responsibly sourced tropical timber§.

The STTC, which launched in 2013, was founded and is
funded by Dutch government-backed IDH, the Sustainable
Trade Initiative. The primary objective of STTC is to
boost certified timber*s European tropical market share to
50% over 2013 levels by 2020.

Among the STTC*s latest developments is a €2 million
funding programme, managed by the European Timber
Trade Federation (ETTF), to support businesses,
federations and local authorities implementing sustainable
timber procurement policies. It is also increasing
communications activities, with the Rotterdam Conference
among the outcomes.

For more see http://www.europeansttc.com/23-june-2016-
conference/

Chatham House meeting takes stock of FLEGT
Chatham House, the UK-based think tank, hosted the
annual ※Illegal logging Update§ meeting in London in
June, a two-day event with participants from a range of
producer and consumer countries in both tropical and
temperate regions 每 mainly government, NGOs,
academics, consultants, trade association and corporate
representatives.

The meeting featured a panel discussion on ※next steps for
FLEGT§ which considered the implications of the recently
published independent evaluation of the EU FLEGT
Action Plan.

The panel comprised Alhassan Attah (FLEGT facilitator,
Guyana), Rob Busink (Ministry of Economic Affairs, the
Netherlands), Julia Falconer (DFID, UK), Harrison
Karnwea (Forestry Development Authority, Liberia),
Philippe Mayaux (European Commission) and Putera
Parthama (Ministry of Environment and Forestry,
Indonesia).

The Panel discussion highlighted and reinforced key
findings of the FLEGT evaluation. There was agreement
that the EU FLEGT initiative remains relevant and is
playing a positive role to improve forest governance in
targeted countries.

There was praise for the role it is playing to promote
transparency and multi-stakeholder engagement in the
forest sector. The success of these aspects of FLEGT is
indicated by their being replicated in other sectors in some
VPA countries such as Liberia.

The discussion also confirmed other key findings of the
evaluation 每 that FLEGT activity needs to be better
targeted and monitored, to adapt to significant changes in
the political and economic environment 每 such as the
rising importance of domestic markets in the tropics and
other emerging markets, to improve engagement with and
relevance to the private sector, and to focus on better
communication and extending the network of those
involved.

The panel was questioned directly on the continuing
relevance of the FLEGT plan now that the EU plays a less
significant role in the global wood trade. The panel
broadly agreed that the EU market remains significant,
even if timber volumes have declined the EU still takes a
large share from many tropical countries, particularly in
Africa.

The EU is more likely to import higher value products 每
such as furniture 每 than other destinations. The panel also
emphasised that even as the EU*s direct role in tropical
trade is diminishing, the EU can set a positive example for
sustainable consumption and make a significant
contribution to policy innovation. It was emphasised that
FLEGT is more than just a trade initiative, bringing
together actors which benefit many in different ways.

The panel was also asked whether lack of FLEGT
licenses, 13 years on from the launch of the plan, is a
problem. The panel acknowledged that the initial plan may
have been too ambitious and that there was a failure to
anticipate the time required to embed the changes in
systems and capacity across entire countries and sectors in
order to develop FLEGT.
However, it was also noted that significant experience has
been gained in dealing with this complexity and licensing
is close to being achieved in some VPA countries.
Concerted efforts are now required to improve market
incentives for licensing and to engage more widely with
the private sector.

Update on VPA Progress
The Chatham House meeting heard reports on progress in
VPA negotiations around the world from EU officials and
government representatives from several VPA countries.
VPA implementation and negotiations are moving ahead
in 17 countries, and considerable progress is being made
in Indonesia, Ghana, Guyana, Liberia, and Vietnam.

Progress has slowed in other countries, where issues
related to resources for Timber Legality Assurance
Systems (TLAS) and communication need to be
addressed.

Putera Parthama of Indonesia*s Ministry of Environment
and Forestry, reported that the country is on course to
become the first to finalize the VPA process and start
producing FLEGT-licensed timber. Even before official
EU recognition of licensing, Indonesia*s SVLK ensured
that 98% of timber exported in 2015 was legally sourced.

A highly integrated data management system, independent
forest monitoring and input from NGOs have all
strengthened the legality process and boosted progress
with the implementation of the VPA.

There has also been a strong focus on Indonesia*s
domestic market, for example through introduction of a
green public procurement policy to ensure timber supplied
domestically is SVLK-certified.

Chris Beeko of Ghana Forestry Commission and Obed
Owusu-Addai of Civic Response said that the VPA
process has significantly improved law enforcement, forest
governance and trade mechanisms in Ghana; moreover, a
wood tracking system (WTS) has been implemented.
Engagement with civil society has benefited the VPA
process, although the lack of funding for participants is an
issue.

Broader participation in the implementation of the WTS
would be welcome. More capacity and resources are
needed to address compliance gaps among SMEs in the
forest sector.

More details, including full summary report and copies of
all presentations, are available at the Chatham House
website:

http://www.illegal-logging.info/content/26th-illegal-loggingupdate-
and-stakeholder-consultation-meeting