Japan Wood Products Prices
Dollar Exchange Rates of 25th August 2016
Japan Yen 100.53
Reports From Japan
Confidence slips - government spending to boost
growth in the second half of year
Japan's consumer confidence index fell to 41.3 in July
from the five month high in June. The consensus amongst
analysts was that the figure would rise in July.

Among the various indicators used to compile the overall
index willingness to buy durable goods (of significance to
the furniture sector) worsened and the employment
prospect index also weakened. The impact of the two
declines brought down the overall confidence level.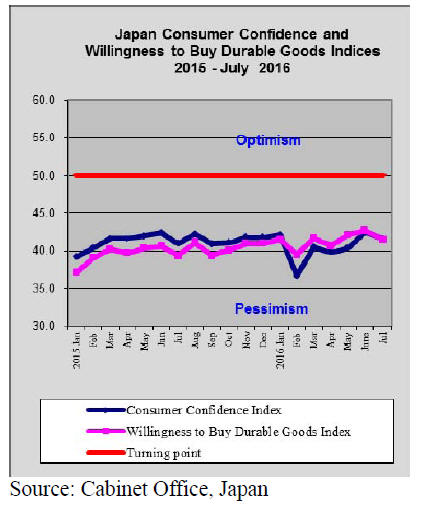 Japan's economy nearly stalled in the second quarter amid
falling exports and weak corporate investment, showing
the nation is still largely dependent on government
stimulus for growth.

Japan's economy grew at an annualised 0.2% in the
second quarter of 2016 well below the 2% achieved in the
first quarter. Analysts were quick to point out that the
number would have been in negative territory were it not
for the second quarter rise in public investment.
In early August the government approved a massive
stimulus package so government spending should boost
growth in the second half of this year. It came as a
disappointment to the government that private sector
investment continues to decline and exports fell.

Consumer spending makes up roughly 60% of Japan's
gross domestic product and boosting spending is a must if
the economy is to be turned around but consumers are
holding back as they are unsure of prospects and because
few see any real prospect of growth in wages. The greatest
challenge is to reverse the continuing decline in consumer
prices.

BoJ hints at weakening the yen
Immediately after the result of the UK referendum the yen
surged against the US dollar and has remained persistently
strong. The strength of the yen has undermined the
profitability of exporters and has seriously dented retail
sales.

These two factors, especially if the yen dollar rate goes to
95, are behind the current thinking that the Bank of Japan
is likely to intervene to weaken the currency.

Up to July this year department store sales dropped by
almost 20% year on year and this was despite record high
tourist arrivals.

That the BoJ could announce further rate cuts is
considered the most likely option as the Bank Governor
indicated the negative interest rate approach had not been
fully exploited.
Mortgage refinancing applications at record highs
While the Bank of Japan(BoJ) is criticised for not
achieving its inflation target, in one sector action by the
Bank has been a success – home loans.

Since the negative-interest-rate policy was adopted at the
beginning of the year mortgage rates in Japan have
dropped to record lows and the number of applications for
mortgage refinancing up to July this year is almost twice
that for the same period last year. On top of this
applications for home loans have risen over 40%.
Housing starts in Japan increased almost 9% in July
compared to levels in July 2015 reversing the year on year
decline noted in June. However, in response to the
government's regular survey construction companies
reported weaker order books.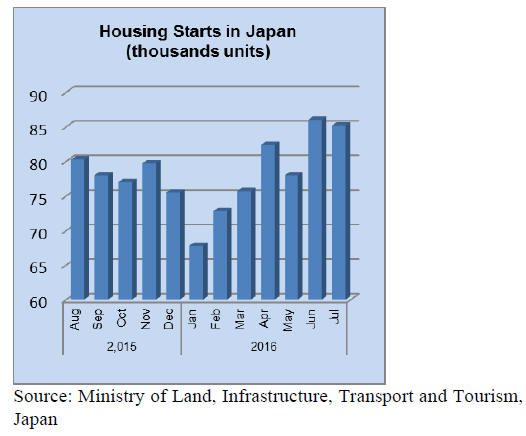 The negative-rate policy was introduced to encourage
lending and stimulate growth but on this score it has been
less successful. It was anticipated that the savings made by
those refinancing their home loans would mean more
money in their pockets and increased spending but, so far,
there is little evidence of that as retail sales and consumer
spending remain weak.

Import round up

Doors
Japan's wooden door imports in April marked a new
record low having fallen for 4 consecutive months.
However, May 2016 imports rose around 12% from April
but year on year May 2016 wooden door imports were
some 5% below that in May 2015.

China, Philippines and Indonesia continue as the main
suppliers in that order of rank in terms of the value of
imports. These 3 countries accounted for over 80% of
Japan's wooden door imports in May 2016, with another
7% being shipped from Malaysia.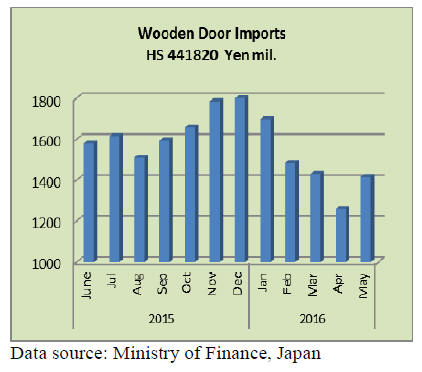 Windows
The pattern of Japan's wooden window imports closely
mirror that for wooden doors except that there was a slight
rise in the value of imports in April and this extended into
May 2016.

Year on year May 2016 wooden window imports were
down 5% but the increase seen in May this year lifted the
value of imports close to the peak seen in November 2015.
The value of May 2016 imports of wooden windows were
close to 17% higher than in April.

The Philippines, China and the US, in that ranking, were
the main suppliers of wooden windows to Japan in May
this year and these th ree countries accounted for 83% of
all Japan's imports of wooden windows for the month.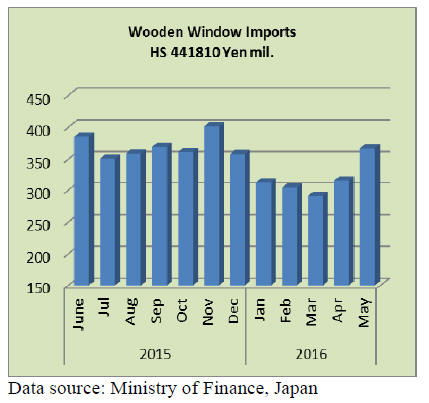 Assembled flooring
Assembled flooring imports continue to struggle to regain
the highs of early 2015. March 2016 was the low point for
assembled flooring imports into Japan but since then there
has been a rebound. May 2016 imports were up 33% on
the value of April imports. However, year on year, May
imports were around 8% down.

Two categories of assembled flooring dominate Japan's
imports, HS 441872 and HS 441879. China is the main
supplier of the third category (HS 44187) while Indonesia
ships both HS 441872 and 79 and is the second ranked
supplier followed by Thailand which ships mainly HS
441879.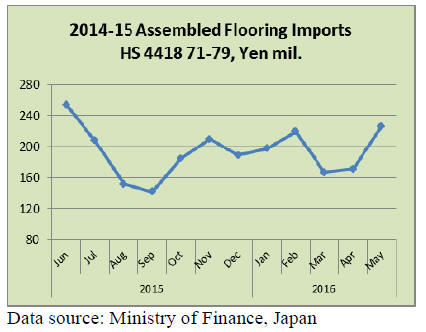 Plywood
Trends in total plywood imports into Japan over the past
12 months are illustrated below. Malaysia and Indonesia
continue to be the main suppliers followed by China. The
three main suppliers account for over 90% of monthly
plywood imports to Japan.

May 2016 plywood imports were almost 6% higher than in
May 2015 and were marginally higher than in April this
year. In 2014 and early 2015 monthly plywood imports
were almost 70% higer than during 2016. This year
imports peaked in January and then fell for two months
before the recent increasing trend.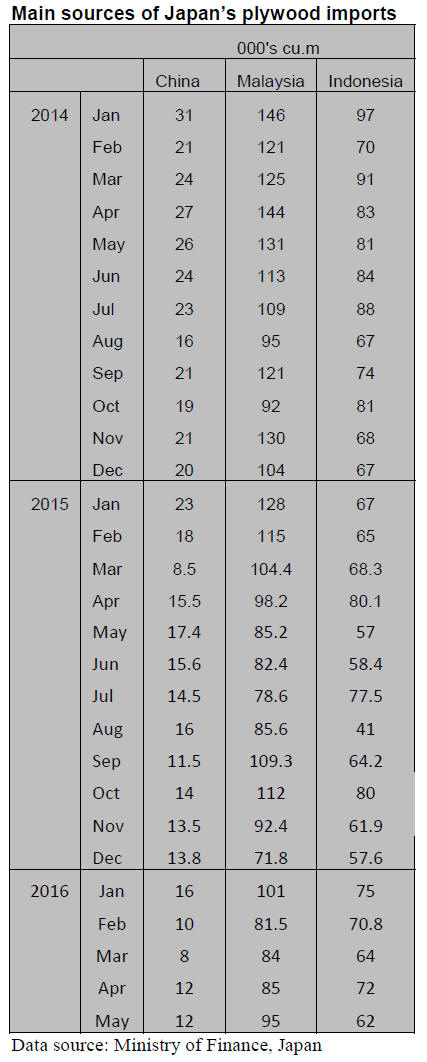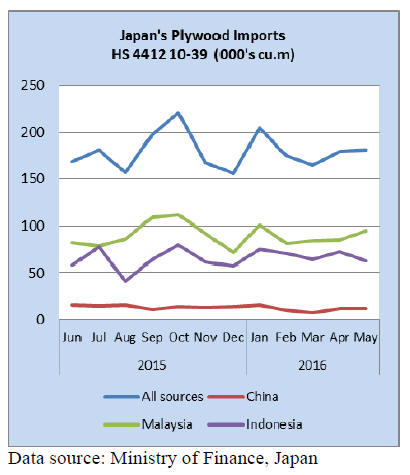 Trade news from the Japan Lumber Reports (JLR)
For the JLR report please see:
http://www.nmokuzai.
com/modules/general/index.php?id=7

Woodframe model houses for China
The Japan Wood Products Export Promotion Council has
made up four model of wood house based on the Chinese
wood building standard. They are corresponding to the
Chinese needs with exposed use of wood of Japanese
species like cedar, cypress and larch to differentiate from
2x4construction. The Association hopes to promote sales
of domestic wood products and wood house to China.

The Association has been asking to add Japanese species
of cedar, cypress and larch to the Chinese wood structure
standard. There are four model plans. M1 type is two
stories with floor space of 170-300 square meters and M2
type is two to three stories with floor space of 170– 300
square meters. M1and M2 are both medium grade
specifications. J1 type is two stories with floor space of
200-300 square meters and J2 type is two stories with
floor space of more than 300 square meters. 1 and J2 are
both high grade specification.

They are different from Japanese houses with much higher
height of ceiling like 3-4 meters on first floor and 2.4-2.5
meters on the second floor.

The Chinese wood construction standard allows to build
up to three stories and the committee is now discussing for
higher wood multilayer building and they are interested in
wood multilayer buildings in North America and Europe
including use of CLT. China has CLT manufacturing
plants.
COC acquisition increases among laminated lumber
manufacturers
The Japan Laminated Wood Products Association sent out
questionnaires to the 88 members to find out how many
members have acquired COC certificate by forest
certification system by FSC, PEFC and SGEC.
63 companies responded with response rate of 72%.

Three companies have COC certificates by three forest
certification systems of FSC, PEFC and SGEC. Three
companies have two from FSC and PEFC. Two have
certificates from FSC and SGEC. Two have certificates
from both PEFC and SGEC. Then 24 companies have
certificate by either one of three authorization systems.

Demand for certified wood will increase for the Tokyo
Olympic Games in 2020 and construction of public
buildings so all the manufacturers are anxious to have the
certificate.

South Sea (tropical) logs
Weather in Sarawak, Malaysia is recovering and rainy
season seems to be over now but control on illegal harvest
continues then the Sarawak government decided to reduce
export log volume from 40% to 30% so the log supply
from Sarawak will further decline. It looks like weather is
nothing to do with log supply now.

Sabah's log production has not increased much even after
the weather improved. In this tight supply situation, the
log suppliers' bullish attitude has not changed a bit.

When the yen advanced to 102 yen per dollar in late June,
log's yen cost would be down but strong FOB prices
supported by bullish Indian buyers, such hope of lower log
cost faded. Present FOB prices of Sarawak logs for Japan
are all firming at about $275 per cbm on meranti regular,
$255 on small and $240 on super small.

After Sarawak log prices continue strong and the quality
is dropping, other log buying countries like China and
India are shifting to other sources like PNG and Solomon
Islands much more than before.

Hida Sangyo markets domestic cedar tables and chairs
in Europe
Hida Sangyo Co., Ltd. (Gifu prefecture) plans to market
cedar table and chair in Europe. Hida uses compressed
straight grain cedar for furniture. It started relationship
with Swiss design office of 'Aterior Oi' by introduction of
the prefecture office then Atelier Oi introduced Hida
Italian furniture manufacturer, Danese.

Now Hida will market its products through Danese's
shops in Europe. Hida uses brand name of Gifoi. Atelier
Oi designs, Hida manufactures and Danese markets with
Hida's brand name of Gifoi. Hida has been marketing the
products in Taiwan, Hongkong and China but has no
shops under direct management and sales amount by
overseas sales have been small.

It has own device of making compressed wood so it
intends to develop overseas market more. It ties with
English architect office and design office in Swiss and
sold the products on spot basis in the past. It also
participated Italian international furniture fair'
Milanosalone' for four straight years.

It is studying if assembly of furniture can be done in Italy.
In September, the Chinese sales agent will open showroom
in Shanghai and display Hida's products.