Report from North America
Unemployment rate slightly up
The US unemployment rate increased by 0.2 percentage
points to 4.9% in June largely offsetting the decline in
May and brought unemployment back to the levels that
had prevailed from August 2015 to April 2016.

On a more positive note US GDP rose 1.1% in the first
quarter of 2016 according to the latest estimate by the
Bureau of Economic Analysis. Higher personal
consumption, residential construction, higher exports and
lower imports contributed to this growth.

The Federal Reserve is expected to hold interest rates until
after the US election in November.

Disappointing first 5 months tropical imports
The US imported 127,068 cu.m. of sawn temperate and
tropical hardwood in May, up 60% from April. However
the value of these imports increased by just 5% to
US$43.9 million. The volume growth was mainly in
imports of temperate species.

May tropical sawn hardwood imports grew 5% from April
to 19,705 cu.m, were valued at US$21.7 million and
accounted for half of all US sawn hardwood imports for
the month. However, year-to-date the volume of tropical
hardwood imports was down 20% compared to May 2015.

In May this year imports of balsa (4,641 cu.m.), ipe (3,957
cu.m.) and mahogany (1,159 cu.m.) increased from the
previous month but imports of sapelli (2,735 cu.m.),
acajou d¡¯Afrique (1,164 cu.m.) and keruing (1,468 cu.m.)
declined month-on-month.

Sawnood shipments to the US from Cameroon and
Malaysia fell in May due to lower imports of sapelli and
keruing. On the other hand teak sawnwood imports from
Myanmar increased significantly from 55 cu.m. in April to
189 cu.m. in May.

While volumes were modest, the value of teak imports
from Burma was close to US$1 million in May. Year-todate
US imports of teak from Myanmar were up 22% in
May from the same time in 2015.
Despite the improvement in May imports the overall trend
for US imports of tropical sawnwood has been
disappointing with only Ecuador posting gains as can be
seen in the graphic below.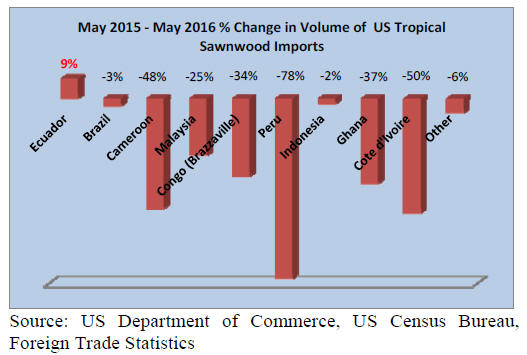 ¡¡
Higher plywood imports from China
US hardwood plywood imports grew 27% in May
following four months of declines. Year-to-date import
volumes were up 3% from May 2015 but the value of
imports fell 5%. A total of 268,735 cu.m. was imported in
May, worth US$159 million.

A recovery in US plywood imports from China was
mainly responsible for the growth in May. Imports from
China jumped 55% from the previous month to 157,103
cu.m. Canadian shipments to the US also increased while
imports from Indonesia declined to 21,779 cu.m. (-7%).

China increases share of hardwood moulding imports
May US hardwood moulding imports grew 7% year on
year to US$15.9 million and year-to-date imports are
slightly higher (1%) than in 2015.

The largest jump was in imports from China, which
increased 37% to US$4.8 million however, year-to-date
imports from China remain below 2015 levels.

Hardwood moulding imports from Brazil were almost
unchanged in May. Imports from Malaysia fell 40%
month-on-month, but were well above levels in 2015.

Hardwood flooring imports lower than in 2015
Wood flooring imports increased significantly in May, but
compared on a year-to-date basis up to May 2015, imports
were only 1% up for assembled flooring panels. Hardwood
flooring imports declined 16% year-to-date compared to
the same time last year.

Thailand and Indonesia shipped more assembled flooring
panels this year. For hardwood flooring China saw the
largest gain, both month-on-month and year-to-date. In
May this year imports from China were worth
US$904,146, followed by Indonesia (US$751,153) and
Malaysia (US$692,110).

Strong growth in US wooden furniture imports
US imports of wooden furniture grew 13% in May month
on month to US$1.44 billion. Year-to-date imports were
up 5% from May 2015.

As was the case in April much of the month-on-month
growth was due to rising imports from China (US$691.4
million, +25%) and Vietnam (US$268.9 million, +33%).

Furniture imports from Mexico and Malaysia declined in
May while Indonesian shipments to the US were
unchanged. Imports of all types of wooden furniture grew
in May, except non-upholstered seating. Imports of
kitchen furniture increased 24%, followed by office
furniture (+15%) and upholstered furniture (+14%).

LEED with new credit for legal wood
The US Green Building Council (USGBC) has announced
a new Alternative Compliance Path Credit for its green
building rating system ¡®Leadership in Energy and
Environmental Design¡¯ (LEED).

The purpose of the credit is to help prevent the use of
illegal wood in buildings by promoting verified legal
wood. Existing processes for responsible wood sourcing
and chain of custody are used to proactively verify that
wood is legal.

LEED is the most widely used green building certification
system in North America. Worldwide there are nearly
75,000 commercial projects participating in LEED,
according to the USGBC.

Luxury tiles - a new market for WPCs
The Freedonia Group released an updated market outlook
report for wood-plastic composite (WPC) and plasticlumber.
Decking will remain the main application for
WPC and plastic-lumber. Larger size decks and additional
components such as benches, tables and privacy lattices
will increase demand.Most decking is capstock-coated
WPC, which better mimics the texture of natural wood.
Cellular PVC is taking market share from traditional
plastic lumber. For a useful description of the manufacture
and types of WPCs see:

http://www.ecobuildingpulse.com/products/composite-or-pvcwhich-
one-is-best_o