US Dollar Exchange Rates of 18th July 2016
China Yuan 6.7012
Report from China
Non-manufacturing PMI rises to 11 month high but
insufficient to counter fall in manufacturing PMI
China¡¯s National Bureau of Statistics has reported that the
manufacturing purchasing managers index (PMI) stood at
50.0 in June 2016, slightly down from the previous month
and where it has been stuck since March.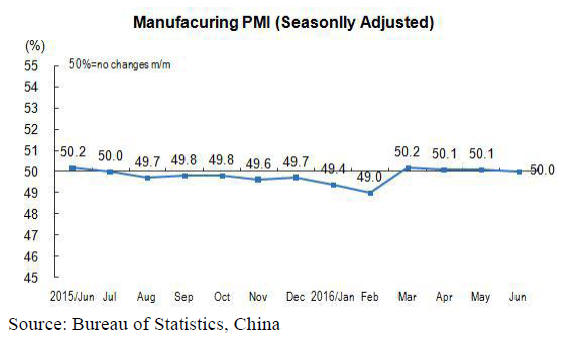 ¡¡
The PMI of large enterprises was just over the negative
threshold at 51.0, up marginally from May. The PMI for
both medium and small sized enterprises was in negative
territory signalling a contraction in prospects.

See:
http://www.stats.gov.cn/english/PressRelease/201607/t20160711
_1376016.html
The non-manufacturing PMI for June rose further marking
11 months of increase but despite this the combined trend
for both indices is pointing down.

Wide ranging MOU with Russian Federation Forest
Services
The heads of China¡¯s State Forestry Administration and
his counterpart from the Russian Federation Forest
Services have signed a memorandum of understanding
through which the two sides will undertake technological
exchanges and economic cooperation in forestry
legislation and enforcement, sustainable forest
management, forest monitoring and inventory,
conservation, combating illegal logging and related trade,
prevention and control of desertification and mutual
investments.

Promoting Japan¡¯s forest resources
In early July Japan¡¯s Timber Export Association met with
representatives of the China Timber Protection Industry
Association and the Guangdong Timber Industry
Association to outline opportunities in Japan for Chinese
importers of raw materials.

The Japanese reported that Japan has 5 billion cubic
metres of forest stock and the annual growth is around 100
million cubic metres but that domestic demand in Japan is
less than 80 million cubic metres which creates an
opportunity for exports.

Japanese log exports have been increasing and were
700,000 cubic metres in 2015 with most being shipped to
Shandong, Qingdao, Shanghai and Guangxi Provinces.
Japan sought to promote sales of cedar and cypress.

Landed timber prices on the rise
It has been reported that the landed cost of logs in China
has increased by 5-8% driven up by a weakening of the
RMB and rising international freight costs. Analysts say,
while gobal economic uncertainty is partly to blame the
main reason for this short term increase is the impact of
the UK referendum.

China¡¯s forestry oversea investment
The area of overseas forest land rented or purchased by
Chinese enterprises amounted to around 61 million
hectares valued at approximately US$2 billion at the end
of 2014.

By the end of 2014 some 167, predominantly private
sector, Chinese enterprises participated in overseas
forestry projects. The trend in investment was 48% as sole
proprietorship, 36% joint venture and 16% other forms of
cooperation.

Most overseas investment in forestry/wood industries were
by enterprises in Heilongjiang, Inner Mongolia
Autonomous Region, Jilin, Shandong and Jiangsu which
were seen investing in forestry projects in 18 countries. In
2014 around 10,000 Chinese and 30,000 local employees
were working in Europe, North America, South America
and Oceania, Russia, Gabon, Canada, Laos, Cambodia,
New Zealand, Indonesia, Republic of Congo, Benin,
Guyana, Zambia, Bolivia, Georgia, Cameroon, Vietnam,
Ethiopia and the British Virgin Islands.

Russia attracted the largest Chinese investment which
stood at about US$3 billion or 76% of all overseas
investment in forestry.

Review of bedroom furniture duties by US
The US International Trade Commission has released a
schedule for the next full five-year review of duties on
Chinese-made wooden bedroom furniture that will
determine whether the duties continue moving forward.
Duties on imports of Chinese made bedroom furniture
came into effect in January 2005 and have been reviewed
every five years.

Traders in Chinese bedroom furniture who wish to
participate in the review should see the ITC¡¯s
website,www.usitc.gov

China and EU working together the combat trade in
illegal timber
The EU and China established a Bilateral Coordination
Mechanism (BCM) on Forest Law Enforcement and
Governance (FLEG) in 2009, following an EU-China
Forest Law Enforcement and Governance conference in
Beijing in 2007.

Through the BCM, the EU and China work together to
stop illegal logging and the associated trade in illegal
timber. The BCM is a forum for policy dialogue and a
mechanism for sharing information on policies and legal
frameworks and for coordinating initiatives end illegal
logging.

The EU FLEGT Facility has released an update on the
BCM which can be found at www.euflegt.efi.int/eu-china.
The update says ¡°Under the BCM, China and the EU are
exploring approaches to recognise legality verification
schemes for timber and timber products managed by
timber-exporting countries, including those from countries
participating in FLEGT VPAs. This includes a trilateral
dialogue between China, Indonesia and the EU.

The two parties to the BCM are also supporting the further
development of the Chinese Timber Legality Verification
System (CTLVS), taking into consideration EU
experiences with the EU Timber Regulation (EUTR) and
in countries that are negotiating, or have signed, VPAs.¡±

For more see: http://www.euflegt.efi.int/eu-china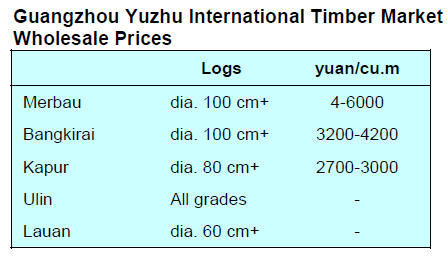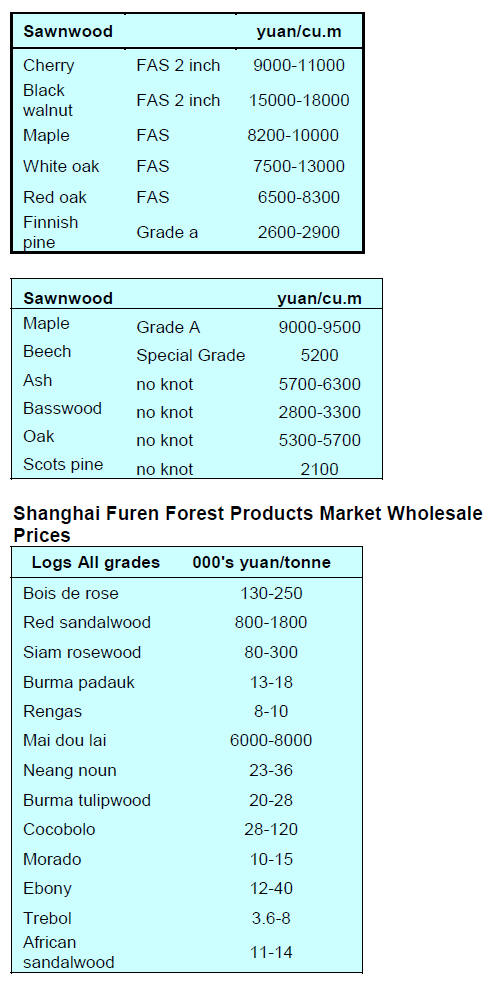 Latvia sponsors China Global Wood Trade Conference
An agreement has been concluded between the Latvia
Investment Development Agency and China Timber and
Wood Products for Latvia to become the sponsor of the
6th China Global Wood Trade Conference (GWT) to be
held in Wuhan City, Hubei Province.

The annual value of Latvian log and sawnwood exports to
China has grown to around Euro 30 million and Euro 17
million respectively over the last two years with rail
shipments coming from Riga to China.

The China Global Wood Trade Conference is an annual
event for global wood traders meet in and since 2011 has
been held in five cities across China. Every year GWT
attracts more than 350 participants, including wood
suppliers, importers, wholesalers, distributors,
manufacturers as well as trade associations, industry
experts, government officials and representatives of
international organizations, from more than 20 countries.

For more see: http://www.gwtchina.org/en/index.asp