Report from North America
Fourth consecutive decline in hardwood plywood
imports
US hardwood plywood imports were down 1% in April,
the fourth consecutive month-on-month decline. A total of
211,096 cu.m. were imported in April, worth US$122.1
million. Year-to-date import volumes remain slightly
higher (+1%) than in April 2015, but the value of year-todate
plywood imports decreased 7% compared to 015.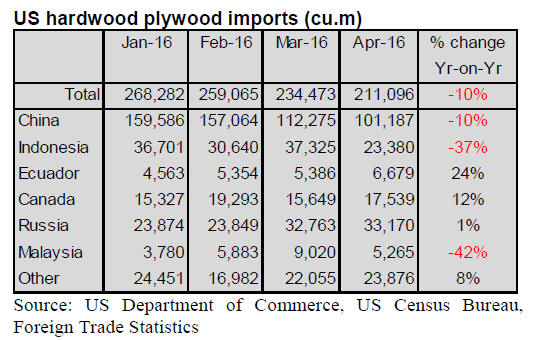 Lower plywood imports from China and Indonesia were
largely responsible for lower April figures. Imports from
China were 101,187 cu.m. in April, down 10% from
March while imports from Indonesia fell by 37% monthon-
month to 23,380 cu.m.

Malaysian shipment plunged by over 40% from March to
5,265 cu.m. Year-to-date plywood imports from Malaysia
were down 21%.

Plywood imports from Russia, Canada and Ecuador
gained in April as did imports from Uruguay (5,413
cu.m.), Guatemala (3,537 cu.m.) and Brazil (2,356 cu.m.).

Higher moulding imports
US hardwood moulding imports grew 7% in April to
US$14.8 million. Year-to-date imports were 3% higher
than in April 2015.

All major suppliers increased shipment to the US market
in April led by Brazil (US$3.9 million) and China (US$3.5
million). The greatest monthly increase was in imports
from Malaysia (US$1.9 million).

Year-to-date imports were also up, except for imports
from China, which were down 13% compared to April
2015.

Decline in wood flooring imports
After two consecutive months of growth, US wood
flooring imports declined in April from the previous
month. Hardwood flooring imports dropped 5% to US$2.5
million. Imports of assembled flooring panels were
US$10.2 million, down 2% from March. Both were down
11% in year-to-date imports compared to April 2015.

However, hardwood flooring imports from Indonesia
increased in April to US$889,707, but year-to-date imports
remain below 2015 levels. Only China showed slightly
higher year-to-date imports (+1%) from April 2015.
Brazil, usually a minor hardwood flooring supplier to the
US market, increased shipments to US$154,148 in April.

Overall declines were similar for assembled flooring
panels, except for Indonesia and Thailand which posted
significant gains in year-to-date imports compared to the
same time last year.

Year-to-date imports from Thailand doubled from April
2015, while imports from Indonesia were up 12%.

China remains the largest supplier of assembled wood
flooring panels, but year-to-date imports were down by
almost one third from April last year.

Recovery in wooden furniture imports in April
Following a significant drop in wooden furniture imports
in March, US imports largely recovered in April. Wooden
furniture imports were worth US$1.27 billion in April, up
5% year-to-date.

Much of the month-over-month growth was in imports
from China (US$555.1 million, +40%) and Vietnam
(US$239.7 million, +33%). Mexican shipments were
slightly up in April, while imports from Canada, Malaysia
and Indonesia declined.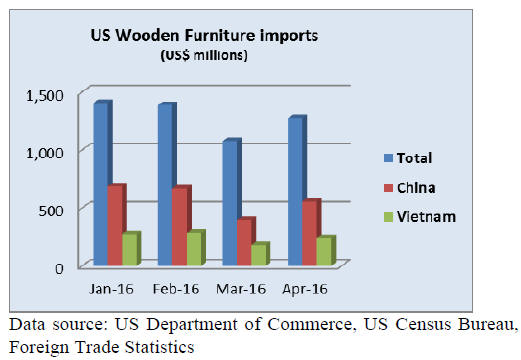 Wooden furniture imports from India decreased 23% to
US$18.4 million in April, but year-to-date were up 17%.

Imports of all types of wooden furniture grew in April.
Imports of upholstered furniture increased the most,
followed by ¡®other¡¯ furniture and kitchen furniture.

Federal Reserve leaves interest rates unchanged
Unemployment declined by 0.3 percentage points to 4.7%
in May, according to US Bureau of Labor Statistics. The
International Monetary Fund (IMF) predicts 2.2%
economic growth for the US this year, down from last
year's 2.4%. Unemployment is predicted to remain below
5%.
¡¡
The IMF cited low productivity growth, income insecurity
and poverty as chief challenges to stronger economic
growth. The IMF assessment of the US economy was
completed before the Brexit referendum in the UK. Some
analysts expect lower US GDP growth in the second half
of 2016 as a result of the Brexit vote.

The US Federal Reserve has kept interest rates at between
0.25% and 0.5% in June. The Reserve Chair Janet Yellen
said the job market and the possibility of UK¡¯s exit from
the EU were factors in the decision. A rate raise is still
possible at the next Federal Reserve meeting end of July
or more likely in September.

US consumers expect a slower pace of economic growth
in the year ahead, according to the University of Michigan
Index of Consumer Sentiment. Consumers were a bit less
optimistic in late June but consumer spending is predicted
to remain relatively high. Over the past 18 months the
consumer sentiment index has been quite stable with a
positive trend, despite more volatile GDP growth rates.

Growth in wood product manufacturing but decline in
furniture retail sales
Economic activity in the manufacturing sector expanded in
May for the third consecutive month, according to the
Institute for Supply Management. In April wood product
manufacturers reported the strongest growth of all
manufacturing industries.

The wood products industry led the manufacturing sector
in terms of production growth and new orders for export.
The furniture industry reported a decline in May,
according to the institute¡¯s survey.

New furniture orders in the first quarter of 2016 were
slightly less than the first quarter in 2015, according to
latest Smith Leonhard survey of residential furniture
manufacturers and distributors. Furniture shipments were
up in the first quarter, but the latest retail figures from the
Census Bureau show a decline in furniture store sales from
March to April.

Housing starts flat but builders¡¯ confidence up
Housing starts were at a seasonally adjusted annual rate of
1,164,000 in May, almost unchanged from April. Starts
were 10% above the May 2015 rate, according to US
Census Bureau data.

Housing starts increased in the West and South but
declined in the Midwest and Northeast. Single-family
housing starts were up 0.3% in May, while multi-family
construction declined to 396,000.

The number of building permits in May were at a
seasonally adjusted rate of 1,138,000, up 0.7% from April
but below May 2015 levels.Despite overall housing starts
being flat from April, home builders are positive about the
market. Builder.

Confidence in the market for newly constructed singlefamily
homes rose two points in June to a level of 60 on
the National Association of Home Builders/Wells Fargo
Housing Market Index (HMI). This is the highest reading
since January 2016.

North American Leaders¡¯ Summit in Canada
Canada hosts the North American Leaders¡¯ Summit end of
June where the leaders of Canada, Mexico and the US will
discuss key priorities to create a more integrated and
sustainable North American economy. In view of the
Brexit vote the leaders are expected to emphasize the
importance of free trade in the North American market.

Canada will rescind visa restrictions on Mexican travelers
that were imposed in 2009. Both countries plan to work
more closely against what they perceive as US
protectionist measures. Canada and Mexico will also sign
a memorandum of understanding on ways to engage
indigenous people as partners in resource development.

Canadian domestic market still affected by low oil
prices
Canadian businesses are positive about future sales
growth, especially US demand, according to the latest
Bank of Canada Business Outlook Survey. Domestic
demand is more sluggish because of lower oil prices.

Companies tied to the energy sector are curtailing
spending on investments.

Canadian housing starts were slightly down in May from
the previous month at a seasonally adjusted annual rate.
Multi-family starts decreased, while the smaller singlefamily
home market grew.