US Dollar Exchange Rates of 24th June 2016
China Yuan 6.6128
Report from China
Government stimulus still the main driver of growth
May data on house prices and retail sales, two indicators
of economic trends, have been released by China¡¯s
National Bureau of Statistics (NBS) and both show that
the economic stimulus measures being undertaken by the
government are still driving the economy in the right
direction even though there has been some cooling in the
rate of growth.

See:
http://www.stats.gov.cn/english/PressRelease/201606/t201
60622_1369871.html

The modest recovery in China¡¯s housing market in the first
five months of this year has supported the economy but
the pace of house price increases has started to slow.

NBS statistics show, compared to a month earlier, May
house prices in 70 medium and large-sized cities declined
in 4, increased in 60 and were flat in the others. Year on
year house prices fell in 18 cities and rose in 50.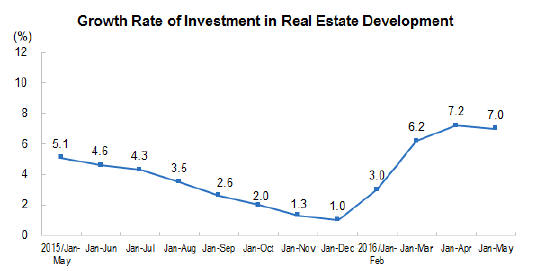 If house prices continue to ease the government may try
on boost home sales in places where sales have been
below average or turn to other drivers to boost the
economy. Prospects for new home building dampened in
the first five months of this year as investment in real
estate development increased only slightly and was down
year on year.
Moving from an export driven economy
Retail sales now contribute significantly to China's
economic growth reflecting government policy to shift
from an export-driven. From January to May retail sales of
consumer goods in urban areas was up by 10.1% year-onyear
and that in rural areas up by 10.9% year-on-year.

Online sales in the first five months rose almost 28% year
on year with much of this coming from sales to rural
households.

See:
http://www.stats.gov.cn/english/PressRelease/201606/t20160613
_1366870.html

Rise in plywood output in Guangdong
According to local analysts plywood output in Guangdong
Province increased by around 30% to 1.38 million cubic
metres between January and May 2016. Plywood output
grew by over 20% to 254,300 cubic metres in May alone.
Analysts attribute this rapid expansion to efforts by the
government to stimulate sales of the huge housing stock.

At present, the average price for 2.4m¡Á1.20m¡Á15mm
plywood is RMB60-85 per sheet at the Guangxi market
and RMB75-103 per sheet for 12mm panels.

Rise in rubberwood imports
According to data from China Timber and Wood Products
Distribution Association, rubberwood imports started to
rise in 2005. At that time the proportion of rubberwood to
other hardwood imports stood at around 19%. This had
jumped to over 30% by 2015. China¡¯s rubberwood
imports from Thailand in 2015 were 3.05 million cubic
metres, a year on year increase of 37%.

Labour shortage hits manufacturers
The labour pool in China continues to decline and labourintensive
wood product manufacturers are finding it hard
to secure workers. As long ago as 2012 the government
had alerted labour intensive industries in China that the
pool of young workers was declining rapidly and would
continue to do so.

Currently it is difficult for Guangdong furniture factories
to recruit workers even when offering RMB 4,000 to RMB
5,000 per month. When surveyed, workers said that as
they have achieved a stable way of life they can now pay
more attention to working conditions, welfare and of
course wages.

Container traffic trial at Hengyang Port
A trial handling of container traffic is set to be undertaken
at Hengyang Port. Until now this river port did not handle
containers. The port of Hengyang is located in southern
Central China midway down the Yangtze River.

The first container routes will be Hengyang to Shanghai.
The port facilities have been expanded at a cost of around
RMB130 million and container handling capacity has been
created.

The Hengyang-Shanghai route is the first natural
waterway container route from Hengyang city to the
Yangze River Delta region. Vessels will depart from
Songmu habour district to Changsha, Yueyang, Wuhan,
Jiujiang, Anqing, Nanjing cities, arriving at Shanghai Port
after 10 days.

Changzhou flooring makers target rural market
According to sources in Changzhou city, the main export
markets for wooden flooring from the city are the US,
Russia and Canada. The value of Changzhou flooring
exports to these three countries was USD180 million in
2015 with over 30% destined for the US market.

However, the volume of flooring exports from Changzhou
has been declining in recent years as flooring enterprises
turn to the domestic markets and sell with the internet.
Manufacturers in Changzhou have found a buoyant market
in rural China for their flooring and e-sales topped
RMB1.5 billion in 2015 with significant sales recorded in
Henglin Town.

The Henglin Town administration is striving to create
public awareness of ¡®green¡¯ home furnishing and wants to
establish an integrated platform for sales, inspection,
testing and manufacturing cluster innovation.

New timber quarantine treatment facility opens
It has been reported that the first phase of the national
timber quarantine treatment zone in Yancheng City,
Jiangsu province has come into operation. This facility is
the first with a fully enclosed wood fumigation pesticide
treatment plant.The facility has an annual handling
capacity of 3 million cubic metres of timber. Now
imported timber from around the world can be shipped and
treated at Dafeng Port making it the largest timber
processing and trade distribution centre in China¡¯s Eastern
Region.