Japan Wood Products Prices
Dollar Exchange Rates of 24th June 2016
Japan Yen 102.20
Reports From Japan
Brexit vote shatters economic gains of past 2 years
Two issues are dominating the news in Japan at the
moment, the national election scheduled for 10 July and
Britain's decision to leave the European Union which,
since the referendum result was announced, has dominated
the news.

The UK decision to leave the 28 member EU has impacted
stock markets around the world but perhaps most hurt is
Japan because 'Brexit' has caused the yen to strengthen as
money poured into the safe-haven yen. A strong yen
undermines the competitiveness of Japanese exporters
upon which the economy relies heavily.

Unfortunately the Bank of Japan is not well position to
adopt traditional monetary support measures as these have
been exhausted already; only unconventional tools remain.

Yen volatility
In the days after the result of the UK referendum was
announced the yen soared in value against the US dollar
tipping almost 88 to the dollar at one point. Comments
from Japan's Finance Minister and the Bank of Japan
Governor that this super strong yen would not be tolerated
had the desired effect.

Sensing government intervention money moved out of the
yen and the exchange rate settled at around 102 to the
dollar. However, even at this rate of exchange exporters
are feeling a pinch as most business plans anticipated an
average exchange rate for the year of around 105 to the
dollar.

The coming months of uncertainty will weigh heavily on
the Japanese economy with only importers enjoying a
buying spree for the time the yen remains strong.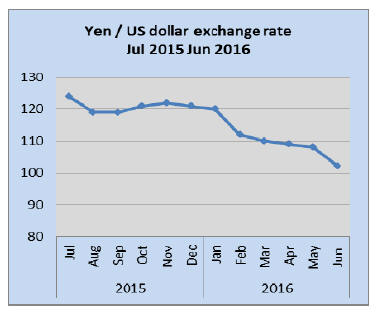 Chilly election fever
In the face of the current economic crisis neither the ruling
LDP nor the opposition has been able to find a campaign
message to engergise voters and it is possible, say political
commentators, that the LDP could secure a majority in the
Upper House thus not having to rely on its current
coalition partner, New Komeito. If this is the case then the
LDP would secure its first overall Upper House majority
in almost 30 years.

Housing starts unexpectedly high
May housing data released by the Ministry of Land,
Infrastructure, Transport and Tourism were unexpectedly robust
coming in at just over 78,000 units, well up on levels in May
2015. Month on month May starts were down but the April
figure was something of an anomaly.

The impact of the Bank of Japan's negative interest rate
stance has meant that commercial banks are pushing home
loans at give-away interest rates. Apartment prices in the
main cities have risen sharply but the impact in the rural
communities has been more subdued.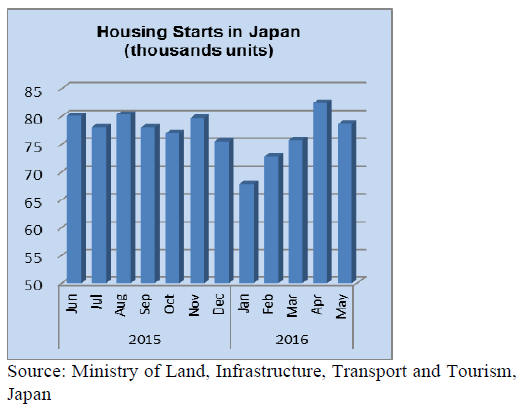 Import round up

Doors
Japan's wooden door imports in April marked a new
record low and continued the downward trend that began
in January this year. Year on year wooden door imports
were down 18.5% in April and from a month earlier
imports dropped 12%.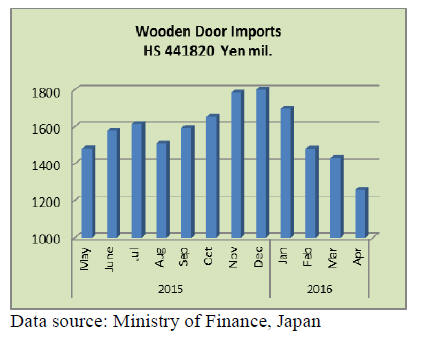 Windows
Japan's wooden window imports rebounded in April rising
around 8% on levels in March. However, year on year
wooden window imports in April were down 20%.

The top three suppliers remain China, Philippines and the
US. Together these accounted for over 85% of April 2016
imports of wooden windows.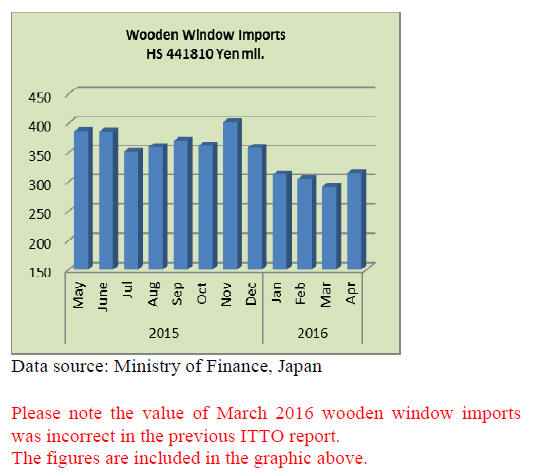 Assembled flooring
Assembled flooring imports have struggled to regain
levels in early 2015 and at current levels are about half of
the value recorded in the first half of 2015.

Year on year April 2016 imports were up around 12% but
compared to March there was only a 2% rise. In the
current market conditions in Japan any upward movement
is encouraging.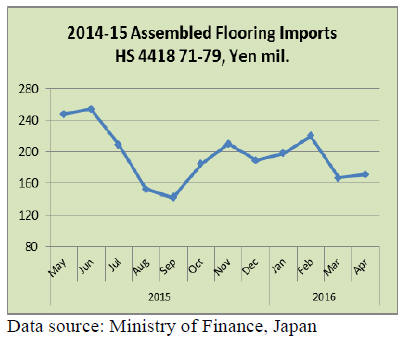 Plywood
Trends in total plywood imports into Japan over the past
12 months are illustrated below. The peaks and troughs in
total plywood imports refelct a variety of factors amognst
which currency movements loom large.

Malaysia and Indonesia were the main suppliers of
plywood to Japan with imports from China trailing at
around 25% of those from the top suppliers.

Imports of plywood from Indonesia in April picked up to
the second highest over the past 12 months but are stiil
some 10-15% below average monthly volumes from
Malaysia.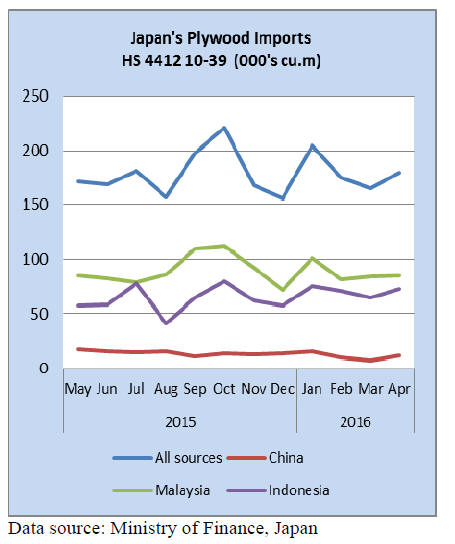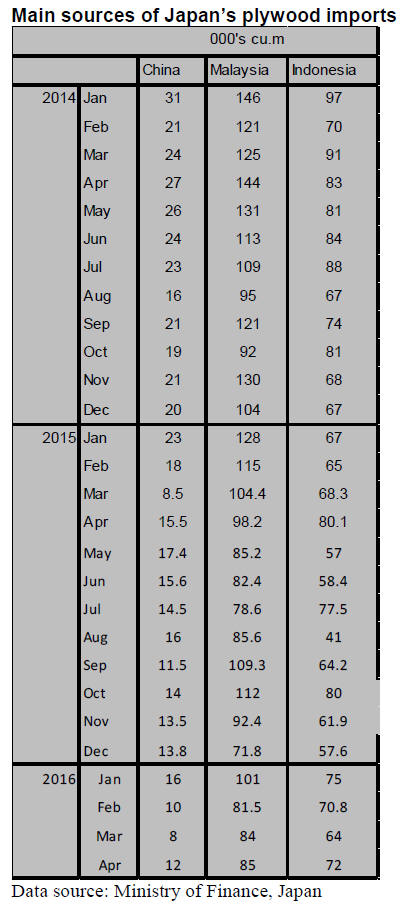 Trade news from the Japan Lumber Reports (JLR)
For the JLR report please see:
http://www.nmokuzai.
com/modules/general/index.php?id=7

Forestry White Paper
The 2015 Forestry White Paper submitted to the Diet
describes the movement of Japanese forestry, forest
industry and wood industry in 2015 with the policy for
2016.

Topics are that degree of wood self-sufficiency was
31.2%, first recovery over 30% after 26 years, use of
domestic wood for facilities of the 2020 Tokyo Olympic
Games was officially decided Japanese cedar and larch
were used for the Japanese pavilion at Milano
International Fair in 2015. These indicate possibilities of
new wood utilization.

Another new move is that new techniques are adopted for
building of hotel with CLT and four stories wood building
with two hour fire proof materials.

Regarding wood biomass power generation facilities based
on FIT system, economic revitalization of local mountain
villages is expected but the issue is to secure stable
procurement of fuel. Use of forest residues and thinning in
2013 was 1,120,000 cbms then increased to 1,680,000
cbms in 2014.

Other topics in 2015 are that Japan indicated target of
reduction of global warming gas by 26% by 2030
compared to 2013 at COP 21of Paris agreement in 2015,
out of which 2.0% is covered by forest absorption.

Japan achieved target reduction of 3.8% by forest
absorption set at the Kyoto Protocol and now it is aiming
reduction of 2.7%. To realize such forest absorption,
subsidy for thinning harvest is important but Forest
Agency's budget for such subsidy has been decreasing
year after year so to secure stable revenue, White Paper
suggests introduction of Forest Ecotax.

Revision of Forestry law
At the session of the Diet, law to revise a part of Forestry
law was approved on May 13 then on May 24, basic plan
of new Forest and Forestry was approved at the Cabinet
meeting. Basic plan shows direction of policies on forest
and forestry for next five years and a part of Forest Law is
revised to perform policies concretely and they will start in
April 2017.

By the new Forestry law, there is difference of degree of
wood self-sufficiency by 50% by 2020, which is
postponed by five years with new target of 51% by 2025.
To achieve the target, one of the issues is stable supply of
logs.

Preferable measure is that organizations of wood industry
collect logs or log markets collect logs from log suppliers
and steadily deliver logs to lumber and plywood mills.
Another system is that lumber and plywood mills
participate log harvest and supply logs by themselves.

In those, law to support mills' subjective log procurement
is revision of part of special treatment law regarding stable
supply of wood.

Revision is that log supply plans beyond individual
prefecture can be approved by the Minister of Agriculture,
Fisheries and Forestry so that mills are able to collect logs
from much wider areas and that wood biomass users can
be added to business plan.

The plan says it is desirable that lumber and plywood mills
get into forest management and to promote this idea, forest
boundaries by each owner should be clearly clarified.

For this purpose, each local cities and villages maintain
account book of forest owners and publicize. This prevents
increasing forest properties, which are ownerless or
unknown who owns it.
Also the new plan states wood utilization is based on
cascade use and unused wood and thinning should be used
for wood biomass power generation, which should prevent
using A class and B class logs suitable for lumber and
plywood manufacturing as fuel.

Mutual approval of SGEC and PEFC
SGEC, Japanese forest certification system run by the
Sustainable Green Ecosystem Council has been working to
reach mutual approval with the international authorization
system, PEFC then on June 3, official agreement is made.

Ones with either SGEC or PEFC certificate are allowed to
use both logo marks after necessary examination. From
now on, SGEC and PEFC activities in Japan are managed
by the SGEC and it will make contract to use logo marks
and public notice of COC certification.

The largest change for ones, which have SGEC certificate
is COC certificate fee. It has been only 10,000 yen a year
for SGEC members but now it will be the same as PEFC.

For ones, which sales are over 50 billion yen, annual fee
will be 400,000 yen, same as PEFC's annual fee from
present 10,000 yen. Another change for ones with SGEC
certificate is it is necessary to have contract to use logo
marks.

SGEC's logo marks can be used without any contract but
now contract needs to be made with SGEC to have license
number so that each logo has the number. Application of
the contract will start in July.

Also PEFC certified wood cannot have SGEC logo on
imported wood but ones with PEFC COC certificate,
which wish to handle domestic wood with SGEC logo
mark, contract to use logo can be made with SGEC's
examination at the time of renewal. Ones, which wish to
use PEFC logo when domestic wood is exported, another
contract to use PEFC logo has to be made after regular
examination.

Wood biomass statistics start
The Forestry Agency will newly start wood biomass
energy utilization survey. This is to investigate actual
utilization of wood biomass through users of wood
biomass fuel like wood chip, wood pellet, sawdust and
firewood for power generation and boiler.

This will be official statistics of demand for wood biomass
fuel. Since there are increasing number of users of wood
biomass recently, this survey would tell actual demand of
wood biomass used for power generation, co-gen boiler
and combined use of biomass with coal for FIT and RPS
system.

This is the first official survey and will be used by the
Forestry Agency as a part of information the Forestry
Agency makes up every year of wood demand statistics
and forestry basic planning.

This is statistics based on the statistical law with the
Minister of Internal Affairs' approval and the survey will
be made periodically and be publicized to grasp actual
condition of use of domestic wood biomass.

The first survey will be made through owners of power
generator and boiler as of December of 2015 to find out
operational condition, amount of fuel use by type of fuel
based on bone dry ton and whether it is co-gen or not.

The questionnaires are sent by mail or E-mail through
local government offices. Collected data will be disclosed
once in this summer then the final will be disclosed in
December 2016.

Wood and building materials manufacturers have been
tackling utilization of biomass such as waste wood for
power generation and heat for many years then biomass
power generation plants mushrooms after FIT system
started, which increases demand for biomass sharply.

This helps disposal of low grade logs and wood chip
manufacturers but meantime, existing industry like wood
fiberboard manufacturers suffer shortage of raw materials
with higher prices so there are strong demand to find out
actual demand of biomass fuel by the area. As to import
biomass fuel, it is revealed by the trade statistics made by
the Minister of Finance.

Ministry assists house builders for overseas
development
The Ministry of Land, Infrastructure and Transport starts
new business of supporting house builders' overseas
development. It backs up introduction of Japanese house
building technique, equipment and materials and technical
proposals of housing projects.

It plans to give subsidy of one half of expenses the
Japanese house builders' dealing on offers on building
technique, building materials and equipment. It has been
analyzing housing and construction condition in ASEAN
and Asian countries so it offers cooperation to prepare
building standard law in each country and helps supply
houses. It will invite house builders and contractors
publicly after it disclose the business plan.

Plywood
Domestic softwood plywood supply continues tight
particularly on thick panel. In late March, the movement
started weakening then in early April, Akita plywood had
fire and one plant burned down so that the supply got
tight. In middle of April, Kumamoto area had strong
earthquake and local plywood mills are busy to deal with
local demand. With all these factors, speculative
movement started all over Japan. Not only large precutting
plants but local small precutting plants got busy since last
May.

Rise of actual demand and speculative demand exceeded
the supply, which results in shortage of supply on some
items like thick panel.
Operation of precutting plants is expected to get busier so
the demand seems to increase all over Japan. Thus, some
manufacturers are asking higher prices since June, 10 yen
per sheet up on 12 mm and 20 yen up on thick panel.

Softwood plywood production in April was 237,000 cbms,
6.5% less than March. Monthly average production during
January and April 2016 is 237,700 cbms as compared to
215,700 cbms for the same period of last year. Meantime,
April shipment was 247,000 cbms, 17.6% more than April
last year and 3.7% more than March. The inventories were
122,800 cbms, 10,000 cbms less than March.

Imported plywood market has hit the bottom but there is
very little change in the movement. In Tokyo market,
some items are short in supply.

By March, the importers and wholesalers have disposed on
the inventories considerably so the overall inventories are
down now. The arrivals appear to stay low so once the
demand picks up, sharp rebound of prices is likely to
happen. The movement is expected to improve in June.