Report from North America
Higher US imports sapelli, keruing, meranti and teak
The US imported 79,266 cu.m. of sawn temperate and
tropical hardwood in April worth $42 million. While
volumes declined 2% from March, the value of imports
grew 2%.

As was the case in March, the value increase was
primarily in tropical species. At US$21 million and 18,842
cu.m. tropical sawnwood accounted for half of the total
import value in April and just under one quarter by
volume.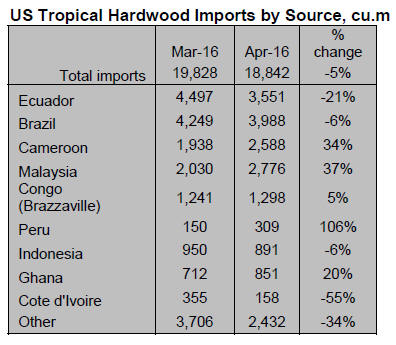 While the overall volume of tropical imports decreased in
April, several species showed considerable gains,
including sapelli, keruing, meranti and teak sawnwood.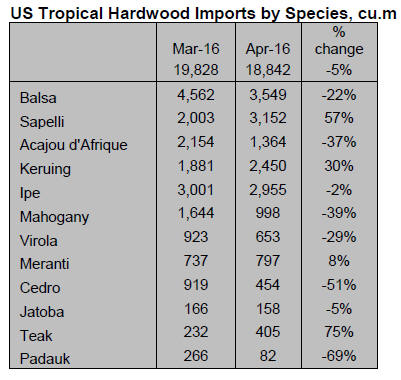 Keruing imports from Malaysia were 2,154 cu.m. in April,
up by one third from March. Cameroon is the main
supplier of sapelli to the US and doubled shipments in
April to 2,043 cu.m.

Lower balsa imports was mainly responsible for the
overall decline in April imports of tropical sawnwood.
Balsa imports were down 22% from March, but year-todate
volumes are 3% higher than in April 2015.

Imports of ipe sawnwood declined slightly in April to
2,955 cu.m., but ipe imports from Brazil grew (2,848
cu.m.). Year-to-date ipe imports were down 19%
compared to the same time last year.

Year-to-date imports of most tropical species were lower
than in April 2015, with the exception of balsa and
mahogany. Mahogany imports year-to-date increased 15%
from last year.

Canada imports more from Malaysia and Indonesia
In April the value of Canadian imports of tropical
sawnwood increased 18% from the previous month to
US$1.98 million. Year-to-date imports were 21% higher
than in April 2015. Canadian imports were in April just
under one tenth of the US market for tropical sawnwood.

The month-over-month growth was entirely in ¡°other¡±
tropical species, while imports of virola, imbuia and balsa
(combined), sapelli, mahogany and meranti declined in
April.

While trade data does not specify the species in the
¡°other¡± category, data by country shows that almost half
of the overall growth in tropical imports came from
Malaysia. Imports from Malaysia were worth US$147,987
in April, up 10% year-to-date.

Indonesia also greatly increased shipments to Canada in
April. Imports from Indonesia were valued US$230,969,
up 15% year-to-date from April 2015.
American National Due Diligence certification for
Danzer North America
The Hardwood Plywood and Veneer Association
announced that Danzer North America has been thirdparty
certified under ISO 17065 for its due diligence
program for legal timber, which includes all Danzer logs
and wood products in North America. The program meets
the American National Standard for Due Diligence in
Procuring/Sourcing Legal Timber ANS LTDD 1.0 2015.

The American National Standard for Due Diligence
represents a consensus of what the due diligence
requirements are under the Lacey Act to purchase legal
timber and wood products.

Through the Hardwood Plywood and Veneer Association
an industry working group developed the voluntary
standard, to which companies may self-certify or thirdparty
certify, with or without ISO credentials. The
association represents 90% of hardwood plywood stock
panels and hardwood veneer manufactured in North
America.

The standard is consistent with the ¡°due care¡± checklist in
the Department of Justice¡¯s settlement with Gibson Guitar
over allegedly illegal timber from Madagascar and India.
The standard defines a set of quality control guidelines for
the internal management system of timber importers,
manufacturers, wholesalers and retailers in the US.

Canada publishes voluntary formaldehyde standard
The Canadian Standards Association has released a
voluntary formaldehyde emissions standard. Published in
May, the standard sets emission limits for composite wood
products that are based on the California Air Resources
Board requirements.

CAN/CSA‑0160 Formaldehyde Emissions Standard for
Composite Wood Products, applies to composite wood
products including unfinished composite wood panels,
hardwood plywood (including composite and veneer core),
particleboard, MDF and thin MDF.

Unlike the California standard, the Canadian standard
allows for self-certification in addition to accredited thirdparty
certification. Depending on the certification process,
products are either labelled ¡°Complies with CAN/CSAO160¡±
or ¡°Certified to CAN/CSA O160¡±.

The standard is available at no charge:
http://shop.csa.ca/en/canada/wood/cancsa-o160-
16/invt/27039632016