US Dollar Exchange Rates of 10th June 2016
China Yuan 6.558
Report from China
China's PMI positive for three months in a row
The May manufacturing purchasing managers index
(PMI), announced by the National Bureau of Statistics,
remained at the same level as in April just marginally in
positive territory where it has hovered for three
consecutive months.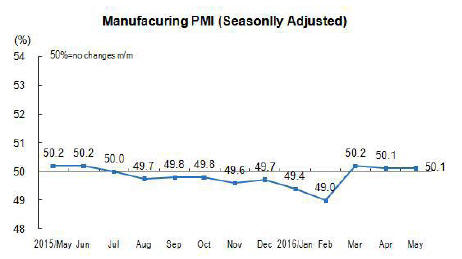 The National Bureau of Statistics says among the five subindices
comprising the official PMI, the production index,
new orders index, supplier delivery time index were above
the negative threshold while the employment and raw
materials inventory indices were below the threshold.

The PMI was held up say analysts due to aggressive
monetary stimulus in the first quarter.
Made in China 2025 - centre-piece of the latest 5 year
plan
The Hong Kong Trade Development Council (HKTDC)
has published a thoughtful overview of China¡¯s 13th Five-
Year Plan: The Challenges and Opportunities of Made in
China 2025.

The HKTDC paper can be found at:
http://economists-pick-research.hktdc.com/businessnews/
article/Research-Articles/China-s-13th-Five-Year-
Plan-The-Challenges-and-Opportunities-of-Made-in-
China-
2025/rp/en/1/1X000000/1X0A6918.htm?DCSext.dept=12
&WT.mc_id=6143966

The HKTDC writes ¡°The 13th Five-Year Plan states
clearly that efforts will be made to optimise development
of the modern industry system, whereby structural reform
will be implemented on the supply side.

In particular, the development strategy of building China
into a manufacturing powerhouse under the Made in China
2025 initiative will be implemented in greater depth in
order to enhance the innovation capability of the
manufacturing industry and strengthen the industrial base.

This includes manufacturing key basic materials and core
parts and components, developing new-type
manufacturing such as smart production, enhancing
quality and brand building, as well as advancing
traditional industry upgrading and eliminating outdated
production capacity in order to add a new competitive
edge to the manufacturing industry.¡±

The plan describes the steps to be taken to streamline
industrial and business management, raise administrative
efficiency, reform the financial system and enhance the
efficiency of the financial services sector in support of
modernizing manufacturing.

Ambila dominates redwood furniture market
Observers report that the current demand in China for
ambila (Pterocarpus erinaceus) is for between 8- 9,000
containers per month. However, existing container arrivals
total only 4,100 with around 2,000 coming through
Guangdong, 500 via Dongyang in Zhejiang province, 500
through Shanghai and Zhangjiagang with a further 300
containers landing in both Zhejiang and Hebei Provinces.
Ambila also goes by the names bani, tolo and ban.

The sales of ambila furniture in the top tier cities account
for 5% of total sales. This jumps to 15% in second tier
cities, 50% in third tier cities and 10% in rural areas.
Ambila furniture products comprise around 50% of the
redwood furniture market.

First okoume logs through Zhenjiang Port
Over 8,000 cubic metres of okoume logs from Equatorial
Guinea were recently imported through Zhenjiang Port,
Jiangsu Province. This was the first time for African
timbers to enter China through Zhenjiang Port. The port of
Zhenjiang is on the south bank of the Yangtze
River between Nanjing and Changzhou.

After inspection and quarantine the okoume logs were
trucked to Linyi City of Shandong Province. Zhenjiang
Port is becoming entry point in support of the national
strategic timber reserve policy and is the first purpose built
timber port.

The species and volumes of timber imports through
Zhenjiang port have been increasing this year in tandem
with the opening of special timber wharf at the port. Up to
the end of April some 450,000 cubic metres of logs have
entered China through this port.

Imported laminated flooring is popular amongst young
consumers
According to a recent market survey young Chinese
consumers prefer imported laminated flooring over
domestic products.

The main reasons cited for this preference were the wide
choice of colours especially if available in ¡®pavement¡¯
styles, even at the expense of foot comfort.

Other reasons for the preference for imported laminated
floorings were convenient installation as imported
laminated flooring can be glue-less with an interlocking
slot design which is easy for consumers to install by
themselves.

Consumers also reported that imported laminated flooring
is durable and with better anti-slip features than domestic
flooring.

Prices for imported laminated flooring are considered
reasonable for many middle class Chinese. Current retail
prices for imported laminated flooring are in the region of
RMB3-700/panel, well down on the RMB8-1,000 seen in
2012.

Consumers also rate the environmental performance of
imported flooring higher than domestic products.

The Standard E0 for European flooring is less than
0.9mg/L formaldehyde emission while the Standard for
domestic flooring (E1) is ¡°not exceeding 1.5mg/L
formaldehyde emissions¡±.

Local experts note that the market share of imported
laminated flooring is less than 20% in Guangzhou City but
anticipate sales of imported laminated flooring could reach
a 50% market share within the next five years.

Furniture enterprises relocate to Qingfeng
It has been reported that furniture enterprises in Beijing
and Xianghe (Hebei Province) have been relocating to
Qingfeng County in He¡¯nan Province and this is being
encouraged by the administration in Qingfeng County.

It is reprted that as many as 400 furniture enterprises have
relocated which in 2015 earned Qingfeng County the title
of ¡®Furniture Industry Base ¨C 2015¡¯. The administration
has been encouraging furniture clusters in the county.