Japan Wood Products Prices
Dollar Exchange Rates of 10th June 2016
Japan Yen 109.76
Reports From Japan
Consumers are in no mood to spend
As was widely expected Japan's Prime Minister has
announced that the scheduled April 2017 increase in
consumption tax will be postponed until October 2019.
This decision effectively postpones the government's
focus on reducing the budget deficit.

The reason quoted for the postponement was that the
Japanese economy is not robust enough due to weak
demand for exports especially in China and Asian
emerging markets.

Analysts are of the opinion that Japanese consumers
would not be able to face a further tax rise under the
current economic conditions as suggested by the latest
consumer confidence data.

The survey indicates that, while there are positive views
on prospects for wages, consumers are in no mood to
spend and are tucking any gains into savings or paying off
debts. It is improving consumer spending that is key to
turning the Japanese economy around.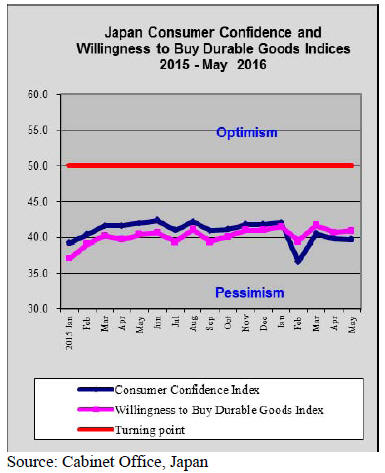 Yen hits a two-week high on sales tax delay
The strengthening of the yen against the dollar is
impacting profit expectations especially of exporters.

As prospects for a market driven fall in the yen/dollar rate
seems unlikely analysts now expect the Bank of Japan
will, after its next meeting, expand its asset purchases.

The yen continued to strengthen after the government
announced that the scheduled sales tax rise will be
postponed.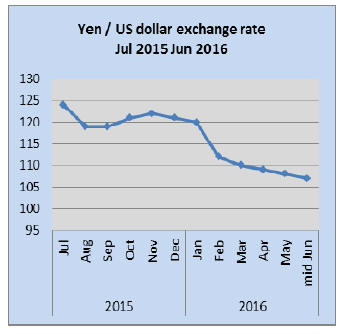 Onset of rains delays home repairs in quake area
The rain season has started in Japan and is set to continue
until late July. The onset of the rains was first reported for
Kyushu, the location of April's devastating earthquake.

Thousands of homes were destroyed or damaged in
Kumumoto and construction companies have been flooded
with orders to undertake repairs, demolition and
rebuilding.
At present many damaged homes are relying on
waterproof sheets on the roof but with the rains becoming
heavier home owners are likely to face even more
problems.

Some people who had to abandon their homes after the
earthquakes are moving into temporary housing but there
are still around 7,000 people in evacuation centres.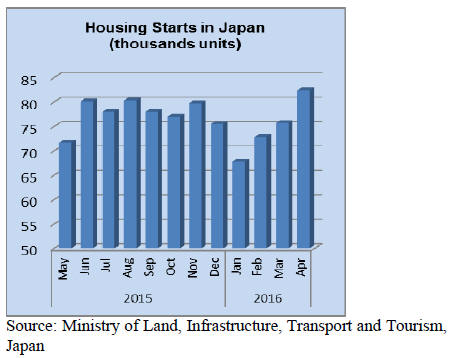 The planned construction of 4,600 temporary housing
units in Kumumoto will be delayed because of the arrival
of the rains season and because the local government
cannot secure enough land.

Japan's furniture imports
The value of Japan's imports of wooden bedroom
furniture fell almost 16% in the first quarter of 2016
compared to the first quarter in 2015 and April import
figures from Japan's Ministry of Finance shows that the
downward trend continued especially for kitchen and bedroom
furniture.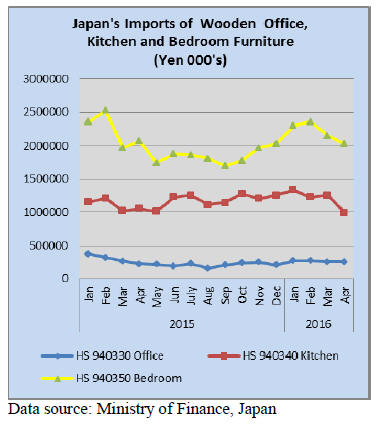 Attitudes of Japanese companies operating overseas
Much of the furniture shipped to Japan is manufactured in
Japanese overseas companies or from joint venture
operations. The Japan Bank for International Cooperation
(JIBC) conducts regular surveys of trends in overseas
investment and their 2015 survey offers a thoughtful
insight to current trends.

The full JIBC survey results can be found at:
https://www.jbic.go.jp/wpcontent/
uploads/press_en/2015/12/45909/English.pdf

The following extract from the report describes current
attitudes of Japanese companies with overseas operations.



Medium-Term stance
Given the state of the global economy companies
cautious but 80% of respondents were ready to
expand overseas operations.



Promising Countries
India was identified as the most as the promising
followed by Indonesia and China. Interest in
Brazil and Russia has fallen sharply and
companies considering investment in Mexico,
USA and the Philippines need to see an
improvement in those economies before
expanding operations.



Management Challenges
How to expand markets, Develop of competitive
products, finding individuals capable of
managing overseas operations and understanding
local demand drivers were the main challenges
identified.



Management through M&A
Mergers and acquisitions were stated as an
important means of securing effective
management.



Greater role of domestic business
Many companies signaling expansion of overseas
plants identify that expand domestic business is a
significant driver. Some companies have
relocated from China back to Japan because of
falling domestic business.



Productivity in Japan and Overseas
Survey respondents said while delivery times in
plants in Japan and overseas was at about the
same most said labour productivity in overseas
plants was lower than in Japanese plants.



Business Stance in China
China is viewed as an attractive location for
overseas operations but respondents cited
concerns on the direction of the Chinese
economic and rising wage levels. Some
companies expressed concern on the political and
diplomatic situation between Japan and China.



Infrastructure challenges
China and the developed ASEAN countries were
recognised as having good local infrastructure but
that there is room for improvement.

Office furniture imports (HS 940330)
Year on year, imports of office furniture in April 2016
were up 14.5% but compared to the previous month there
was a slight drop in the value of imports. China continues
as the major shipper of wooden office furniture to Japan.
The relative position of the second and third ranked
suppliers switches between Portugal, Poland and Italy
every month. In April 2016 Portugal was ranked second
followed by Poland.

In March this year Italy was ranked second followed by
Poland. Despite the good performance of Portugal, Italy
and Poland shippers in Asia account for the bulk of
shipments of office furniture to Japan (64% in April
2016).

The top three suppliers account for almost 80% of Japan's
wooden office furniture imports but China saw its share of
imports drop 22% from a month earlier but there was a
spike in imports from Portugal. Portugal accounted for
16% of April imports.

Kitchen furniture imports (HS 940340)
April saw a massive 21% fall in Japan's imports of kitchen
furniture with shippers in the top three countries, Vietnam
(-24%), Philippines (-20%) and China (-21%) all feeling
the strain. Year on year wooden kitchen furniture imports
in April 2016 were down 6%.

At 37% of April imports Vietnam maintained its top
ranked position in terms of import sources. The
Philippines (25%) and China (15%) were close behind.
Asian suppliers of kitchen furniture accounted for 94% of
Japan's April 2016 imports, a position held for many
years.

Germany is the only significant non-Asian shipper of
kitchen furniture but could only capture a 3.5% share of
April 2016 imports.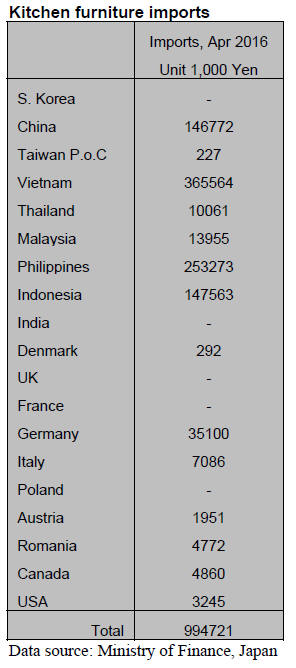 Bedroom furniture imports (HS 940350)
Year on year the value of Japan's April 2016 imports of
bedroom furniture was largely unchanged but compared to
March imports there was a 5.5% decline.

As has been the case for months, the top three shippers of
bedroom furniture to Japan in April continue to be China
(57%), Vietnam (30%) followed by Thailand a distant 4%.
Asian exporters of bedroom furniture accounted for over
90% of Japan's April 2016 imports.

Trade news from the Japan Lumber Reports (JLR)
For the JLR report please see:
http://www.nmokuzai.
com/modules/general/index.php?id=7
2015 Imported plywood market
Market of imported South Sea hardwood plywood suffered
prolonging supply and demand adjustment. The supply in
2015 was 2,885,800 cbms, 17% less than 2014, about
600,000 cbms decrease. Previous low was 2009 with
2,840,000 cbms. The supply in the first quarter of 2016
continues trending down by 12%.

The market has been in slump since August last year so
sluggishness has been more than seven months so that the
importing trading companies are seriously reviewing
import plywood business by steady loss.

The supply from two major sources, Malaysia and
Indonesia decreased considerably. Malaysian supply was
record low by 18% or about 260,000 cbms down.
Indonesian supply was also down by 16.5 % or about
170,000 cbms, next low behind 2009.

The supply decrease of 600,000 cbms in 2015 was
uniform from all the sources. Three major supply sources
of Malaysia, Indonesia and China all reduced about 17%
respectively.

However, difference is becoming obvious in 2016. For the
first quarter of 2016, Malaysian supply decreased by
22.6% compared to the same period of last year while
Indonesian supply increased by 3.4% (China decreased by
12.4%). Supplying items make this difference.

Trend of Malaysian supply is rather heavy in early period
of the year. In 2015, January arrivals were the highest in
2015 with over 130,000 cbms and three month average in
the first quarter 2015 was 120,000 cbms. Monthly average
supply in 2015 was 100,000 cbms.

The monthly supply declined down to 95,500 cbms during
September and December 2015 but the market continued
bleak so import curtailment still continues now. Actually
monthly import in the first quarter this year was down to
92,500 cbms, 22.6% less than the same quarter last year.

Meantime, Indonesia acted much sooner to reduce the
supply. The largest factor to influence the cost of imported
plywood is exchange rate. The yen started softening since
late August of 2014. Average rate of about 102 yen per
dollar during January and August 2014 moved to 107 yen
during September and October 2014 then reached 119 yen
by December.

Reflecting this change of yen rate, Indonesian monthly
average supply of about 99,000 cbms during January and
July 2014 dropped sharply down to 78,000 cbms during
August and December 2014. Monthly average of about
70,000 cbms in the second half of 2014 continued in 2015
so the monthly average in 2015 was 71,500 cbms
compared to 85,500 cbms in 2014.

The main item of Indonesian supply is floor base plywood
and as soon as the yen got weak, the floor manufacturers
in Japan reduced the purchase to the minimum. The supply
from Indonesia has been steady with about 70 M cbms a
month. Unlike commodity item of concrete forming panel,
distribution route of floor base is short to final user of
floor manufacturers.

With fierce competition of price war of floor products, the
manufacturers are very sensitive to the price of floor base
so higher cost automatically reflects import curtailment.

Roughly speaking, if the yen rate is between 100 yen to
110 yen, import of floor base is restricted to 70,000 cbms
and if the yen got stronger, the manufacturers speculate to
build up the inventory of import plywood. In short, the
supply depends on new housing starts and yen's exchange
rate.

When the yen was weak like 121 yen per dollar in 2015,
the floor manufacturers seriously consider shifting to use
domestic softwood plywood but tide changed in 2016 to
strong yen.

The rate was 118 yen in January, 115 yen in February, 110
yen in March and April then in May, it shot up to 105 yen
momentarily. Looking at this trend, the floor
manufacturers stopped considering to switch to softwood
plywood because strong yen reduces import cost, which
narrows price difference between hardwood base and
softwood plywood so it is much easier for floor
manufacturers to use tropical hardwood plywood, which
they have been using for years.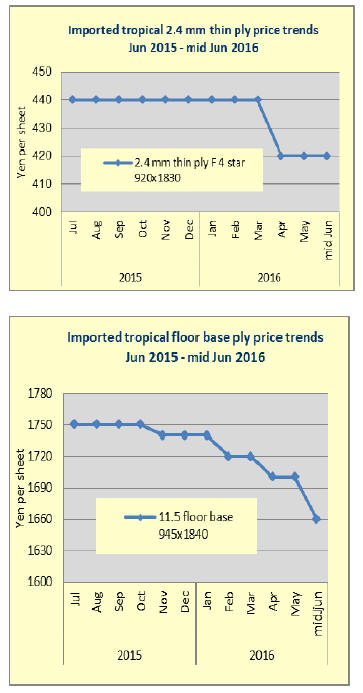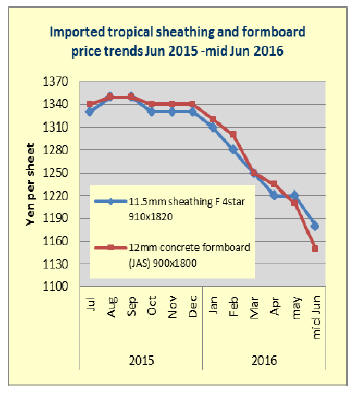 The floor manufacturers have been testing domestic
softwood plywood to see if replacement is possible since
late 2014 with a lot of time and cost so they prepare for
any change of supply situation and change of exchange
rate.

Now market of Malaysian plywood is different from
Indonesian as supplying item from Malaysia is heavy to
concrete forming panel, which is commodity item and
wholesalers and distributors buy and sell sometimes in
speculation. Since there are many layers in distribution
channel and the demand is not steady. Therefore, slump
since last summer is simply caused by lack of demand.

Major wholesalers in Tokyo think that real recovery of the
demand will come in late 2016 or later with the reason that
the Olympic Games in 2020 would generate many
construction activities. Large construction works would
take two to three years to complete so start-up should be in
late 2016 or early 2017. Large construction companies are
not taking large orders before busy season arrives, which
maybe one of the reasons that demand for concrete
forming panel has been so slow since last summer.

If this forecast is right, concrete forming panel market
would stay depressed through 2016 with very low import
volume then the boom would come in late 2016 and on for
two to three years.

Now immediate problem is if the volume from Malaysia
continues as low as 90,000 cbms a month for a balance of
this year in depressed market, the importers may not be
able to justify such poor business. If such supply
curtailment continues all through the year, will it be
possible to increase the supply when the demand recovers.

Steering of the business is very difficult. The suppliers in
Malaysia may not be able to cope with such sudden
change of the market in terms of log supply with severe
control of illegal harvest in Sarawak, Malaysia.

Meantime domestic plywood manufacturers are making
softwood concrete forming panels to take over hardwood
panels.

South Sea (Tropical) logs
Log supply in Sarawak, Malaysia has been dropping
considerably without any sign of improvement.
In Sarawak, control on illegal harvest is severe, which
reduces total log supply. Since last March, India resumed
log purchase, which pushes log prices up and log prices
for Japan are up by about $5 per cbm.

Sarawak meranti regular log prices for Japan are US$273-
278 per cbm FOB. Meranti small are US$253 and meranti
super small are US$238. Price increase on logs in Japan is
difficult as plywood plants are curtailing the production
because of slump of plywood market. Log supply in PNG
and Solomon Islands is increasing.

Keytec markets scaffolding plywood
Keytec Co., Ltd. (Tokyo), started manufacturing and
marketing domestic larch scaffolding plywood on top of
South Sea hardwood scaffolding plywood.

There is demand for South Sea hardwood scaffolding
plywood with kapur, keruing and apiton but such species
are becoming hard to acquire and the prices have been
steadily climbing. Meantime, domestic larch is readily
available and the prices are not affected by fluctuation of
exchange rate so it started manufacturing larch plywood,
which prices are about 30% lower than South Sea
hardwood plywood.

It had inspection by the Plywood Scaffolding Safety
Technical Association to see if the product has satisfactory
standard the Association stipulates. By the test, bending
strength is 15.8 N/mm3, much harder than cedar. Also
even if it is left outdoor for three months, bending strength
is within stipulated standard the Association sets.

Traditional South Sea hardwood scaffolding plywood has
thickness of 28 mm, width of 240 mm with length of 2 and
4 meters but larch plywood has thickness of 35 mm with
the same width and length of hardwood. Weight of both is
22-24 kilogram. Because of lighter specific gravity,
thickness of larch is thicker.

Raw material of larch logs are supplied from Nagano,
Yamanashi and some from Gunma prefecture. It consumes
about 1,000 cbms of larch a month to make 15,000 sheets
of scaffolding plywood.

Key Tec newly introduced scarf jointer to make 4 meter
with 1.8 metre veneers and layup line, which makes
lamination with blue in order to manufacture domestic
larch plywood.

The president commented that this should promote using
domestic species and challenge is to acquire certificate by
the Green Purchase law.
PanaHome advances overseas
PanaHome Corporation (Osaka) has been advancing
overseas recently. PanaHome Asia Pacific (Singpore),
100% subsidiary of PanaHome established PanaHome
Gobel Indonesia (Jakarta,
Indonesia) with the purpose of housing development in
Indonesia.

This is a joint venture company with Gobel International
(Jakarta), which manufactures and markets electric
appliances and home appliances. PanaHome advanced to
Taiwan in 2010 and Malaysia in 2012.

It announced a plant that PanaHome MKH Malaysia,
consolidated subsidiary of PanaHome will put up and
market 490 units built for sale and 305 units of
condominium jointly with local developer, MKH.

It introduces W-PC method (Wall precast concrete
method), which speeds up construction time and shortens
by about three months compared to traditional brick pileup
method.

KND accepts trainees from Myanmar
KND Corporation (Tokyo), logistical dealer and
transporter of construction materials and also is engaged in
construction works, has started accepting trainees from
Myanmar for house building business.

Trainees are eight. At the beginning, five will start at
Chiba's training center for basic study then three more will
come in September. After basic training on building
technique, they will engage in actual works.

The company says that text is written in Myanmar's
language edited by the Japanese construction experts,
which has sophisticated content but is easy to learn by
concentration.

The president of the company says that the company
prepares educational system to learn Japanese construction
technique to give technical knowledge, which should
respond to various requirements house builders
requirement.

Trainees will be supplemental work force since shortage
of construction workers will be serious problem. At the
same time, the trainees will be able to use what they learn
in Japan in Myanmar, where the economy is expected to
expand rapidly.

The company is originally engaged in logistic works then
it expands the business of installation of system kitchen
and unit bath with renovation of houses. It does handle
installation of insulation and foundation sills with how to
put up building then applying metal fittings on precut
materials so it covers wide area of construction works.

Misawa Home considers overseas development
Regarding overseas business, Misawa Homes (Tokyo) has
been test marketing in Australia and plans to establish a
local corporation for market research then will build four
test units in Melbourne and five units in Brisbane to
examine local housing market. It will develop housing
business tied with local builder eventually.

The president says that it needs to examine local market
since Australia has different culture and housing demand
so it will prepare supply system as it continues examining
the market.

In Japan, it plans to increase percentage of value added
housing like smart house. It also plans to develop medium
high buildings in populated region since it uses property in
big cities much effectively so it tries to attract house
buyers to heavy steel framed fire proof five stories model
unit, which can be used for multi family dwelling together
with stores and rental units.

Also as new demand in future, compact condominiums for
single and aged dwellers and composite facilities then it
will actively develop non-residential units such as
renovation of large buildings.

Together with such future plans, it is promoting structural
change to improve profitability such as direct sales in large
cities and it is reviewing manufacturing and assembly
process. In Nagoya plant, it plans to expand panel
manufacturing lines.