2. GHANA
2010 the boom year for exports
According to available timber export data for the period
2010 ¨C 2015, the highest volume of wood products exports
in a single year was in 2010 (403,000 cu.m) and the lowest
volume (251,000 cu.m) was in 2012.

The table below, shows Ghana¡¯s annual timber and wood
products export volumes from 2010 to 2015.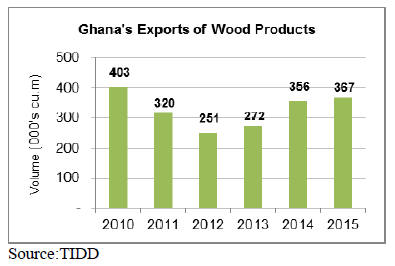 The corresponding data on export earnings show that the
country earned Euro 187.6 million in 2015 whereas
revenue in 2012 dropped to a low of Euro 99.8 million.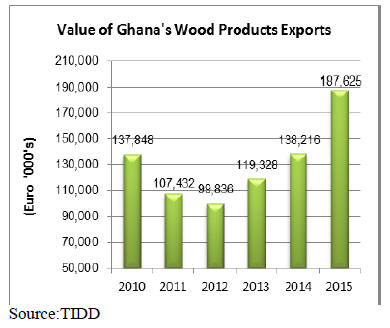 Of the products exported during the period, sawnwood,
veneer and plywood accounted for almost 86% of the
overall total export volume.

The table below shows the range of Ghana¡¯s main export
wood products for the period 2010 to 2015.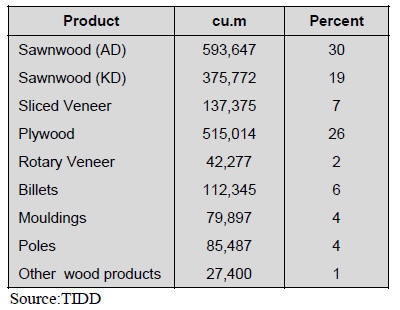 Infrastructure loan from Japan
The Japanese government has announced the reopening of
the yen loan window to Ghana specifically for the
construction of a new bridge across the Volta River. This
is part of the Ghana government¡¯s road development plan.
Over the years Japan has contributed significantly to
Ghana's health, agricultural, infrastructural and social
service sectors.

In announcing the support for Ghana, Japan¡¯s Prime
Minister said the socio-economic development of Ghana
had a strong bearing on building a strong foundation for
the development of West Africa.

Rosewood theft
The domestic media in Ghana have carried a story on
illegal logging of rosewood and other high value timbers
from forests in five communities including Namoranteng,
Tolla, Nung, Bapeila and Beung in the Upper East Region
of the country. Loggers apparently targeted rosewood
which is in high demand in Asia.

For the full story see:
http://www.starrfmonline.com/1.9107548

3. MALAYSIA
Sarawak to develop high value furniture manufacturing
The Sarawak state government is taking steps to boost
competitiveness of its downstream timber industries in
international markets. Among the steps being taken
include establishing technical collaboration between
industry players in support of research and development
on acacia other plantation timbers for the manufacturing of
high quality furniture.

So far the government has created a position at the
University Malaysia, Sarawak to conduct research and
development on furniture design and high value furniture
manufacturing. In addition there are plans to set up a
trading house for the continuous supply of suitable raw
materials.

The State government was recently informed on efforts
taken to review and develop industrial training
programmes to support the needs of downstream industry
as well as increasing participation of small and medium
enterprises in the state. The State aims to improve
infrastructure and facilities to boost growth of the furniture
industry and is inviting foreign investors to develop the
downstream timber industry in Sarawak.

To satisfy international market requirements the state
government has improved the Sarawak Timber Legality
Verification System to ensure it will attract international
recognition and acceptance in importing countries.

Sarawak export statistics
Latest report from the Department of Statistics compiled
by Sarawak Timber Association show the value of log
exports in the first four months of 2016 was RM 545.34
million from 899,944 cu.m metres. The corresponding
figures for 2015 were RM 595.17 million from 895,147
cu.m metres.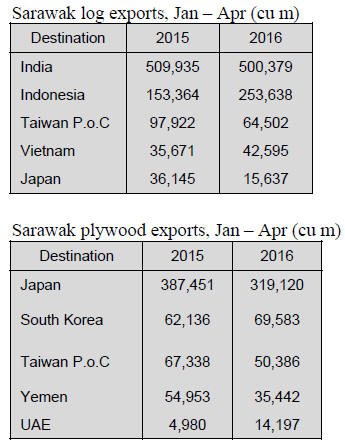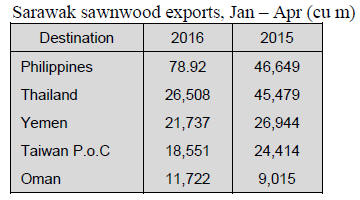 Purpose built agarwood distillation and research
complex
Non timber forest products have always had a place in
ITTO¡¯ work and in the case of agarwood (timber from the
trees in the genus Aquilaria), ITTO has been working with
CITES to ensure international trade is controlled in a legal
manner. Agarwood is also known as eaglewiid, oud, gharu
or aloeswood.

A company in Malaysia, Asia Plantation Capital,
celebrated the first anniversary of its purpose built
agarwood distillation and research complex in Masai,
Johore. The complex covers 4,000 square metres and has a
wood chip processing plant, a fragrance stick factory and a
research unit. The factory utilises sustainable and
environmentally-friendly energy systems throughout.

For more see:
http://www.eco-business.com/press-releases/asia-plantationcapital-
celebrates-1st-anniversary-of-agarwood-distillery/
4. INDONESIA
Growth target cut
The Indonesian government has lowered the economic
growth target for 2016 to 5.1%, down from the 5.3% set at
the beginning of the year.

Suahasil Nazara, Head of the Fiscal Policy Office in the
Ministry of Finance, said domestic consumption is
unlikely to grow as strongly as first thought. The lowering
of the growth target will necessitate adjustment of the
State budget which is likely to impact spending on
infrastructure.

Forestry¡¯s contribution to GDP less than 1%
On International Forest Day Indonesia¡¯s President
announced his intention to issue a moratorium on land
clearing for oil palm plantations. This would extend the
current moratorium on primary forest clearing and
peatland conversion.

The contribution of the forestry and timber sectors to the
economy of Indonesia has fallen sharply over the past 2
decades and today it is estimated that the two sectors
contribute less than 1% to the country¡¯s GDP. The forestry
sector is not mentioned in the National Medium Term
Development Plan 2015-2019 as a development priority.
US$22 million grant for development of forest
communities
The World Bank has announced a US$22 million grant to
reduce poverty amongst Indonesian communities
dependent on the forest.

The proposal, which attracted this support from the World
Bank, was developed in cooperation with the International
Finance Corporation, the Asian Development Bank and a
raft of bi-lateral and multilateral organizations.

Hollande asks - quickly implement FLEGT scheme
President Joko Widodo recently met with Japanese Prime
Minister Shinzo Abe and French President Francois
Hollande.

The statement after the meeting said discussions touched
on the strengthening economic partnerships, tariff
reductions and improved market access for Indonesia¡¯s
marine, agricultural and horticultural products. The French
President expressed optimism that the Forest Law
Enforcement Governance and trade system will bring
benefits to both Indonesia and France.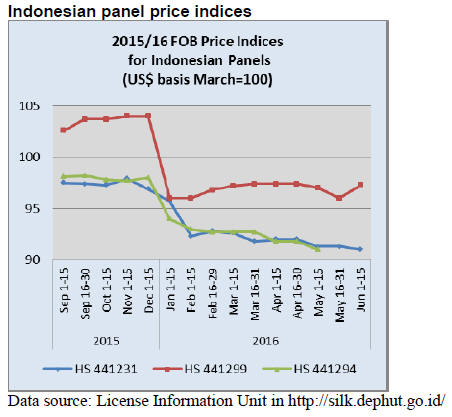 5. MYANMAR
Minister comments on harvesting ban
The latest developments on Myanmar¡¯s harvesting ban
have been rather remarkable with Minister Own Win
speaking on the government¡¯s thinking during two
separate events.

In response to the question in Parliament, Ohn Win said
the Ministry was taking measures to stop logging for the
coming fiscal year (April 2016 to March 2017).

On a second occasion, a forest rehabilitation workshop in
Nay Pyi taw, Ohn Win confirmed that the extraction of
teak and other hardwood logs would be suspended but
then said extraction would continue within the annual
allowable cut (AAC) for 2016-17 to meet the domestic
timber needs.

Analysts report a decision has been taken to suspend the
10 Years Management Plan and suspend all harvesting of
teak and hardwoods in Bago Yoma, the home of teak.
Bago Yoma or the Pegu range is a range of low mountains
and uplands between the Irrawaddy and the Sittaung
River in Central Myanmar. This area was once heavily
forested with teak and other commercial hardwoods.

Log prices surge
When the announcement of the logging restrictions
became known the price of teak logs made available to the
market by the Myanma Timber Enterprise (MTE) almost
doubled.

An MTE official has been quoted as saying the current
price of teak varies between US$1,200 to US$1,600 /H.ton
and from US$200 to US$500/H.ton for hardwoods. Logs
sold into the local market through tenders are not subject
to grading which account for the wide range in prices.

MTE tender system favours export oriented
enterprises says MFPMF
Dr Sein Win, Chairman of Myanmar Forest Products
Merchants Federation (MFPMF) has said the MTE tender
system which prices logs in US dollars makes it hard for
mills servicing the domestic market to compete with those
buying for processing for export.

The statements from MFPMF attracted sharp criticism
from foreign owned mills saying MFPMF was only
speaking on behalf of one segment of the sector.

Representatives of MFPMF, the major private sector
Association, have been quoted as supporting the logging
suspension. Dr. Sein Win has said a logging suspension
for one or two years would not greatly impact the
processing industry but that it would definitely affect
contactors used by MTE to harvest and haul logs.

The MFPMF expressed optimism for the future when it
learnt from MTE that current teak log stocks are estimated
in the region of 100,000 H.tons with hardwood log stocks
estimated at around 1 million H.tons but these figures have
not been verified. A rather different view has been
expressed by teak exporters who believe that the reliability
of the teak stocks figures, until verified, could lead to
speculative buying.

Chairmanship of ASEAN Furniture Industrial Council
to Myanmar
The Myanmar Furniture Industrial Council (MFIC)
comprising the Wood Based Furniture Association and the
Myanmar Rattan and Bamboo Association is to assume
the Chairmanship of ASEAN Furniture Industrial Council
when Malaysia¡¯s chairmanship ends. The aim of the MFIC
is encourage added value manufacturing and exports.

Myanmar Investment Commission reconstituted to
delight of investors
The Myanmar Investment Commission (MIC), a
government-run body responsible for approving major
local and foreign investments, has been reformed with 11
members according to a statement from the Office of the
President.

It is understood that the new commission will be chaired
by U Kyaw, Win Minister of Planning and Finance.
Commerce Minister U Than Myint has been named Vice
President and U Aung Naing Oo, the secretary in the
previous commission will keep the same position.

The other members include Attorney General U Tun Tun
Oo, as well as permanent secretaries from the commerce,
planning and finance, and natural resources and
environmental conservation ministries.

Analysts report investors welcomed the formation of the
new commission as there was a delay in processing
application in the months since the old commission
stopped functioning in March.

Long delays at Port Yangon
Cargo vessels set to discharge at Port of Yangon faced
long delays during May as a result of congestion. News
reports say vessels had to wait 3-4 times longer than was
usual.

The bulk of Myanmar¡¯s trade passes through Port of
Yangon and with the fast pace of recent economic growth
there has been a doubling of the number of vessels calling
at the port.
6. INDIA
All aspects of Indian life and economy impacted by the
monsoon
On 8 June the India Meteorological Department declared
the onset of the 2016 monsoon 2016 in Kerala.

The annual monsoons are India's most important weather
event and have a major impact on agricultural output
which translates into consumer sentiment. India receives
80% of its annual rainfall during the monsoon season,
which runs between June and September.

When there is a ¡®good¡¯ monsoon sentiment rises and
wallets open. There is no aspect of Indian life that is not
impacted by the monsoon, politics, investments, housing,
GDP and inflation.

The Indian Meteorological Department says ¡°conditions
are favourable for further advance of southwest Monsoon
into some parts of central Arabian Sea, coastal Karnataka,
remaining parts of Kerala and Tamil Nadu, some more
parts of south interior Karnataka, some parts of south
Andhra Pradesh and some more parts of central Bay of
Bengal.

See: file:///C:/Users/Owner/Downloads/20160608_pr_32.pdf

Auctions of domestic teak and hardwoods
The last auctions concluded in the Surat and Valsad
Division Forestry Depots drew subdued interest on the
part of buyers which were mostly representatives of
regional sawmills. As a result of the lower than expected
demand prices were somewhat lower than expected. The
price range secured for various grades is shown below.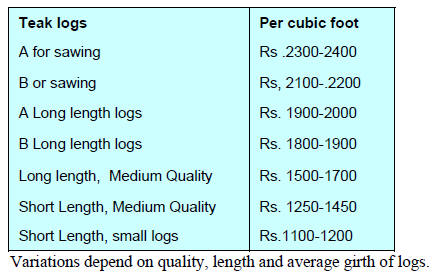 Good quality non-teak hardwood logs, 3 to 4 metres in
length having girths of 91cm or more of haldu (Adina
cordifolia), laurel (Terminalia tomentosa), kalam
(Mitragyna parviflora) and Pterocarpus marsupium
attracted higher prices than at the most recent auction in
the range of Rs.800-900 for top quality logs and Rs.400-
500 per cu.ft for medium quality logs.

E-auctions have been announced for the North and South
Divisions of Dangs and Valsad forests from13 to 22 June.

New suppliers of teak
There have been changes in some prices reflecting the
girth and lengths of recently arrived logs.

Honduras, China, Myanmar and Taiwan P.o.C are now
shipping significant volumes of teak logs and these
countries are now included in the table below.

Analysts report a sizeable quantity of logs (reportedly
plantation logs) is now arriving from Myanmar.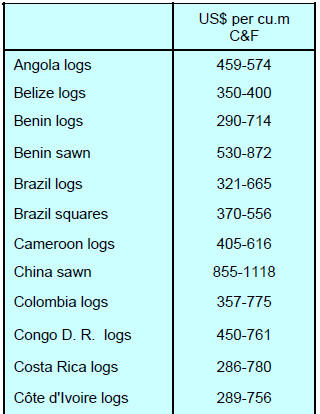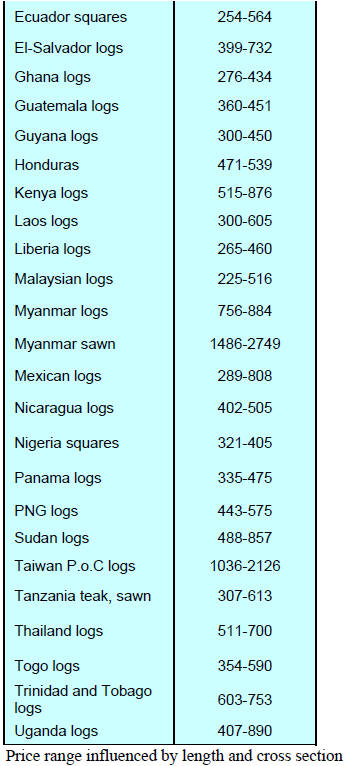 Prices for locally sawn hardwoods
The US dollar/Rupee exchange rate remained stable over
the past two weeks allowing importers to maintain past
price levels.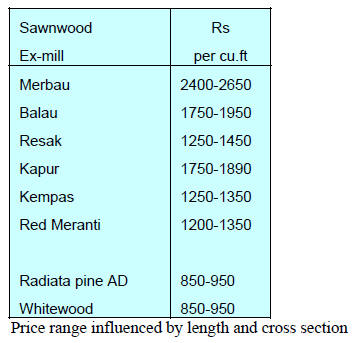 Myanmar teak flitches resawn in India
Ex-mill prices for sawn teak remain unchanged.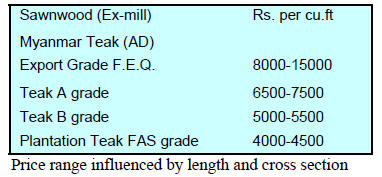 Prices for imported sawnwood
Some prices have moved mainly reflecting changes in
demand.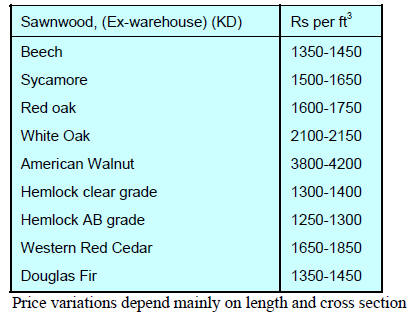 GST will provide a boost to the formal plywood sector
The Indian government is aiming to pass an amendment to
the Goods and Services Tax (GST) bill during the current
session of parliament. The Minister of Finance, Arun
Jaitley, has indicated that the new rate of GST will be kept
as moderate as possible.

Analysts are confident, if passed, the GST has the
potential to add around 2% to the country¡¯s GDP.

The proposed new GST will replace a host of indirect
taxes and create a common tax system for the national
market. Analysts suggest the GST will provide a boost to
the plywood sector, a Rs 200 billion market supplied by
hundreds of small and ¡®unregulated¡¯ enterprises. It is
estimated that around 75% of the Indian plywood market
is satisfied by small and unregulated players.

Century Plyboards and Greenply Industries are major
¡®organised¡¯ market players. Spokespeople for the
organised sector say the GST will reduce the unfair
advantage unorganied enterprises have in the plywood
market.

For more see:
http://economictimes.indiatimes.com/articleshow/52667688.cms
?utm_source=contentofinterest&utm_medium=text&utm_campa
ign=cppst
And
http://www.moneycontrol.com/news/results-boardroom/gstpassage-
to-benefit-co-16-18-margin-sustainablecenturyply_
6815241.html?utm_source=ref_article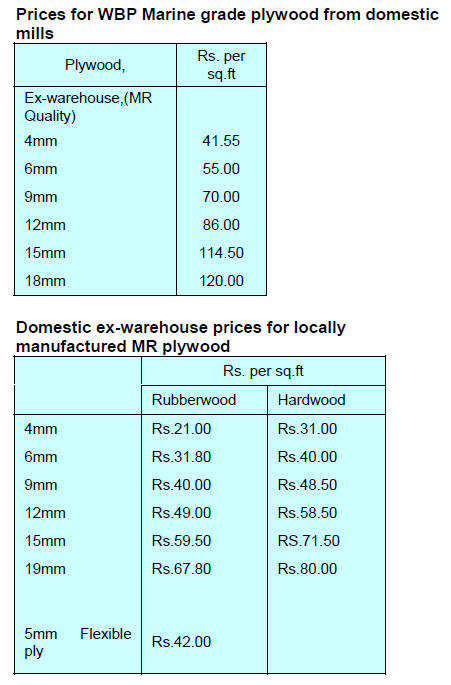 7. BRAZIL
Outlook for the Brazilian furniture industry
During the 26th MOVERGS Congress, to be held in late
June Marcelo Meadow a Director of IEMI ¨C Inteligencia
de Mercado will present an outlook for the furniture sector
in Brazil.

The MOVERGS Congress aims to bring together
professionals in the furniture sector to update on market
trends and technology and to offer solutions for companies
to become better able to compete in current market
conditions.

Among the themes that will be addressed are domestic
supply and demand for furniture, including the
development of new product lines, the evolution of sales
channels and domestic consumption, opportunities for
export and the challenges to be overcome and an
assessment of the current market situation, recent
developments and future trends.

For more see: http://www.movergs.com.br/congresso/

Technical standard for wood frame homes
A commission of the Brazilian Association for Technical
Standards (ABNT) will be established this month to
develop a technical standard for a wood frame
construction system.

The Brazilian Association of Mechanically-Processed
Timber Industry (ABIMCI) has actively participated in the
process to get this commission launched and has
commissioned the preparation of updates on the technical
standard for this construction system developed by the
Brazilian Wood Committee.

The commission plans to involve participants from the
construction industry, the Paran¨¢ State Union of Civil
Construction Industry (SINDUSCON-PR) and also
involved consumers.

The aim is to develop technical standards upon which
guarantees to consumers can be based.

Once the standards are agreed the next challenge requires
overcoming two main obstacles:



the misconception by many institutions that
wooden houses are buildings designed for lowincome
buyers



the acceptance by financial institutions and banks
that loans to people building wooden homes are
no more risky than for any other form of
construction.

ABIMCI recognises it is important to promote an interface
between government, public institutions and the
production sector in order to stimulate a large-scale
wooden frame housing construction in Brazil.

EU/FAO programme to address bottlenecks to
producing legal tropical timber
A recent news item from FAO announced the European
Commission (EC) and FAO have agreed to step up joint
efforts to support tropical timber producing countries in
curbing illegal logging, improving forest governance and
promoting the trade of legally sourced timber.

See: http://www.fao.org/news/story/en/item/414279/icode/

The FAO news items say a US$30 million funding
agreement has been signed by Veronique Lorenzo of the
European Commission, Directorate-General for
International Cooperation and Development, and Ren¨¦
Castro Salazar, FAO Assistant Director-General for
Forestry, to support the next phase of FAO's Forest Law
Enforcement, Governance and Trade (FLEGT)
Programme, set to run through 2020.

The new fund includes approximately US$18 million from
the EC, US$7.25 million from the United Kingdom and
US$5.3 million from the Government of Sweden.

The focus of the new programme will be on empowering
smallholders and a key part of the new phase involves
greater collaboration with private sector in both producer
and consumer countries to address some of the bottlenecks
to producing legal timber.
The aim of the new programme, says FAO, ¡°will involve
looking specifically at empowering small- and medium
forest enterprises in Africa, Latin America, the Caribbean
and Asia, which employ some 140 million people
worldwide. The idea is to help them to "go legal", gain
access to green markets and become active participants in
the sustainable management of forest resources.¡±

Wood product exports revenue rise
Brazil¡¯s exports of wood-based panels tripled between
January and April 2016 amounting to 269,000 cu.m,
compared to 86,000 cu.m exported in the same period in
2015.

Pulp exports January to April grew 16.7% year on year
and paper exports increased 7.8% over the same period.

Total earnings from wood-based panel, pulp and paper
exports between January-April 2016 amounted to US$2.6
billion, a 7.3% increase compared to the same period in
2015.

Domestic sales of wood-based panels totalled 2.1 million
cu.m in the first four months of 2016 some 8% lower
compared to the same period last year.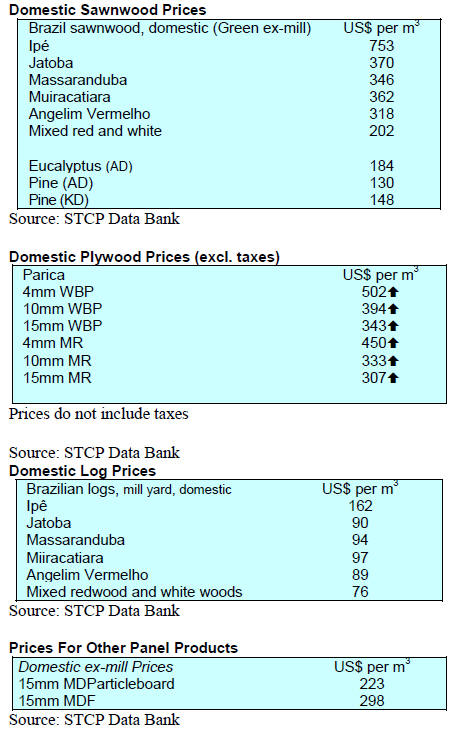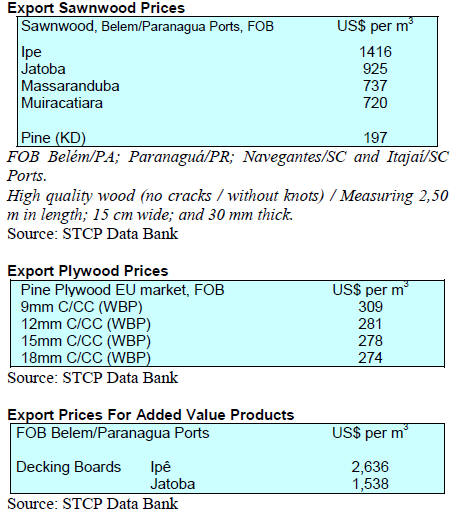 8. PERU
Wood products trade deficit
Despite having huge forest resources which could provide
raw materials for wood product manufacturers and
exporters, the reality, according to the Ministry of
Agriculture and Irrigation (MINAGRI), is that Peru has
experienced a negative trade balance in wood products for
many years. For example, between 2003 and 2013, wood
product imports increased by almost 300% while exports
barely expanded.

In 2015 wood product exports declined by over 10% to
just US$336 million but imports only fell 4%. Clearly
domestic production is not meeting local market needs and
this is most obvious in the added value segment of the
market. Imported furniture in 2015 was worth US$120
million and imported panels were valued at US$91
million. Peru exports mainly sawnwood and plywood.

The situation is even more extreme for paper based
products where imports exceed exports by a massive
margin (imports US$668 million, exports US$67 million).

It is only for non-wood products that Peru¡¯s trade balance
is positive but these products are exported without further
processing.

The weakness of domestic production of value added
wood products has prompted the Minister of Production,
Piero Ghezzi, to prepare plans to create a fund of US$155
million in order to provide loans to timber enterprises.
Wood tracking course for enterprises
At the Center for Productive Innovation and Technology
Transfer (CITE) a course on wood drying was conducted
with the support of Germany.

The course was specifically for enterprises in the Ucayali
Region which has a viable wood tracking system in place.

The course objective was to improve productivity in the
drying process and was attended by 18 technicians from
seven companies in the region (Maquiwood, Indefo,
Sawmill Atalaya, K & B Company, Mapesac, Inforhuay
and KYB). In addition 3 professors from the National
University of Ucayali (UNU) and the National
Intercultural University of the Amazon (UNIA) were on
hand to assist.

Road map for the timber sector
In support of the country¡¯s strategy to increase the
competitiveness of timber sector in Peru the Ministry of
Labour and Employment Promotion (PETM), together
with the Center for Technological Innovation Wood
(CITEmadera), met to layout a roadmap aimed at
strengthening technical and educational levels in the
sector.

The roadmap was designed with the support of
representatives of private enterprise and the National
Forest and Wildlife Service (SERFOR) and consists of
four elements: forest management, plantation
development, primary conversion and secondary
processing.

This tool has been offered to the National Catalogue of
Occupational profiles of the PETM which proposes and
executes national and sectorial policies.