Japan Wood Products Prices
Dollar Exchange Rates of 25th May 2016
Japan Yen 109.76
Reports From Japan
JCER- Only thorough opening the economy can a
crisis be averted
The 42nd Medium-Term Economic Forecast from the
Japan Center for Economic Research (JCER), a private
non-profit research institute, makes for very sober reading
and is of relevance to the medium term prospects for wood
product exporters to Japan. Four main conclusions from
the report are highlighted:

 Potential Growth Rate: Currently below 1%,
will turn negative by FY 2030 due to population
decline
 Economic Growth Rate: Toward negative
growth in late 2020s
 Fiscal deficit: Bad to worse, outstanding debt to
nominal GDP ratio will rise to 250%
 Industrial structure – Currently this limits
growth, structural reforms are pressing

The report opens saying the outlook for the Japanese
economy appears extremely harsh given its declining
population, aging society, sluggish investment and
declining efficiency and productivity.

The impact of the aging society and population decline is
gradually coming to a head says the report and the writers
expect the prospects for growth to weaken after the Tokyo
Olympics in 2020 and to turn negative by FY 2030.

At some time in the near future, says the report "Japan will
be forced to make bitter choices between confronting the
crisis of economic collapse or submitting to a substantially
reduced standard of living".

The authors point to the need to reform the social systems
such as harnessing the abilities of women who remain in
the home, increasing immigration and extending the
working age of elderly residents.

It is reform that would make it possible to reverse what is
seen as an inevitable decline. The report says "reforms
would be needed at a level that will change the shape of
the country.

The path to avoiding economic collapse and overcoming
the "Japanese disease" of giving maximum priority to
maintaining the status quo may be narrow and austere, but
it is not an impossible distance to cover".
The conclusion of this analysis is that only thorough
opening the economy can growth be achieved.

In the words of the report: "Following the lead of the
Meiji Restoration and the postwar era to assimilate
demand from abroad, the point is to open up the country
for a third time to free up the movement of people, goods
and money".

For the full analysis see:
http://www.jcer.or.jp/eng/pdf/m42_final.pdf

The helicopter money option looms
Japan's exports fell for a seventh consecutive month in
April as the yen continues to strengthen and further
strengthening came after heated discussions on currency
management during the recent G7 Finance Ministers
meeting.

At the G7 Finance Ministers meeting there was no support
for Japan's appeal for currency intervention to reverse the
appreciation of the yen. This say analysts, may mean the
country could resort to what is known as "helicopter
money" . This is a term used to describe the situation when
a country drastically increases public spending or cuts
taxes.

In the face of a firming yen and weak economic growth
the Bank of Japan is quickly running out of options to hold
down the yen/dollar exchange rate.

The yen firmed to 108 in mid-May marking a more than
6% rise against the US dollar which is hurting exporters.
On the other hand importers, including wood product
buyers are returning to the international market.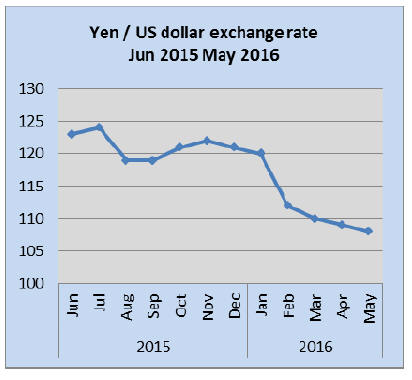 Housing starts continue steady rise
Growth in new residential property developments begun
last month in Japan defied expectations with a mild rise
that didn't quite fall in line with activity elsewhere in the
economy.

New housing starts grew close to 10% in April to 82,398,
this was double what analysts had expected and the April
rise continued the upward trend seen over recent months.
At the current rate of expansion annualised housing starts
would come in at 995,000 well above forecasts made
earlier in the year.

The pace of growth, when set against overall consumer
spending trends suggests that the driving force for housing
starts is most likely the availability of low interest
mortgages.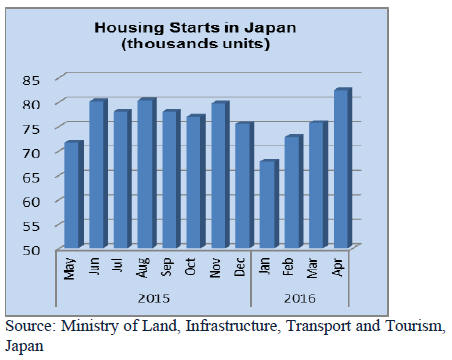 Import round up

Doors
Japan's first quarter 2016 imports of wooden doors were
around 4% higher than in the first quarter 2015.

March marked the third straight decline in wooden door
imports into Japan. China remains the main supplier of
wooden doors to Japan followed by the Philippines and
Indonesia. These three suppliers dominate imports of
wooden doors accounting for over 80% of all imports of
doors in March.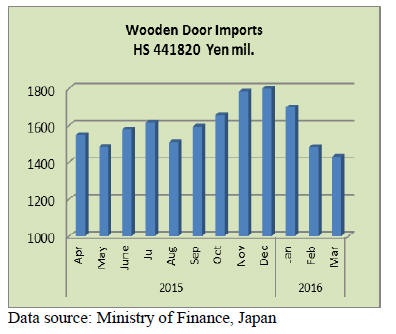 Windows
Wooden window imports into Japan continued the
downward trend first noticed in December 2015. First
quarter 2016 imports of wooden windows were some 10%
below that in the first quarter of 2015. Year on year
Japan's March 2016 wooden window imports were down
a massive 35%.

The top three suppliers remain China, Philippines and the
US accounting for over 85% of March 2016 imports.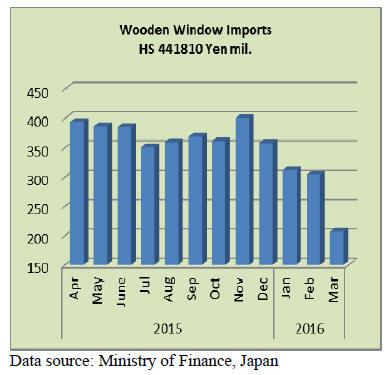 Assembled flooring
In contrast to the downward trend door and window
imports Japan's imports of assembled flooring rose 6.5%
in the first quarter of 2016 compared to the same period in
2015.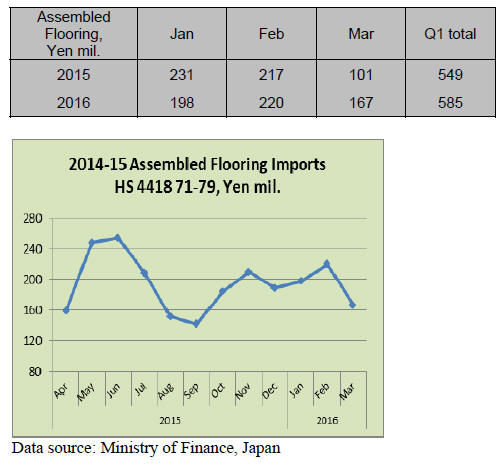 Plywood
In the first quarter of 2016 Malaysia was the largest
supplier of plywood for the Japanese market followed by
Indonesia and in distant third was China. Malaysia's
shipments of plywood to Japan during the first quarter
2016 were well down (-23%) from levels recorded in the
same period in 2015.

On the other hand shipments from Indonesia rose slightly
above levels in the first quarter of 2015. First quarter 2016
shipments of plywood from China into Japan were down a
hefty 35% compared to the first quarter of 2015 but
shipments of plywwod from China into Japan are a
fraction of those from both Malaysia and Indonesia.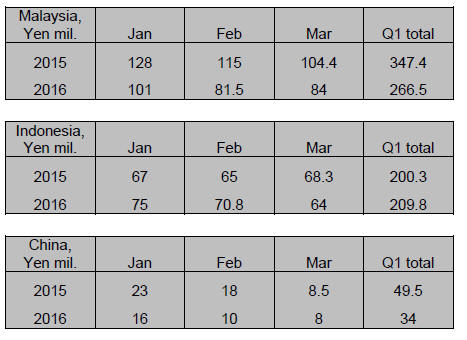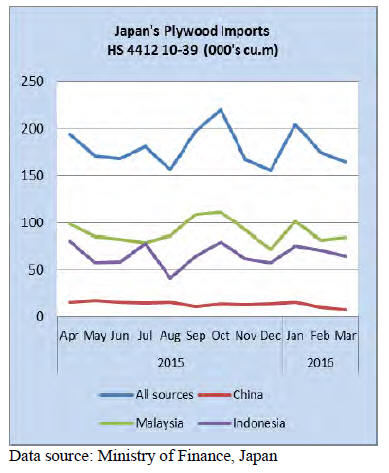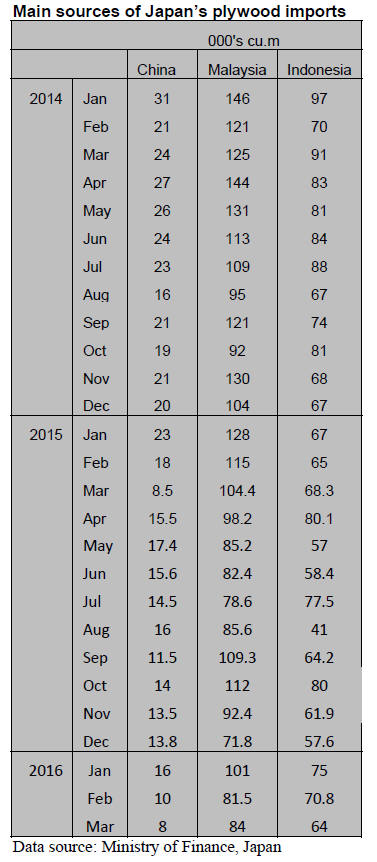 Trade news from the Japan Lumber Reports (JLR)
For the JLR report please see:
http://www.nmokuzai.
com/modules/general/index.php?id=7
Wood demand in 2015
The Ministry of Agriculture, Forestry and Fisheries
disclosed wood demand statistics of 2015. According to
this, total wood material demand was 25,092,000 cubic
meters, 1.9% less than 2014. This is two consecutive
years' decline despite new housing starts in 2015 were
1.9% more than 2014.

Not only domestic products but also imported wood
products from foreign countries decreased. In domestic
consumption of materials, domestic wood demand
continues increasing so in total material supply, domestic
wood was 20,049,000 cbms, 0.7% more than 2014.

Meantime imported materials were 5,045,000 cbms,
11.0% less. Therefore, share of domestic wood was
79.9%, 2.1 points more than 2014.

Log demand for lumber was 16,182,000 cbms, 2.9% less,
out of which domestic logs were 12,004,000 cbms, 1.7%
less and imported logs were 4,178,000 cbms, 6.1% less so
decline of imported logs was larger. Shipment of lumber
decreased to 9,23,000 cbms, 3.8% less. Imported lumber
also declined. Softwood lumber from North America was
0.6% less. European softwood lumber was down by 4.6%
and structural laminated lumber was down by 3.1%. Not
only Japanese manufacturers but also foreign
manufacturers suffered declining market.

Imported logs for lumber manufacturing were down from
all the sources but log import from North America, which
took 78% in all log import, decreased to 3.259,000 cbms,
3.2% less. Demand for North American logs was steady
by large sawmills but demand from smaller sawmills was
slow then on supply side, there were several negative
factors to reduce the supply like forest fires, labor dispute
at the West Coast ports and strong dollar.

Logs for plywood manufacturing were 4,218,000 cbms,
4.2% less, out of which domestic logs were 3,356,000
cbms, 5.2% more and increasing trend continues while
imported logs were 864,000 cbms, 28.8% less so share of
domestic logs for plywood manufacturing reached about
80%. Standard plywood production was 2,756,000 cbms,
2.0% less. Imported plywood was down by 17.

Legal wood use promotion law
Draft of the bill to recommend use of legally approved
wood the Liberal Democratic Party plans to submit to the
Diet is revealed. It calls attention of wood materials
manufacturers like construction companies, paper and
furniture manufacturers to use legally certified wood and
sets up registration system for users of such proven wood.

However, it does not either prohibit using illegal wood or
impose penalty. It simply promotes using legally proven
wood to create environment to shutout illegal wood. It is
the law to promote using and distribution of legally proven
wood.

The government works out basic plan regarding
distribution and use of legal wood then how to confirm
legality and measures in case it is uncertain, necessary
measures in case of transfer and management of record.

Details will be stated in related ministerial ordinance of
the Ministry of Agriculture, Forestry and Fisheries, the
Ministry of Land, Infrastructure and Transport, the
Ministry of Economy, Trade and Industry.

Regarding legality, there will not be uniform standard and
wood supplied in compliance with the government law of
producing country is regarded as legal wood.
The law says one has to make every effort to use legally
certified wood and registration system will be made for
ones which use legal wood actively and ones can advertise
as legal wood users by registration organization.

March plywood supply
March plywood supply was 486,800 cbms, 3.8% more
than March last year but this is two straight months
decline of less than 500,000 cbms because imported
plywood volume dipped below 220,000 cbms for two
consecutive months.

Meanwhile domestic softwood production recorded the
highest monthly production in March so that share of
domestic plywood surpassed the imports for two straight
months. The first quarter total of domestic production is
52% in total supply.

Imported plywood was 218,000 cbms, 6.9% less than
March last year and 0.4% less than February. Because of
depressed market of imported plywood, the importers and
wholesalers restrain from making future purchase
considerably, which reflects low import volume. This
trend seems to continue for some time.

Malaysian volume was 87,500 cbms, 17.8% less and 3.5%
more. Monthly average import from Malaysia during
September and December last year was 95,500 cbms while
the first quarter monthly volume of this year is lower at
92,000 cbms.

Indonesian volume was 69,400 cbms, 7.6% less and
10.2% less. However, the volume stays unchanged much
since average monthly volume for November and
December last year was 74,300 cbms then the first quarter
volume is 76,000 cbms.

Domestic production in March was 267,800 cbms, 14.6%
more and 7.2% more. Softwood production was 253,500
cbms, 14.6% more and 7.5% more, which is the highest
monthly production. The shipment in March was 238,100
cbms, 11% more and 1.8% more. This is the six
consecutive months with over 230,000 cbms. The
inventories are 128,400 cbms.

Plywood
Softwood plywood market was shaken by two unexpected
incidents. One is fire at Akita Plywood and
another is Kumamoto's strong earthquake.

The largest plywood manufacturer, Akita Plywood's
second plant burnt down by fire on April 6. Plywood
market settled down in February and March from
overexcited market and there were dumping sales in
March by wholesalers and trading firms since March is
book closing month but the mood changed all at once by
this fire and everybody rushed to secure the volume but
after a short while, calmness is back at the market.

Then came Kumamoto earthquake in 16th of April. The
quakes have been continuing even after three weeks after
the first strong one hit the area.

However, plywood plant in Kumamoto area continues
normal operation but transportation is hampered by
damaged highway system.

Since last April, which is a new fiscal year, the importers
do not accept low offers by the buyers and stick to higher
prices but the demand itself has not improved at all.
Adamant attitude of importers props up further decline of
market prices.

Tight feeling is showing up with declining inventory after
future purchase volume decreased. Supply side plywood
manufacturers continue holding aggressive attitude since
last March but are not able to increase the export prices
because orders from Japan are not so much.

New lumber mill in Myanmar
Mos Lumber Products Ltd. (Myanmar) celebrated
completion of lumber mill in April 29. This company was
established in December 2014 in Myanmar as jointventure
company with Oji Forest & Products Co., Ltd.
(Tokyo), Sumitomo Forest Singapore (subsidiary of
Sumitomo Forestry) and local furniture company, Moe
Mya Chai Co., Ltd (Myanmar)-MMC.

Oji has 54% share, Sumitomo has 26% share and MMC
has 20%. Total capital is US$2,250, 000. Function of each
company is production management and marketing of
products in Japan and overseas markets by Oji and
Sumitomo then raw materials procurement and mill
operation by MMC.

Raw material is planted rubber wood. The mill makes
lamina for laminated lumber of about 8,000 cbms a year.
Lumber is treated by pressurized wood preservative and
finished S4S. The product is used for furniture like chair
and counter top.

This is the first overseas joint venture business by both
Ojiand Sumitomo Forestry. The idea is to cooperate by
providing knowhow so synergy effect should be expected
then also contributes promotion of local employment in
Myanmar.