2. GHANA
2015 export performance reported
Ghana¡¯s 2015 wood product exports totalled 367,061cu.m,
compared to the 356,036 cu.m recorded in 2014. The
corresponding export earnings for 2015 and 2014 were
Eur187.62 million and Eur138.22 million.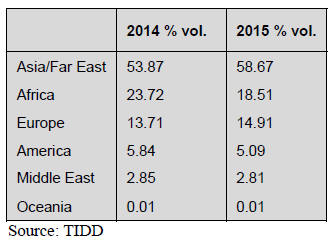 Compared to 2014, Ghana¡¯s 2015 volume of exports grew
by 3% and by a significant 36% in terms of value.
The major markets for Ghana¡¯s wood products in 2015
were Asia (59%), Africa (19%) and Europe (15%) as
illustrated above.

Wood product exports to Asia totalled 215,343 cu.m and
Asian markets continue to absorb a high proportion of
Ghana¡¯s wood products.

African markets accounted for 67,950 cu.m of all 2015
exports valued at Euro 26.93 million with the ECOWAS
market accounting for the largest share (82%) of the total
volume for sales to African countries.

Togo, Nigeria, Niger, Senegal, Burkina Faso and Benin
were the major ECOWAS countries that traded with
Ghana and 2015 imports by these countries increased
around 10% compared to 2014.

Previously Nigeria was a major importer of Ghana¡¯s wood
products, particularly plywood, but in 2015 Nigeria¡¯s
imports from Ghana dropped by 44% to 21,135 cu.m in
2015, from the 37,758 cu.m recorded in 2014. The decline
is attributed to Nigeria¡¯s regulations on the availability of
foreign exchange.

Exports to Senegal and Togo in 2015 also fell compared to
levels in 2014 declining 20% and 24% respectively. The
fall in exports to regional markets is attributed mainly to
supply problems in Ghana rather than any weakness in
demand.

The third major destination for Ghana¡¯s wood products in
2015 was Europe. The volume of wood products exported
to EU member states in 2015 totalled 54,734 cu.m, which
represented 15% rise year on year.

The major products exported in 2015; air and kiln dry
sawnwood, rotary veneers, dowels and flooring. The main
species in demand were wawa, asanfina, ceiba, sapele,
chenchen and koto, all of which posted year on year gains.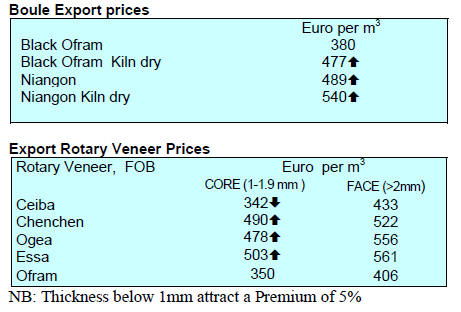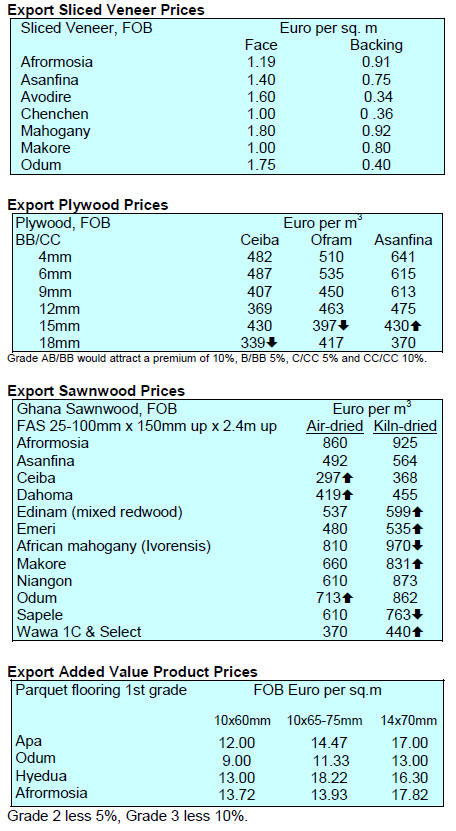 3. MALAYSIA
Leadership at MTCC changes hands
The Malaysian Timber Certification Council (MTCC) has
welcomed Himmat Singh as its newly appointed
Chairman. Dato¡¯ Dr. Freezailah Che Yeom was the
Chairman of MTCC since 1999and was the founding
Executive Director of ITTO.

The announcement from MTCC¡¯s CEO, Yong Teng Koon,
says ¡°Datuk Himmat¡¯s appointment marks another
milestone for MTCC as it continues to advance and
spearhead the sustainable forest management agenda in
Malaysia and in the Southeast Asian region.

We are indeed honoured to have Datuk Himmat Singh
lead MTCC as he brings with him a wealth of experience.
His distinguished career in the civil service spans over 35
years which includes serving as the Secretary General of
the Ministry of Plantation Industries and Commodities
covering forestry and timber trade before he retired in
December 2015.
We look forward to progressing to greater heights under
his leadership as the Chairman of MTCC.¡±

In paying tribute to the outgoing Chairman, Yong said,
¡°MTCC¡¯s progress, thus far, is attributed to the astute
leadership of MTCC¡¯s outgoing Chairman, Dato' Dr.
Freezailah Che Yeom. We are truly grateful for his wise
counsel and invaluable contribution during his 17-year
tenure as a member of the MTCC Board of Trustees. We
wish him a very happy retirement."

See: http://www.mtcc.com.my/news-items/datuk-himmat-singhappointed-
as-mtcc-chairman

Prospects for 2016 good says MTIB
The export value of Malaysia's wood products is expected
to increase to RM24 billion (approx. US$5.9 billion) this
year from the RM22.14 billion achieved in 2015, despite
the current economic uncertainties.

Malaysian Timber Industry Board (MITB) Director-
General Dr. Jalaluddin Harun said higher international
sales will be driven by developments in Qatar and Iran and
the steady demand in the United States and the European
Union as well as India and Australia.

The total value of Malaysian wood product exports in
2015 expanded 6.4% year on year to RM22.14 billion,
with wooden furniture exports rising to RM7.3 billion
from RM6.4 billion in 2014.

Marketing mission to US delivers good results
The Malaysian Timber Council's marketing mission to the
United States in April generated just over RM9 million
(approx. US$2.2 million) in confirmed and potential sales.
This mission was launched to coincide with the
International Wood Products Association's 60th World of
Wood Convention in Texas.

The convention was attended by more than 250 importers,
service providers, government agencies and suppliers of
wood products from 25 countries. During the mission 11
of the 17 participating Malaysian companies secured sales.
Of the 11, six were first-time participants in such a
mission.

The US is proving to be a profitable market for Malaysian
flooring, dark red meranti and nemesu decking, meranti
sawnwood and finger-jointed and laminated timber. The
US is the largest market for Malaysian wooden furniture
accounting for 34% of total wooden furniture exports.

Discouraging first quarter results from Sabah
The Sabah Department of Statistics has just released data
on wood product for the first quarter 2016. Total exports
of sawnwood in this period were valued at RM80 million,
plywood exports totalled RM264 million and veneer
exports were worth RM25 million. The corresponding
value of exports in the first quarter in 2015 were:
RM74.53 million, RM238.78 million and RM19.89
million.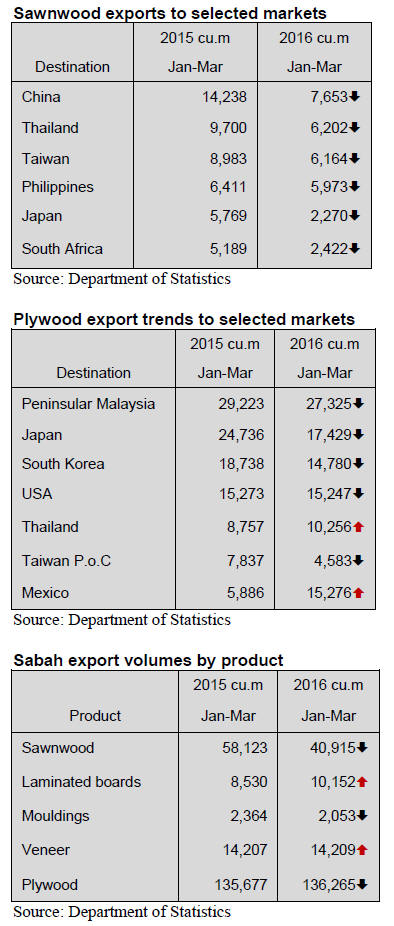 Sarawak exporters confident Japan¡¯s plywood imports
will rise
Plywood exporters in Sarawak are confident that japan¡¯s
demand for plywood will rise in the months ahead from
the current low level. Executives at a major plywood
exporter said the recent decline in plywood prices seem to
have bottomed out and, as plywood stock levels are
falling, imports are expected to pick-up. In recent months
the yen has strengthened against major currencies which
make imports more appealing.

The other factor which should drive up imports is the
investment in infrastructure in connection with Japan¡¯s
hosting of the Olympics games in 2020. In reporting 2015
final quarter results Ta Ann said the average plywood
prices fell by 11% and log export prices were down
around 10%.
Plywood prices
Plywood Traders in Sarawak reported the following export
prices: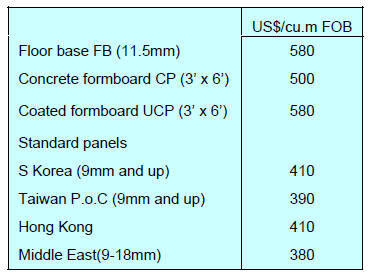 4. INDONESIA
High hopes for FLEGT exports
The government expects wood product exports to the
European Union to increase to around US$1.1 billion this
year as a result of the implementation of the FLEGT
timber legality certification process.

Nurlaila Nur Muhammad of the Ministry of Trade said
with the adoption of the FLEGT licensing system
Indonesia¡¯s exports to the EU will have a market
advantage. The benefits from Indonesia¡¯s VPA with the
EU was also highlighted by Foreign Minister Retno LP
Marsudi who said SVLK implementation would benefit
Indonesia, which currently has a 40 percent market share
in the EU tropical timber market.

Siti Nurbaya Bakar, Environment and Forestry Minister
said SVLK implementation would help the country
combat illegal logging and trade in illegally sourced
timber and would help improve governance in the forestry
sector.

According to government estimates 1,634 furniture
exporters and 70% of SME exporters have secured
domestic legality verification certification.

Villagers co-opted for fire prevention
Community-managed task forces are set to be created to
monitor forest fire hot spots in about 600 villages
throughout the country. Raffles Brotestes Panjaitan in the
Ministry of Environment and Forestry said his ministry
has been working with regional and local administrations
to prepare the launch of the new fire alert system which
will depend on village and community input.

Development of Patimban Port
The Japanese government has signalled to Indonesia that it
is eager to be involved in the development of the Patimban
deep seaport in West Java. Investment in infrasturure is
one of the pillars of the Indonesian government¡¯s plans for
reviving the economy.

Expansion of capacity at Port Patimban, some 70
kilometers from Jakarta, would vastly improve the
movement of goods into and out of industrial areas east of
Jakarta such as Karawang and Cikarang.

Japanese manufacturing firms, such as Toyota and Honda
would benefit from this development as they have
production facilities close by.

For more see: http://www.indonesiainvestments.
com/news/todays-headlines/japan-indonesia-topartner-
for-construction-of-patimban-seaport/item6864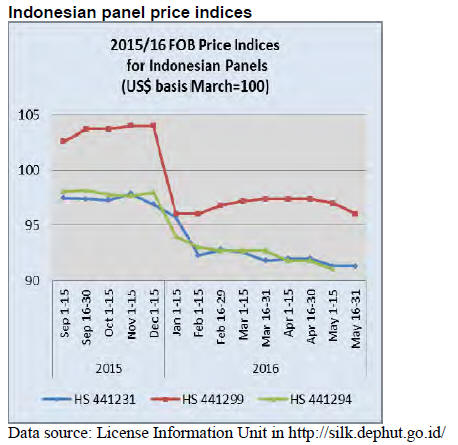 5. MYANMAR
MTE off US sanctions list
It came as a welcome surprise in Myanmar when the
Office of Foreign Assets Control (OFAC) in the US
Treasury Department removed the Myanma Timber
Enterprise (MTE) from its Specially Designated
Nationals List (SDN). This list identifies foreign
individuals or enterties with whom US companies or
individuals are restricted from doing business with.

The Office of Foreign Assets Control (OFAC) a financial
intelligence and enforcement agency charged with
planning and execution of economic and trade sanctions in
support of US national security and foreign policy
objectives.

Efforts, which began in 2013, were made by MTE and the
International Wood Products Association (IWPA) in the
US to have MTE removed from the SDN list but the
OFAC only agreed to grant a General License which was a
year by year waiver. Through this mechanism only IWPA
members could benefit from the import license.

The most recent decision allows all USA companies to
trade with MTE but comes at a time when timber
production for export is set to fall as a logging restriction
is likely to come into effect in Myanmar.

New rubberwood processing joint venture
For the first time a Japanese company has entered into a
joint venture for the manufacture of rubberwood products
such as tables, chairs, cupboards, seats and wall cabinets.
The joint venture is between Myanmar¡¯s Moe Mya Chel
Company and Japan¡¯s Sumitomo and Oji Forest and
Products.

The factory, which has an annual production capacity of
around 8,000 cubic metres, will be located in in
Mawlamyaing, Mon State. There are some 200,000
hectares of rubberwood in Mon State alone with another
approx. 380,000 hectares across the country.
For more on this investment see page 15

Mixed signals on harvest levels
An official decision on a logging ban or logging restriction
has not been made known. The Deputy Director General
of Forest Department surprised everyone by telling
reporters from the Daily Eleven Newspaper that teak and
hardwood harvesting will continue for ten years.

He is reported to have said the teak harvest would be
19,200 and the hardwood harvest would be 592,330 but
did not mention the unit of quantity. Previously, the Forest
Department mentioned specific details of the harvest
levels which seem to contradict the latest statements to the
press.

Analysts and observers are waiting for the Forestry
Department to make an official announcement of planned
harvests to avoid confusion.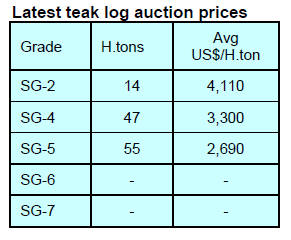 6. INDIA
Inflation rate trends down
The Office of the Economic Adviser (OEA) to the Indian
government provides trends in the Wholesale Price Index
(WPI).

The official Wholesale Price Index for All Commodities
(Base: 2004-05 = 100) for April rose to 177.0 from 174.6
in March. The year on year annual rate of inflation, based
on monthly WPI, stood at 0.34% (provisional) in April
2016 compared to -0.85% in March.
Year to April inflation was 1,37%. For more see:
http://eaindustry.nic.in/cmonthly.pdf

Timber and plywood price indices climb
The OEA also reports Wholesale Price Indices for a
variety of wood products. The Wholesale Price Indices for
Wood products and Plywood are shown below.


During fiscal 2014-15 timber imports via Kandla Port
totalled 3,952,130 cubic metres compared to 3,925,555
cu.m in fiscal 1013-14.

Against this backdrop, fiscal 2015-16 imports at 3,351,591
cum were some 11% lower than a year earlier. In
particular, 2015-16 imports of hardwoods fell almost 17%
year on year. The top three timbers imported in fiscal
2015-16 were meranti, teak and kapur.

Fine quality teak offered at Madhya Pradesh auction
Analysts on the spot report arrivals of teak logs have been
good in all depots in Madhya Pradesh. Teak from this area
is sold in 2 to 5 metres lengths and mostly in the 120cm
and below girth classes.

Teak logs from this area are typically cylindrical and yield
a timber that is of golden colour with black stripes.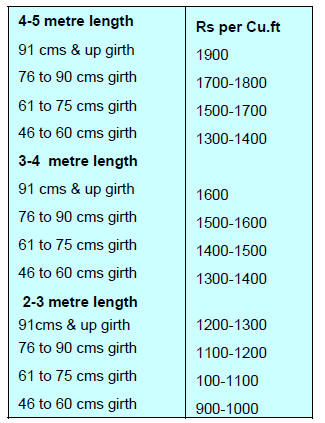 Auction prices for laurel (Terminalia tomentosa), haldu
(Adina cordifolia ) bija (Pterocapus marsupium) and
sainwood (Chloroxylon swietenia ) are shown below.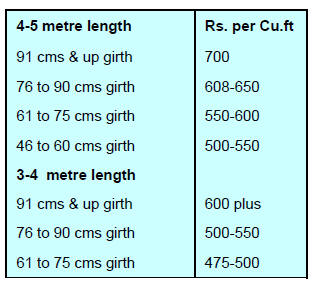 Bidders at the latest auction were mostly buyers from local
mills and merchants from Gujarat, Maharashtra, Rajasthan
and South India.
The latest auctions were held at depots in Harda, Jabalpur,
Hoshangabad and Betul divisions. Over 25,000 cubic
metres of teak logs were sold and as additional logs are
arriving so an announcement on further auctions is
anticipated.

Plantation teak prices
The current pace of deliveries matches demand thus C&F
prices remain stable.

Prices for locally sawn hardwoods
The US dollar/Rupee exchange rate continues to trade in a
narrow band allowing importers to maintain recent price
levels.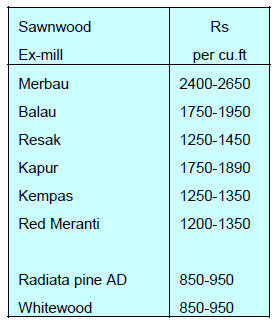 Myanmar teak flitches resawn in India
Ex-mill prices for sawn teak remain unchanged.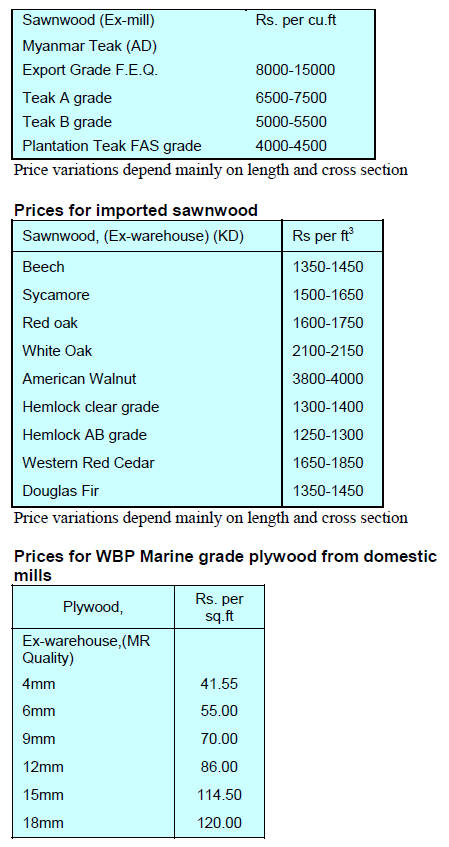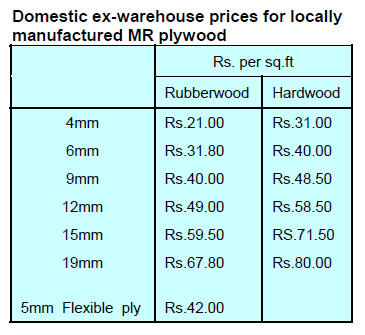 7. BRAZIL
Latest trends and innovations FEICON BATIMAT
The 22nd FEICON BATIMAT exhibition showcasing
developments in construction, home furnishings and
textiles, architecture and designing and household services
industries was held in early April. This event is a reference
point for the construction sector in Latin America where
the latest trends and innovations can be shared.

According to the National Association of Construction
Material Retailers (ANAMACO), business to business
dealings were an important element in the event especially
for the building materials sector where in the region retail
sales continued to grow.

Representatives from the Brazilian Association of
Mechanically-Processed Timber Industry (ABIMCI) were
at the exhibition to investigate trends and innovations.
Brazilian manufacturers of wooden doors had a major
presence in the exhibition and were able to promote the
Brazilian Sectoral Quality Program for Wooden Doors
(PSQ-PME).

SEMA review of ABNT standards
The forestry sector is ranked fourth in the economy of
Mato Grosso but has failed to achieve its full potential in
international markets according to the State Secretariat of
the Environment (SEMA).

In an attempt to address this SEMA has established a
working group to review the impact of current standards
on the potential for wood product exports.

Brazil¡¯s standards determined by the Associação Brasileira
de Normas T¨¦cnicas (ABNT) will influence market
opportunities and need to reflect the latest requirements in
international markets. SEMA hopes to propose revisions
to ABNT standards.

In addition to SEMA the other institutions involved
included the Regional Council of Engineering,
Architecture and Agronomy of Mato Grosso state (CREAMT),
the Forest Engineers Association of Mato Grosso
state (AMEF), the Center for Timber Producers and
Exporters of the state of Mato Grosso (CIPEM), the
Brazilian Institute for Environment and Renewable
Natural Resources (IBAMA) and the Brazilian
Agricultural Research Corporation (EMBRAPA).

More on Red Cedar
As a follow-up to the recent news on red cedar in Brazil
Belevistaflorestal
(http://eng.belavistaflorestal.com.br/plus/), a pioneer in
development of red cedar in Brazil offered further
information on the development of red cedar in Brazil.

Belevistaflorestal writes ¡°We are a forestry company in
Brazil, Campo Belo, Minas Gerais. Since 2006, we have
developed a successful programme breeding Toona ciliata
(Australian red cedar). There are several lines of research
with participation of our federal universities and private
agencies.

Currently we a world reference point on this species and
have developed six high yield and adaptable geno-types.

We have developed our research based on the CSIRO
germplasm bank for conservation, from which we tested
101 families from 16 provenances along the east coast of
Australia, the natural distribution of the species.¡±

Recently the company conducted a market test on a pilot
scale to advance our understanding of the market and
present the timber to potential buyers in the domestic
market.¡±

For more see: https://globoplay.globo.com/v/4945198/
https://www.youtube.com/watch?v=CE53TC8Mh7Q
and
https://www.youtube.com/watch?v=2WkvFZHQOV0

Export round-up
In April 2016, the total value of Brazilian exports of
wood-based products (except pulp and paper) declined
8.7% compared to April 2015, from US$247.3 million to
US$225.7 million.

The value of pine sawnwood exports increased 29% from
April 2015 (US$ 21.7 million) and April 2016 (US$ 28
million). In terms of volume, exports increased over the
same period from 94,200 cu.m to 149,800 cu.m.

April tropical sawnwood exports increased 1.7% in
volume year on year from 34,400 cu.m in April 2015 to
35,000 cu.m in April 2016 however the value of exports
fell about 11% from US$17.9 million to US$16 million,
over the same period.

Pine plywood exports dropped 29.5% in value in April
2016 in comparison with April 2015, from US$47.4
million to US$33.4 million.

In terms of volume, however, exports fell by just 2.5%,
from 133,100 cu.m to 129,800 cu.m, over the same period.

Brazil¡¯s tropical plywood exports continue to rise and in
April were up 34% year on year from 9,400 cu.m in April
2015 to 12,600 cu.m in April 2016. Export values also
rose 4.3% from US$ 4.6 million to US$ 4.8milion, over
the same period.

As in previous months, exports of wooden furniture fell in
April US$ 37.1 million in April 2015 to US$ 35.2 million
in April 2016, a 5.1% drop.

Exports boost timber cluster in the Amazon region
The timber sector in Amazonas State has recorded
significant growth in revenues this year as exports have
pick-up.

According to the Superintendent of the Manaus Free Zone
(SUFRAMA) in the first two months of 2016, exports
were worth R$ 8.86 million compared to the R$ 4.47
million earned in the same period last year.

Although the figures presented by SUFRAMA are
encouraging the timber sector faces problems. According
to the Union of Plywood and Veneer Timber Industries in
Amazonas State, some 12 companies in the region ceased
operations mainly due to a lack of raw materials and
financing.

There is a strong demand for wood products in the region
from the construction sector and from furniture
manufacturers and this puts a strain on raw material
supplies.

It has been recognised that there is a need to promote
forest production if the industry is to meet domestic
demand and expand exports. The State Secretariat for
Planning, Development, Science, Technology and
Information (SEPLAN-CTI) has established a technical
group to look into opportunities for expanding raw
material supplies and an expansion of production.

ABIMCI participates in ASEAN meeting
The Brazilian Association of Mechanically-Processed
Timber Industry (ABIMCI) participated in the trade and
governmental meeting in Southeast Asia hosted by the
Association of Southeast Asian Nations (ASEAN) and the
Federation of Industries of Paran¨¢ State (FIEP).

Representatives of the embassies of Indonesia, Thailand,
Singapore, the Philippines and Vietnam along with
representatives of ASEAN member countries presented
details of business opportunities of interest to Brazilian
businesses.

ASEAN´s ten member countries represent a formidable
economic force and have an objective to become the
fourth largest economic grouping in the world within 20
years. Representatives from Brazil¡¯s consulate and from
the Brazilian-United States Chamber of Commerce also
attended the meetings along with representatives of the
National Service for Industrial Training (SENAI), the
Organization of Cooperatives of the State of Paran¨¢
(OCEPAR), the Trade Federation of São Paulo State
(FECOMÉRCIO) and the Paran¨¢ Institute of International
Relations (IPRI).

8. PERU
Particleboard imports falling
Peru¡¯s imports of particleboard were valued at US$43.7
million in the first four months of this year marking a
decline of almost 5% compared to the same period of
2015.

Novopan Peru continued as the main importer (US$9.5
million) but recorded an 8% drop compared to the same
period in 2015. However, Arauco Peru, the second largest
importer, saw its share of total import rise by 3%.

Masisa Peru, along with Arauco, was the only other
importer seeing a rise in January-April imports.

Somewhat of a surprise was the sharp drop in imports by
Interforest which reported imports in the first four months
were down over 50%.

Innovative financial products designed for timber
sector
Securing financing for forestry development, even
plantation establishment, is a major challenge for the
private sector. However, strides in improving financial
transparency on the part of the private sector and the
interest of the state in forestry development is opening the
way to development of innovative financial products
designed for the sector.

According to the National Forest and Wildlife Service
(SERFOR), financial institutions such as BBVA,
Scotiabank and BanBif have begun offering financial
products to forestry and timber companies.

For several years the government has been providing
financing through its Mipyme Fund. This is a small
business fund to promote innovation in micro and small
enterprises.

The stimulus to improved availability of financing for
forestry came in part from the loans provided by
Agrobanco and Cofide. These loans were effective
serviced which encouraged other financial institutions to
look opportunities in the timber sector. However, the
timber private sector recipients complain about the high
interest rates charged on commercial loans but a window
of opportunity is slowly opening.

In related news, the Agricultural Bank (Agrobanco) and
the French Development Agency (AFD) recently agreed a
deal which sees around US$57 million being made
available to support the Peruvian bank to become a¡¯ Green
Bank¡¯ through providing loans for environmentally
friendly projects.

One of the main conditions of the French support was the
implementation of an Environmental Management and
Social Risk Assessment system.

Agrobanco hopes that by 2119 it can triple its ¡®green¡¯
portfolio to project addressing climate change, improved
agricultural practices, energy from biomass, agro-forestry
and silvo-pastoral systems along with development of
sustainable forest plantations.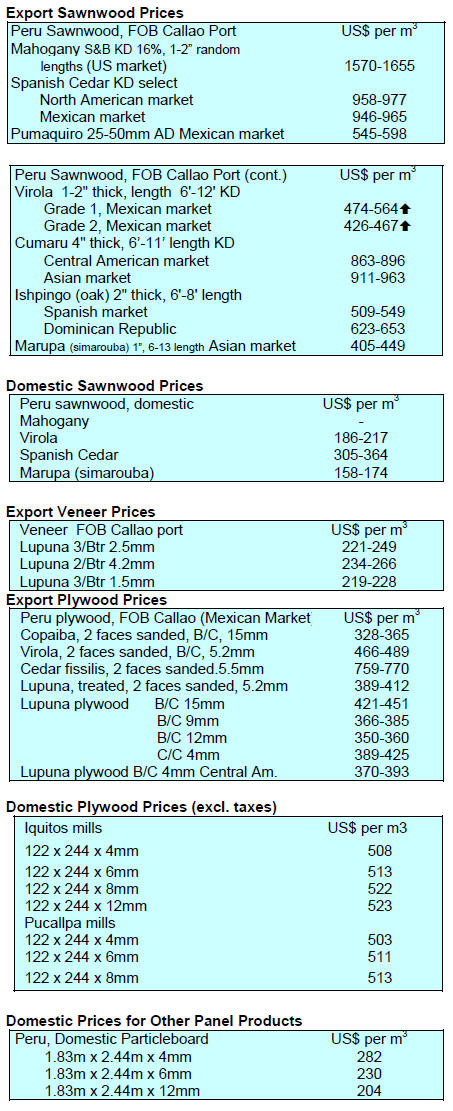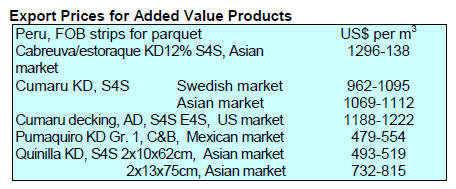 A