US Dollar Exchange Rates of 10th May 2016
China Yuan 6.5171
Report from China
Consumer prices rise in April
The National Bureau of Statistics consumer price index
(CPI) for April rose by 2.3 percent year-on-year. Prices
increased by 2.3% in urban areas and by 2.4% in other
areas. Food prices (excl. liquor and tobacco) recorded the
highest increase (7.4%) while non-food item prices
increased just over 1%. Prices for consumer goods went
up by 2.5% in April compared to April 2015 and prices for
services grew by 2%.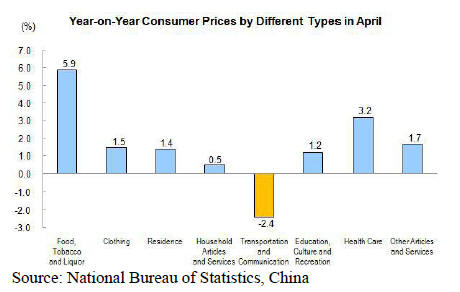 Anti-dumping duty on Chinese wooden bedroom
furniture
The U.S. Department of Commerce has made a final
determination of the antidumping duty to be applied to
Chinese wooden bedroom furniture imports.

The US will introduce a general duty of over 200% on
Chinese wooden bedroom furniture from a number of
named companies.

On 14 December 2015, the United States conducted its
10th preliminary anti-dumping review on Chinese wooden
bedroom furniture imports.

The latest administrative review involves 18 Chinese
manufacturers. The HS code of the products involved is
HS 9403.50.9042, 9403.50.9045, 9403.50.9080,
9403.50.9041, 9403.60.8081, 9403.20.0018,
9403.90.8041, 7009.92.1000 and 7009.92.5000.

https://www.federalregister.gov/articles/2016/04/11/2016-
08233/wooden-bedroom-furniture-from-the-peoples-republic-ofchina-
final-results-and-final-determination-of

Market for custom-made furniture
The 2016 Guangzhou Wardrobe Exhibition recently ended
with a forecast that the market in China for custom made
furniture could grow to RMB160 billion within 5 years.
Over the past few years this market has seen annual
growth of around 18%.

At present, demand for custom made furniture market is
mainly from consumers in the large cities but analysts see
a huge potential for custom made furniture in the middle
and small sized cities as incomes grow. The continued
development of the real estate market in middle and small
cities will favour demand for custom made furniture.

Cooperation between Malaysia and China in furniture
trade
It has been reported that Chinese government has
contributed finance for the construction of the Kuala
Lumpur-Singapore high-speed railway. The Malaysian
Ministry of Transportation plans to focus on expanding
rail and port capacity in support of development of exports
to China and the rest of the world.

According to China Customs, the value of China¡¯s wooden
furniture imports from Malaysia rose 12% to US$12.9
million, ranked seventh among the countries shipping
furniture to China.

According to government sources Malaysia expects to
export wooden furniture worth over RM10 billion in 2016.
The market in China has been identified as a priority for
Malaysian furniture exporters.

According to Cai Chuncai, President of the Malaysian
Furniture Association, the value of Malaysian furniture
exports to China in 2014 was RM103.7 million and rose to
RM144.4 million in 2015, a year on year increase of 39%.
China has become one of Malaysian top 10 furniture
exporters, ranking fourteenth in 2014 and tenth in 2015.

Log imports soar through Qinzhou bonded zone
According to Guangxi Entry-Exit Inspection and
Quanrantine Bureau, in the first quarter of 2016 log
imports via the Qinzhou bonded zone of Guangxi Zhuang
Autonomous Region totaled 147,300 cubic metres valued
at US$17.22 million, up 470% in volume and 410% in
value. Imports via Qinzhou accounted for 42% of annual
log imports in 2015.
Recently species such as Brazilian eucalyptus as well as
US fir, spruce and hemlock have been imported.

Rise in log and sawnwood imports but decline in wood
product exports
The rapid development of China¡¯s real estate sector in the
first quarter of this year has promoted the growth of
domestic demand for wood products.

According to China Customs, in the first quarter of 2016
log imports were 11 million cubic metres, a year on year
increase of 3%. Of the total, log imports from Russia rose
4% to 2.92 million cubic metres, ranking first, but imports
from New Zealand fell 4% to 2.46 million cubic metres.

Log imports from the US increased 15% to 855,200 cubic
metres, from Papua New Guinea by 28% to 911,000 cubic
metres while imports from Myanmar fell 97% to just
4,500 cubic metres.

Compared to the same period in 2015 China¡¯s first quarter
2016 sawnwood imports rose 16% to 6.55 million cubic
metres, mainly due to increased imports from Russia,
Thailand and Canada which posted gains of 22%, 18% and
55% respectively.

While there was a general increase in imports, China¡¯s
exports in the first quarter of 2016 weakened. Plywood
exports fell 10% to 2.23 million cubic metres, fiberboard
exports dropped 16% to 622, 700 cubic metres while
particleboard exports declined 14% to 51, 500 cubic
metres. The value of China¡¯s first quarter 2016 wooden
furniture exports fell 0.5% to US$4.73 billion.

Pizhou City a major wood panel production centre
Wood product manufacturing in Pizhou City got underway
in the early 90's but by the end of 2015 there were more
than 2,600 enterprises of which 158 have annual sales of
over 6 million cubic metres of plywood, 700,000 cubic
metres of composite flooring, 500,000 items of furniture,
600,000 cabinets and 60,000 cubic metres of veneer.

Pizhou has become a major national centre for the
production of high-quality wood-based panels accounting
for around 25% of the national total.