Japan Wood Products Prices
Dollar Exchange Rates of 10th May 2016
Japan Yen 109.27
Reports From Japan
Annual housing starts forecast at 600,000 by 2025
The Japan Center for Economic Research (JCER) has
produced a medium term industry outlook. For the housing
and construction sectors the outlook points to continued
contraction against the backdrop of a decline in the
number of households.

As the number of households declines housing
construction, says JCER, will be limited to rebuilding
aging infrastructure as there will no longer be a need to
increase the stock of homes. In some prefectures in Japan
the number of households has already started to fall.
According to JCER the decline in the number of
households could leave national annual housing starts at
around 600,000 by 2025.

Construction activity in the non-housing sector (offices
and stores) is expected to remain flat. Nonresidential
construction is also susceptible to the population decline.

The sectors in which domestic production will grow are
processing and assembly type manufacturing sectors,
including general machinery and transport machinery and
the health and nursing care and business services sectors
says JCER.

Activity in the agricultural, forestry and fishing sectors
will inevitably fall due to the aging of the workforce in
these sectors and due to more reliance on imports as trade
agreements are concluded.

Due to the population decline and aging, a decline in the
domestic workforce is inevitable. Labour shortages are
already emerging in the health, nursing care and
construction sectors and the development of human
resources plans to meet expected long-term labour demand
is required.

For more see: http://www.jcer.or.jp/eng/economic/medium.html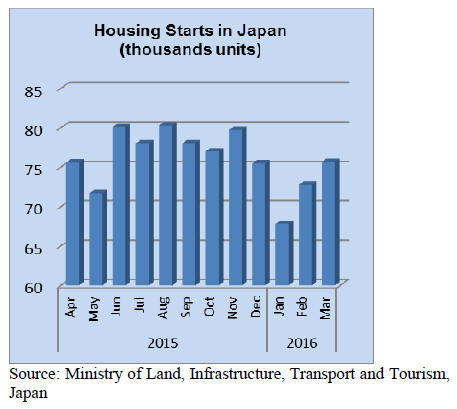 Consumer confidence falls but not as much as
forecast
The latest consumer confidence survey released by Japan's
Cabinet Office showed that confidence weakening less
than forecast in April following from the rise a month
earlier.

The overall index fell to 40.8 in April from 41.7 in March
while the Willingness to buy durable goods index was also
down.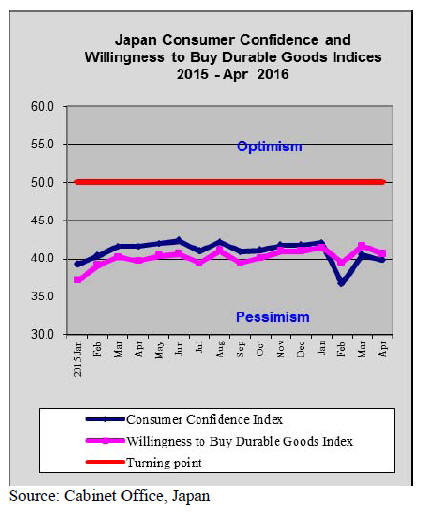 Intervention possible as yen surges against the dollar
Taro Aso, Japan's Finance Minister has tried to talk down
the yen/dollar exchange rate by stating he was "prepared to
undertake intervention" in exchange markets if the yen
continued to rises. This sparked a flurry opposition from
financial leaders around the world.

However , a former government official who was involved
in market interventions in the past said US criticism of
Japan's currency strategy would not prevent it from
deliberately weakening the yen. A yen/dollar exchange
rate above 110 is central to the Bank of Japan's inflation
boosting policy.

Since the beginning of the year, the yen has risen sharply
against the dollar but, for now seems to have settled at
around 108 to the US dollar. Despite the statements from
the Japanese government buyers continue to pour into yen
pushing up against the dollar.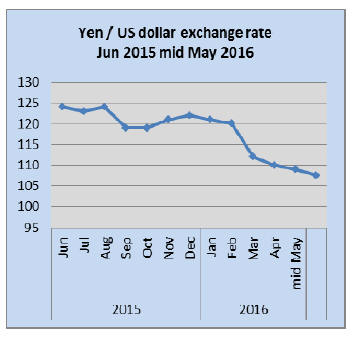 Japan's furniture imports
The value of Japan's imports of wooden bedroom
furniture fell almost 16% in the first quarter of 2016
compared to the first quarter in 2015. In contrast, imports
of kitchen furniture rose 13% in the first quarter of this
year compared to the same period last year. 2016 first
quarter imports of wooden office furniture were at about
the same level as in the first quarter in 2015.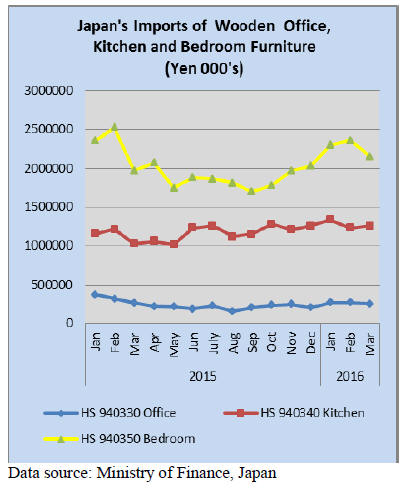 Office furniture imports (HS 940330)
Compared to February, Japan's March imports of wooden
office furniture were down around 6%.

China remains the main supplier of wooden office
furniture to Japan accounting for just over half of all
wooden office furniture imports. In March this year
imports from China rose 26% while imports of wooden
office furniture from Poland, one of the main suppliers,
dropped a massive 60% but imports from Italy were flat.

The top three suppliers China, Poland and Italy accounted
for almost 80% of Japan's March imports of office
furniture. In previous months shippers in Portugal were
major contributors to Japan's sources of office furniture
but in March there was a significant fall in imports from
Portugal.

Kitchen furniture imports (HS 940340)
In March this year the top four suppliers of kitchen
furniture to Japan accounted for the lion's share of imports
(over 90%). Vietnam alone accounted for 38% followed
by the Philippines 25%, China 15% and Indonesia 11%,
almost exactly as in February this year.

Year on year March 2016 imports of wooden kitchen
furniture were up 22% but compared to levels in February
only a slight rise was observed.

Of the four main suppliers in March Vietnam, the number
one supplier saw a slight improvement in its value of
exports of kitchen furniture to Japan. The big winners in
March were exporters in the Philippines who saw Japan
buying 15% more than in February.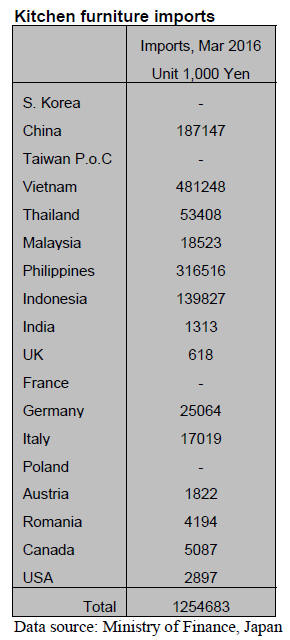 Bedroom furniture imports (HS 940350)
A correction in the growth of Japan's imports of wooden
bedroom furniture has been observed. March 2016 imports
were down almost 9% compared to levels in February but,
year on year, March 2016 imports were higher.

The top three suppliers, China (54%), Vietnam (32%) and
Thailand (around 4%) accounted for around 90% of March
imports of wooden bedroom furniture. Imports from China
rose slightly in March from a month earlier but both
Vietnam and Thailand saw March shipments to Japan fall
steeply.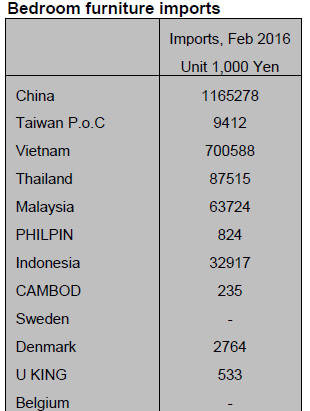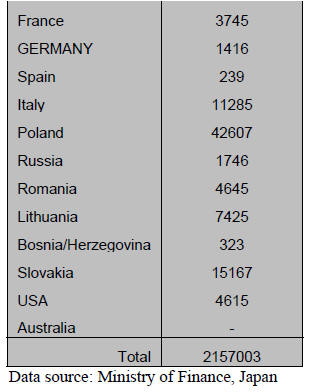 Trade news from the Japan Lumber Reports (JLR)
For the JLR report please see:
http://www.nmokuzai.
com/modules/general/index.php?id=7
SL World markets Malaysian OSB
SL World Co., Ltd. (Shizuoka prefecture) starts marketing
Malaysian OSB for crating. It has been selling the product
as trial to see how the market reacts and now it decided to
sell widely. The product is produced by Pioneer OSB,
which started in June last year at Alor Setor, Keda
province of West Malaysia.

Main raw materials are rubber wood and MLH. Its annual
production is 240,000 ton. It has continuous press of
German Dieffenbacher to produce OSB with thickness of
8 to 36 mm of 4x8. So far, it has been marketing in
Malaysia, Singapore, Thailand and Australia. SL World
sells 8 mm thick 4x8 OSB for crating.

It will market in Tokyo regional market first then will
expand the area. SL World has been marketing
Vietnamese plywood and European OSB for crating. It
also offers other materials like Chilean, North American
and domestic crating lumber.

Selco Homes aims non-residential buildings
Selco Home Co. Ltd. (Sendai, Miyagi prefecture)
de4cided to concentrate on non-residential wooden
buildings. It already has sales of 1.1 billion yen in this
term and aims to make sales of 3 billion yen in three years.

It decided to build its own three stories wooden building in
Sendai as a model unit with large size laminated lumber.
Selco Home is the largest dealer of imported Canadian
house and has built 820 units a year with its partners but it
is inevitable to see declining trend of detached residential
houses so as another growing market, it decided to
concentrate in large non-residential wooden buildings.

It has completed commercial facility of about 2,000 square
meters in Sendai. It has another 20 orders like medical
clinic and pharmacy then participated Canadian project to
restore the North East earthquake damaged area.

A sample non-residential wood building is being built. It is
three stories wooden building with floor space of over
3,000 square meters. The main structural materials are
Canadian large sized laminated lumber with other
domestic made laminated lumber. It is quasi fire proof
structure by char margin design.

The largest post is 420 mm Douglas fir to show soft
woody feeling. Interior has also woody tastewith western
red cedar. Locally made CLT is used for floor, wall,
staircase.The first floor is used for office for renovation
business and exhibition site for non-residential wooden
building. Second and third floor are used as office.

It is also a successful bidder for multi-purpose
rehabilitation facility at 637.2 million yen to build five
wood buildings. This facility is built for lodging for people
who desire to do farming from outside of the prefecture so
this also generates new local employment.

It also has power generation facility as beetle damaged
trees are chipped and used as biomass fuel, which gives
heat for the facility.

The company says that cost of wood building is about
20% lower than concrete building so it's worth
challenging quasi fire proof large wood buildings.

First CLT production plant completed
Meiken Lamwood Corporation (Okayama prefecture),
laminated lumber manufacturer, has completed
construction of CLT production plant, which is the first
CLT production plant in Japan.

The plant has floor space of 6,000 square meters then
another 3,400 square meters for processing plant. In the
first floor of the plant, there is lamina drying stacking
machine then four kiln dryers are set next to stacking
machine. Steam is sent from biomass power plant, which
is on the other side of the road. Waste from molder is sent
to power plant as fuel.

Dried lamina with length of 2,000 – 4,200 mm is sent to
the second floor, where it goes through test machine of
bending stress, moisture content measuring machine,
surface scanner, horizontal finger jointer and six axis
molder. Finished lamina of long 8-12 meter lamina are cut
into short lamina, which is sent to press after adhesive
sprayer.

The maximum size of CLT is 300, 3,000, 12,000 mm in
thickness. Adhesive is isocyanate. The president says this
is the first CLT plant in Japan but has no order yet but in
three years, target is to produce
30,000 cbms a year.
Russian logs and lumber
Log harvest season in Russia is over. Log supply of red
pine, whitewood and larch is limited. Then China, which
had been using low grade logs for engineering works
materials but now it is looking for quality logs and genban
as they use for furniture and free board.

In Japan, there are inquiries of quality and standard KD
red pine taruki but the inventory is low so wholesalers
have hard time to secure the volume. Russian suppliers'
offer prices on KD taruki 30x40 mm are unchanged at
$450-465 per cbm CIF.

Russian sawmills are having trouble of getting enough
logs so they need to stretch out much further area to have
logs. The Russian sawmills are trying to increase the
export prices but Japan side is unable to follow higher
prices.

In Japan market, there are increasing arrivals of quality red
pine KD taruki but the market has not recovered well
enough so that wholesalers secure large volume yet.
Meantime, large builders have more works so that there
are increasing inquiries on standard quality taruki but it is
not strong enough to push the market prices up.