2. GHANA
ECOWAS the main markets for Ghana*s wood
products
Ghana*s exports of wood products for the 11 month period
between January and November 2015, as reported by the
Timber Industry Development Division (TIDD) of the
Forestry Commission, increased year on year by almost
4.5% to 327,279cu.m. Wood product export earnings
jumped to Euro 166.85 million, an increase of 36%
compared to that for the same period in 2014.

The positive export performance was the a result of
increased sales of air-dried sawnwood (20%), rotary
veneer (21%) and kiln dried lumber (3%).

However, exports of some products fell including exports
of plywood to non-regional markets (-78%), sawnwood to
regional markets (-5%), sliced veneer to regional markets
(-30%) and plywood to regional markets (-16%). Details
are shown in the following tables.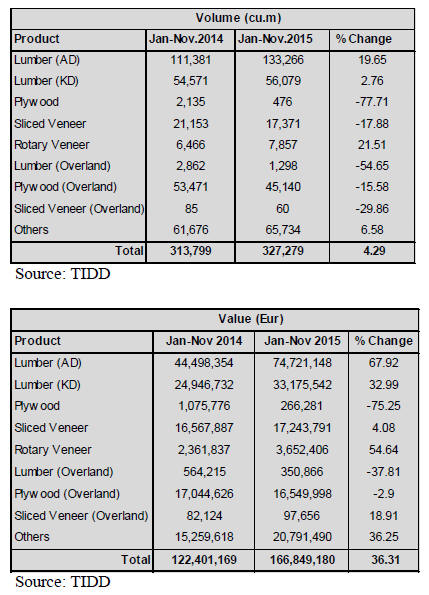 For the 11 month period reported air-dried sawnwood,
rotary veneer and kiln-dried sawnwood accounted for 60%
of the total volume of exports with some fourteen other
wood products making up the balance.

The three and only leading exporters of plywood for the
period reviewed were Samartex Timber and Plywood
Company Ltd, Naja David Veneer and Plywood and
Bibiani Logging and Lumber Company Ltd. The main
species utilised ceiba, black ofram and walnut. Regional
markets accounted for a major share of exports and
included Nigeria, Burkina Faso, Niger and Togo.

The overall market shares for the 11 month period in 2015
were Asia (58%), Africa (19%), Europe (14%), America
(5%), Middle East (3%) with small volumes to Oceania.

Within the ECOWAS regional block Nigeria (39%),
Burkina Faso(24%), Niger(20%) and Senegal(7%) were
the four leading importers of Ghana*s wood products in
the period reviewed and accounted for 89% or 51,486
cu.m.

Ghana investment promotion agency wins award
A press release from the Ghana Investment Promotion
Centre (GIPC) reports it has been adjudged the Best
Investment Promotion Agency (IPA) in West and Central
Africa for 2015 at the Annual Investment Meeting (AIM)
Awards in Dubai.

The AIM Investment Awards, under the patronage of
Sheikh Mohammed bin Rashid Al Maktoum, Vice
President and Prime Minister of the United Arab Emirates
and Ruler of Dubai, recognises investment promotion
agencies for their work in attracting foreign investment
projects that contribute to national economic growth and
development.

The GIPC, an agency under the Office of the President,
won the award for its support and facilitation for the
Wangkang Ghana Ceramic Limited project, a US$94
million investment in Sekondi- Takoradi by Wangkang
Ghana, Wangkang Holding Group of China.

For more see:
http://www.gipcghana.com/press-and-media/445-gipc-adjudgedbest-
investment-agency-in-west-central-africa.html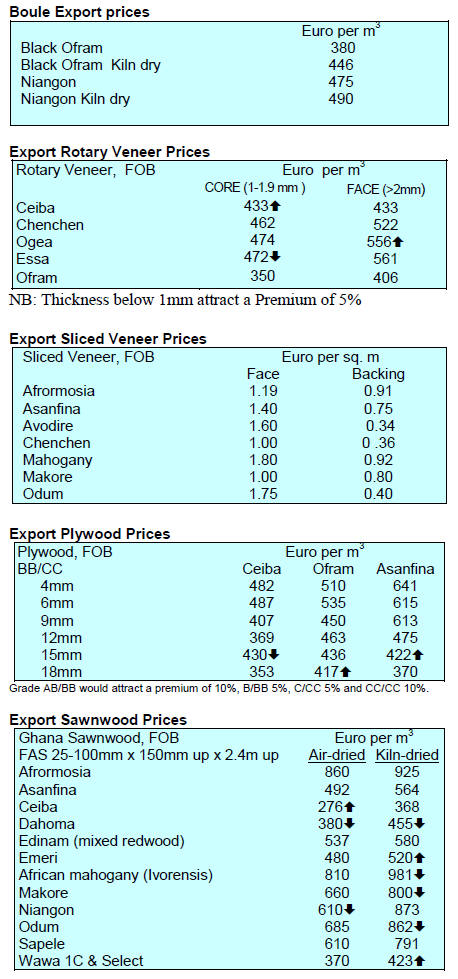 3. MALAYSIA
Private sector fully behind TPP
The Malaysian Timber Industry Board (MTIB) recently
organised a seminar to brief the timber industry on the
Trans Pacific Partnership (TPP) touching on its
implementation, benefits and incentives for entrepreneurs
to explore global timber markets.

TPP countries accounted for a significant (46%) share of
Malaysia*s total wood product exports in 2014, amounting
to RM 9.36 billion.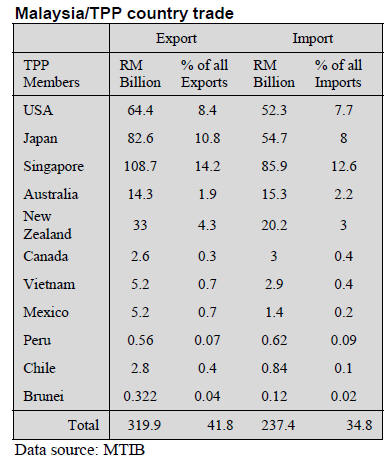 In related news, the Malaysian business sector issued a
press release fully supporting TPP negotiations. A group
comprising the Federation of Malaysian Manufacturers
(FMM), Malaysian International Chambers of Commerce
and Industry (MICCI), the Associated Chinese Chambers
of Commerce and Industry of Malaysia (ACCCIM),
Malay Consultative Council (Majlis Perundingan Melayu)
(MPM), SME Association of Malaysia, Malay
Businessmen and Industrialist Association of Malaysia
(Persatuan Pedagang Dan Pengusaha Melayu
Malaysia)(PERDASAMA) and the American Malaysian
Chamber of Commerce (AMCHAM) issued the following
statement:

※We express our joint support for Malaysia to sign
the Trans-Pacific Partnership (TPP) agreement. We are of
the view that the signing of the TPP is the key to
Malaysia*s aspirations to enjoy sustainable growth and
move into the ranks of a high income nation.

We believe that it holds immense potential for boosting
exports, generating economic growth and creating
employment. It also promises Malaysian companies and
all TPP countries a degree of transparency and
predictability in investment rules and tariff concessions.

The Cost Benefit Analysis (CBA) studies by Institute of
Strategic and International Studies (ISIS) and
PricewaterhouseCoopers (PwC) reaffirmed that the TPP is
expected to generate more positive than negative impacts
on the Malaysian economy.

Being a signatory to the TPP will mean that Malaysia will
have access to an enormous free trade market of 800
million people with a combined GDP of USD27.5 trillion.

As a result of TPP, tariffs will be eliminated on 85% of
Malaysia*s trade with its new FTA partners 每 Canada,
Mexico, Peru and USA. This will ultimately represent
US$1.2 billion of tariff savings a year for Malaysian
industries.§

For more see:
http://www.fmm.org.my/Press_Releases-@-
Malaysian_Business_Sector-
;_TPP_to_Drive_Growth_and_Jobs_.aspx

Hiring of foreign workers approved for manufacturing
and furniture sectors
Following a survey of the country*s manufacturers which
showed 146 companies need over 13,000 new workers this
year to meet their business objectives and replace unfit or
returning workers, the Federation of Malaysian
Manufacturers lobbied hard to get the government to
reconsider the ban on their hiring of foreign workers.

Datuk Seri Liow Tiong Lai the Transport Minister is on
record as saying the Cabinet has lifted the suspension on
the hiring of foreign workers for the manufacturing,
construction, plantation and furniture-making industries.
For other sectors decision will be made on individual
merit.

The Star newspaper reported recently that a survey by the
Federation of Malaysian Manufacturers showed that 84%
of manufacturers were facing a labour shortage, with half
of them claiming that they had not been able to fulfil
existing orders.

Datuk Seri Dr. Wee Ka Siong, a minister in the Prime
Minister's Department, said the foreign worker hiring
system must be made more efficient and transparent.
4. INDONESIA
Investment interest after European Visit by President
The recent visit to Europe by Indonesian President Joko
Widodo has resulted in investment commitments worth
over US$20 million with significant interest being
expressed from companies in Germany, the UK, the
Netherlands and Belgium.

Association joins forest fire fighters
Purwadi Soeprihanto, the Executive Director of APHI
(Association of Indonesian Forest Concessionaires) is
encouraging members to study and be prepared to use the
latest firefighting technologies to aid the efforts of the
authorities to combat forest fires particularly those on
peatland.

Peatland restoration roadmap
The government has prepared guidelines for peatlands
restoration following last year*s forest fires. The newlyestablished
Peatlands Restoration Agency (Badan
Restorasi Gambut/BRG), has taken these guidelines
further by preparing a roadmap for peatland management
and restoration.

Budi Satria Wardhana, Deputy Director at BRG said the
roadmap will be published in about a month and aims to
offer advice to local administrations and private
companies on peatland management.

In related news the administration in Riau Province has
signed a memorandum of understanding with Japanese
researchers for establishment of a peatland development
and research centre in the Meranti Islands District, chosen
because this area is the focus of a BRG programme.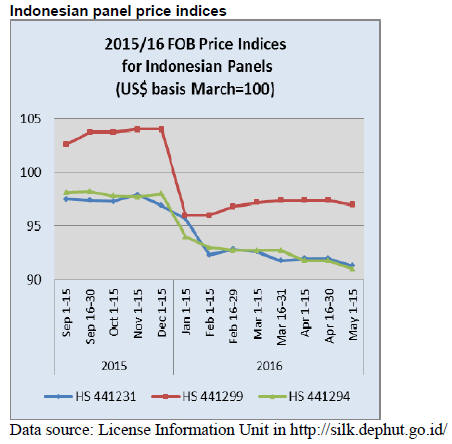 5. MYANMAR
Final decision on harvesting ban 每 only after
consulting stakeholders says Minister
The Deputy Director General of the Forestry department
has confirmed that Myanmar has a forest cover of just
over 44% and this was raised at a recent workshop to
discuss the proposed harvesting ban or restriction.

One official from the Myanmar Timber Enterprise (MTE)
was quoted as saying that the one-year suspension was
effective at the end of April. However, other senior
officials in a presentation at the workshop recommended a
total logging ban on teak harvesting and a total ban on
hardwood harvesting in certain but unspecified areas.

For the last 15 Years it was learnt that Myanmar has
extracted 3,980,936 hoppus tons (HT) of teak and
17,168,667 HT of other hardwoods which it was said was
far above the annual allowable cut AAC until 2012-13.

The workshop heard that the growing stock of teak has
been severely depleted and has been assessed at below 5%
with only an estimated 19,000mature teak trees standing.
This, said officials from the forestry Department, was
justification enough for the harvesting ban.

While not disputing the numbers the MTE, the sole agency
undertaking harvesting, due attention to the negative
impact a harvesting ban would bring. The State-owned
organisation MTE has some 2,958 elephants and their
upkeep costs around 9.8 Billion KYATs (about US$8.4
million) annually.

In addition, MTE employs 17,099 workers who would
face redundancy if there is a total harvesting ban. Forestry
Minister, Ohn Win has said a decision on the harvesting
ban will be made after consulting stakeholders.

Trade representative Barber Cho told the workshop that
the sector can accept a harvesting ban if the environmental
situation is so severe as to affect the country but said a
sudden halt to harvesting will have a dire impact in terms
of employment and export earnings and urged
consideration of targeting harvesting restriction.

It became clear that civil society and environmental
organisations favour a total ban while the private sector
favours strategic harvesting restriction to minimize
negative social consequences of a total ban.

Workers march 400 km to demand their rights
Some workers from FDI Veneer an Indian company set up
after the log export ban have an on-going complaint on
conditions and pay and since there has been no progress
despite a strike which began in February they decided to
march the 400 Km to the capital Nay Pyi Taw.

Negotiations between the workers and officials from
Labour Department have not resolved the workers
complaints.
US sanctions eased further and business delegations
arrive
The US plans to renew most of the sanctions targeting
individuals and specific enterprises in Myanmar but has
pledged to aim at boosting the climate for investment and
trade. Over recent months sanctions have been eased
considerably.

The US Treasury department has significantly eased
sanctions against Myanmar by issuing general licenses that
give companies and investors exemptions to sanctions that
target more than 100 individuals and businesses, including
some of Myanmar*s biggest business figures.

US officials began lifting trade and financial sanctions
against the country after military leaders launched reforms
that led to a civilian government being formed in 2011,
beginning its transformation after a half-century as an
international pariah.

In December, the Treasury temporarily relaxed trade
restrictions on the country by allowing all shipments to go
through its ports and airports for six months. It is
anticipated that the renewed sanctions will provide for
more relaxed general license procedures s for more
companies and that some individuals will be taken off the
list of &specially designated individuals*.

In related news more business delegations from the US are
expected in the country as the US administration is
encouraging US companies to explore opportunities in
Myanmar in an effort to boost jobs.
6. INDIA
Monsoon relief 每 a boost to growth
India*s Meteorological Department has forecast this year*s
monsoon will deliver high rainfall which comes as a relief
after two consecutive very dry monsoon periods which
badly affected agricultural output which, in turn, held back
economic growth.

The June to September rains are vital for farmers and
when farm output drops there is an immediate drop in
consumer confidence, prices rise and spending declines.
India*s monsoon rains have a direct bearing on GDP
growth so this year things are looking better.

Prospects for a good monsoon have encouraged
economists to forecast higher growth, higher than 7.5%
say many.

FDI expands
According to the IMF Foreign Direct Investment (FDI)
inflows into India are on the rise. It has been reported that
FDI inflows have risen from US$24 billion in 2012 to
US$44.2 billion in 2015 marking a seven year high.

The main sectors attracting investment in 2015 were ecommerce,
computer software and hardware, construction,
services and the telecom sectors.
The growth in FDI to India has been driven by domestic
reforms and investors are attracted as India has one of the
fastest growing economies.

Imported plantation teak prices
Prices for imported plantation teak remain as previously
reported.

Log auctions at depots in Western India
Auctions have recently been concluded in Valsad Circle
Depots and around 3,800 cubic metres teak and other
hardwoods were sold.

The log parcels offered for sale were those unsold because
of the very high minimum prices applied at earlier sales at
Ambapada, Waghay, Borkat and Bhenskatri, Bhilad and
Nanakonda.

Logs offered for sale come may from three sources,
Departmental, that is from government forests, from Cooperative
forests, that is from areas allotted to forest
workers who sell through official government auctions or
logs may come from private forests.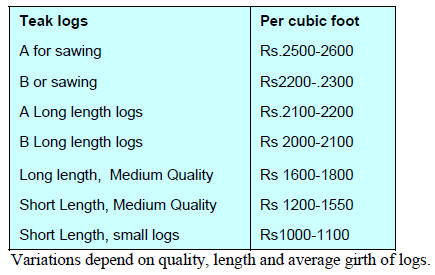 Good quality non-teak hard wood logs, 3 to 4 metres long,
having girths of 91cms & up of haldu (Adina cordifolia),
laurel (Terminalia tomentosa), kalam (Mitragyna
parviflora) and Pterocarpus marsupium attracted prices in
the range of Rs.700-800 per cu.ft. Medium quality logs
were priced from Rs.150-350 per cu.ft.

Buyers at the latest auctions expressed surprise at the high
prices which, say analysts, have been driven up because of
the higher prices for imported and other hardwoods for
which end-users have no ready alternative.

Prices for locally sawn hardwoods
As the US dollar/Rupee exchange rate has been reasonably
stable over past weeks prices for imports have not
changed.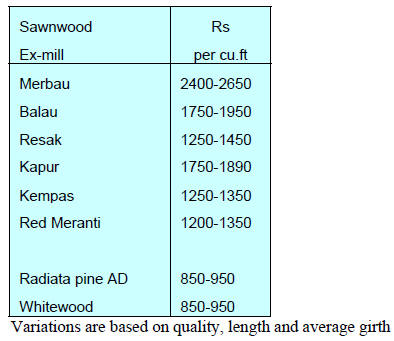 Myanmar teak flitches resawn in India
Ex-mill prices for sawn teak remain unchanged.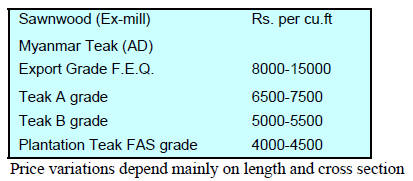 Prices for imported sawnwood
Prices remain unchanged from levels a month ago when
slight adjustments were made reflecting exchange rate
volatility.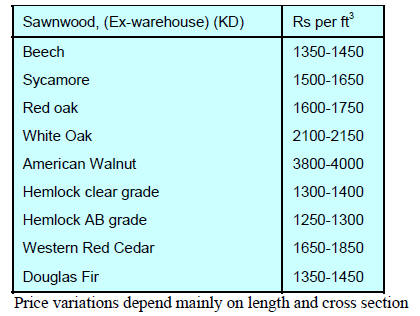 Core veneer supply issues
Supplies of core veneer supplies are in short supply and
the recent rise in methanol and phenol prices have
increased production costs which, if the market could bear
it, would have resulted in panel price increases however,
plywood mills suffer from dull sales and do not have the
opportunity to raise prices as yet.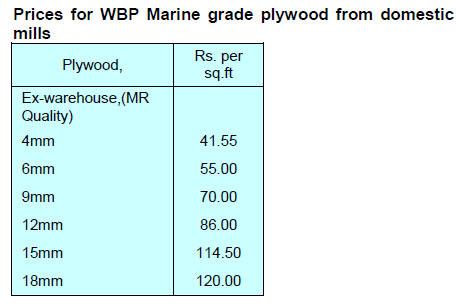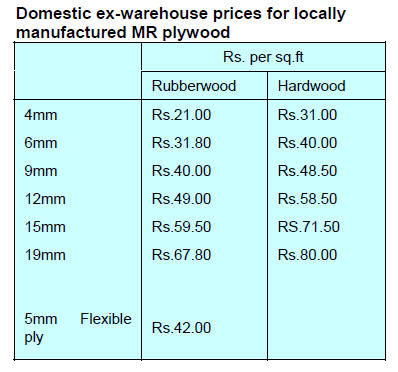 7. BRAZIL
Port of Itaja赤 aims to improve efficiency
The Itaja赤 Port Authority in Santa Catarina State recently
met with the local government officials, APM Terminals
for Latin America (the company that operates the port) and
representatives of ABIMCI (The Brazilian Association of
Mechanically-Processed Timber Industry) to negotiate
improvements in the operations at the port to support
wood product exports.

Several companies, members of ABIMCI, attended the
meeting and presented suggestions for improvement.

Among the suggestions made by the timber private sector
were an expansion of the space available and the need to
attract more shipping opportunities to service shipping
routes to the United States, the Caribbean and northern
Europe.

Other suggestions were for more competitive pricing for
services such as container weighing, container positioning
for inspection, cargo handling, scanner and special
shipping scheduling. If these suggestions were
implemented, says the private sector, then the
competitiveness of timber industries in export markets
would improve.

Digital platform to improve transparency in timber
transactions
A meeting on enhanced &Tropical Timber Traceability*
was recently hosted by the Brazilian Coalition on Climate,
Forests and Agriculture. The main objective was to present
the study &Promoting legality and sustainable practices in
logging and trade of timber from natural forest in Brazil*.

This study includes analysis and distribution of the
tropical timber industry and proposals to eliminate illegal
activities in the sector. The report offers suggestions for
initiatives to promote timber traceability and proposed a
platform called "Legal timber tracking" to promote the
domestic and international trade in legally produced wood
products.

A prototype digital platform for transparency in timber
transactions was presented which would, if
operationalised, make data available to any interested
party.

Another initiative in the report is &Forest Transparency*
which would deliver indicators on forest management. It
was proposed that this monitoring system could be based
on an assessment logged areas from satellite images which
could be crossed checked against concession documents
and approvals.

Capacity building for monitoring tropical forests
Technicians from Bolivia, Colombia and Peru recently
participated in an international tropical forest monitoring
capacity building exercise sponsored by the National
Institute for Space Research (INPE / MCTI).

Capacity building for monitoring forest conditions
activities from satellite imagery is an innovative initiative
developed by INPE in partnership with international
organizations such as the Japan International Cooperation
Agency (JICA), the UN Food and Agriculture
Organization (FAO), the Development Bank of Latin
America (CAF) and the Amazon Cooperation Treaty
Organization (OTCA). Since 2010, INPE has trained more
than 450 technicians from Latin America, Asia and Africa.

Training events were held in Belem, Para State, at the
Amazon Regional Center (CRA) in collaboration with
INPE, whose mission is to become a world reference point
for technologies for monitoring tropical forests.

Participants were told of the ※TerraClass§ project, a
unique system which collects information on forest cover
in the Brazilian Amazon they were also exposed to INPE*s
Forest fire project and the methodologies for mapping and
monitoring forest fires were explained.

Timber industry strengthens cooperation with German
trade
Representatives from ABIMCI recently met with the
German Timber Trade Association (GD Holz) in order to
consolidate the relationship between the two organisations,
to prepare a cooperation agreement, to exchange
information and plan the promotion of Brazilian wood
products in the German market.

During the event, ABIMCI outlined the potential of the
Brazilian timber sector, the availability of certified
products from Brazilian manufacturers and its
commitment to guarantee the legal origin of exported
products with the EU Timber Regulation (EUTR) in mind.

The meeting reviewed the market situation and
opportunities in Germany and determined what products
and in what volumes should be directed to the German
market


﹛
8. PERU
Professionals trained to be forest &regents*
A total of 60 professionals from various regions of the
country, participated in the third Specialization Course for
Regents Forestry and Wildlife organised by the Faculty of
Forestry and Environment of the National University of
Central Peru (UNCP) in collaboration with Foresters
Chapter of the Departmental Council of Jun赤n Engineers
Association of Peru.

The Executive Director of SERFOR, Fabiola Muñoz, said
the concept of &regency* was new to the country and
represents an imaginative and forward thinking approach
to the way forest and wildlife resources are managed.

The so-called regents will be charged with seeing that
management strives towards sustainable management of
the forests and biodiversity.

Control and monitoring forest and wildlife resources
Representatives of seven public institutions and six
regional governments were co-opted into a new National
System for Forest and Wildlife Control and Surveillance
(Instalaci車n de la Mesa del Sistema Nacional de Control y
Vigilancia Forestal y de Fauna Silvestre, SNCVFFS)
which aims to implement strategies to safeguard natural
resources.

See: http://www.serfor.gob.pe/eventos/instalacion-de-la-mesadel-
sistema-nacional-de-control-y-vigilancia-forestal-y-de-faunasilvestre-
sncvffs/

This new monitoring system is in support of the forestry
and wildlife regulations and the professionals involved
will work collaboratively with various public institutions
and maintain the greatest possible transparency.

Cooperation with Asia on forestry and trade
ADINA, Peru*s state owned news agency has reported that
Fabiola Muñoz, the Director of the National Forestry and
Wildlife Service (Serfor) met with a delegation from
China*s State Forestry Administration with the aim of
coordinating bilateral cooperation in the forestry sector.

The meeting discussed ten areas of possible cooperation;
reforestation and protection, sustainable management,
conservation of biodiversity, protection of wetlands,
forests and climate change, forest policies development,
laws and regulations. The meeting also addressed
development and trade of forest and non-wood based
products.

In related news, representatives of Korea*s International
Cooperation Agency (KOICA) have suggested to Peru*s
Ministry of Commerce and Tourism (Ministerio de
Comercio Exterior y Turismo, MINCETUR) that South
Korea could work with Peru*s SMEs to help them prepare
for international trade.

A