2. GHANA
Most overland exports are plywood
According to statistics from the Timber Industry
Development Division (TIDD) of the Forestry
Commission for the first 10 months of 2015, a total of
43,830 cu.m of wood products was exported from Ghana
by road (overland export) to ECOWAS neighbouring
countries.

Plywood accounted for 42,450 cu.m or 97% of total
overland exports. Other wood products exported included
sawnwood and sliced veneer. The table below shows
monthly details of overland exports from Ghana for the
first 10 months of 2015.

Ghana earned Eur15.58 million from overland plywood
exports during the 10 month period in 2015. The main
destinations for Ghana¡¯s overland plywood exports were
Nigeria, Burkina Faso, Togo, Benin, Mali and Niger.
Nigeria has been the leading importing of Ghana¡¯s
plywood accounting for around 90% each month.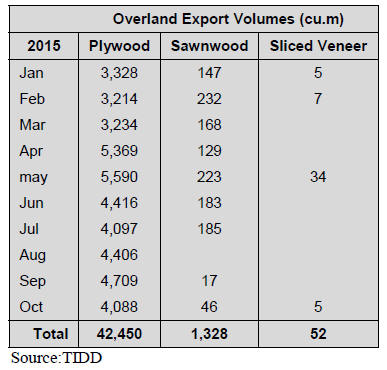 The overland market for sawnwood was mainly in Niger,
Togo and Senegal with Niger absorbing 57% of total first
10 month exports. Togo and Cote d¡¯Ivoire have been the
main market for sliced veneer overland exports.

Popular species in regional markets are Ceiba, Dahoma,
Ofram, Mahogany, Bombax, Makore, Akasa, Esia,
Chenchen and Koto.

Ghana¡¯s overland exports to her neighbours and
ECOWAS countries started as far back as the 1980¡¯s. The
market share of exports from Ghana to ECOWAS
countries is round 14% whereas to Africa as a whole it is
around 20%.

Overland exports were initially to Burkina Faso and Togo
but as the regional integration grew markets expanded.
The trading currency for the regional marketing of
Ghana¡¯s overland wood product exports are priced either
in CFA or US dollars.

Businesses being crippled by high interest rates
and rampant inflation
The Bank of Ghana (BoG) has set the ¡®prime rate ¡¯at 26%
and it is this rate at which commercial banks lend to
businesses.

Naturally, businesses are very unhappy with such a high
rate and the Association of Ghana Industries (AGI) has
said its members find this crippling as it drives up
production costs to uncompetitive levels.

The business community in Ghana is appealing to the new
Governor for the BoG, Dr. Abdul Nasiru Issahaku, for a
revision of interest rates for the survival of the
manufacturing industries.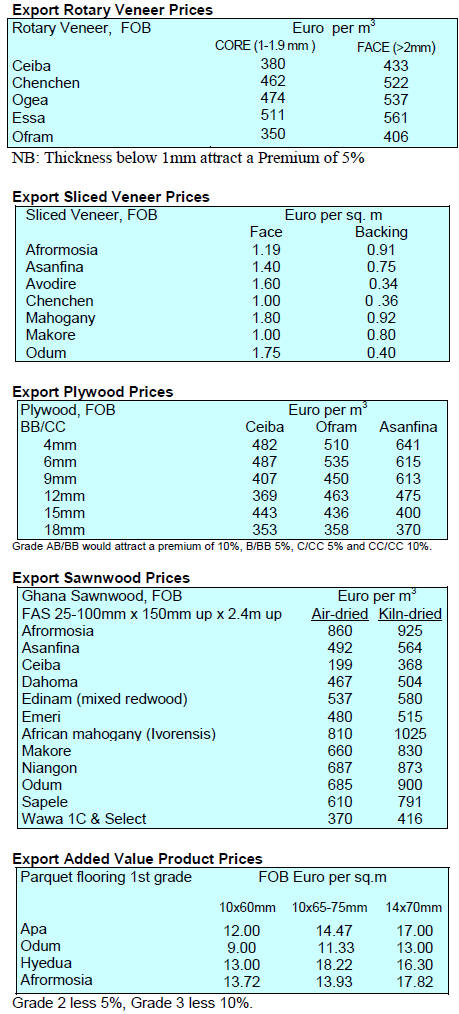 3. MALAYSIA
Acute labour shortage in furniture sector
Malaysia¡¯s furniture industry risks losing international
market share as output is falling due to an acute labour
shortage.

Eric Lee, president of the Kuala Lumpur and Selangor
Furniture Entrepreneur Association has warned that
Malaysian exporters risked losing international market
share to shippers in Vietnam and Indonesia.
Malaysian made furniture has a ready market in the United
States, Japan and Europe. In these markets competition is
fierce and if orders are not delivered on time exporters
face penalties.

Lee is urging the Government to reconsider the ban on
hiring workers from overseas. In February this year the
Government suspended recruitment of all foreign workers
after Malaysians complained foreign workers were taking
jobs away from nationals.

However, in response to these complaints, Lee claimed
that many furniture manufacturers have permanent job
advertisements but Malaysians do not apply for the post
available.

MTC to lead group to woodworking machinery
supplies and accessories fairs
A press release from the Malaysian Timber Council
(MTC) announced that, from 29 May to 4 June, it will lead
a group of industrialists to two woodworking machinery
supplies and accessories fairs in China: WMF 2016
(Woodworking Machinery and Furniture Manufacturing
Equipment Fair) and WMA the International Exhibition on
Woodworking Machinery Supplies and Accessories.

The mission¡¯s objective is to promote technological
advancement in the Malaysian timber industry towards
improved efficiency in wood processing and higher quality
products and to promote product development and product
diversification.

In addition the mission will focus on manufacturing
solutions that assist woodworking and furniture enterprises
in achieving sustainable, energy-efficient and fully
digitalised production. Besides aiming to expose
participants to the latest technology and product trends in
the woodworking industry the mission is also meant to
offer insights into diversifying the raw material supply
base particularly from China.

For more see:
http://mtc.com.my/wp-content/uploads/2016/04/Press-Release-
MTC-TA-RBM-to-China.pdf

Malaysia and EU to resume for a FTA talks
In May this year Malaysia and the EU will resume
negotiations for a Free Trade Agreement. The first round
of discussions began some time ago but were suspended to
free up Malaysian negotiators involved in Trans Pacific
Partnership (TPP) talks. The EU is the second largest
investor in Malaysia and Malaysia¡¯s third largest trading
partner.

In welcoming the resumption of talks with the EU,
Rebecca Fatima Sta. Maria, Secretary-General in the
Ministry of International Trade and Industry, said
Malaysian negotiators now have more experience in
negotiating as a result of participating in TPP meetings. In
advance of talks with the EU Fatima said the government
will be seeking opinions of civil society groups.

Sarawak joint venture to produce pellets for South
Korea
A new company has started operations in Sarawak to
supply wood pellets in support of South Korea¡¯s
renewable energy drive. Green Pellet Sarawak (GPS) is a
joint venture company between the Sarawak Timber
Industry Development Corporation, Cellmark AB of
Sweden and local investors.

GPS is set to become one of the largest wood pellet plants
in S.E Asia. The new pellet plant has been built in Bintulu
and produces pellets from mill residues. This plant has
been welcomed as it supports the State government plans
for environmentally sound utilisation of wood residues.

Plywood prices
Plywood Traders in Sarawak reported the following export
prices: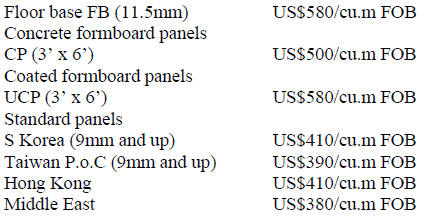 4. INDONESIA
First ever FLEGT licensing scheme
Indonesian President Joko Widodo, European Commission
President Jean-Claude Juncker, and European Council
President Donald Tusk have agreed to move swiftly
towards reducing illegal logging and promoting trade in
legally produced timber between the EU and Indonesia
through the start of the first-ever Forest Law Enforcement,
Governance and Trade (FLEGT) licensing scheme.

This comes as all parties agreed that Indonesia is fully
ready to implement the Indonesia-EU Voluntary
Partnership Agreement (VPA). The two Parties are now in
a position to move swiftly towards a fully operational
licensing system making Indonesia the first country to
pass this final hurdle. Indonesia has been negotiating the
VPA with the EU for over a decade and the agreement in
Brussels means is the final step in this long process.

Indonesia is not alone in partnering with the EU to address
illegal logging. Many other countries are negotiating
VPAs with the EU. Together these countries account for
about 80% of the tropical timber traded to the EU.

For more see:
http://www.flegt.org/flegt-newera?
utm_source=Apsis%20newsletter&utm_medium=email
and
http://ec.europa.eu/environment/pdf/21_04_2016_en.pdf
Use infrastructure budget to maximum benefit
Sofyan Djalil, Minister of National Development Planning
as well as Head of the National Development Planning
Agency (Bappenas), has said poor planning of
infrastructure developments are holding back growth.

The problem, according to the Minister, is inadequate
coordination between ministries, government agencies, the
central government and regional governments.

Approximately US$25 billion was approved in the 2016
national budget for infrastructure development, around
15% of all public spending and an increase on the
allocation in 2015. The rise in spending on infrastructure
was made possible by savings when fuel subsidies were
cut.

To improve the impact of infrastructure spending starting
in 2017 the central government will more closely monitor
whether beneficiaries of the budget have well designed
infrastructure integrated in development aims; those that
do not will not receive funding.

In 2017 the central government will require the
submission of infrastructure spending plans for assessment
and approval.

For more see:
http://www.indonesia-investments.com/finance/financialcolumns/
non-optimal-public-spending-on-infrastructuredevelopment-
in-indonesia/item6742

Splendour of Minangkabau ¨C INACRAFT theme
At the opening ceremony of the Jakarta International
Handicraft Trade Fair (INACRAFT), Indonesian
Handicraft Exporters and Producers Association
(ASEPHI) Secretary-General Sugiarto, said Trade
Ministry data, shows his sector contributed a relatively
large portion of export earnings from the non-oil/gas
industries.

Indonesian handicraft exports were worth over US$700
million in 2015. For the first two months of this year
handicraft exports amounted to US$114 million, up 3.7%
year on year. The 18th INACRAFT exhibition was
themed ¡°The Splendour of Minangkabau¡± and promoted
the rich cultural heritage of West Sumatra.

INACRAFT 2016 was organized by the Association of
Exporters and Producers of Indonesian Handicraft
(ASEPHI) in cooperation with PT. Mediatama Binakreasi .

Lowering the cost of living
The government has decided to lower fuel prices and
public transportation fares to bring down the cost of living.

Bank Indonesia Economy and Monetary Policy Executive
Director, Juda Agung, has indicated that the Bank
forecasts deflation of around 0.3 percent as a result of the
roughly 4% reduction in fuel prices and a 3% drop in
transportation fares.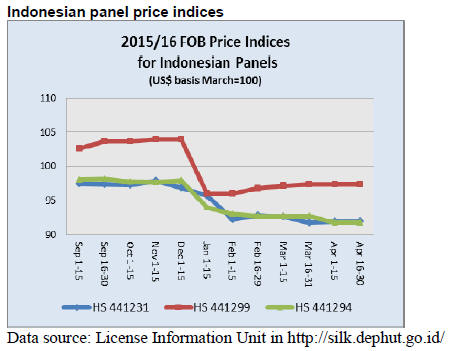 5. MYANMAR
Harvesting ban proposed by Forestry Department
The Director General of the Forestry Department has
submitted a proposal to the new government advising a
halt to log harvesting. While there is no official
announcement as yet a senior official of the Myanma
Timber Enterprise (MTE) has been quoted as saying that
his organisation intends to end its logging operations from
the end of this fiscal year.

The plan submitted by the Forestry Department proposes
the ban in 68 Districts. Prior to 2014 the annual log
harvest was over 1 million tons but in 2014 this was
reduced to around 60,000 tons of teak and 670,000 tons of
other hardwood in.

The proposal from Forestry has been welcomed by the
chairman of the NGO Forest Resource Environment
Development and Conservation Association (FREDA)
who was quoted in the local press as urging a halt to both
teak and hardwood harvesting.

The private sector in Myanmar was shocked by this
proposal. Domestic log stocks have been estimated at
around 200,000 tons of teak logs and 500,000 tons of other
hardwoods. These stocks are in the hands of just a few
millers and analysts estimate this volume could meet
domestic demand for about two years.

Analysts say most of the private sector are not opposed to
the halt to logging to allow for conservation measures to
be implemented but would prefer a phased approach
allowing time to adjust production and the workforce. A
harvesting ban will have a severe impact on employment
in the sector.

It is becoming apparent that the Forestry Department is
taking control of decisions on harvests once the
prerogative of the MTE. A harvest moratorium would
severely affect the income of the MTE and could result in
a restructuring of the organisation.
Focus on income undermined resource management
The Center for People and Forests (RECOFTC) and The
Nature Conservancy has released details of their
assessment of the reasons for the massive loss of forest
cover in the country.

The report cites Myanmar¡¯s political and economic
isolation as a factor which it said led to weak natural
resource management. A focus on revenue generation
without taking account of productive capacity was cited as
another reason for the extent of deforestation.

U Barber Cho, the consultant for the latest assessment said
¡°Overharvesting and weak forest governance, agricultural
expansion and shifting cultivation, forest conversion to
plantation and infrastructure development were drivers of
deforestation,¡±

The assessment provides an overview of the forestry
sector in Myanmar and is aimed at helping the forestry
sector develop in a sustainable manner. A wide range of
problems were identified including ambiguity and
contradictions in the legal framework and weak
monitoring by government agencies.

In related news, three organization, ALARM of Myanmar,
the Smithsonian Institute and the American Museum of
National History jointly issued findings on deforestation in
Myanmar.

The three say Myanmar lost about 1.5 million ha. of forest
over the past 12 years with Kachin State and Sagging
Region experiencing the most severe deforestation. The
report also points out that due to species-based harvesting
overall forest values have also declined. Harvesting in
Myanmar focuses on teak, pyinkado, padauk, tamalan and
inn-kanyin because of the strong international demand.

See:
http://geonode.themimu.info/layers/geonode%3Amyanmar_fores
tcoverchange
and
http://www.mmtimes.com/index.php/nationalnews/
yangon/19898-report-lays-bare-forestry-sector-s-ills.html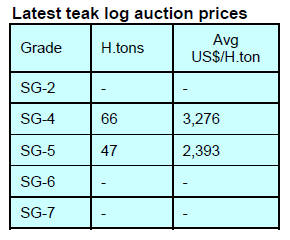 6. INDIA
Inflation rate trends down
The Office of the Economic Adviser (OEA) to the Indian
government provides trends in the Wholesale Price Index
(WPI).

The official Wholesale Price Index for all commodities
(Base: 2004-05 = 100) for March rose slightly to to 174.6
from 174.0 in February. The year on year annual rate of
inflation, based on monthly WPI, stood at -0.85
(provisional) in March 2016 compared to -0.91% in
February. Year to March inflation was -2.33%.

For more see: http://eaindustry.nic.in/cmonthly.pdf

Timber and plywood price indices climb
The OEA also reports Wholesale Price Indices for a
variety of wood products. The Wholesale Price Indices for
Wood products and Plywood are shown below.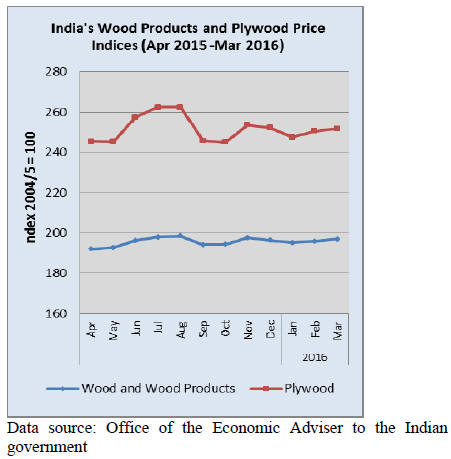 IKEA seeks massive expansion of retailing in India
News is circulating that furniture retailer IKEA is planning
a dedicated, custom designed retail outlet in the Borivali
suburb of Mumbai.

The proposed 30,000 sq. metre outlet, if completed, will
be the largest single brand furniture store in the country.
IKEA is said to also be looking for suitable sites in Delhi,
Maharashtra and Karnataka. IKEA was an early entrant
into the Indian market following India¡¯s decision to allow
100% foreign direct investments in retailing.

New MDF plants to be built
In a media release Century Plyboards (India) Ltd has
announced plans to build its first MDF plants in
Hoshiarpur, Punjab which will require an investment in
the region of Rs.4.5 billion.
In addition to the MDF production facilities, Century
Plyboards will further develop its plywood and blockboard
capacity and aims to achieve a production capacity of
around 17,000 cubic metres.

Analysts suggest that behind the diversification into
reconstituted panels, which can be manufactured from a
wide range of fibres, is growing concern about the
availability and cost of imported logs currently used for
plywood manufacture.

For more see:
http://www.indiainfoline.com/article/news-top-story/centuryplyboards-
plans-to-build-rs-440-cr-mdf-unit-in-punjab-centuryplyboards-
stock-price-116041600040_1.html

Plywood
Prices for domestically manufactured plywood remain
stable after the recent price rises.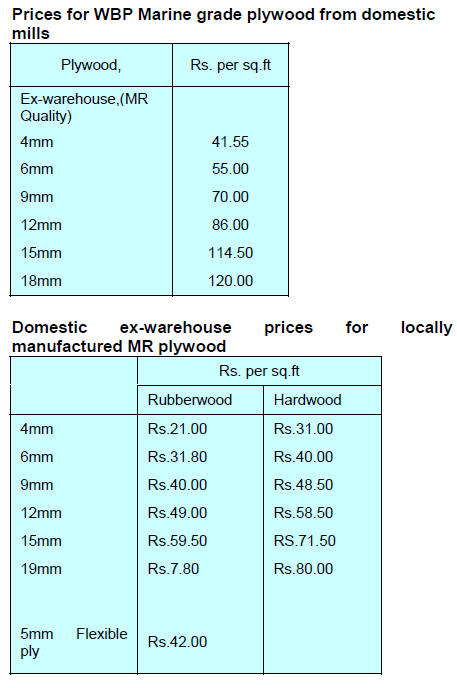 Imported plantation teak prices
Prices for imported plantation teak remain as previously
reported.

Prices for locally sawn hardwoods
Ex-mill prices for sawnwood milled from imported logs
have moved higher reflecting a combination of rising
demand and moves by millers to adjust prices to reflect
exchange rate movements.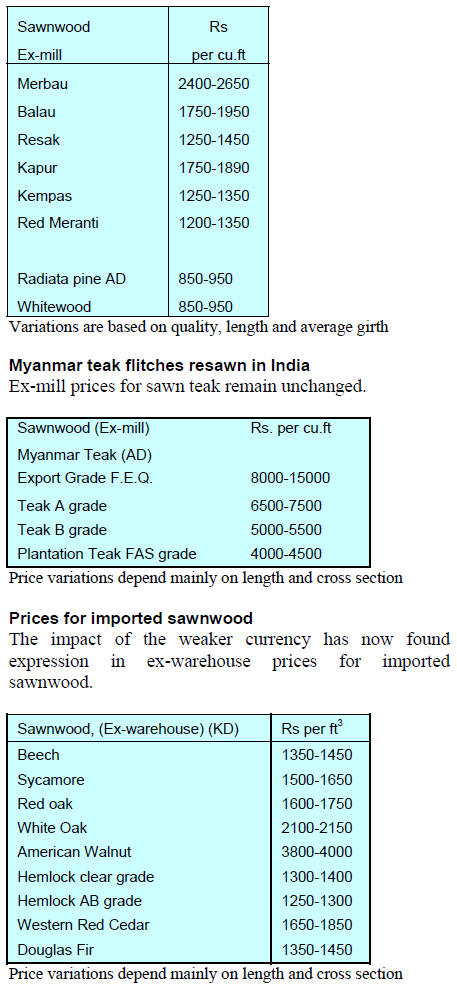 7. BRAZIL
March export performance
March 2016 exports of wood-based products (except pulp
and paper) declined 15% in value compared to March
2015, from US$282.3 million to US$239.6 million.

The value of March 2016 pine sawnwood exports
increased a massive 30% year on year from US$25.4
million toUS$33.1 million. There was a corresponding
increase in the volume of exports (108,300 cu.m to
171,900 cu.m) however, average export prices were down
in March.

Tropical sawnwood exports increased 16% in volume,
from 31,100 cu.m in March 2015 to 36,100 cu.m in March
this year but there was only a 1.2% increase in export
earnings (US$16.5 million to US$16.7 million).

March 2016 pine plywood exports fell 22% year on year
from US$46.8 million to US$36.5 million but, at the same
time, the volume of exports increased 12%, from 127,400
cu.m to 142,600 cu.m.

Brazil¡¯s March tropical plywood exports increased 19% in
volume, from 9,500 cu.m in March 2015 to 11,300 cu.m in
March this year but export earnings fell 4.3%.

To wrap up the depressing story on March exports, the
value of wooden furniture exports dropped 18.5% from
US$46 million in March last year to US$37.5 million in
March this year.

Wood waste to hardwood flooring
The Union of Timber Industries of Mid-North Region of
Mato Grosso (SINDINORTE) is urging millers in the
region to process short length sawnwood, considered
waste by many companies, into flooring for the domestic
and international markets.

SINDINORTE says processing short length sawnwood
into flooring could be a business opportunity for the
timber sector in the state. Companies in Mato Grosso
which have large stocks of short length sawnwood boards
which are difficult to sell are being encouraged to
negotiate a sale with a wood flooring company in Paran¨¢
state which has problems finding raw material.

Hardwood flooring is sold in the domestic and foreign
market. International markets prefer species such as jatoba
(Hymenaea courbaril) and sucupira (Pterodon
emarginatus) while the domestic market favours cumaru,
red jatoba, garapeira, sucupira and ipe.

CE Marking for MDF
ABIMCI (Brazilian Association of Mechanically-
Processed Timber Industry) has expanded the scope of its
CE certification scheme to certify companies that are
seeking to export MDF panels to markets in Europe. The
ABIMCI programme is recognised by the certification
body BM TRADA and meets the requirements of
European countries.

MDF manufacturers now have an opportunity to apply for
Brazil¡¯s national Wood Quality Programme (PNQM) the
first step to secure CE certification.

CE Marking is a product certification process of advantage
to exporters of wood products to European markets and
PNQM is a production process certification developed by
ABIMCI. In the absence of CE certification wood
products will not be accepted in any EU member state.
Domestic industry discusses export prospects
Representatives from furniture manufacturers and the
timber industry participated in the annual meeting of the
Union of Timber Industry and Furniture of Vale do
Uruguay (SIMOVALE). The meeting brought together 80
companies associated or affiliated to the Union. The main
topic of discussion was market forecast for 2016.

2015 was a difficult year for the furniture sector and many
companies saw sales stagnate, investment decline and the
work force reduced. While the weaker Real helped export
pricing this advantage was lost due to the rising costs of
raw materials and power.

For 2016 forecasts remain bleak with the consensus being
that the timber sector will experience unstable production
and trading conditions. On the domestic front the uncertain
political situation is adding to the risks in the sector. There
is a general feeling of insecurity and a lack of confidence
which is holding back investment and the industry is
concentrating on cutting costs and minimizing spending.

MMA creates group to combat illegal logging
The Ministry of the Environment (MMA) has created a
working group for the implementation of a Zero Illegal
Deforestation target as discussed during the Climate
Change Conference ¨C UNFCC/COP21. The group will
consist of representatives of the Secretariat of Climate
Change and Environmental Quality, the main coordinator;
the Brazilian Forest Service (SFB); and the Brazilian
Institute for Environment and Renewable Natural
Resources (IBAMA).

The main objective of the MMA is to expand mutual
cooperation between the federal government, states and
municipalities to promote actions to encourage the
compliance with the regulation of the Rural Environmental
Registry (CAR), to review the action plans for
deforestation prevention and control and integrate
licensing processes database. The overall objective is to
tackle illegal logging, combat climate change and promote
sustainable development in the Brazilian Amazon.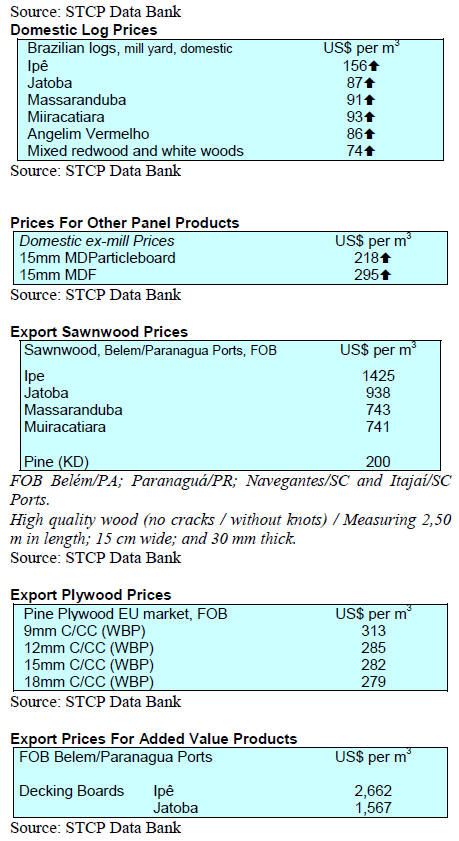 8. PERU
Verified legal wooden school furniture
After recommendations made by the National Forest and
Wildlife Service (SERFOR), GTZ Peru and WWF Peru
the National Educational Infrastructure Programme has
invited tenders for the supply of wooden furniture
indicating that preference will be given to manufacturers
offering products with a verified high proportion legally
sourced timber.

The Ministry of Education has a ¡®forest plan¡¯ that seeks to
improve the quality of education in public schools in the
Amazon at the same time broadening the educational base
to address illegal forest activities. The procurement of
verified legal wooden furniture is just one phase of the
programme.

The tender, published on 20 April provides for an
evaluation depending on the percentage of wood used that
comes from well-managed forests.
The tender does not exclude companies that meet the
requirements of the forest authority, but promotes those
that demonstrate practices in responsible forest
management.

Peru adds 26,000 new hectares of well-managed
forests
In March this year Inversiones Valentina and Nathaly
SAC (V&N-SAC) received Rainforest Alliance FSC
Certification Controlled Wood Forest Management
(Controlled Wood) for its 26,102 ha. management area in
the Native Community San Luis de Charasman¨¢ located in
Contamana Province, Ucayali. Analysts report this is the
first FSC controlled wood certification for a native
community in Peru.
.
The company V & N SAC received technical support from
GTZ on three key issues: traceability, delineation of the
area, attributes of its conservation value and the
strengthening of community-company relationships.

Indigenous groups formulate forest zoning guide
With the participation of organisations representing
indigenous people in Peru and the National Forest Service
and Wildlife (SERFOR) a recent workshop formulated a
guide for forest zoning aimed at improving management.

The indigenous organisations that participated were the
Interethnic Association for the Development of the
Peruvian Rainforest (AIDESEP), the Peasant
Confederation of Peru (CCP), the National Agrarian
Confederation of Peru (CNA), the National Federation of
Peasant Women, Artesanas, Indigenous, Native and
Salaried of Peru (FENMUCARINAP), the Confederation
of Amazonian Nationalities of Peru (CONAP), National
Organization of Indigenous Women of the Andean and
Amazonian Peru (ONAMIAP) and the National Union of
Aymara Communities (UNCA).

The participants noted that the guidelines can be used to
identify the best uses of forest lands providing for better
organisation and protection of the area. They also
expressed their commitment to the Forestry and Wildlife
law.

Two new working groups on stemming illegal logging
The Permanent Multi-sectoral Commission to Combat
Illegal Logging has created two new working groups in
order to strengthen actions against illegal logging and
articulate the work of the member institutions.

This was revealed by the High Commissioner on Affairs to
Combat Illegal Logging and chairman of the commission,
C¨¦sar Fourment Paredes, who reported that the working
groups are known as "the foreign policy bilateral border"
and "implementation of national forest information system
and wildlife" groups.

The first group is coordinated by the Ministry of Foreign
Affairs, while the second is under the National Forest and
Wildlife Service.

A