US Dollar Exchange Rates of 10th April 2016
China Yuan 6.4673
Report from China
PMI for large enterprises rises above 50
According to China¡¯s National Bureau of Statistics in
March this year the Manufacturing Purchasing Managers
Index (PMI) was 50.2, up from a month earlier and just
making it back into the expansion range (i.e. over 50).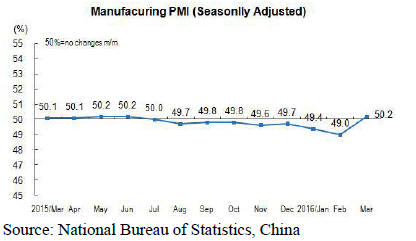 The PMI of large-sized enterprises was 51.5, an increase
of 1.6 points month-on-month and was above the negative
threshold. That of medium-sized enterprises was 49.1,
slightly better than a month earlier but still in negative
territory. A similar pattern was recorded for small sized
enterprises.

For the large enterprises, amongst the five sub-indices
comprising the PMI, the production index, new orders
index, supplier delivery time index were higher than the
threshold. However, the employed person and main raw
materials inventory indices were lower.

Review of China¡¯s forest industry output
The total value of China¡¯s forest industry output has been
increasing and the structure and size of the sector changed
during Twelfth Five Year Plan period.

The total output value of China¡¯s forest industry grew to
RMB5.81 trillion in 2015 from RMB2.28 trillion in 2010
representing an annual growth of over 20%. It is forecast
that the total value of China¡¯s forestry industry output will
exceed RMB9 trillion by 2020.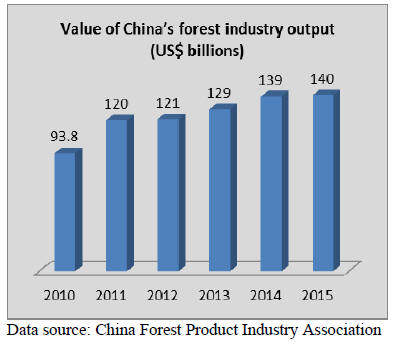 In the period of the 12th 5 year plan the structure of the
primary, secondary and tertiary forest industry sectors
changed from a ratio of 39:52:9 in 2010 to 33:51:16 in
2015. In 2015 it is estimated that over 52 million of
employees were depending on the forestry sector for work.

The value of China¡¯s wood products trade has increased to
US$140 billion in 2015 from US$93.8 billion in 2010.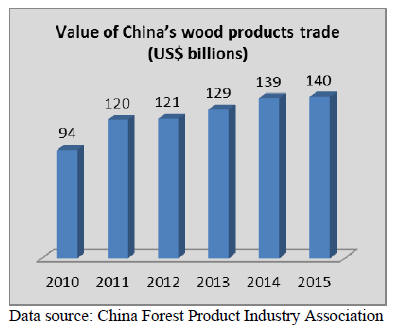 The government has prepared plans to upgrade the
country¡¯s wood products industry. Enterprises will be
encouraged to accelerate transformation to added value
production, to upgrade machinery and equipment and
adopt high-tech, environmentally sound practices.

Production of wood-based panel
There are over 10,000 wood-based panel enterprises in
China with over 3 million employees. The average output
of these wood-based panel industries exceeded 25,000
cubic metres and the annual growth in output was around
16%.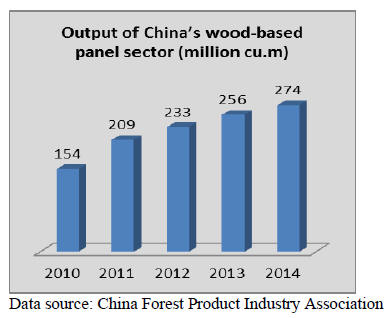 Production of furniture in 2015
According to the China Furniture Association, the value of
China¡¯s furniture output increased 0.4% year on year and
the 2015 income generated by the main enterprises rose
9% with a corresponding rise in profitability (+14%).

In 2015 the value of China¡¯s furniture exports rose 2%
year on year to US$54.28 billion and there was an 11%
decline in furniture imports.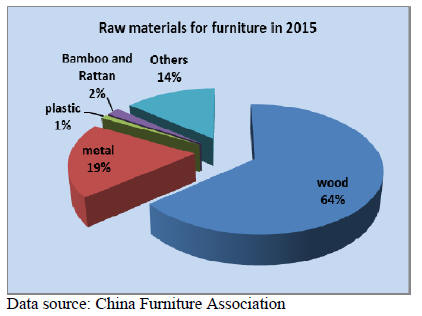 According to Chinese analysts, bamboo and rattan
furniture will play greater role in the development of the
furniture industries in China. These raw materials are
easier to source than timber and they are fast growing,
they mature early and generate high yields of a raw
material that is easy to process.

Features of China¡¯s furniture industry in 2015
Listed Chinese furniture companies performed well in
2015. They have significantly improved corporate
behavior and have developed to such a level that they can
secure development finance from the established financial
sector. The expansion of on-line sales as a new business
platform is transforming the wholesale and retail furniture
sector.

Outstanding achievements had been made in the
development of custom-made furniture. Homekoo, a
custom-tailor furniture enterprise, was featured as one of
China¡¯s most innovative companies by an American
magazine. Homekoo is a model of integrated operations.

Another recent feature of the domestic furniture industry is
the growth in across-industry cooperation aimed at brand
establishment. Furniture enterprises have worked with
household appliances, audio equipment, electronic
equipment enterprises to achieve cross-industry
cooperation and provide one-stop supporting services and
meet the needs of consumers.

Furniture stores have provided consumers with supporting
services such as home decoration design, interior
furnishing, furniture, bathroom, electrical appliances,
furnishings. The integration of cross-industry resources
had been achieved.

China/Sweden cooperation on wood preservation
Recently, cooperation has been strengthened between the
China Wood Protection Industry Association, Sweden¡¯s
Wood Preserving Association and the Nordic Timber
Anti-corrosion Committee. The output of China¡¯s wood
preservation sector in 2015 was 3.5 million cubic metres.

China has steadily improved wood preservation research,
standards, quality testing and technical training but
problems still exist in the quality control.

This cooperation could promote bilateral exchange and
cooperation of benefit to the wood preservation industry.

Wood products from Finland
Finnish wood products began to enter China in 2000 and
stimulated development of China¡¯s wood preservation
industry.

Recently a ¡®Wood from Finland¡¯ project was initiated as
part of the Finnish national bio-economic growth plan.
Under the project Finnish timber enterprises will have the
opportunity to explore China¡¯s production and market and
to establish business relationships with China¡¯s timber
traders and wood processing enterprises.

The total value of wood product imports from Finland in
2015 was US$949 million just 1.5% of national imports.
Sawnwood imports from Finland (94% of all finnish
imports) amounted to 570,000 cubic metres valued at
US$148 million, up 44% in volume and 32% in value year
on year.

Plywood imports from Finland were 60,000 cubic metres
valued at US$23 million and wood pulp imports amounted
to 960,000 tonnes valued at US$649 million.