Japan Wood Products Prices
Dollar Exchange Rates of 10th April 2016
Japan Yen 108.60
Reports From Japan
Business confidence slips in face of uncertainty in
global markets
The Bank of Japan's (BoJ) quarterly survey of business
sentiment at large sized enterprises fell sharply in the first
quarter of 2016 compared to the final quarter of 2015. The
first quarter index on sentiment amongst the large firms
was the lowest since 2013. In its report the BoJ says the
outlook by large companies was for a further fall in
confidence.

Weakness in the manufacturing sector raises the likelihood
of the BoJ further easing monetary policy, it also
underlines the fact that the adoption of negative interest
rates has not yet revived business sentiment.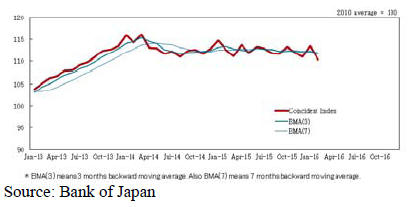 Consumer confidence rebounds confounding
observers
In its report on March consumer confidence the Cabinet
Office says overall sentiment rose after dropping for the
two previous quarters. This upswing came as a surprise to
most analysts.

The overall Livelihood Index improved in March from a
quarter earlier as did expectations for Income Growth
which came in at 40.6 versus 39.8 in February. The
Willingness to Buy Durable Goods index also improved
but all indices are below the threshold indicating
continued pessimism.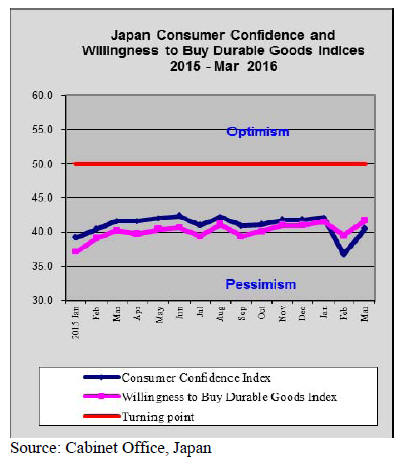 As anticipated, yen continues to strengthen
The yen has surged against the US dollar over the past
month rising to the highest level since 2014. The
strengthening of the yen has become a major challenge for
the BoJ which has, over the past 12 months, done all it
could to keep the yen at around 115 to the dollar.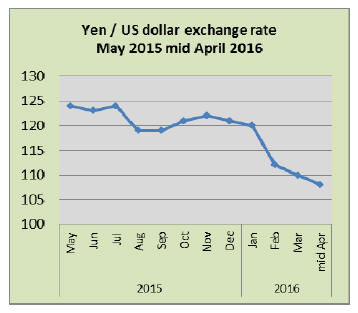 The Japanese currency has gained about 11% against the
US dollar in just 3 months and the government is
concerned that if the yen continues to strengthen the
competitiveness of Japanese exports will be undermined.

OECD 'Territorial Review of Japan'
In early April the Secretary-General of the OECD was in
Japan to launch the OECD's Territorial Review of Japan.
This report offers an insightful review of the challenges
and opportunities for the Japanese economy.

In a press release the OECD reports "Japan's future
prosperity depends on its ability to tackle two substantial
and intertwined challenges: the first is demographic
change, and the second relates to productivity.
With the labour force shrinking as a share of the total
population, output per worker will have to rise even faster
if per capita incomes are to increase. This will require
efforts to stimulate innovation and entrepreneurship and to
strengthen the international integration of the Japanese
economy.

Over the last decade, productivity performance has
improved relative to other OECD economies, but this has
been insufficient to offset the impact of demographic
change. Japan's income per capita fell due to a number of
factors, but primarily it has been driven by a demographic
effect – the decline in the working-age share of the
population.

The share of 15-64 year olds in the total population, which
peaked at almost 70% in the early 1990s, is now about
61% and is projected to fall to around 51% at mid-century.
A rapidly shrinking labour force and a rapidly rising
dependency ratio imply that even productivity growth of
2% or more will deliver very low aggregate or per capita
growth."

For more see:
http://www.oecd.org/about/secretary-general/launch-of-the-2016-
oecd-territorial-review-of-japan.htm
and
http://www.oecd.org/regional/regional-policy/Japan-Policy-
Highlights.pdf

Land prices in major cities surge
Every March results of the land price survey by the
Ministry of land, Infrastructure and Transport are released.
The most recent report says nationwide land prices in
Japan have risen for the first time in eight years.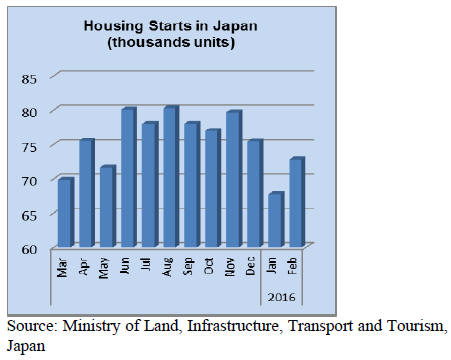 The main driver of this change was the steep rise in
investments especially for accommodation for overseas
tourists. Naturally, the biggest increases in land prices
were in Tokyo and the other major cities.

In early 2016 the Bank of Japan pushed down interest
rates and this has encouraged speculative real estate
purchases. In contrast, land prices fell in most rural areas.
Overall, the report indicates that the average price of land
nationwide rose by a mere 0.1% as the steep rise in urban
prices was pulled down by an equally sharp drop in rural
land prices.

Japan's furniture imports
The value of Japan's imports of wooden office, kitchen
and bedroom furniture dipped in the first half of the 2015
and then revesed direction (see graphic below).

From mid 2015 the yen value of bedroom furniture
imports steadily increased and, while not so robust,
imports of kitchen furniture edged up. Japan's imports of
office furniture move in a narow band and 2015 saw a
steady decline in the value of imports until mid year when
a sligt up-tick was observed.

While data for January and February furniture imports are
available it is difficult to detemine any trend as imports
during this period were affected by the New Year holidays
and a genearl slowing in house building because of the
winter weather.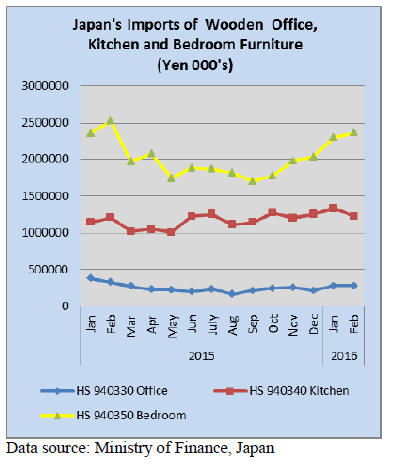 Office furniture imports (HS 940330)
Compared to January, the level of imports of office
furniture in February this year was flat. China remains as
the main supplier of office furniture to Japan accounting
for just over half of all wooden office furniture imports.

European suppliers capture a reasonable share of Japan's
office furniture imports with Poland and Portugal being
the second and third ranked supplier to Japan.

Year on year February 2016 office furniture imports were
down 14% but the level of imports in February 2015 was
exceptionally high. Only when March statistics become
available will it be possible to discern any trend.

Kitchen furniture imports
The top four suppliers of kitchen furniture to Japan
accounted for 92% of February 2016 imports. Vietnam
alone accounted for 39% followed by the Philippines
22.5%, China 20% and Indonesia 11%.

Year on year February 2016 imports of kitchen furniture
were up slightly but compared to levels in January this
year an 8% decline was observed. Of the four main
suppliers in February Vietnam posted a 14% drop, imports
from the Philippines were flat as they were from Indonesia
and suppliers in China posted gains in February.

Bedroom furniture imports (HS 940350)
Japan's imports of bedroom furniture continue to trend
higher. Since September 2015 when the turn-around in
imports became apparent until February this year Japan's
bedroom furniture imports have risen 39%.

The top three suppliers of bedroom furniture in February
this year accounted for over 90% of all Japan's wooden
bedroom furniture imports.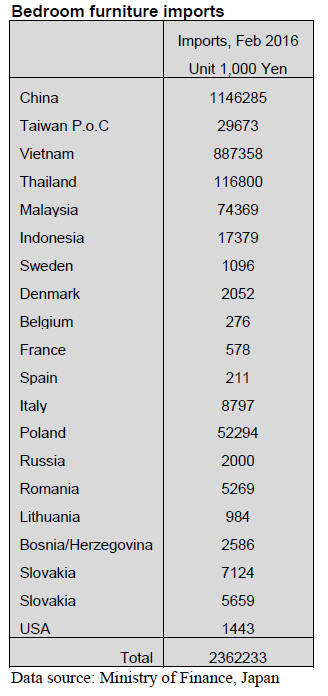 China is the main supplier at 48.5% but saw the value of
shipments to Japan drop about 15%. Vietnam, the second
ranked supplier to Japan posted a 32% gain in February
shipment compared to a month earlier.
The third ranked supplier Thailand saw February
shipments to Japan sky-rocket by around 60%. However
Thailand only accounted for around 5% of Japan's
February wooden bedroom furniture imports.

Trade news from the Japan Lumber Reports (JLR)
For the JLR report please see:
http://www.nmokuzai.
com/modules/general/index.php?id=7

Wood demand projection for 2016
The Forestry Agency held the meeting for wood demand
projection for the first three quarter of 2016 by items and
by source. Presupposition is the consumption tax increase
would come in 2017.

According to the projection, logs, plywood and laminated
lumber would increase compared to 2015 but imported
lumber would decrease for the second and third quarter in
2016. Projection on North American logs, European
lumber, radiate pine logs and lumber from New Zealand
and Chile, imported plywood for the first half of 2016 was
revised downward from former projection made in
December last year.

Domestic logs for lumber manufacturing are expected to
increase quarter by quarter this year. For 0lywood
manufacturing, total year demand would be lower than
2015.

Total log import in 2016 from North America, South Sea,
Russia and New Zealand would increase after two years
since the first quarter of 2014.

On imported lumber, because of low operations of
precutting plants, the importers are cautious for future
purchase. Lumber from North American would decline for
the first half then climb some in the second half.

On European lumber, because of production curtailment
due to log supply tightness by major sawmills, the volume
would decline for the second and third quarter.

On radiata pine logs and lumber from New Zealand and
Chile, which is mainly used for crating lumber, by slow
demand and excessive inventories, import for the first half
would be less than 2015.

Domestic softwood plywood demand would continue
expanding for both housing and general construction so
the increase would continue through 2016.Imported
plywood would decrease in the first quarter then by active
demand for concrete forming panel and floor base, it
would increase later. Structural laminated lumber demand
would increase in every quarter but oversupply is
forecasted for the third quarter.

Forecast of housing starts by 13 think tanks average for
2015 is 909,000 units and for 2016 is 928,000 units.

Import of South Sea (tropical) logs in 2015
Import of tropical hardwood logs in 2015 was 248,100
cbms, 7.4% less than 2014. This is the lowest record ever.
Log supply from Sarawak, Malaysia considerably
decreased and the volume from Sarawak is less than
Sabah, Malaysia.

Sarawak supplied of more than six million cbms at peak
time of early 1990 then it has been declining year after
year and now it is only 89,000 cbms. In tropical hardwood
logs, 243,300 cbms came from South Sea countries then
4,800 cbms came from Africa. In South Sea sources,
Sarawak declined then Sabah increased. Other sources like
PNG and Solomon Islands increased and covered shortfall
of Sarawak.

In Malaysia, log supply is stable in Sabah while Sarawak
supply is largely affected by new regulations on illegal
harvest.

Also, India's presence is large factor in Sarawak. India
buys about 65% of Sarawak logs. India was tired of Sky
rocketing Sarawak log price and went to PNG and
Solomon Islands then Sarawak supply sources got bearish
instantly. India has not come to Sabah yet so that the
export log prices are stable in Sabah while Sarawak
market depends on India's purchase. For Japan, Sabah
supply can supplement Sarawak's unstable supply.

Plywood
Busy demand for domestic softwood plywood up until last
February settled down for a time being in March but the
manufacturers ' inventories of structural panels are very
low at about 100,000 cbms, 0.4-0.5 months.

Some mills run on one week inventories so they are not
able to accept orders from wholesalers. Thus, the
shipments from the manufacturers are slowing but they
ship out what they produce.

Despite slow housing season in winter, orders from large
builders, which put up units built for sale, are increasing,
which keeps precutting plants busy.

With this firm demand, plywood mills reduced production
of non-structural panels in February and March to catch up
delayed orders of special length and tongue and groove
panels.

The marketers are worried about what would happen when
the demand increase sharply like last year with this low
inventories.

Imported plywood market shows some sign of bottoming
out. In January and February the market further dropped
by strong yen and the importers and wholesalers had to
sell for inventory disposition and maintain the sales
amount.
This was money losing business and they cannot afford to
keep such unjust business so March was quiet month with
the importers declining to accept low purchase offers any
longer. The shipment from port warehouses has been
steady.
Importers and wholesalers on-hand inventories are low.
Meantime, the largest Malaysian supplier announced to
stop the supply for Japan for some time so it looks like
whole situation has been changing so the second quarter
may be a new ball game for this business.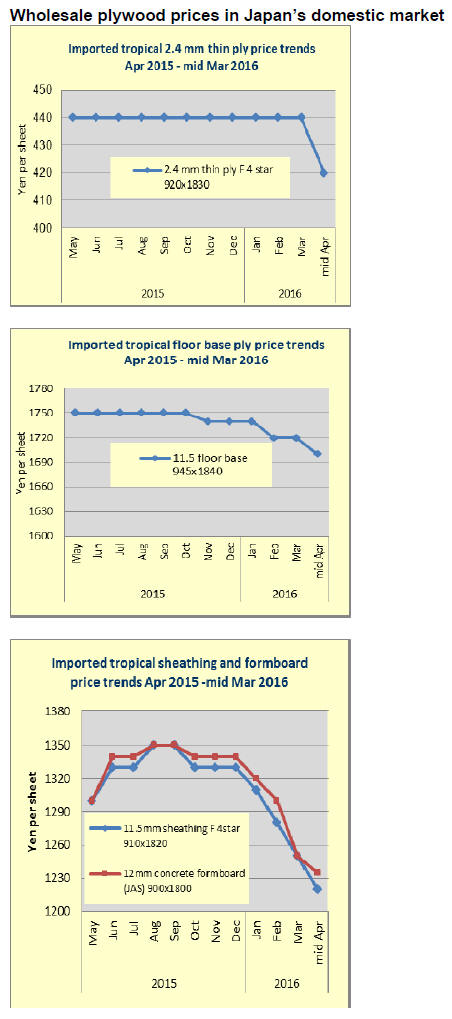 Large Malaysian ply-mill to cut shipments to Japan
Shing Yang, the largest plywood manufacturer for Japan
in Malaysia decided to stop sales of panels like concrete
forming temporarily. The reason is to restore deteriorating
market in Japan.

The president of Shing Yang commented that this may be
unusual measure to restore Japan market but the plan is to
reduce the production by 30%. The main target is to
reduce total inventories in Japan down to proper level and
the market of imported plywood gets back to normal level.

Imported plywood market in Japan has been suffering
poor demand since August last year and export prices have
kept dropping.

Total supply in 2015 was 17.3% less than 2014 but the
market stayed stagnant without seeing the bottom for more
than six months. Orders for Malaysian plywood
manufacturers are down by
about 20%. The market in Japan further deteriorated in
2016 so the orders to Malaysia dropped further.
In this shrinking market, the export prices of 3x6 JAS
coated concrete forming panel are down by about $50
compared to November last year. Fortunately Malaysian
Ringgit was weak to cover lower dollar export prices but
now Ringgit is rebounding so minor mills are suffering
loss.

The president stated that it is not reasonable thinking that
the export prices should be reduce according to Japanese
market prices and tired of looking at endless downward
spiral of Japan market, Shing Yang decided to withhold
the supply until the inventories in Japan are properly
reduced and the market improves markedly.

Plywood mills in Sarawak are facing severe log supply
shortage after one year by tight control of illegal harvest
law so cost of logs climbed considerably and it is urgent
matter to improve profitability.

Shing Yang considers shifting from limited sources of
natural grown trees to low cost planted trees then also
reviews average sales prices by looking at other markets
like India, Australia, the U.S.A., Africa and South
America.