Report from North America
Lower sawn hardwood imports at start of 2016
US imports of all sawn hardwood fell one third from
December 2015 to January 2016. 53,221 cu.m. of sawn
hardwood were imported in January worth US$33 million.
Tropical sawnwood imports declined 30% in January to
14,524 cu.m. Tropical sawnwood accounted for 27% of all
sawn hardwood imports in January, compared to 23% in
2015 for the entire year.

The only tropical species to gain significantly in January
was keruing. Keruing imports recovered from low
volumes last December and reached 1,699 cu.m. in
January.

Imports of meranti sawnwood increased to 876 cu.m., but
imports of all other major species declined in January.

Balsa imports were down 29% (3,686 cu.m.). Sapelli
posted the smallest decline from the previous month at
2,328 cu.m. (-7%).

Imports from Brazil fell by one third the previous month
due to lower US imports of ipe and jatoba in January.

Cameroon¡¯s shipments to the US grew 17% month-onmonth.
Sapelli imports from Cameroon increased to1,026
cu.m. despite an overall decline in sapelli imports in
January. Acajou d¡¯Afrique imports from Cameroon were
also slightly up from December at 753 cu.m.

Sawnwood imports from Malaysia more than tripled in
January, but December imports had been exceptionally
low. In January the US imported a total of 1,806 cu.m.
from Malaysia, including 1,336 cu.m. of keruing.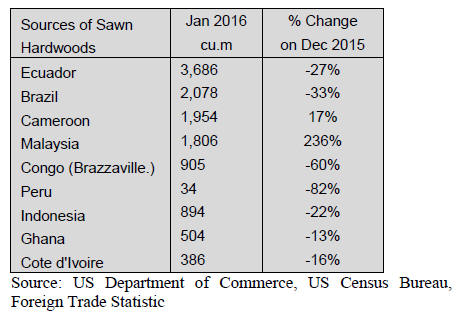 Tropical imports from all other major suppliers were down
in January, both compared to the previous month and to
January 2015.

Canadian imports of tropical sawnwood up
Canadian imports of tropical sawnwood were worth
US$1.78 million in January, up one third from December.
January imports were the highest since November 2014.

The largest month-over-month growth was in imports of
mahogany and balsa. Sapelli remained the leading import
at US$487,174, up 12% from December. Mahogany
imports were worth US$62,693 in December, but at such
relatively small volumes imports vary considerably
month-over-month.

Imports from Canada¡¯s largest supplier Cameroon
increased 70% month-over-month to US$735,985. Imports
from Ecuador also grew due to higher balsa imports.
Indonesia¡¯s shipments to Canada tripled from December to
US$138,924.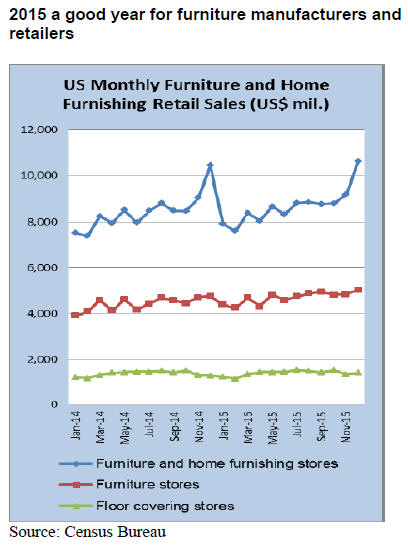 2015 ended with a 4% increase in new furniture orders
over 2014, according to the Smith Leonhard industry
survey of residential furniture manufacturers and
distributors. Just over half of the companies surveyed
reported higher orders in 2015 compared to the previous
year. Growth in furniture orders slowed from 2014 when
orders were up 7% from 2013.

Furniture shipments were up 6% in 2015 from 2014.
Almost two thirds of companies reported higher shipments
in 2015.

Inventory levels at distributors and manufacturers were
slightly up in December compared to the previous month,
but 7% higher than in December 2014. It appears
inventory built earlier in the year remained higher because
orders declined towards the end of 2015.

Retail sales at furniture stores in the US increased 4% in
December from the previous month, according to US
Census Bureau estimates. Furniture sales were 6% higher
than in December 2014.

Advance estimates for retail sales at furniture and home
furnishing stores for January 2016 indicate sales were only
slightly up (+1.6%) from January last year.

2015 was overall a good year for furniture manufacturers
and retailers, despite a slowdown in growth at the end of
the year. Wooden furniture imports grew 11% in 2015
from the previous year.

2016 will likely not be a year of strong growth according
to Smith Leonhard. Consumer confidence declined
February. The housing market continues to recover, but
rising home prices may slow sales.

US siding market outlook
Demand for siding is forecast to rise 5.6% per year to
2019, according to a Freedonia market research report
published in January 2016 (study # 3374). Total demand
for siding in 2019 is estimated at $10.7 billion. The
forecast is based on an expected strong rebound in housing
starts.

Much of the demand growth will be in non-wood
materials.

Brick and stucco are most popular in the US South and
West where the strongest growth in new residential
construction is expected. Vinyl has the largest share in the
siding market at just under 25%, but its market share has
fallen in recent years. Wood is forecast to have a market
share of just over 10% by 2019.

New Canada-US Softwood Lumber Agreement
expected
A new deal is being negotiated for sawn softwood exports
from Canada to the US market, after the 2006 Softwood
Lumber Agreement expired last October. The US
president and Canadian prime minister announced at a
recent meeting in Washington DC that negotiations would
significantly advance in the next 100 days.

Without an agreement US companies can file trade cases
after October 2016 against imports from Canada.

Many Canadian exporters would prefer a renewal of the
previous agreement, which included an escalating export
tax based on sawnwood prices. However, the weak
Canadian dollar has made Canadian softwood more
competitive in the US, and US sawmills would like to see
greater barriers to trade in the new agreement.

Other changes in business conditions since the 2006
agreement include a lower share of Canadian sawnwood in
the US market, reduced timber supply in Canada and the
purchase of US mills by Canadian producers.