US Dollar Exchange Rates of 10th February 2016
China Yuan 6.5745
Report from China
Persistent weakness in manufacturing drives down
PMI
Overcapacity, weak international and domestic demand
and deflationary pressures have converged to drive down
sentiment in the manufacturing sector in China.

The National Bureau of Statistics of China (NBS) recently
released the manufacturing purchasing managers index
(PMI) which was shown to have fallen to 49.5 a drop of
around 0.3% from a month earlier. A figure below 50
portrays a negative sentiment.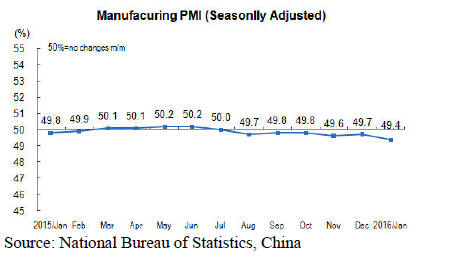 The press release from the NBS says among the five subindices
composing PMI, the production index and supplier
delivery time index were above the negative threshold.
The new orders index, employed person index and main
raw materials inventory index were all lower than the
threshold. This latest data underscores the persistent
weakness in the Chinese economy.

For more see:
http://www.stats.gov.cn/english/PressRelease/201602/t20160201
_1314222.html

South Korea imposes anti-dumping duty on Chinese
plywood
The South Korean Trade Committee has informed Chinese
authorities that it has made final determination of antidumping
duties on Chinese softwood plywood. South
Korea will introduce a duty of between 4.22% to 7.15% on
plywood imported from named Chinese exporters. South
Korea first began the latest anti-dumping investigation of
Chinese companies early last year.

In related news, in response to complaints lodged in
January this year by the European Panel Federation the
European Union will conduct an anti-dumping
investigation of China¡¯s plywood. The HS code of the
products involved is HS 44123110 (decorative plywood).
The investigation will cover the period January 1, 2012 to
December 2015.

Cooperation on forestry between China and Central
and Eastern Europe
Recently China¡¯s State Forestry Administration (SFA)
signed a memorandum of understanding on forestry
cooperation with forestry departments in 5 Central and
Eastern European countries.
This cooperation will begin with a high level Forestry
Cooperation Conference in Slovenia in 2017. The Ministry
of Agriculture, Forestry and Food in Slovenia will
coordinate the cooperation and technical exchanges.

Largest importer of OSB in China
Beijing New Building Materials (Group) Co., Ltd is the
largest importer of OSB in China and imports mainly from
Romania, Canada, Germany, Brazil and the US.

The OSB imports of Beijing New Building Materials
(Group) Co., Ltd from Romania were 18,400 cubic metres,
accounting for 23% of Romanian exports. The OSB
imports of the Group from Germany totalled 9,100 cubic
metres, The group also imports Brazil and in 2015 imports
totalled 19,335 cubic metres. OSB imports from Canada
and the USA amounted to 46,000 cubic metres and 9300
cubic metres respectively.

Record wood product exports through Suifenhe Port
Wood product exports through Suifenhe Port were worth
US$106 million in 2015, a record high. The major
destinations were Japan and South Korea and products
shipped included wood-based panels, laminated lumber,
flooring and veneer. This Port is of growing importance as
it provides for convenient clearance and high efficient
quarantine and supervision.

Timber production in Guangxi - one third of the
national total
The output of commercial timbers from the Guangxi
Zhuang Autonomous Region totaled 25.5 million cubic
metres in the period of the Twelfth Five Year Plan and
accounted for one third of the national total becoming the
largest timber producer region in China. The value of this
output has been estimated at RMB430 billion. The main
timbers produced were eucalyptus, pine and cedar.

Furniture exports from RMB 2 to 5 billion in a few
years
In another assessment of output it has been found that
according to Zhanjiang Customs the value of furniture
exports by manufacturers in Zhangjiang city rose to
RMB5.4 billion in 2015, a year on year increase of 11%.

Customs statistics show that furniture exports from
Zhanjiang have continued to rise moving from nearly 2
billion yuan in 2012, 3 billion yuan in 2013, 4 billion yuan
in 2014 and over 5 billion yuan in 2015.

Furniture exports by private enterprises during the Twelfth
Five Year Plan period(2011-15) rose to RMB9.72 billion.
The main markets furniture exports were ASEAN
countries, the US, the United Arab Emirates and the
European Union.