Report from North America
National formaldehyde emission standards to be
issued early this year
In 2010 the US Environmental Protection Agency (EPA)
started developing national standards for formaldehyde
emissions from wood products based on the California
regulation, but the standards are still not in place. Industry
groups and others opposed some of the testing
requirements in the draft standard. The EPA expects to
issue the final regulation in spring of 2016.

Recently laminate flooring products sold by Ark Floors
showed in tests formaldehyde emissions well above those
allowed under California standards. Ark Floors is a
smaller importer of Chinese-made flooring.

The much larger company Lumber Liquidators had
previously been accused of selling flooring with high
formaldehyde emissions.
The Chinese company that supplied the flooring to Ark
Floors had products pulled from stores in China in 2012
over formaldehyde emissions, according to China¡¯s news
agency Xinhua.

According to the US flooring manufacturers the test
results for products sold by Lumber Liquidators and now
Ark Floors has created apprehension among Americans
about health impacts of wood flooring. Implementing a
national standard for formaldehyde emissions would
improve the market for producers and retailers.

Manufacturing industries report lower economic
activity
Economic activity in the manufacturing sector declined in
November for the first time in three years, according to the
Institute for Supply Management. Production and new
orders decreased based on the Institute¡¯s industry survey.

Furniture manufacturing companies reported lower output
in November, while production was unchanged in the
wood products sector.

Consumers confident in economy, plan purchases
Consumer confidence rose to its highest level in December
since July, according to the University of Michigan
consumer survey. It was also the highest December
confidence since 2004.

Consumers were positive about current economic
conditions and reported higher household incomes.

Many plan to buy durable household items, a positive sign
for furniture and wood product manufacturers. However,
heavy discounting on consumer products is widespread
due to the weak Chinese economy and the strong US
dollar. Consumers indicated they will base purchases on
low prices and discounts.

Housing starts near normal conditions
Housing starts in November were at a seasonally adjusted
annual rate of 1.2 million, up 10% from October. Starts
were 17% above the November 2014 rate of 1 million.

The strongest growth remained in multi-family
construction but single-family housing starts were also up
in November at 768,000. This is the highest level since the
financial crisis and indicates the US housing market is
back to near normal conditions.

The number of building permits was at a seasonally
adjusted rate of 1.3 million in November, up 11% from
October. Permits for multi-family construction accounted
for much of the increase in the number of permit.

The National Association of Home Builders expects a
modest growth in housing starts for 2016. Home builders
were positive in December about the market for newly
built, single-family homes, but confidence was unchanged
from November. The National Association of Home
Builders reports continuing concerns about high labour
and land costs.
¡¡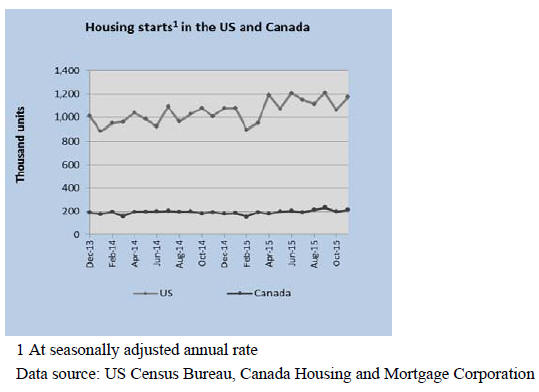 Drop in sales of existing homes
Sales of existing homes dropped considerably in
November, according to the National Association of
Realtors. All major regions in the US posted lower sales,
on average -11% across the country. Sales were 4% lower
than at the same time last year.

The sales drop is likely not due to low demand since
homes sold faster in November than in the previous
month.

The National Association of Realtors speculates that
depressed home sales may be related to affordability
issues and adapting to the new ¡®Know Before You Owe¡¯
rules (see http://www.consumerfinance.gov/know-beforeyou-
owe/). Almost half of realtors surveyed in November
reported that because of the new rules it is taking longer
to close deals with buyers.

Softening business conditions affects November nonresidential
construction
Spending in non-residential construction slowed from the
summer to November 2015 at a seasonally adjusted annual
rate, according to US Census Bureau data. Most building
construction declined, with the exception of office
buildings and public schools. The government revised
construction data from 2005 through October 2015 and
reported spending was lower than previously reported for
much of 2015.

The American Institute of Architects reported a softening
of business conditions in November, despite the generally
strong economy. Conditions in the Northeast were worse
than in the rest of the country. Most firms expect higher
revenues in 2016.

Canadian multi-family market remained strong
Canadian housing starts in November were up 7% from
the previous month at a seasonally adjusted annual rate.
The multi-family market in the major cities remained
strong, but single-family construction declined 4% from
October.
For 2016 the Canadian Housing and Mortgage
Corporation expects lower or unchanged construction
levels. Single-family starts will continue declining because
of high house prices in urban centres.

The economy in oil-producing regions will still suffer
from low oil prices in 2016. Housing demand has been
stronger in Ontario and British Columbia where
manufacturing benefited from the low Canadian dollar.
Housing starts are predicted to strengthen in2016 in
Quebec and Atlantic Canada.

Prices for Canadian crude oil reached a new record low in
early January. More production may be shut down and
new oil sands projects are being shelved. The OECD still
expects the Canadian economy to pick up in early 2016
led by growing exports of non-energy products.

US interest rate rise a risk to Canadian housing market
The long-anticipated raise in interest rates was announced
in mid-December by the US Federal Reserve. Rates were
raised by a quarter point, the first increase since 2006.

Unemployment is at its lowest in seven years and recent
economic growth surpassed expectations. November
unemployment was unchanged at 5%. Construction was
among the sectors with job gains. Real GDP increased
2.1% in the third quarter of 2015, according to the US
Department of Commerce estimates, down from 3.9% in
the second quarter.

If the US economy remains strong further gradual interest
rate increases are expected. This may be bad news for the
Canadian economy where household debt is at record
levels. Some analysts predict a housing market collapse in
Canadian cities if mortgage rates increase and housing
prices decline. The Canadian government tightened
mortgage down payment requirements.

October Import data
Keruing and sapelli sawnwood imports rise
US tropical sawnwood imports recovered in October 2015
from the decline in the previous month. 21,425 cu.m. of
tropical species were imported in October, up 11% from
September. Year-to-date imports were 14% higher than at
the same time in 2014.

The strongest month-over-month growth in imports was in
sapelli (3,245 cu.m.), keruing (2,169 cu.m.) and mahogany
(2,787 cu.m.).

Ipe sawnwood imports fell 60% to 1,370 cu.m. in October,
this was from exceptionally high imports in September. As
a result overall imports from Brazil decreased by almost
half in October.

Tropical hardwood imports from all other major suppliers
increased in October, in particular from Malaysia (+50%)
and Cameroon (+27%).

Hardwood plywood imports decline
October was the fourth consecutive month of decline in
imports of hardwood plywood. A total of 245,351 cu.m.
were imported, down 10% from September. Year-to-date
imports were 8% higher than in October 2014.

US imports from China decreased to 118,347 cu.m. Yearto-
date imports remain higher (+14%) than at the same
time last year. Plywood imports from Ecuador also
declined (10,572 cu.m.).

Indonesia¡¯s shipments to the US increased in October to
30,497 cu.m. but year-to-date imports were 5% lower than
at the same time in 2014.

Brazil and Malaysia lost moulding market share
Hardwood moulding imports were worth $16.5 million in
October, up 3% from the previous month. Year-to-date
imports were 5% lower than in October last year.

China and Canada significantly increased moulding
shipments to the US in October, while imports from Brazil
and Malaysia declined.

China was the only country with higher shipments year-todate
compared to 2014.

Strong growth in hardwood flooring imports
US flooring imports continue to outpace last year¡¯s level.
Hardwood flooring imports increased 44% in October to
$5.5 million, up 29% year-to-date from 2014. Imports
from all major supplier countries grew in October.
Indonesia and China were the leading suppliers at $1.2
million each in October, followed by Malaysia with just
under $1 million in shipments.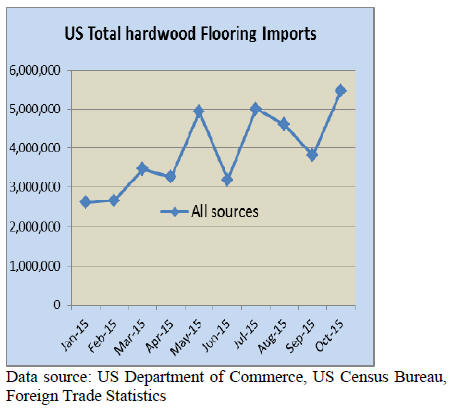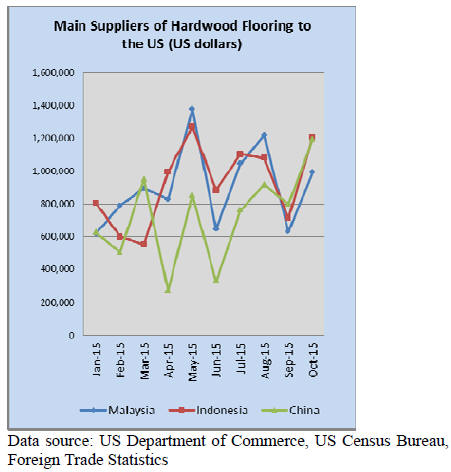 Imports of assembled flooring panels decreased from
September, but year-to-date imports were up 8% from the
same time last year. Total assembled flooring panel
imports were worth $11.4 million in October. China¡¯s
share declined to under half ($5.0 million) of total imports.
Year-to-date imports from Canada, Indonesia and Brazil
increased compared to October 2014. Canadian growth
was strongest, supported by the low Canadian dollar.

Year-to-October furniture imports 11% higher than a
year earlier
The value of wooden furniture imported in October was
almost unchanged from the previous month at $1.40
billion. Year-to-date imports were 11% higher than in
October 2014.

China¡¯s furniture shipments were stable in October at
$659.7 million (+10% year-to-date). Imports from
Vietnam declined by 3% to $267 million (+21% year-todate).
Most other countries increased shipments in October
with the exception of Malaysia. However, year-to-date
both Vietnam and
Malaysia saw the largest gains in the US market.

Furniture imports from India continued increasing in
October (+5% to $20 million). Imports from Europe
declined from the higher levels seen earlier this year.
Wooden office furniture imports grew by 8% in October,
followed by upholstered wooden seating at 3%. All other
types of wooden furniture declined from the previous
month.