Japan Wood Products Prices
Dollar Exchange Rates of 10th January 2016
Japan Yen 117.65
Reports From Japan
First fall in machinery orders for three months
Cabinet office data shows that in November, the latest for
which numbers are available, machinery orders fell just
over 14% from October. This marks te first decline in
three months and draws attention, once more, to the
hesitancy of companies to commit fully to capital
investment.

However the 2105 November figures are up slightly on
November 2014which, given the current global economic
situation, should be seen as a positive development.

Better than expected consumer confidence
The slight improvement in Japan's consumer confidence
index was a welcome sign. The December (seasonally
adjusted) index came in at 42.7 up from 42.6 in
November. The consensus amongst analysts was that a fall
in the index was more likely.

The index for income growth strengthened as did the
overall livelihood index.. The index for willingness to buy
durable goods remained at the same level as in November
2015.

Bankruptcies at historic low
The availability of soft loans coupled with improving
finances has resulted in a sharp fall in the number of
Japanese companies going out of business in 2015.

Data from Japan's Financial Services Agency suggests
that for the second consecutive year bankruptcies in Japan
could be 10,000. The last time Japan saw fewer than
10,000 bankruptcies for two consecutive years was in
1989.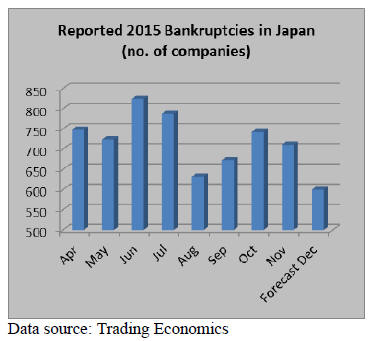 November housing starts lift expectations to 900,000
for the year
Ministry of Land, Infrastructure, Transport and Tourism
data show housing starts improved more than forecast in
November coming in much higher than the previous
month. October starts were particularly poor being 2.5%
down from September.

The good November figures have lifted expectations for
annual starts to close to 900,000.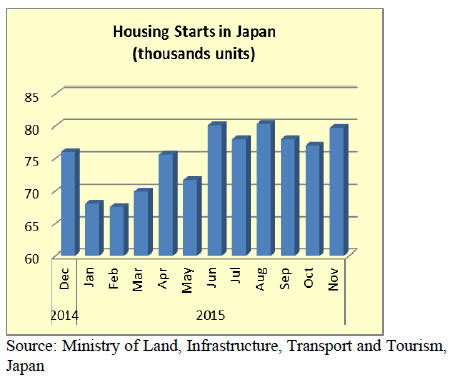 BoJ attempts adventurous route to lift inflation
In a move that surprise analysts the Bank of Japan (BoJ)
has become a major player in the domestic stock market
such that asset managers are designing investment funds to
suit the new role of the BoJ.

Having lost patience with the slow pace of inflation
growth the BoJ Governor said the Bank would purchase
equity in companies that were "proactively making
investmenst in physical and human capital".

The government and BoJ have been urging companies to
release some of their massive reserves for capital
investment and wages. It was thought that the fiscal
stimulus measures over the past three years would trigger
this but this was not the case. Now the BoJ is attempting a
new adventurous route.

Government more optimistic on GDP than Bank of
Japan
The government is forecasting a 1.7% growth in fiscal
2016 (April 2016 to March 2017) having assumed a
recovery in consumer spending, the core of the Japanese
economy, and private sector investment.

However this projection is more optimistic than the
October forecast 1.4% made by the BoJ.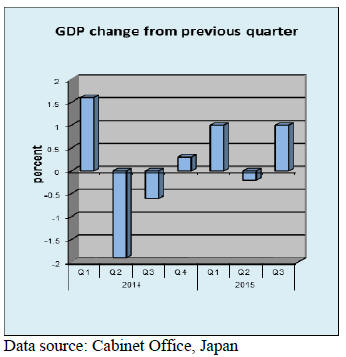 Era of easy profits from the weaker currency fading
The yen strengthened sharply against the US dollar in
early January, rise by as much as 3% at one point. The
weakness in the dollar/yen exchange rate was the worst
since mid-2013.

The yen strength is mainly the result of movements driven
by risk aversion focused on the Chinese economy and
stock markets and on growing tensions in the Middle East.

Another factor pushing up the yen is the view of the
markets that the BoJ has exhausted its attempts to
stimulate growth through quantitative easing and this has
open the door once again for the yen to be the 'safe
haven'.

The firmer yen has hit Japanese stocks as exporters sense
the era of easy profits from the weaker currency is fading.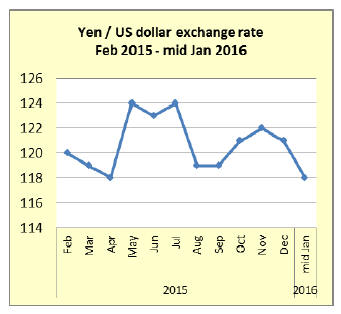 Japan's furniture imports
Japan's imports of office and Kitchen furniture had been
growing since August but the upward trend in Kitchen
furniture imports came to an end in November.

Bedroom furniture imports in November picked up
slightly but the improvement did little to bring levels
anywhere near the monthly value of imports during the
first six months of 2015.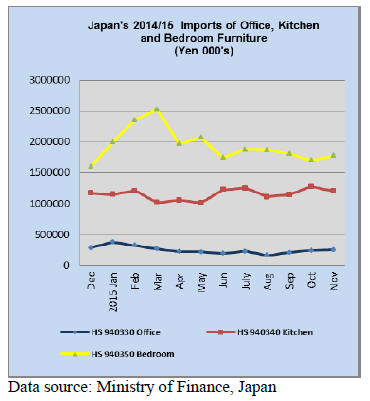 Office furniture imports (HS 940330)
Year on year November 2015 office furniture imports
were down 18% however, November 2015 imports were
up nearly 4% on levels in October.

China and Portugal dominate Japan's office furniture
imports accounting for around 70% of all imports of this
category of furniture. Previously Poland was the number
three supplier but was replaced by Taiwan P.o.C in
November. Poland was the fourth largest supplier of office
furniture in November 2015.

The other significant supplier in November was Germany
which saw November exports of office furniture to Japan
more than double compared to a month earlier.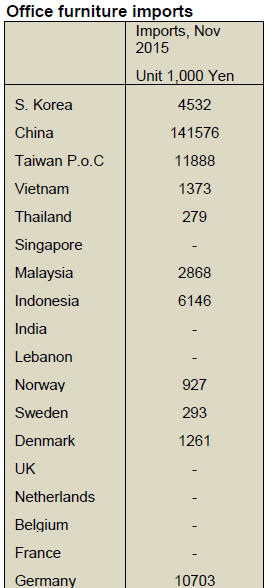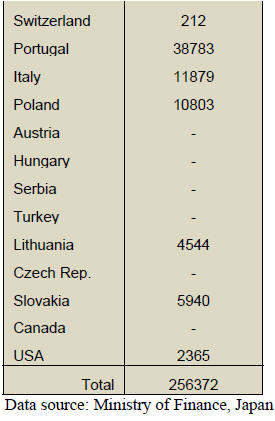 Kitchen furniture imports (HS 940340)
Vietnam and Philippines, in that order, continue as the
main suppliers of kitchen furniture to Japan alone
accounting for around 68% of November imports.

Year on year November kitchen furniture imports rose
20% but November 2015 imports were down 5.5%
compared to October. While Vietnam was the number one
supplier in November it saw a 10% drop in imports by
Japan compared to October.

In November 2015 suppliers in SE Asia (i.e. excluding
China) supplied over 80% of Japan's kitchen furniture
imports.

Japan's bedroom furniture imports rose steadily in the first
quarter of 2015 but have been trending down ever since.
November 2015 imports were slightly up from a month
earlier but were down around 20% from the February 2015
peak.

Year on year, November 2015 bedroom furniture imports
were up 23% with supplies being dominated by China
(58% of all bedroom furniture imports) and Vietnam
(27%). Other significant suppliers in November were
Thailand and Malaysia

Trade news from the Japan Lumber Reports (JLR)
For the JLR report please see:
http://www.n-mokuzai.com/modules/general/index.php?id=7

South Sea (Tropical) logs
Rainy season in Malaysia started in November. Sporadic
heavy rain hit various spots in Malaysia with some flood.
This hampers logging activities and log production is
decreasing. Some Japanese log importer planned to send in
twos ships in January before the Chinese New Year in
February but because of difficulty of buying enough logs,
it reduced to one ship instead of two.

Sabah is also in rainy season and log supply is dropping.
India, which stayed away from Sarawak since last
summer, started coming back quietly but their purchase is
not active yet. It shifted to other supply regions like
Solomon Islands because of extreme high prices in
Sarawak and weak Rupee then Sarawak log prices
dropped some in fall so they are back again but they are
aware that their active move would push the prices easily
up since they are the largest buyer. So their move is very
careful and cautious at this time.

Log suppliers are preparing to push the prices with
comeback of Indian buyers. Japanese importers comment
that since India buys 60% of Sarawak logs and if they
intend to buy logs to fill up ships' space, the prices easily
jump up. Present Sarawak export log FOB prices are
U$275 on meranti regular per cbm, U$255 on meranti
small and U$240 on super small. They are all about U$5
down from November.

Imported hardwood plywood market
Imported hardwood concrete forming panel market is dull
and slow. The movement slowed since early September so
that importers and wholesalers have hard time to have
enough sales, let alone securing profit.

Monthly average imported volume between May and
August was 217,000 cbms then September volume was
246,100 cbms and October volume increased to 271,800
cbms.

There is another negative factor to the market. Some
Malaysian manufacturer shipped about 40,000 cbms of
concrete forming panel for coating with brown colored
water repellent spray from the end of stacked panels,
which stained surface of plywood. If this is used for
concrete forming, brown color stains concrete surface.

This is the first largest claim issue for imported plywood.
It was found in early October and the importers
immediately asked the manufacturer to stop shipping.
Stain can be removed by wiping hard but it is tough job to
wipe sheet by sheet. This work started since November at
different ports.

It will take two to three months to clean all the stained
plywood and the cost per sheet would be 200-300 yen.
This plywood is not ready to market so it is dead stock for
some time but the market remains quiet without any
shortage feeling.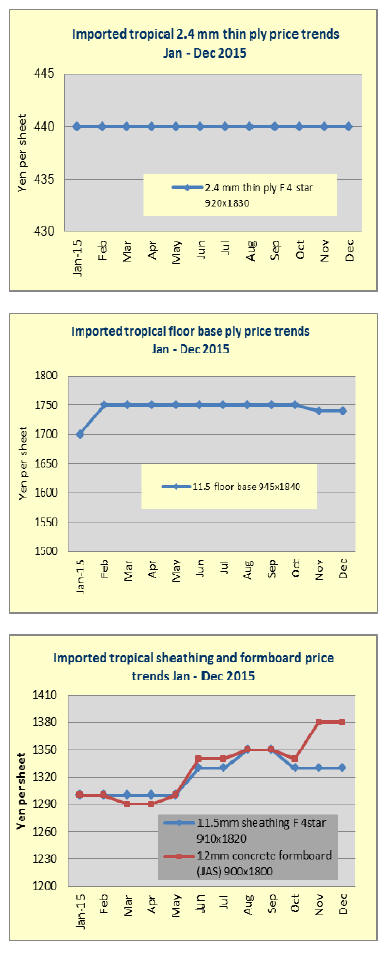 Five stories 2x4 building to be built
Mitsui Home Co., Ltd. (Tokyo), the large 2x4 house
builder in Japan, announced that it would build the largest
2x4 building of five stories at Adachi ward in Tokyo with
midply shear wall system developed in Canada, which is
effective for earthquake jolt. This is a special nursing
facility for the elderly with total
floor space of more than 9,000 square meters and total
length of 81 meters.

The building is built with combination of 2x4 and midply
wall system, which makes it possible to build study high
rise wooden building.

Midply wall system is made with structural OSB
sandwiched with 2x6. Since shearing strength is about
80% higher than standard 2x4 by double shearing, which
makes buildings much studier and gives stronger
earthquake resistance.

The structure is that the first floor is RC then second to
fourth floor have midply wall for interior walls, which
reduces length of bearing wall so that it gives more open
room for common space. Mitsui uses its own original
metal fasteners to tie-down firmly.

Model house completed in Dalian, China
The Japan Wood Products Export Association completed
construction of Japanese style model house in Dalian,
China. The house is two stories post and beam wooden
unit with floor space of 214.65 square meters.

Construction materials are all Japanese domestic wood of
cedar and cypress for not only structural members but also
interior finishing, fixtures and furniture. The purpose is
to develop demand for such products in China.

The Association commented that this unit is the same as
units commonly built in Japan, which the Association
proposed to the Chinese wooden structure design standard
with introduction of metal fasteners and paneling.
Furniture is all cypress made. This is one of the Forestry
Agency's new wood demand creation projects to promote
use of local wood in overseas markets.

The Chinese Wooden Construction Standards allows use
of Japanese cedar, cypress and larch for structural
members so the sample unit is built under advice and
supervision by both Chinese and Japanese experts of
wooden structures.

Japan Builders Network (JBN) surveys domestic use
of wood
Domestic wood committee of the Japan Builders Network
(JBN) sent out questionnaires on use of domestic wood
through its members' contractors as one of subsidized
businesses of the Forestry Agency. It revealed that use of
domestic wood by the contractors is high.

The chairman said that members' contractors are building
high performance houses same as large house builders put
up or higher with solid wood. The survey was made in last
October and 570 contractors replied.

By the replies, for sill, 80% is cypress, 6% hemlock, 4%
cedar, 2% Douglas fir, 1% of redwood and whitewood
each and 6% of others.

Sizes are 51% of 120 mm and 47% of 105 mm. For
exposed post, 47% is cypress, 41% is cedar, 5% is
whitewood, 2% is redwood, 1% is hemlock and Douglas
fir each then 3% is others.

For hidden post, 47& is cedar, 35% is cypress, 11% of
whitewood, 4% is redwood, 1% is Douglasfir and 2% of
others.

There is some difference between exposed and hidden but
percentage of domestic wood is high. 64% is kiln dried,
27% is air dried, 7% is laminated and 2% is green.
Percentage of dried solid wood is high with very little
laminated lumber.

For beam, 45% is Douglas fir, 31% is cedar, 9% is
redwood, 5% is cypress, 3% is whitewood, 2% is hemlock
and 5% is others.Douglas fir is predominant for beam.

Japan assists Myanmar's development
On December 3, JMHU (Japan Myanmar Association for
Industry of Housing and Urban Development) and MCEA
(Myanmar Construction Enterprises Association)
concluded memorandum of understanding at Yangon,
Myanmar for business interchange on housing and urban
development then held seminar to understand each other.

At a seminar, 74 members from 32 companies from
JMHU and 92 from MCEA participated.17 companies,
represented JMHU's subcommittee of housing, urban
development and housing materials, explained detail of the
company and present activities in Asian region and
Myanmar with future prospect.

MCEA started in 1996 with members of about 2,000 and
explained that there are new aggressive companies to
expand development of infrastructure.

The Japanese government has been assisting
modernization of Myanmar by dispatching housing policy
adviser to urban development department of Ministry of
Construction of Myanmar then to others like Myanmar
Harbor Bureau and Yangon City development committee.