Report from North America
N. American sawnwood markets head in different
directions
The trend in tropical sawnwood imports into the US and
Canada during the first quarter of 2015 is a reflection of
the variable direction of the economies in each country.
US imports of sawn tropical hardwoods increased by
around 25% in the first quarter while Canadian imports of
the same product fell by the same amount.
Almost all major suppliers have shipped significantly
more to the US this year than in 2014. The largest increase
compared to the same time last year was in imports from
Cameroon (+108%) and Peru (+78%).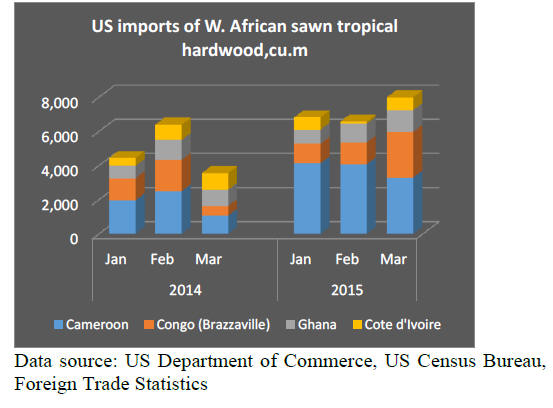 Brazil"s shipments of sawnwood to the US grew 20%
month-on-month in March. While ipe sawnwood imports
were almost unchanged from the previous month, imports
of sawn virola and other species increased.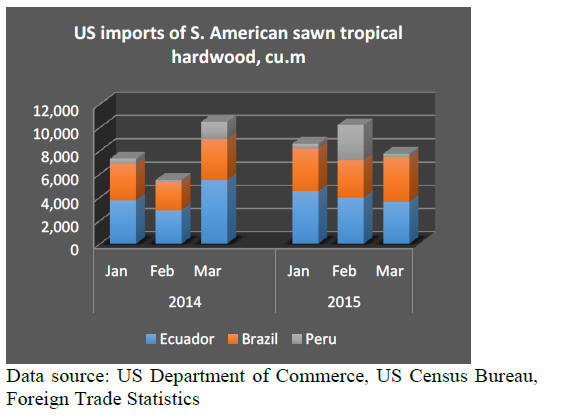 US imports of Malaysia"s keruing sawnwood in March fell
to just 808 cu.m. and it was this which contributed to the
over decline in first quarter US imports from Malaysia.
However, March sawnwood imports from Indonesia and
Ghana increased month-on-month, which in the case of
Ghana, was largely due to higher mahogany imports.
China leads hardwood plywood shipments to US
US imports of hardwood plywood grew by over 40% in
the first quarter with over half coming from China. At
178,000 cu.m., March 2015 hardwood plywood imports
from China were higher than at any time in 2014. First
quarter 2105 imports were 28% higher than in the same
period in 2014.

Imports of hardwood plywood from Indonesia and
Malaysia also increased in the first quarter 2015 but at a
slower pace than imports from China. In contrast year-to-
March imports of hardwood plywood from Russia, Canada
and Ecuador were lower year on year.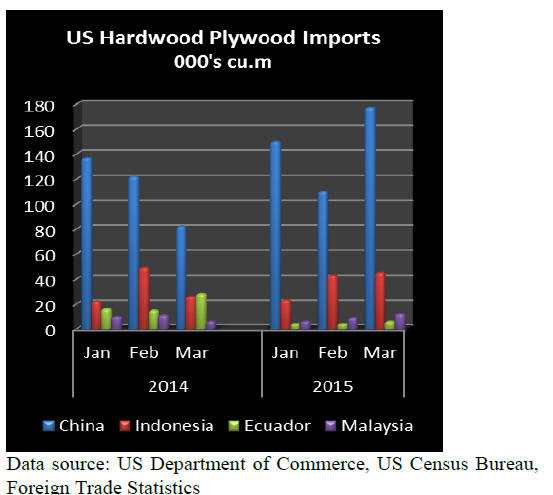 US housing market normalising after 7 years of turmoil
The housing market in the US is a major driver of wood
product consumption and prospects are looking much
better now. More Americans are looking for mortgages to
buy a home, but as a sign that the US housing market is
getting back to normal after seven years of decline the
pace of loan applications has begun to slow, a sign that the
economy and housing markets "normalising¡±.

The US Freddie Mac financial institution charged with
expanding opportunities for homeownership and
affordable rental housing in the US has forecast both
housing starts and house price trends. 2015 housing starts
are set to rise throughout 2015 leading to an overall 14%
increase in starts for the year to be followed by an over
20% rise in 2016.

Disclaimer: Though efforts have been made to ensure
prices are accurate, these are published as a guide only.
ITTO does not take responsibility for the accuracy of this
information.
The views and opinions expressed herein are those of the
correspondents and do not necessarily reflect those of ITTO.