US Dollar Exchange Rates of 25th June 2015
China Yuan 6.2073
Report from China

Real estate developers hold off on land purchases
Investment in real estate development in the first five
months of 2015 increased 5.1% of which investment in
residential buildings was up by 2.9%, but this is lower
than the previous month. However, there was a sharp drop
(-30%) in the value of land purchased by real estate
developers
See
http://www.stats.gov.cn/english/PressRelease/201506/t201
50612_1158169.html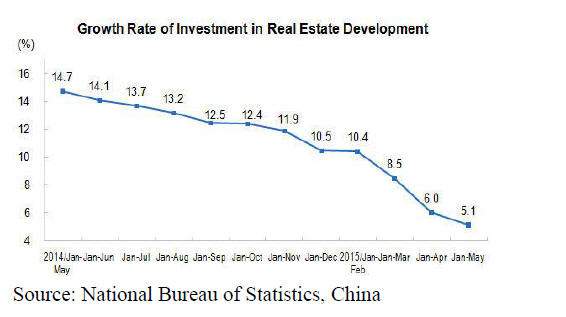 In related news, average new home prices in China's 70
major cities fell for the ninth consecutive month in May
from a year earlier according to data released by the
National Bureau of Statistics. Their report says compared
to April, average prices in 43 major cities fell in just 20
there were modest increases and in another 7 major cities
average prices did not change .

The highest month-on-month increase was 6.6%
(Shenzen) and the lowest was down by 0.6
percent. Beijing and Shanghai's new home prices both
fell. The weak property market is seen as one of the risks
for the Chines economy. In contrast to the declines in
prices for new home, prices for second had homes
improved in just over half of the 70 cities included in the
survey.
See:
http://www.stats.gov.cn/english/PressRelease/201506/t201
50619_1181132.html
While trends in house prices are a useful indicator of the
economy the number of home owners in China compared
to the population is small and as such house price trends
should be only one indicator considered to judge economic
trends. Retail sales data from the National Bureau of
Statistics are more broadly based.

In May 2015 retail sales of consumer goods reached
expanded 10.1% and between January and May this year
retail sales of consumer goods grew by 10.4% year-onyear.
In the same period furniture sales increased 16%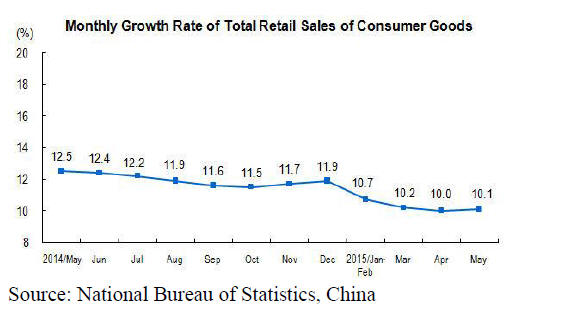 Tough domestic standards for wooden furniture
The air pollutant emission standard for the wooden
furniture manufacturing industry (DB11/1202-2015£© has
been released. This has been hailed as Beijing"s strictest
environment standard for wooden furniture. The new
standard will be come into effect 1 July 2015.

The new standard not only widens the restrictions applied
it also has detailed provisions on coatings, production
environment, production technology used in furniture
manufacturing.

In the new standard, pollutant limits are 30 times lower
than in the old standard. For example, the maximum
allowable emission concentration of Benzene is 17 mg/m3
in the old standard, however, it is 0.5 mg/m3 in the new
standard.

One of the main purposes to formulating the new emission
standard is to eliminate oil based coatings. Water based
coatings paint are considered more environmentally
friendly.
However, less than 15% of the furniture production
companies in China use water based coatings as oil based
materials are esier and cheaper to apply.
New processing and trading base for imported timber
It has been reported that Zhuanghe City will create an
integrated complex for furniture manufacturing and port
facilties will be further developed to specialise in handling
imported timber.

ZhuanghePport is national level port in the northeast
region of China. In order to meet the requirements of the
local industries, 13 ports have specialised wharfs which
can handle up to 5 million cubic metres of timber
annually. This development is part of China"s national
¡°One Belt, One Road¡± logistic strategy.

To attract enterprises to take advantage of the port a 4
square kilometer wood industry park has been planned.
Analysts anticipate Zhuanghe will become one of the
largest imported timber distribution centres in Northern
China.
No interest in local standard on formaldehyde free
plywood
It has been reported that no plywood manufacturer is
producing to the domestic standard for formaldehyde free
plywood (DB34/T2081-2014) which came into effect in
the first half of 2015.
According to a recent survey the main reason for this is
that the production of formaldehyde free plywood requires
additional investments in equipment. Clearly there are
major obstacles to get the new standard adopted by
industry.

Guangzhou Yuzhu International Timber Market
Wholesale Prices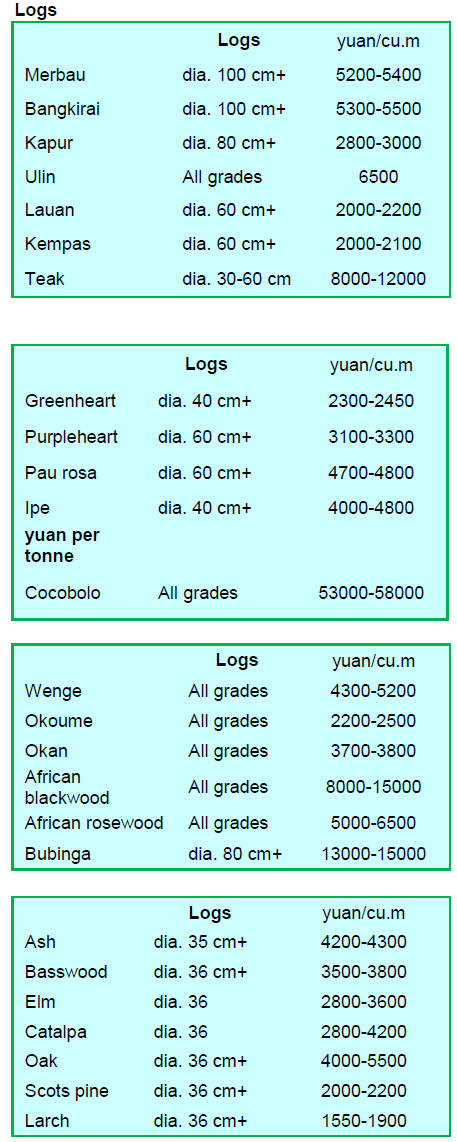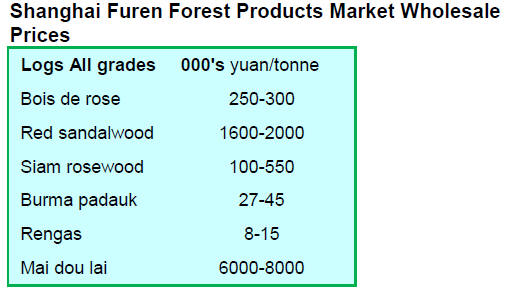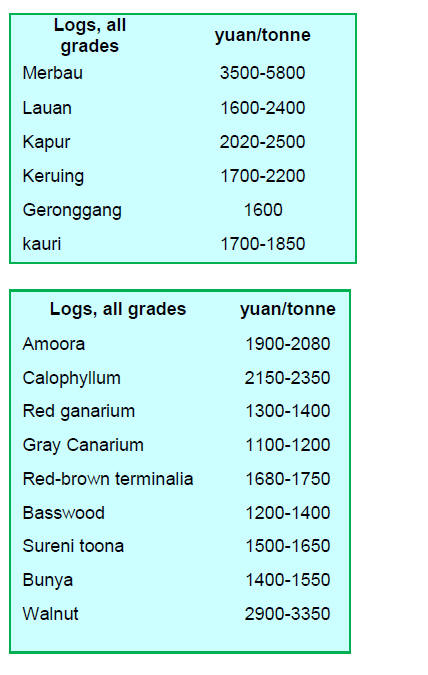 ¡¡