Japan Wood Products Prices
Dollar Exchange Rates of 25th June 2015
Japan Yen 123.87
Reports From Japan
Falling energy prices undermine BoJ's efforts to beat
deflation
The abrupt decline in oil prices is weighing heavily on
efforts by the Bank of Japan (BoJ) to stimulate the
economy.
The rate of inflation was almost zero in May despite the
huge amount of cash being circulated through the BoJs
stimulus measures. In addition job creation has remained
flat but the good news is that, for the first time in more
than twelve months, household spending picked up in
May.
The most recent economic data is showing that domestic
demand, investment and manufacturing output are
wakening and this is leading analysts to fear second
quarter growth may be negative.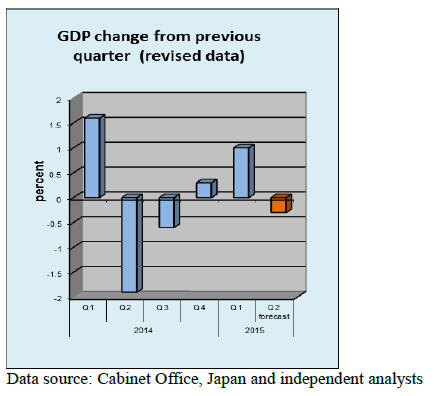 Yen set to weaken further when US rates rise
The yen has dipped to unprecedented lows recently and
this, while a boon for exporters, comes with serious risks.
A Japanese business association has pointed out that any
further decline in the yen exchange rate would drive up
production costs and thus impact the profitability of
exporters. The same business group also warned further
weakness in the exchange rate would undermine the
viability of small companies which are already suffering
as many of their raw materials are imported.
The yen exchange rate against the dollar has been falling
since 2013 when the BoJ started its stimulus measures and
more weakness is likely in the coming months as the U.S.
Federal Reserve has signaled US interest rates will rise
this year which will increase the appeal of dollardenominated
assets.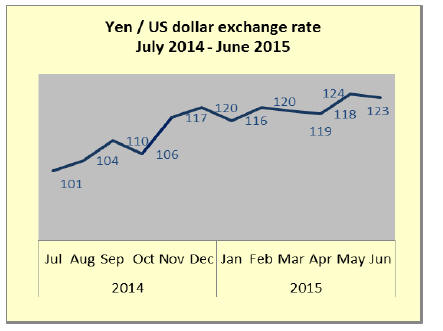 Expansion of public housing to solve evacuee problem
The prefectural government in Fukushima has been
providing free housing to families who had to evacuate
after the nuclear disaster but this support is set to end.
Initially the free home deal was scheduled to end in March
2016 but this has been extended for a year.
When the programme ends the prefectural government
will be offering financial assistance moving and will offer
rent subsidies for low-income households.
 
For those whose homes were destroyed by the earthquake
or tsunami individual arrangements with evacuees are
planned and much depends on the progress made in
constructing public housing.
Japan's May housing starts were down on levels in April
but year on year were up almost 6% according to data
from the Ministry of Land, Infrastructure, Transport and
Tourism.
The May decline brings forecasts for the year down to
912,000 units, analysts had expected annualized rates to
rise in May.The Land Ministry also reported that orders
placed with the top house builders in May fell year on
year, the second monthly fall in orders.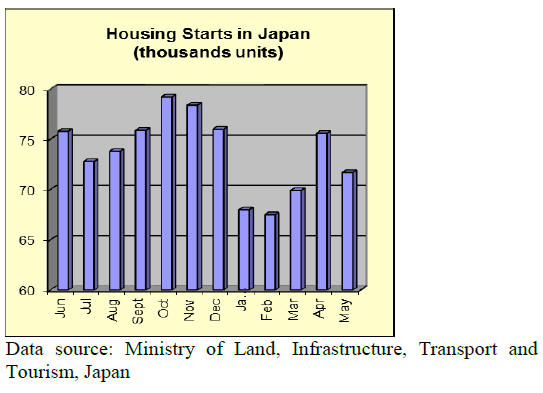 Japan's furniture imports
From the graph below it can be seen that there has bees a
major correction in bedroom furniture imports. At the end
of last year imports climbed during the final three months
and this momentum continued into January 2015 but
between February and May there has been a steady decline
in the value of bedroom furniture.
However, the average value of imports for the first five
months of 2014 is almost the same as the average in the
same period this year. The steep decline in 2015 imports
corresponds to the period when the yen/dollar ecchange
rate was plummeting.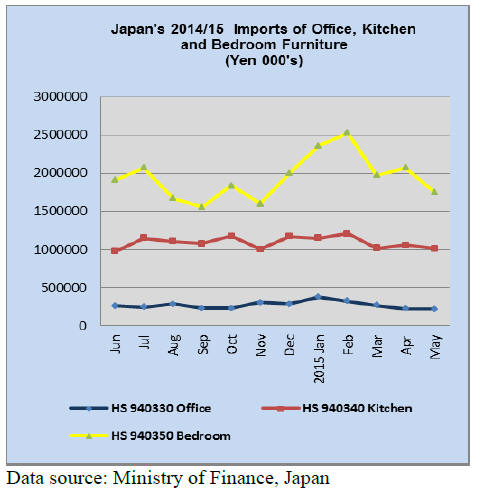 Office furniture imports (HS 940330)
The top suppliers office furniture remain China, Portugal,
Poland accounting for 76% of all office furniture imports
in May.
The total value of May imports was almost the same as
that for April but May 2015 year on year imports were
down 29%. But for the first five months the decline in
May 2105 imports was just 7%.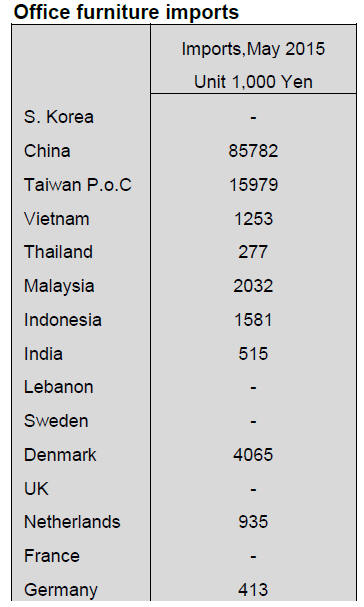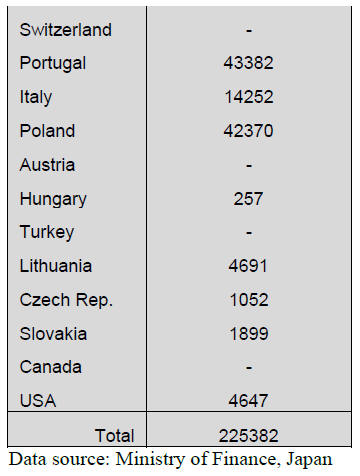 Kitchen furniture imports (HS 940340)
Amongst the top three suppliers of kitchen furniture in
May there were winners and losers. Vietnam is the number
one supplier but there was a 40% decline in Japan"s
imports from Vietnam in May compared to April.
Japan"s imports from China also fell in May (-13%) but
Philippine exporters saw the value of kitchen furniture
exports to Japan rise. May kitchen furniture imports were
4% down on the previous month and were down 6% year
on year.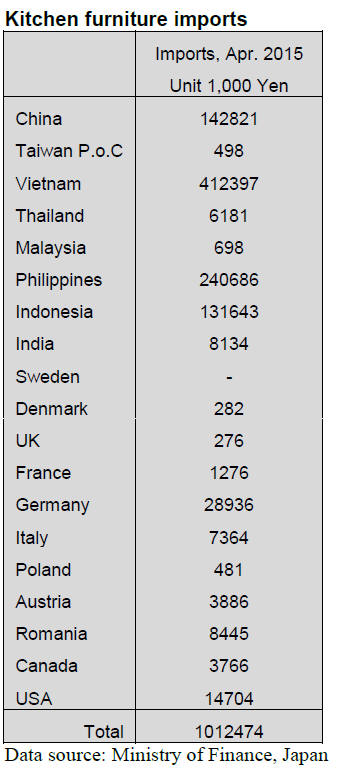 Bedroom furniture imports (HS 940350)
Each of the top three suppliers of bedroom furniture to
Japan posted losses in May. China is the top supplier but
May imports were down marginally on April on the other
hand Vietnam and Thailand, the other top suppliers posted
losses of 38% and 34% respectively.

Despite the sharp downturn in the value of bedroom
furniture imports in May, the average value of imports in
the first five months of 2015 is about the same as in the
first five months in 2014.
Other losers in May were Malaysia, Indonesia and
Philippines but both Italy and Romania saw a rise in
exports of bedroom furniture to Japan.

Trade news from the Japan Lumber Reports (JLR)
The Japan Lumber Reports (JLR), a subscription trade
journal published every two weeks in English, is
generously allowing the ITTO Tropical Timber Market
Report to reproduce news on the Japanese market
precisely as it appears in the JLR.
For the JLR report please see:
http://www.nmokuzai.
com/modules/general/index.php?id=7
 
Forestry white paper – focus on utilisation of domestic
resources
White paper is the report that the government makes up to
explain present situation and future prospect of certain
industry. It describes issues and solution of the industry.

Forestry and Forest white paper is officially approved.
The main theme this year is wood industry since the
industry to process and distribute is vital and essential to
promote cyclical utilisation of forest resources.

After it sorted historical trend of main areas of the industry
by past period and categories such as lumber, plywood
woodchip, wholesale and trading firm in the industry. It
shows how each acted in different stages of the society.

History shows that there were different stages like wood
demand expansion period after the war until about 1973,
stagnant period from about 1973 to 1996 then declining
period after 1996.

Degree of self-sufficiency of wood largely dropped during
these periods then domestic trees planted after the war are
now matured for harvest and new development is possible.
In this situation, main task to the future is creation of new
demand of wood.

Recently large domestic wood sawmills, which consume
more than 30,000 cubic meters of logs a year, were built or
under construction in 18 different locations since 2010,
which should satisfy consumers" demand of stable supply
of lumber.

At the same time, on demand side, wood use is being
promoted by the law to use wood for public buildings,
which is new wood demand for non-residential buildings
then there is increasing demand of wood for mushrooming
biomass power generation facilities.

Also export of domestic logs and lumber has been
increasing. However, system to satisfy demand for
efficient and steady supply and for quality and
performance of the product has not been established yet.
On log production, intensification of operations, reduction
of cost of afforestation and rearing of nursing trees,
introduction of modern machines, preparation and
maintenance of forest road system to build up low cost and
efficient operations.

Japan to promote wood use for Olympic venues
Liberal Democratic Party"s joint committees heard various
reports from related Ministries such as the Forestry
Agency and organizations for preparations of wood use for
the Olympic Game"s facilities.

LDP considers the Olympic Games is the best opportunity
to appeal Japanese wood culture and traditional techniques
of utilisation of wood to the world.

It decides to appeal actively to the government and Tokyo
metropolitan government for building symbolic wooden
buildings and development of new wood products.

Wood Use Promotion Committee for year 2020, organized
by the industry groups strongly requests use of wood for
the Games and the Forestry Agency appeals use of wood
contributes revitalization of local villages by activating
forest harvest, prevention of global warming trend and
environment in forming sustainable society.

Then it also mentioned to recommend use of new
materials like CLT and fire proof laminated lumber. In
construction process, use of domestic product of softwood
concrete forming panel is promoted.

According to the Tokyo city government, it is considering
the use wood for athlete"s quarters and other temporary
facilities, Olympic Eco-Village, shops and recreational
facilities. For the New National Sports Stadium, wood use
is expected for interior of main guest rooms and stadium
chairs and interior decoration.

Plywood
Market of domestic softwood plywood is weak. The
monthly shipments have been over 210,000 cbms since
last January except for February when the shipment
dropped down to 178,500 cbms. Therefore, average
monthly shipment for the first four months is 205,000
cbms. Meantime, the monthly production has been over
210,000 cbms for four straight months.

March production was over 220,000 cbms. Consequently,
the inventories continue climbing to 256 M cbms at the
end of April. With increasing inventories, the market
remains weak.
In late March, the manufacturers announced the higher
prices so the market momentarily reacted and bounced
back up then the momentum faded and the prices have
been softening little by little in April and May. In late
May, the price dropped down to 700 yen per sheet
delivered and downward pressure continues in June.
Imported plywood market, on the contrary, is very firm
because of decreasing arrivals.

Import curtailment has been continuing due to depressed
market in Japan. In particular, Malaysian supply declined
for four consecutive months. Orders to the supplying mills
have declined because of weak yen, dull demand and
higher export prices as a result of log supply shortage in
Malaysia.
Indonesian plywood suppliers reduced export prices by
declining orders so the Japanese buyers shifted to
Indonesia to buy standard plywood and floor base when
Malaysian supply is declining and the prices are high.
Result is four months decline of Malaysian supply and
three months increase of Indonesian supply.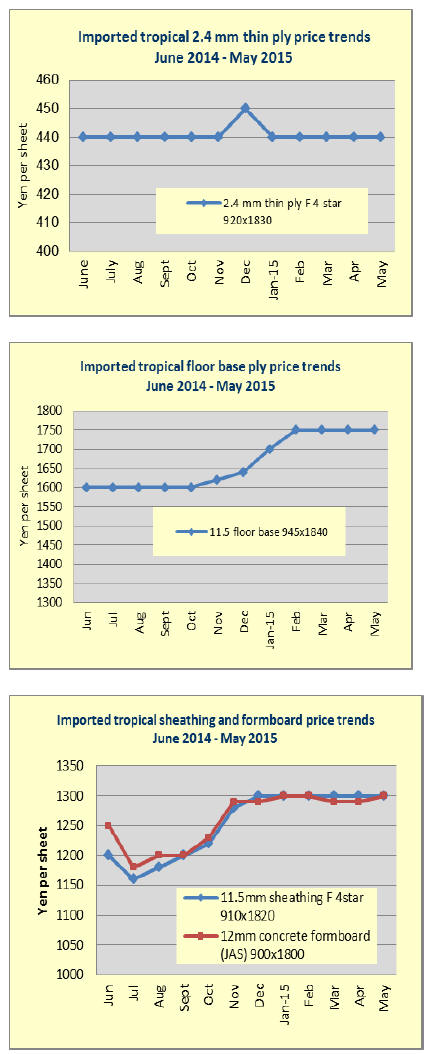 Largest LVL plant completed
Three companies, Iida group holdings, First Plywood and
Kawai Ringyo built the largest LVL manufacturing plant
in Japan, which completed in late March in Aomori
prefecture.
This is named the First Plywood and the plant is test
running now. Monthly production is about 75,000 cbms
with log consumption of about 140,000 cbms. Total
investment is 8.4 billion yen.

Aomori prefecture has the fourth largest forest in Japan,
which trees were planted after the war and they are
matured for harvest now but there was no large log
consuming plant of more than 50,000 cbms a year in the
prefecture so that more than half of harvested logs have
been sold outside the prefecture and it has been earnest
wish to have large log consuming plant in the prefecture.
Total production of LVL in Japan is about 70,000 cbms so
with this new plant, the total volume will be more than
double.