Japan Wood Products Prices
Dollar Exchange Rates of 10th December 2015
Japan Yen 121.57
Reports From Japan
Business sentiment steady – an improvement seen for
small enterprises
In the December quarterly Tankan survey of business
sentiment large companies indicated their perception of
business conditions was firm and unchanged from the
September survey.

This seems to indicate that the fears of a sharp decline in
sentiment due to economic uncertainty in China were
unfounded. Large businesses maintained their stance that
investment will continue through to the end of the fiscal
year in March 2016.

What is equally surprising is that small companies, which
have suffered most in recent times, are suggesting they see
trading conditions improving slightly.

The Tankan's sentiment indices are derived by subtracting
the number of respondents who say conditions are poor
from those who say they are good. A positive reading
means optimists outnumber pessimists.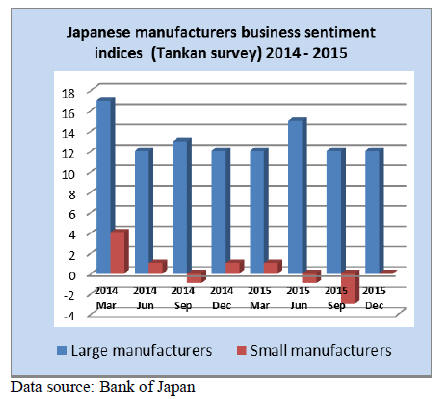 Unexpected improvement in consumer confidence
Japan's Cabinet Office has released the Consumer
Confidence Survey results for November. To the surprise
of analysts an unexpected rise has been reported with the
overall index climbing to a two year high.

The November index came in at 42.6, up 1.1 points from
October but still well in negative territory.

Looking at the various elements used to compile the
overall index it is seen that the Livelihood Index improved
as did the indices for perceptions of Income Growth and
Employment Prospects. The index for Willingness to Buy
Durable Goods (which includes furniture) rose to 41.6 (up
1.3 from October). However, all indices are below 50, the
threshold between pessimism and optimism.

For the full survey results see:
http://www.esri.cao.go.jp/en/stat/shouhi/shouhi-e.html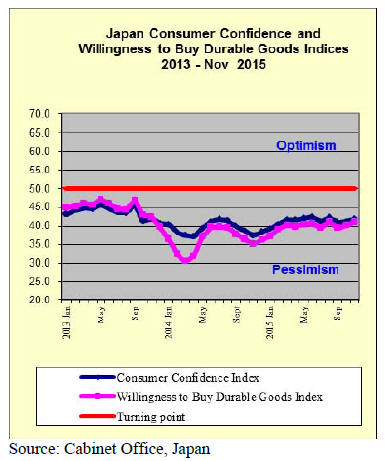 Another data reversal, this time GDP
Revised data on GDP recently released by the government
reverses the preliminary results on third quarter GDP
growth. The revised data indicates that not only is Japan
not in recession but third quarter growth was strong.

Based on third quarter data Japan is looking at an
annualised growth of just over 1% for 2015, a remarkable
achievement and lends support to the policies adopted by
the Bank of Japan (BoJ).

At the time of the release of the revised GDP data analysts
assumed this would mean the BoJ would be in no hurry to
launch a further easing of monetary policy any time soon
so it was a surprise when the BoJ announced a new
stimulus package in early December.

Behind the revised data was evidence of increased
investment, instead of driving down growth the revised
figures reversed the trend and pushed up GDP growth in
the third quarter.

Investment was the main force behind the revisions: it was
amended from a quarter on quarter fall of 1.3 per cent to a
rise of 0.6 per cent. Instead of subtracting 0.7 percentage
points from annualised growth, therefore, it added 0.3
percentage points.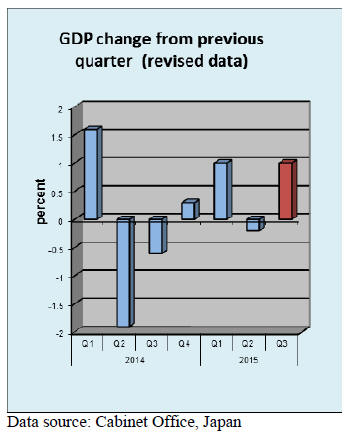 Annualised housing starts fall below 900,000
October housing start data from the Ministry of Land,
Infrastructure, Transport and Tourism show a continuing
decline for the second consecutive month.

October housing starts were the lowest since June this year
and were down 2.5% from the same month last year.

As of October annualised housing starts stood at 862,000
down from the September forecast of 900,000.
Looking ahead for the balance of the year prospects do not
look good as orders placed with construction firms are
well down (-25%) compared to the same period last year.

For more see:
http://www.mlit.go.jp/toukeijouhou/chojou/stat-e.htm

US rate hike already factored in
Early in the month of December the yen rose against the
dollar as the BoJ hinted it had no plans to expand it
monetary easing stance. But the recent decision to
introduce new stimulus measures pushed the yen down for
a short period.

However, the actions of the BoJ were largely
overshadowed by the decision of the US Federal Reserve
to raise interest rates in the US.

This move was widely expected and its likely effect had
already been built into exchange rates. Japan's Minister in
charge of Economic Revitalisation, Akira Amari, said that
markets are taking the rate hike favourably after having
already factored-in concerns over the move's impact on
emerging economies.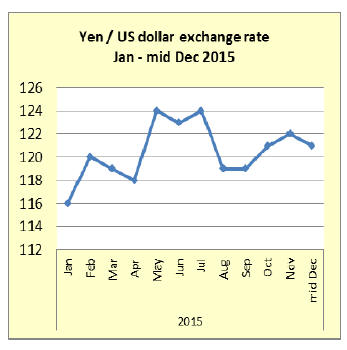 Import round up

Doors
Year on year October 2015 door imports rose 14% and
October marked the third consecutive monthly increase in
wooden door imports. China remains the main wooden
door supplier to Japan followed by Philippines and
Indonesia.

The top three suppliers accounted for around 88% of all
wooden door imports in October.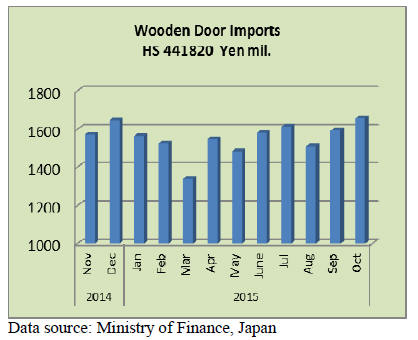 Windows
In October 2015 the top suppliers of wooden windows to
Japan were China and Philippines, together they accounted
for approximatley 70% of all wooden window imports.
China remains the main supplier of wooden windows to
Japan. October 2015 imports of wooden windows were the
highest for the past twelve months.

October 2015 imports were up 27% year on year and
monthly import values have risen since August.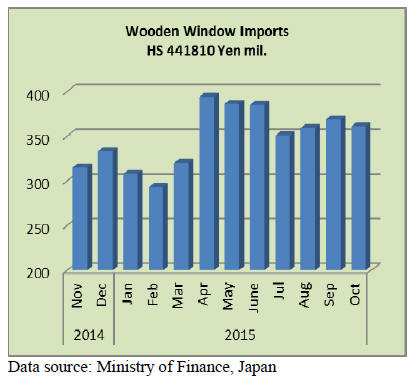 Assembled flooring
Year on year, Japan's October 2015 imports of assembled
flooring broke the downward trend seen since July.
October assembled flooring imports were up almost 30%
on September levels but year on year they were down a
massive 37%.

China alone accounted for 60% of Japan's October 2015
imports of assembled flooring and if imports from the
other three main suppliers, Thailand, Indonesia and
Vietnam are included then 84% of all assembled wooden
flooring is accounted for.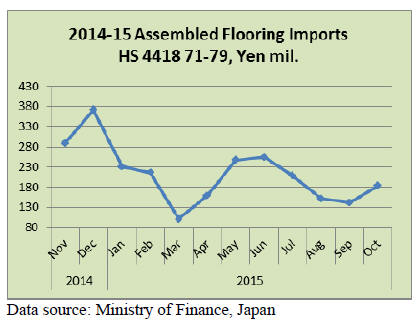 Plywood
Suppliers in three countries, China, Malaysia and
Indonesia account for almost all Japan's plywood imports.

The volume of plywood imports in October 2015 were up
7% year on year and October marked the third straight rise
in imports from Malaysia and Indonesia. China ships
plywood to Japan but the volumes are small, around a
quarter of that shipped by either Malaysia or Indonesia.

Year on year October plywood imports from China were
down 26% while, in contrast, shipments from Malaysia to
Japan rose by almost the same amount (22%).

Japan's plywood imports from Indonseia have been rather
erratic since mid year but have increased since August this
year.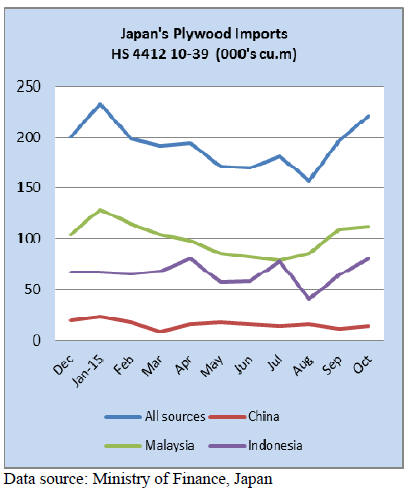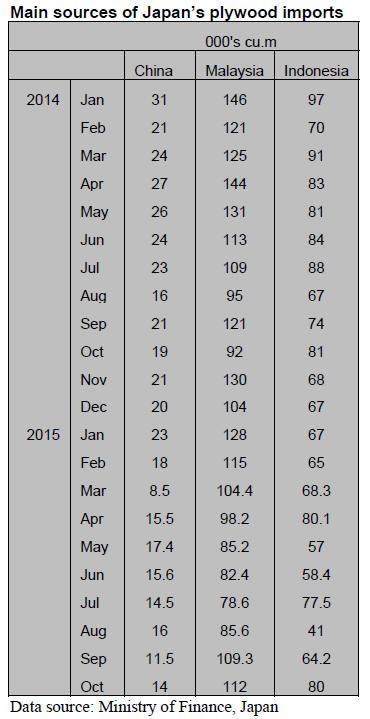 Trade news from the Japan Lumber Reports (JLR)
For the JLR report please see:
http://www.nmokuzai.
com/modules/general/index.php?id=7

Plywood market news
Domestic softwood plywood market is firm. Since middle
of the year, shipment has been increasing and the
manufacturers' inventories continued dropping. After
middle of November, the shipments by major
manufacturers have started delaying in Kanto region.

Wholesalers, which have been regularly purchasing from
the manufacturers, complain that purchase is getting
difficult. In Western Japan, this firm trend has been
continuing since last summer so all the plywood
manufacturers announced price increase one after another.

In Eastern Japan, delay of deliveries by low
manufacturers' inventories has started since October and
deliveries to precutting plants started delaying in
November, particularly for special items.
By extreme low inventories, the manufacturers ship out
real fresh products so it is getting hand to mouth situation.

October's softwood plywood production was 228,600
cbms, 4.3% more than October last year and 5.9% more
than September but the shipment is more than the
production at 244,100 cbms, 10.2% and 6.3% more.

The shipment exceeded 240 M cbms since June and July
so the inventories further dropped down to 134,200 cbms,
15,000 cbms less than last month. In the market in Tokyo,
12 mm 3x6 panel pries are 870 yen per sheet delivered.

Meantime, imported plywood business continues struggle.
In Tokyo market, the movement has been slow and it is
hard to bring the prices to the cost level. The importers
and wholesalers carry high cost inventories and it is very
difficult to generate profit in depressed sales prices. Top
prices of concrete forming for coating are 1,480-1,500 yen
per sheet delivered in Tokyo market.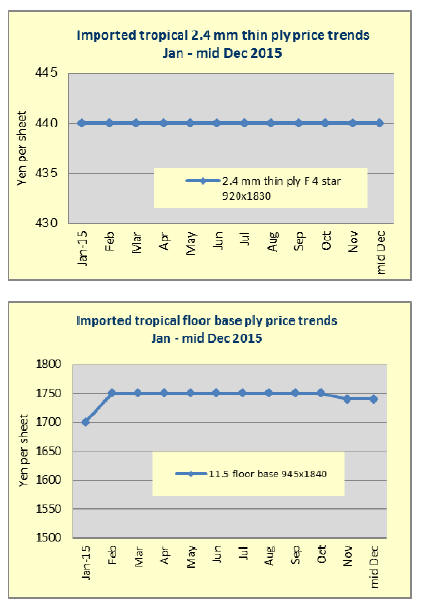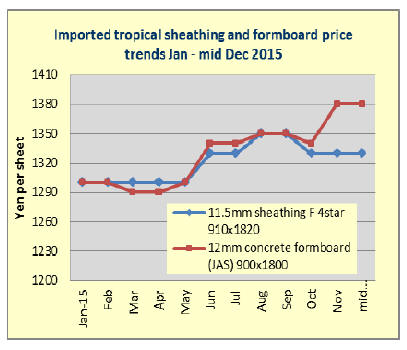 Daiken to build door plant in Indonesia
Daiken Corporation (Osaka) announced that it would build
a new door manufacturing plant in Surabaya, Indonesia. It
also established a subsidiary company, Daiken Dharma
Indonesia, which manages and markets the products a new
plant manufactures.

It is joint venture business with Dharma Satya Nusantara
(DSN), which was established in 1980 for manufacturing
oil palm, wood products and plywood. The plan is to start
manufacturing in July 2016 then target of sales by 2020
would be three billion yen.

Production plan is to manufacture interior door of 180,000
sets a year by 2020. Total capital is about 770 million yen.
Daiken puts up 70% and DSN 25%. Balance of 5% is by
local companies.

Size of property is 19, 059 square meters with building of
8,970 square meters. Initial number of employees will be
about 70.

Indonesia has 4th largest population in the world with
strong economic growth and it is expected that demand of
housing for wealthy and medium income people is
expected to grow rapidly and interest to high quality and
unique design products is rising.

To promote sales in Indonesia, Daiken opened the office
in Jakarta in 2012 and started market research. In 2014, it
set up a joint venture company for marketing interior
building materials and started selling the products to local
companies and Japanese general construction companies
and developers.

Now Daiken establishes continuous operation from
manufacturing, marketing and actual application works as
contractor.

Daiken made up long range business plan and overseas
business expansion, particularly in South East Asia is one
of the targets and this is one of the plans.