2. GHANA
Encouraging nine month export results
The third quarter 2015 timber export report has been
published by the Timber Industry Development Division
(TIDD) of the Forestry Commission (FC).

This shows the cumulative volume of timber exported
during the first three quarters of the year was 267,379
cu.m, up by 7% on the 249,846 cu.m in the same period in
2014.

The corresponding earnings for the first three quarters of
2015 was Euro135.02 million, up 37% year on year.
The top five export products for 2015 and 2014 are shown
in table below;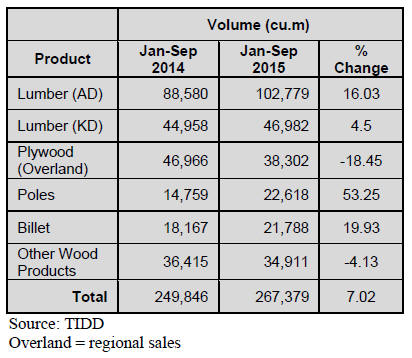 Of the total volume of 267,370 cu.m exported in 2015, airdried
sawnwood (38.4%) and kiln-dried sawnwood
(17.6%) accounted for 56% of the total. This was followed
by overland sales of plywood to neighbouring countries
(14.3%), poles (8.5%) and billets (8.1%).

Except for plywood, exports to ECOWAS countries
declined however, for most other main export products
increases were recorded compared to 2014. The export of
poles and billets (small plantation logs) to Asian markets
were significant in total exports at +53% and +19%
respectively. Asian markets together accounted for almost
60% of total wood product exports.

The main export markets during the first three quarters of
2015 are shown below.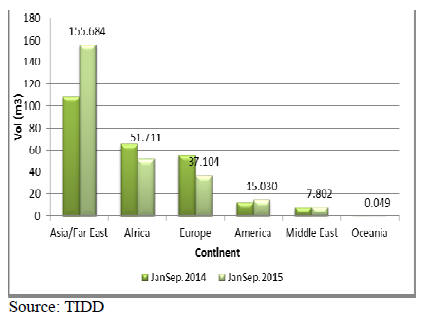 Utility rate hikes shock businesses
The Ghana Public Utility Regulatory Commission (PURC)
increased prices for water and electricity by 59.2% and
67.2% respectively effective 14 December 2015.

The price increases followed a nationwide consultation on
adjustments to utility tariffs.
Nana Yaa Jantuah, the Director of Public Affairs of the
PURC, said several factors such as consumer and investor
interest, economic development in the country and the
poor availability of services were among factors
considered in adjusting the prices for utilities.

The price rises have caused a public outcry and the
Association of Ghana Industries (AGI), the Industrial and
Commercial Workers Union (ICU) and the Trades Union
Congress (TUC) have said this decision was ¡°unfortunate
and unwarranted¡±.

Businesses have individually expressed dismay at the huge
increase in prices. For many manufacturers, including
timber companies which are already facing financial
problems, the new prices for utilities could drive many out
of business.

A portable power unit ¡®Karpower barge¡¯ from Turkey, has
arrived off-shore. This unit is capable of providing about
225MW but energy experts say this cannot completely
solve the country¡¯s power problem and manufacturers
must continue to rely on alternative power sources.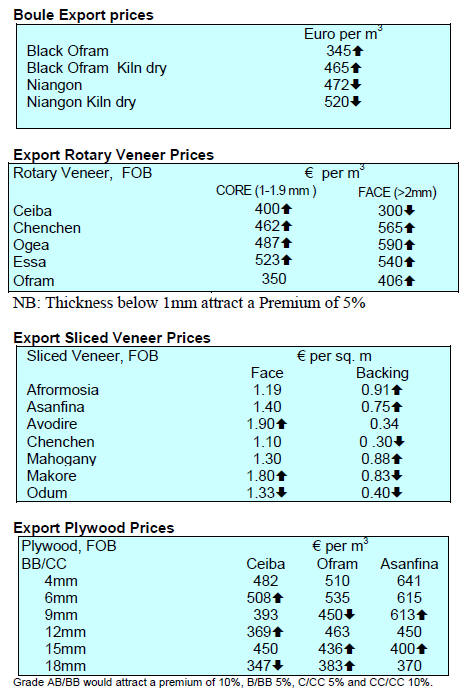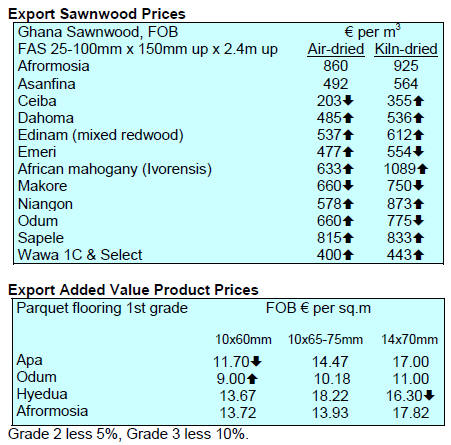 3. MALAYSIA
Export earnings rise on back of weaker Ringgit
In sharp contrast to a forecast slowing, Malaysia¡¯s exports
surged 16.7% in October to RM75.8 billion (approx.
US$17.7 billion), the fastest pace of month on month
growth since May 2014.

This performance was due to increased exports of
manufactured goods to the markets of ASEAN, China, the
EU and the US.

A statement from the Ministry of International Trade and
Industry (MITI) said much of the improvement stemmed
from a rise in exports to China followed by the EU.
Exports to the US, Singapore and Australia also increased.

MITI said the main commodities that contributed to the
rise in exports in October from a year ago were the 22.7%
increase in electrical products which contributed 34.6% to
total exports. It also noted the good performance recorded
for wood product exports which increased close to 30% in
value.

Sarawak log exports falling
For the period January to October 2015 Sarawak exported
2,217,431 cu.m of logs worth RM1,471,154,724 (approx.
US$343 million).

In the same period Sarawak plywood exports reached
1,482,600 cu.m worth RM2,726,218,228 (approx. US$635
million).

From January to October 2014 Sarawak exported
2,563,185 cu. m of logs worth RM1,709,427,780 along
with 1,919,233 cu m of plywood worth RM3,228,824,079.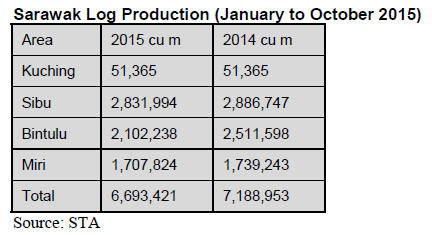 Biodiversity super highway
Malaysia wants to keep the Peninsula¡¯s forests linked
together to establish a contiguous forest range from the
Thai border to Johor, creating a biodiversity¡¯ super
highway¡¯. It has been estimated that this plan will cost the
Federal Government at least RM4 billion (approx. US$934
million).

Natural Resources and Environment Minister, Dr. Wan
Junaidi Tuanku Jaafar, said in a press interview, ¡°the
RM4bil. would go towards acquiring the land from the
states to meet that goal. This amount is to create the
corridor for all the clustered forested areas cut through by
development and plantations¡±.
¡¡
4. INDONESIA
Indonesia and China cooperation on legal timber sales
Indonesia and China have agreed to promote a two-way
sustainable timber trade. It has been reported that the
authorities in China have indicated they would now only
allow verified legal wood products to enter the country
and that SVLK certificates would be recognised as
providing evidence of legality.

The agreement was forged when an Indonesian delegation
led by Putera Parthama, Director General of Sustainable
Forest Management, Ministry of Environment and
Forestry, met with his counterpart, Deputy Director
General of International Cooperation, China State Forestry
Administration during the Climate Change Conference in
Paris. China is a main market for Indonesian wood
products and over the past 12 months imported wood
products worth around US$2 billion.

See: http://silk.dephut.go.id/index.php/article/vnews/137

FLEGT licenses soon says EU
The EU Ambassador to Indonesia, Vincent Guerend, has
reiterated that the EU is ready to ratify the VPA with
Indonesia and that this would lead the way for FLEGT
licensed wood products to enter the EU market without
importers having to comply with the ¡®Due Diligence¡¯
requirements of the EU timber regulation.

The FLEGT implementation, said Guerend, would benefit
Indonesia, which currently has a 40-percent market share
in the EU tropical timber market. However, he said that
until the FLEGT licenses are issued timber products must
be accompanied by the required V-legal certificates.
Use only SVLK timber says National Development
Planning Agency
The National Development Planning Agency (Bappenas)
is preparing a presidential regulation that would require all
wood products used in government projects to meet the
national timber legality assurance system. The Director of
Bappenas, Basah Hernowo, said this regulation would
encourage improved sustainability and good forest
governance.

Logistic costs higher than in neighbouring countries
Planned investment in Indonesia¡¯s infrastructure is forging
ahead as new power and transport projects get underway.

The Oxford Business Group in a press release says
¡°Logistics costs also remain higher than in many
neighbouring countries, with the average transport time
per 100 km at 2.6 hours in Indonesia, compared to 1.4
hours in Thailand and 1.2 hours in China, according to the
East Asia Forum.¡±

According to a recent study by the OECD, a 10% increase
in physical infrastructure stock in China led to a 2-4%
increase in GDP.

http://www.oxfordbusinessgroup.com/news/indonesia-upgradeand-
expand-keyinfrastructure?
utm_source=Oxford%20Business%20Group&utm
_medium=email&utm_campaign=6561979_EU%20-
%20Indonesia%20-%2015%2F12%2F2015%20-
%20Indonesia%20to%20upgrade%20and%20expand%20key%2
0infrastructure&utm_content=Indonesia-EU-
15%2F12%2F2015&dm_i=1P7V,3WN97,KV886Z,E30MO,1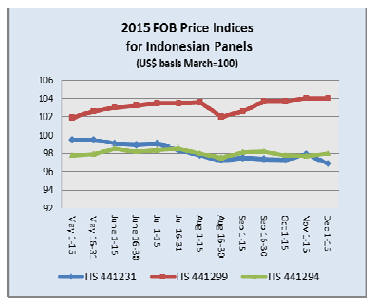 ¡¡
5. MYANMAR
Withdrawal of company licenses revisited
Further to the decision by the Directorate of Investment
and Company Administration (DICA) on de-registering
non-operational companies it has been learnt that the
DICA will now issue a revised company list after a
number of complaints from active businesses named on
the original list as being non-operational.

Some companies confirmed that they are currently active
in Myanmar and that they have already submitted
documentation notifying the DICA.
Others said that in some cases old company names are
included in the DICA list and this is leading to confusion
among clients.

The DICA has released an updated list and will give
companies one month to confirm whether or not they are
still in business before de-registering them.

Special Open Tender sales report
Below are the results of the Local Marketing Department
(LMD), Myanma Timber Enterprise (MTE) Special Open
Tender sales in November 2015.

Logs volumes are expressed in hoppus tons (H.tons) and
conversions (and sawn teak including hewn timbers) are
shown in cubic tons (C.tons).

The LMD has had success with its monthly tender sales
which are reported to be quite popular amongst local
timber buyers. Logs, sawn-wood and hewn timber are sold
in Myanmar Kyats (MMK). The tables below show some
of the interesting prices from the recent sales.

The volume sold by LMD in October was about 27,000
tons and in November volumes fell to 17,500 tons. The
quantity purchased may be cut into various sizes and
specifications for export as well as domestic use.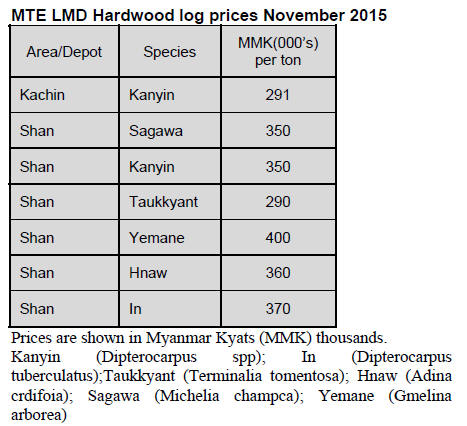 A Tender for high grade teak logs such as 3rd Quality,
SG1, SG2, SG4 was not conducted in November as at the
previous sale only one bid was made. Analysts say that
domestic millers have a considerable stock of timber
already and with the strengthening of the US dollar they
are probably unwilling to buy more for the time being.

The LMD is mulling waiting to sell the higher grades of
teak logs until demand improves. However, with the
financial year coming to a close (March 2016) analysts
wonder how long they can wait.

No sales by the LMD means less dollar earnings which
could mean the LMD fails to meet its earnings target.
The problem is that demand is weak as the supply of good
quality teak for the EU has fallen. Currently most teak
milled domestically is shipped to India.

There are still reports of illegally harvested tamalan and
padauk timber being seized. As recent as 29 November a
truckload of hewn tamalan possibly heading to the border
was seized in Loilem District, Shan State.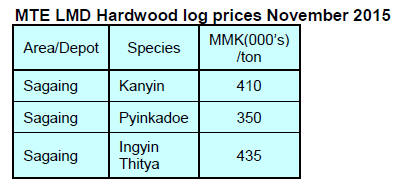 LMD Teak conversions sales 27 November 2015
A total quantity of 103 cubic tons sawn teak was sold by
open tender. Average prices are shown below: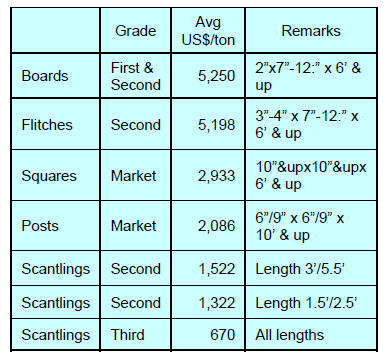 6. INDIA
E-commerce to grow 10-fold in 5 years
The Federation of Indian Chambers of Commerce and
Industry (FICCI) has released a report on the potential of
India¡¯s e-commerce market. The report was prepared in
cooperation with the consultancy firm KPMG.

The report says India¡¯s e-commerce market could expand
10-fold over the next 5 years and could be worth US$100
billion at that time. The forecasts are based on the
assumption that increasing internet infrastructure and the
affordability of smartphones will drive this growth.

More information on the FICCI/KPMG report ¡®Direct
selling; Mapping the industry across Indian states¡¯ can be
found at: http://www.ficci.com/ficci-in-newspage.
asp?nid=10726

Government pressing ahead with new housing
regulations
In a press release the Confederation of Real Estate
Developers Association of India (CREDAI) reports the
government intends to pass a crucial real estate bill aimed
at curbing malpractices and improving transparency in the
sector through a regulatory mechanism.

The press release continues ¡°The Housing and Urban
Poverty Alleviation (HUPA) Ministry has accepted all the
amendments proposed by the Rajya Sabha Select
Committee in the Real Estate (Development and
Regulation) Bill, 2013, and is readying to move the
amended legislation for the cabinet's approval.

The bill seeks to set up a regulatory framework that will
govern contracts between home buyers and sellers. A
regulator to curb malpractices in the real estate sector¡±

For more see:
http://www.credai.org/sites/default/files/Govt%20wants%20pass
age%20of%20Real%20estate%20bill.pdf

2015 survey ¨C India¡¯s forest and tree cover at 24% of
land mass
According to Prakash Javadekar, Minister of Environment,
Forest and Climate Change, India¡¯s forest cover has
increased by 5,081 sq km and these forest represent a huge
carbon sink.

The release of estimates of India¡¯s carbon stock was
provided to delegates at the recent climate change
conference (COP 21). The Minister stated that India
remains committed to increasing its carbon sink capacity.

An update on India¡¯s Intended Nationally Determined
Contributions (INDC) released during COP21 envisages
the creation of additional carbon sink capacity.

The latest assessment is based on the Forest Survey of
India, a biennial assessments of the forest cover for the
country launched in 1987. The current report was
published on 4 December 2015.

While the total forest cover in the country has increased by
3, 775 sq km, the area of tree cover has gone up by 1, 306
sq km, according to latest survey. The 2015 survey reports
total forest and tree cover at 79.42 million hectares or just
over 24% of the geographical area.
Prices for imported plantation teak, C&F Indian ports
The volume of larger girth logs increased recently and this
has lifted the landed costs from several suppliers.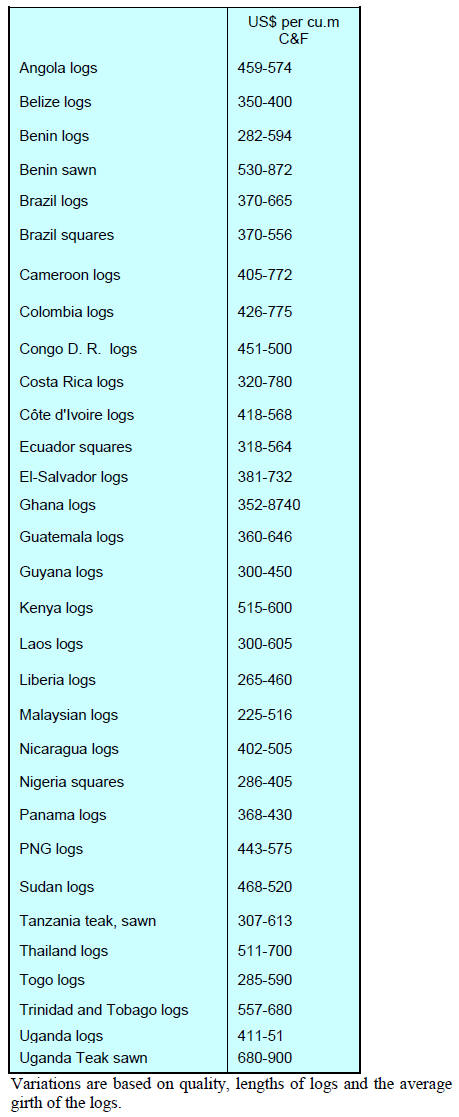 Prices for locally sawn hardwoods
Prices are unchanged from the end of November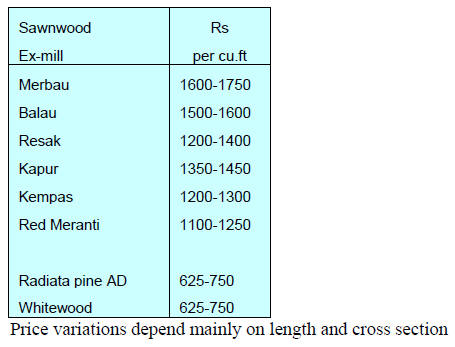 Myanmar teak logs sawn in India
No price movements have been reported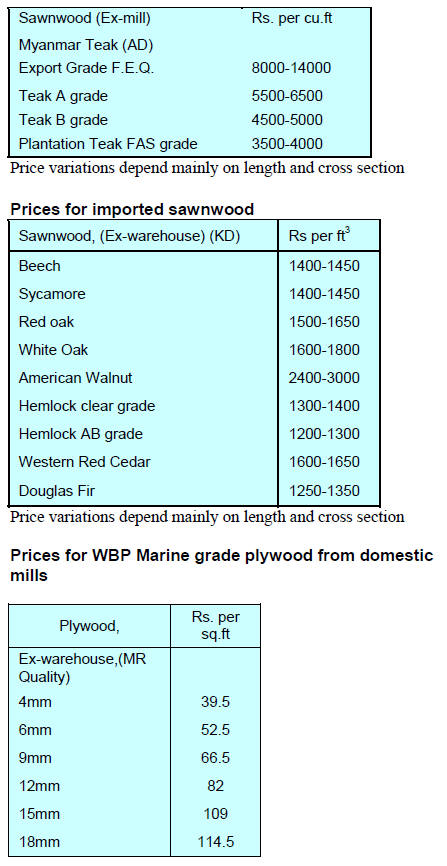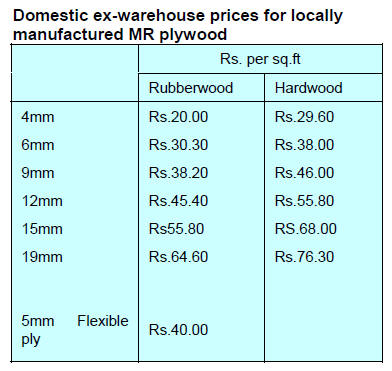 7. BRAZIL
Forest products contribute to trade surplus
Between January and November 2015 Brazil accumulated
a US$13.5 billion trade surplus according to the Ministry
of Development, Industry and Foreign Trade (MDIC).
Over the past eleven months, Brazilian exports reached
US$174.4 billion and imports reached US$160.9 billion.

The main products exported were agri-business-related
and just 16 products earned the country US$65.6 billion or
close to 40% of total export earnings. Forest products are
among the 16 top products exported and over the past
eleven months, pulp exports reached US$5.1 billion (4.7%
more than in 2014).

Exports of paper and paperboard increased toUS$1 billion,
up 3.4% year on year. Sawnwood exports totalled US$416
million, (+9.2%yera on year).

The increase in exports is due mainly the depreciation of
the Brazilian Real as competitiveness was improved.
Another factor driving up exports was the poor domestic
demand which drove manufacturers to actively promote
sales overseas.

Paric¨¢ plywood, potential for export
The Brazilian Association of Mechanically-Processed
Timber Industry (ABIMCI), in collaboration with paric¨¢
plywood manufacturers, has published a ¡®Paric¨¢ Plywood
Catalog¡¯, considered a tool for further promotion of this
product. The catalog is part of a strategy by producers in
the Northern Region who have invested in paric¨¢
plantations.

The new promotional material says paric¨¢ plywood is a
sustainable product from the Amazon Region with
competitive advantages such as being lightweight, strong
and produced to a high technical standard.

Currently, around 95% of the paric¨¢ plywood production
(about 16,000 cu.m/month) is for the domestic market,
especially for the Northern, North-eastern, Central-
Western and parts of the South-eastern Region.

According to the Association of Timber Industries of
Rondon do Par¨¢ Municipality (SIMARP), paric¨¢ plywood
manufacturers anticipate growing demand for this product
in the domestic market and see an export potential,
especially in the furniture manufacturing sector where
there is a demand for light weight panels.

Furniture industry turns to customisation to stay
profitable
2015 has been difficult for almost all industrial sectors in
Brazil including the furniture sector. Furniture
manufactures have seen markets weaken and prices being
driven down which has led to very tough decisions on
production cost control.

Local analysts suggest there has been a decline of around
18% in furniture production in Western Santa Catarina
State, one of the biggest furniture clusters in the country.
Sales have dropped by as much as 40% in some market
sectors and the impact on unemployment continues to
worsen.

Increases in power charges and taxes have severely
affected profitability and has driven manufacturers to
develop innovative customer/utility-oriented products,
customise their products to the need of consumers by
emphasizing value comfort and develop affordable design.

Sadly, it is reported that overall productivity in
manufacturing is declining which pushes up the prices that
consumers are expected to pay but in the current economic
climate in the country this is a hard sell.

Monitoring techniques for selective logging
The National Institute for Space Research (INPE) has
developed a monitoring technique for selective logging
(DETEX) designed to control and monitor logging in
forest concession areas in partnership with the Brazilian
Forest Service (SFB). The objective is to deter illegal
logging and verify if concessionaires are operating within
their forest concessions.

The DETEX methodology was developed by the SFB,
Environmental Institute of Mato Grosso do Sul State
(IMASUL), Brazilian Agricultural Research Corporation
(EMBRAPA), Municipal Environmental Secretariat of
Trairão / PA, Federal Rural University of Amazonia
(UFRA) and Federal University of Par¨¢ (UFPA).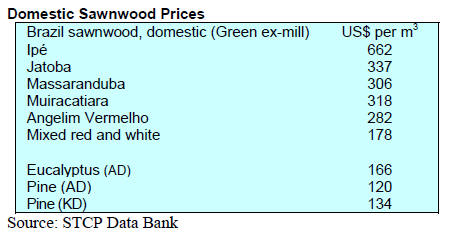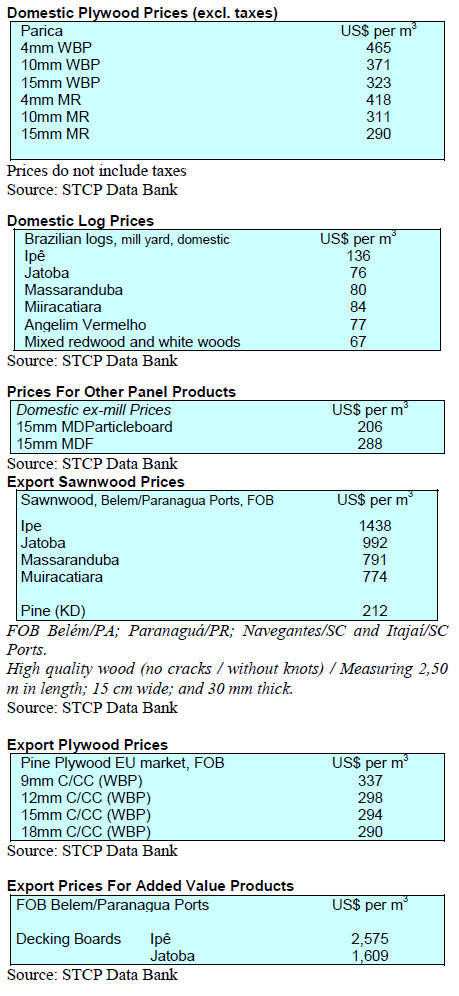 8. PERU
Falling investment in construction hits manufacturing
output
Central Reserve Bank of Peru (BCR) Governor, Julio
Velarde, has forecast the Peruvian economy would expand
by 2.9% in 2015 and continue strong growth into 2016.

In a press release the BCR report GDP grew 3% in
October 2015 with output in the primary sectors growing
over 7%, driven by metal mining (16%) and the
agriculture sector (4%).

Output in the manufacturing sector declined in October
and between January to October, output in the
manufacturing sector fell 2.6% being hit by slowing
construction sector growth, the result of a drop in both
public and private investment.

See: http://www.bcrp.gob.pe/engdocs/
Publications/Weekly-Reports/2015/weekly-report-
47-2015.pdf

Seizure of illegal timber
Just as the Peruvian delegation contributed to the
development of forest conservation forest policies at the
Climate Change Conference in Paris authorities at home
seized a large consignment of what was determined as
illegally harvested timber ready to be shipped out of the
country.

In Paris, the delegations from Peru, Ecuador and
Colombia discussed how to strengthen initiatives taken
under the Pact for Legal Timber under the framework of
COP21.

See: http://www.peruthisweek.com/news-peru-confirmssustainable-
forest-development-at-cop21-108417

Private fund to reforest the Amazon
The fund management company LXG Asset Management
announced the creation of the first private equity fund
dedicated to the reforestation of the Amazon. This vehicle
is called LXG Re-forest Amazon Fund.

The fund has purchased 250 hectares of deforested lands
from ranchers and farmers in the Madre de Dios region.
The goal is to plant two species, teak and bolaina
(Guazuma crinita) a timber has an established domestic
market.

Martin Farina, a spokesperson from LXG Asset
Management said "the Peruvian Amazon has climatic
conditions that allow us to have a wide diversity of species
and plant trees that grow fast¡±.

See: http://elcomercio.pe/economia/peru/crean-primer-fondoprivado-
reforestar-amazonia-noticia-1862699

Communities deliver independent forest monitoring
The latest newsletter from the EU FLEGT Facility and the
EU FAO FLEGT Programme describes how an
independent monitoring project in Peru is helping to
prevent conflict and improve forest governance through
facilitating dialogue between public institutions, the
private sector and indigenous groups.

The news item says, ¡°The project Veedur¨ªa de San
Mart¨ªn (San Martin Monitoring) is being implemented in
the northern San Martin Region, bringing together
government and regional representatives with the NGO
CEDISA (Asociaci¨®n para la investigaci¨®n y Desarrollo
Integral). Indigenous peoples are directly involved through
the Selva Peruana¡¯s Interethnic Organisation for
Development (Asociaci¨®n Inter¨¦tnica de Desarrollo de la
Selva Peruana).
The San Martin Region has a large framework of policies
and regulations to support forest management, including a
territorial policy to achieve democratic governance. Two
regional decrees from 2014 called for the implementation
of the indigenous forest monitoring system which is now
being put in place.

This is the fifth monitoring system to be implemented in
Peru. It will take into account issues including timber
legality and land management and includes early warning
systems to prevent and handle social conflicts.

San Martin Monitoring will play an important role in
improving forest governance in the region, and will
contribute to work to validate the extent to which San
Martin is in compliance with Reducing Emissions from
Deforestation and Forest Degradation (REDD+)
safeguards.¡±

For more information contact Teddy Peñaherrera, Project
Coordinator, at tpenaherrera @ hotmail.com.