2. GHANA
Forestry features in 2016 budget
The Minister of Finance, Mr. Seth Terker, has presented
the 2016 budget to parliament. The targets for 2016 focus
on the following:
 real GDP (including oil) growth of 5.4%;
 non-oil real GDP growth of 5.2%;
 an end year inflation target of 10.1%;
 an overall budget deficit equivalent to 5.3% of
GDP; and
 achieving international reserves of not less than 3
months of imports

The major highlights for the forestry and timber sectors
are as follows:
  The new Public Wood Procurement Policy and
the revised Forestry Development Master Plan
will be implemented along-side the Forest and
Wildlife Policy of 2012.

 The Forestry Commission (FC) will continue
with policy and legislative reforms in the forestry
sector.

 The FC will in 2016, continue with the
maintenance and management of all forest
plantations (2314 ha established in 2015), under a
Public-Private Partnership (PPP).

 The FC will continue the promotion of the
utilisation of lesser used timber species and the
development of the bamboo and rattan industry.

 The FC will be well resourced to intensify law
enforcement and deployment of additional more
Rapid Response Teams (RRTs) across the
country to stem illegal activities, especially
chainsaw operations.

 A Consolidated Wildlife Bill, which is expected
to make wildlife laws and management more
effective and efficient across the country, has
been approved by Cabinet.

 Implementation of the Voluntary Partnership
Agreement (VPA) with the EU will continue.
Over 90 percent of the wood tracking system has
been completed and rolled out to ensure that only
legally produced timber is exported to the EU
market from Ghana, will continue.

 The single eco-tourism facility project located in
the country*s capital will continue in 2016.

The 2016 budget avoids imposing new taxes but rather
focusses on tightening tax policies by streamlining
exemptions and avoiding revenue leakages.

Lack of business confidence holds back investment in
manufacturing
In another development the Monetary Policy Committee
(MPC) of the Bank of Ghana, after its 67th annual
meeting, increased its policy rate to 26%, up from the
previous 25%.

According to the Statistical Service, Ghana's producer
price inflation fell to 2.8% in October from a revised 4.8%
in September, continuing a downward trend. The fall
reflects apparent progress in stabilising the economy.

Ghana is following an International Monetary Fund aid
programme to resolve problems that include consumer
inflation persistently above target.

The Association of Ghana Industries (AGI) and
manufacturing companies have expressed concern on the
current state of the manufacturing industries and urged
government to focus on raising confidence in the private
sector to encourage higher investment.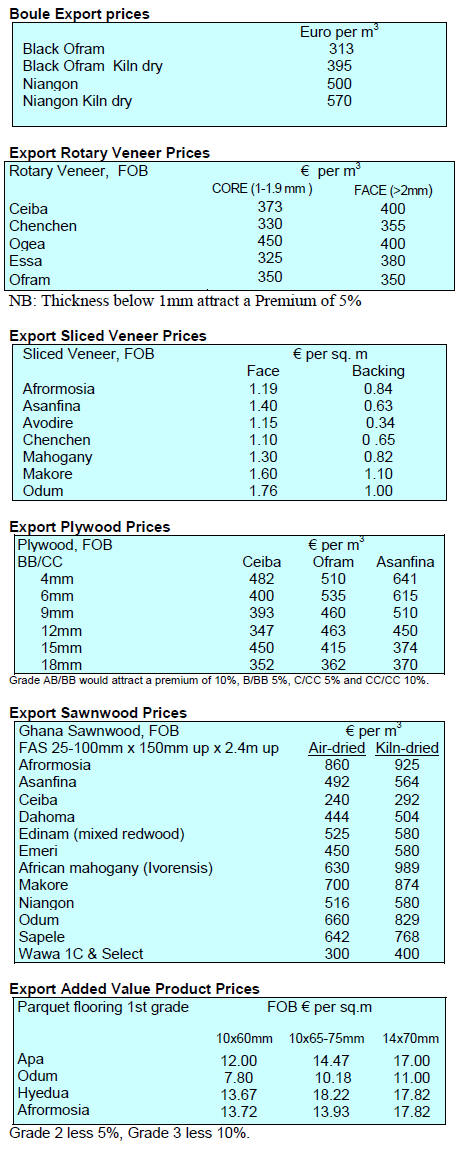 3. MALAYSIA
Winners from weaker ringgit
Malaysian exporters, especially furniture makers, are
benefitting from the continuing weak ringgit. At the
current rate of over RM 4.25 to the US dollar the ringgit
has weakened around 27% in the year.

This year furniture exports are already up around 20%.
Sales in June were up 18%, they were up 20% in July and
almost 15% in August compared to the same months last
year. In terms of value, June exports were worth RM 755.9
million, RM 791 million in July and RM 835.6 million in
August. The USA was the biggest export market with
January to July exports worth RM 1.34 billion.

Plywood exports have laso been big winners as sales in the
first eight months totalled RM 3.4 billion, well up on the
RM 2.9 billion for the whole of 2014.

Standard for forest management up for review
The Malaysian Criteria and Indicators for Forest
Management Certification MC&I (Natural Forest), the
standard used for forest management certification of the
natural forest under the Malaysian Timber Certification
Scheme (MTCS) since July 2012, is now due for a review.

According to the MTCS a technical document &Rules on
Standard Setting Process for Development of Timber
Certification Standards*, the forest management standard
is to be reviewed at least every five years.

The review of the MC&I (Natural Forest) is scheduled for
conclusion in 2017 as it is anticipated that review process
would take 22 months.

MTCC has indicated that the upcoming review of the
MC&I(Natural Forest) will consider merging and
incorporating this with the MC&I Forest Plantation.

Heart of Borneo initiative gets Federal funding
The Natural Resources and Environment Minister, Wan
Junaidi Tuanku Jaafar, has said the Malaysian Federal
Government is committed to the Heart of Borneo (HoB)
initiative and will continue to support Sabah and Sarawak
in the implementation of various projects and activities
under this initiative.

The Minister said HoB initiative is important for the
national image and will directly contribute to improved
forest management. The Federal government has
reportedly allocated about RM34.46 million for HoB
support.

New era in Sarawak/NGO relationships
The state government is enhancing collaboration with nongovernmental
organisation*s that share the same agenda of
conserving the state*s rich forest resources to ensure not
only systematic management and conservation but also
one that is sustainable while upholding the state*s good
reputation internationally.

The chief minister also stressed the need for Sarawak to
intensify measures to ensure effective management and
conservation of forest resources as part of the global
efforts to counter global warming and degradation of the
environment.

Intensifying enforcement of forest laws and regulations to
stamp out illegal harvesting is a major objective in the
State. In this regard, the State Forestry Department has
achieved success since strengthening enforcement and
collaborating with other agencies.

Reduced import duties in S. Korea a boost to plywood
manufacturers
Plywood exports from Sarawak to South Korea increased
significantly after South Korea cut in anti-dumping duties
by more than half to 3.08% from 6.43%. One company,
Jaya Tiasa, saw an 11% rise in sales to South Korea, its
main market, over the twelve months to June this year.

The Korean Trade Commission (KTC) imposed antidumping
duties ranging from 5.12% to 38.1% on
Malaysian plywood for three years from February 2011.

Duties were placed on exports from 8 Sarawak plywood
manufacturers and one from Sabah after the Korean Wood
Panel Association argued these companies were selling
below cost and thus undermining South Korean producers
of plywood. Following a three-month review the South
Korean authorities decided to extend the duties but at a
reduced rates from the middle of last year.

Plywood export prices
Plywood traders in Sarawak reported export prices:
Floor base FB (11.5mm) US$ 570/cu.m FOB
Concrete formboard panels CP (3* x 6*)
US$ 520/cu.m FOB
Coated formboard panels UCP (3* x 6*) US$ 600/cu.m
FOB
Standard panels
S Korea (9mm and up) US$ 400 每 410/cu.m FOB
Taiwan (9mm and up) US$ 410/cu.m FOB
Hong Kong US$ 420 FOB/cu.m
4. INDONESIA
Furniture exporters 每 No to relaxing SVLK equirements
Wood product exporters in Indonesia have voiced concern
over the decision of the Ministry of trade to allow export
of a range of downstream wood products without SVLK
certification. This, say exporters, will undermine the
advances made in overseas markets.

The latest information from the Ministry of Environment
and Forestry shows that wood product exports to the end
of October were worth over US$10 billion well up on the
US$ 6 billion for the whole of 2014.

Putera Parthama, DG Sustainable Production and Forest
Management, said the increase in exports was due as much
to the implementation of reforms in the forestry sector as
to an improved global economy.
However, he did acknowledge that the SVLK issue is of
concern to SMEs in the timber sector.

Many manufacturers and exporters say any relaxation of
the requirements for SVLK certification will undermine
their marketing efforts and set back Indonesian wood
product export growth.

The Indonesian Ministry of Trade recently revised
Regulation No. 97/2014 on industrial forest products
which requires all timber exporters to obtain SVLK
certification and issued Regulation No. 89/2015 as a
deregulation measure.

The head of the EU office in Jakarta, Vincent Gu谷rend,
has expressed dismay at the rolling back of the SVLK
regulation and has requested the government to stick to the
agreement reached on the VPA.

For more see:
http://www.thejakartapost.com/news/2015/11/18/furniture
-exporters-deem-svlk-relaxation-a-setback.html
and
http://m.thejakartapost.com/news/2015/11/17/timbercertification-
urgent-issue-global-market.html

Manufacturing competitiveness to get a boost
Coordination between Bank Indonesia and regional
governments is expected to boost the competitiveness of
the manufacturing and tourism sectors. The government is
promoting manufacturing to support economic resilience
and strong , sustainable and inclusive growth.

Manufacturers in Indonesia face many challenges arising
from the slide in commodity prices and weak global
demand. Economic growth in Indonesia can no longer
depend on exports of primary products says the Bank of
Indonesia in a press release on its initiative to boost
manufacturing.

Indonesia*s manufacturing industry, a leading and laborintensive
sector, is in decline and now contributes less to
GDP than in the past.

The Bank press release says the focus for the
manufacturing sector will be on ※strategies to enhance
competitiveness in the face of growing global competition,
specifically policy to strengthen industry structure, market
access and work force quality. ※

For more see: http://www.bi.go.id/en/ruang-media/siaranpers/
Pages/sp_178315.aspx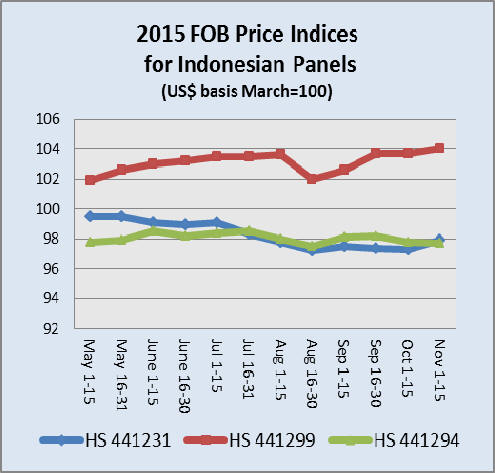 ﹛
5. MYANMAR
Border trade up by US$500 million
According to the Ministry of Commerce there has been a
sharp rise in the value of cross-border trade. The trade in
logs and sawnwood across the border with China fell when
China implemented a ban on timber imports from
Myanmar but in other areas trade has grown.

Overall, up to November, a 14% rise in cross-border trade
has been recorded. Total trade in all products at the 15
border stations up to November stood at around US$4
billion and the busiest border crossing was Muse on the
Myanmar/China border.

Companies risk having operating licenses withdrawn
The Asian Development Bank (ADB) is assisting the
government to establish an electronic company register.
This is seen as the best way to identify which of the some
almost half million companies with registration certificates
are actually still in operation. The ADB and the
government estimate the number of active companies to be
in the region of 25-30,000.

All companies registered in Myanmar have been
approached for information on their operations but few
have responded and analysts report that failure to respond
to this request could result in registration certificates being
withdrawn.

Myanmar*s Directorate of Investment and Company
Administration (DICA) published a request for
information via state media in September but the response
has been slow. The DICA has published a list of
companies that face de-listing.

Foreign companies urge continuation of current
economic policies
It has been reported that foreign companies operating in
Myanmar have urged the new administration to keep in
place the existing economic policies. The reforms
introduced by the previous government resulted in a
steady inflow of investment especially in the oil and gas
exploration sectors.
Analysts suggest that continued US sanctions and the risk
that the new government will take a different direction on
foreign investment has resulted in potential investors
adopting a &wait and see* attitude.

Special open tender sales for November
The Local Marketing Department of Myanma Timber
Enterprise (LMD/MTE) conducted a Special Open Tender
(SOT) at the end of October and the prices secured are
reported below.

Log volumes are expressed in hoppus tons (H.tons) while
the volume for &conversions* and sawn teak (including
hewn timbers) are shown in cubic tons (C.tons). Average
prices below are shown in Myanmar Kyats (MMK
thousands per ton).

Sales by the LMD/MTE are popular amongst local timber
buyers and the sales attract many buyers.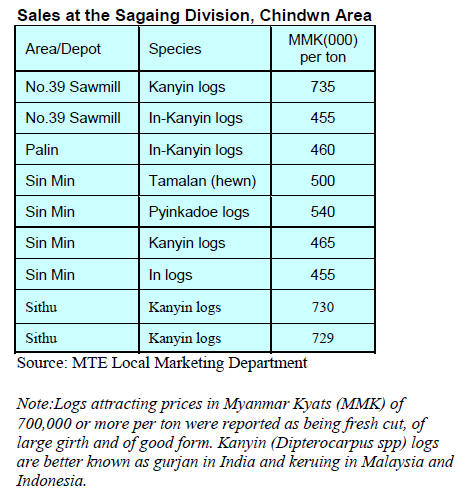 ﹛
6. INDIA
Inflation rate trends down
The Office of the Economic Adviser (OEA) to the Indian
government provides trends in the Wholesale Price Index
(WPI).

The official Wholesale Price Index for all commodities
(Base: 2004-05 = 100) for October rose 0.1% to 176.7
from 176.6 in September. The year-on-year annual rate of
inflation, based on monthly WPI, stood at 每3.81%
(provisional) for October 2015 compared to -4.54% for
September.

Timber and plywood price indices climb
The OEA also reports Wholesale Price Indices for a
variety of wood products. The Wholesale Price Indices for
Wood products and Plywood are shown below.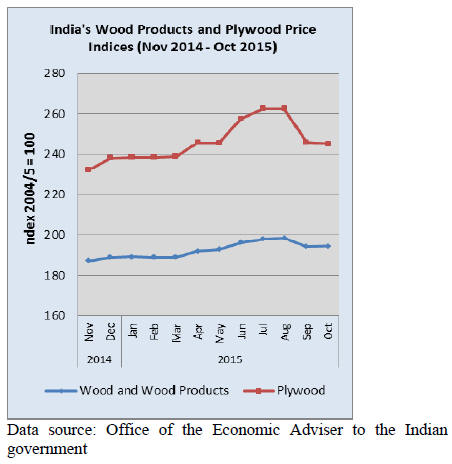 State land allocated for affordable housing
The Maharashtra Housing and Area Development
Authority (Mhada) plans to build 100,000 affordable
homes in two phases on state land.

It has been reported that 450 hectares of land with good
rail and road connections has been identified in the
Mumbai Metropolitan Region. This planned building
project is separate from the central government*s plan for
1.1 million affordable homes.

The focus of work will be in Ratnagiri, Raigad and some
parts of Thane districts and the aim is to build houses for
low income families. Speaking on this plan state officials
recommended that the central government should consider
encouraging private developers to participate in
implementation.

Teak auction prices firm
Auctions at forest depots in the South Dangs Division
have been concluded. Around 17,000 cubic metres of teak
and other hardwoods were offered for sale.

Participants in the auction commented that the quality of
the logs was good and most of the logs sold briskly. Only
a few lots remained unsold as the buyers felt that the
reserve prices for these lots were too high.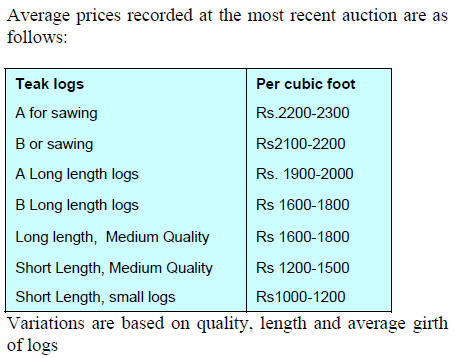 Good quality non-teak hardwood logs 3-4 metre long
having girths 91cms and up of haldu (Adina cordifolia),
laurel (Terminalia tomentosa), kalam (Mitragyna
parviflora) and Pterocarpus marsupium attracted prices in
the range of Rs. 800-900 per cubic foot. Medium quality
logs went for between Rs.300-350 per cubic foot.

Wood product exports beat target
The Indian government set an export target of US$325
billion for the current financial year to March 2016 but
recent reports suggest there will be a shortfall of around
US$25 billion. October 2015 marked the 11th straight
decline this is worse than during the recent global
downturn.

In an effort to boost exports the government will introduce
an interest rate subsidy for exporters.

However, average monthly exports of wood products in
the first five months of the current fiscal year are higher
than the average for 2014-15.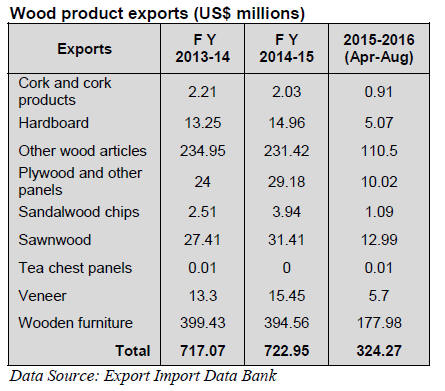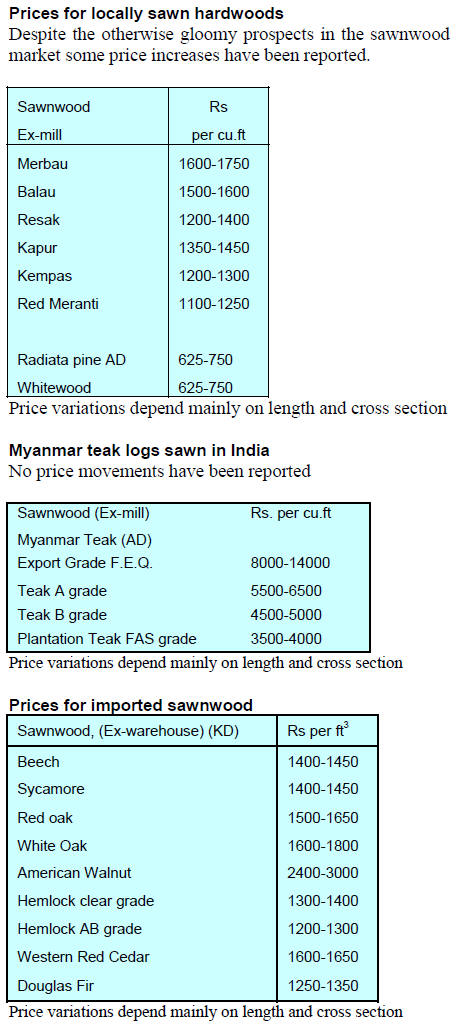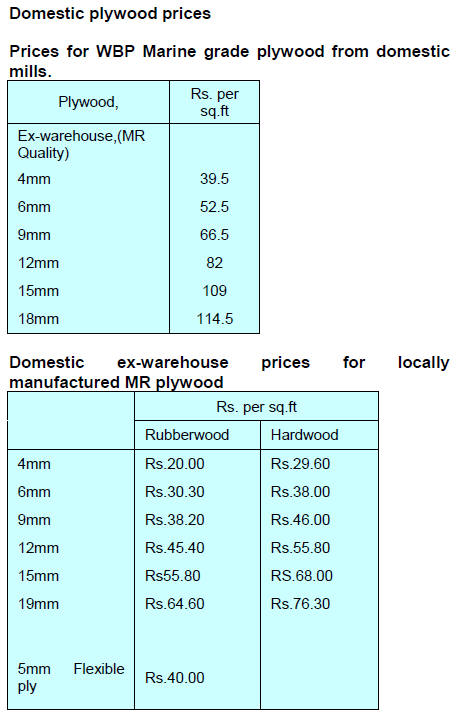 7. BRAZIL
Inflation continues upwards
Inflation, as measured by the National Consumer Price
Index (IPCA,) closed October up 0.82% on September, As
a result the cumulative rate for the year to October was
8.52% which, on an annualised basis, is well above the
government*s forecast. The Monetary Policy Committee
of the Central Bank of Brazil kept the Selic rate (Sistema
Especial de Liquidação e Custodia) at 14.25%.

Innovative alternative plywood raw material
The Brazilian Association of Mechanically-Processed
Timber Industry (ABIMCI) has published promotional
material on paric芍 (Schizolobium amazonicum) plywood.

The objective is to inform end-users and consumers on
new timber products from the timber industry. The
promotional material distributed by ABIMCI describes
products that are available and their suitability for various
markets.

The Amazon species paric芍 is grown in plantations and
can be harvested in 5-7 years.
Paric芍 plantations currently extend over approximately
90,000 ha distributed in the states of Par芍, Maranhão and
Tocantins in the Amazon region.

In the southern region companies producing paric芍
plywood are mainly located in Paran芍 state, inluding
Imbituva, União da Vit車ria and Bituruna municipalities.
Paric芍 plywood is, says ABIMCI, an innovative alternative
product for many applications.

Rapid timber identification to control trade in illegal
timbers
The Brazilian Forest Service*s Forest Products Laboratory
has launched a course on rapid anatomical identification of
Brazilian timbers. The first participants were inspectors
from the Brasilia Environmental Institute (IBRAM). The
aim is to provide training on rapid identification using key
timber characteristics for us in the field under commercial
conditions.

By applying the ※Electronic Key Timber Identification§
programme inspectors can check if timber inspected is that
described in the Document of Forest Origin (DOF) issued
by the Brazilian Institute for Environment and Renewable
Natural Resources (IBAMA). Since June this year, the
control of DOFs was taken over by state environmental
agencies, including IBRAM.

The web-based Electronic Key Timber Identification
programme contains a list of 157 species commercial
timbers, such as ipe (Tabebuia sp.), cumaru (Dipteryx
odorata), mahogany (Swietenia macrophylla), and tauari
(Couratari oblongifolia). For dentification, appearance,
color, veining and porous structure of each timber species
and other characteristics are analyzed.

Export round-up
The value of Brazil*s October exports of wood-based
products (except pulp and paper) fell almost 24% year-onyear
from US$ 276.0 million to US$ 210.0 million.

Pine sawnwood export earnings dropped 12% in the
twelve months to October 2015 (US$25.7 mil. to US$ 22.9
mil,) but the volume of pine sawnwood exports increased
24% in the same period, from 98,400 cu.m to 121,900
cu.m as unit prices declined.

Tropical sawnwood exports also fell (-5.6%) in volume,
from 33,800 cu.m in October 2014 to 31,900 cu.m in
October 2015. This decline was mirrored by the fall in
export earnings over the same period (from US$ 18.8
million to US$ 15.1 million) a 19% drop.

The depressing performance continued with a 29% drop in
pine plywood exports in October 2015 compared with a
year earlier (from US$ 42.5 million to US$ 30.2 million).
The volume of exports also dropped but by only 2.8%,
from 112,600 cu.m to 109,400 cu.m.

Good news, but only for tropical plywood
Tropical plywood exports were the only bright spot in an
otherwise depressing picture increasing 63% in volume
(4,600 cu.m in October 2014 to 7,500 cu.m in October this
year). The value of these exports rose by around a third to
US$3.6 mil. from US$ 2.7 million in October 2014.

Brazil*s wooden furniture exports fell from US$ 50.6
million in October 2014 to US$ 36.7 million in October
this year, an almost 28% fall.

ABIMCI and TTF to promote certified plywood
ABIMCI and the UK Timber Trade Federation (TTF) have
signed a cooperation agreement to promote Brazilian
certified wood products in the UK, a major market for
plywood.

International cooperation of this type strengthens the role
ABIMCI can play in international marketing of Brazilian
wood based panels. Brazil is among the main suppliers of
plywood to international markets but according to
ABIMCI small and medium sized companies in Brazil
need to work on meeting international standards.

On its part the TTF stressed the importance of its growing
partnership with ABIMCI and the appreciation of
Brazilian certified products in Europe.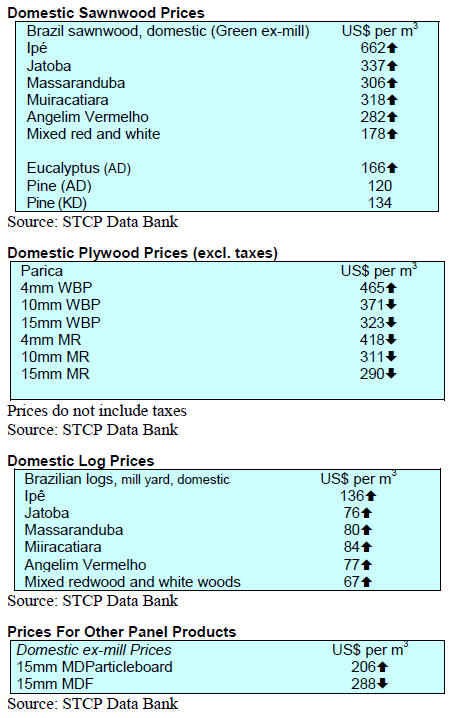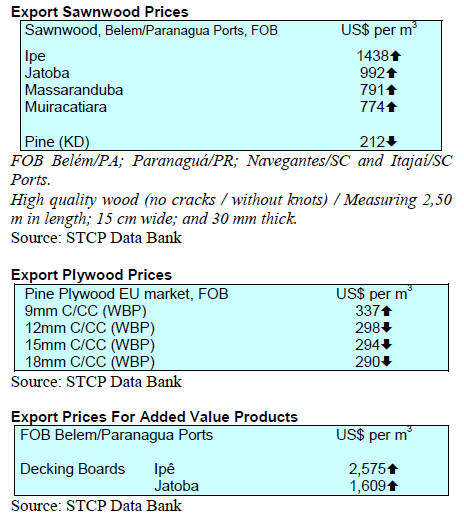 8. PERU
Peruvian wood arouses interest among European buyers
Eight major European timber importers recently toured
Peru seeking to establish links with entrepreneurs able to
supply certified wood products.

The companies included Kloepferholz (with 21 outlets in
Germany), Hornbach (serving the DIY megastores
segment), IBI International, one of the main suppliers to
the construction sector in Europe and Dreitailer.

The buyer group visited processing plants in Iquitos,
Pucallpa, Puerto Maldonado and Lima.

This trade promotion effort was led by MINCETUR in
cooperation with Promper迆 and the Office of the
Commercial Office of Peru (OCEX) in Hamburg and the
German Cooperation Agency (GTZ), through its
programme &ProAmbiente*.



﹛
9. GUYANA
Iwokrama*s model forestry project
The Iwokrama International Centre for Rain Forest
Conservation, according to a press release, has begun the
second phase of its model forestry operation. The Centre
was established in 1996 by the Government of Guyana
with the support of the Commonwealth Secretariat and is
charged with managing a unique reserve of 371,000
hectares of rainforest.

Recent work involved zoning resulting in the
establishment of a Wilderness Preserve and a Sustainable
Utilisation Area (SUA).

The SUA was delineated as the area where the centre*s
development work on experimental timber model and
other business strategies including tourism and training
will be conducted.

A 60 year cutting cycle which will yield a maximum of
1,800 ha per year for selective harvesting. None of the
logs harvested will be exported; only high grade
sawnwood and other added value products will be
produced.

The Centre expects to maintain its working partnership
with representatives from Amerindian communities within
the area. See: http://www.iwokrama.org/

Export prices
There were no exports of greenheart or mora logs but
purpleheart logs were exported.